Oven Roasted Beets (One Pan)
Quick and easy oven roasted beets recipe, homemade with simple ingredients in one pan in 30 minutes. Loaded with herbs, garlic, olive oil. Crispy on the outside but tender on the inside.
These are the best way to eat beets! They can taste earthy when raw, but when you prepare them the way described in this post, it brings out the sweetness and makes them delicious especially when combined with vibrant herbs and savory garlic. Another way to enjoy beets is in Beet Borscht Soup (One Pot), a traditional Russian soup that has become famous around the world.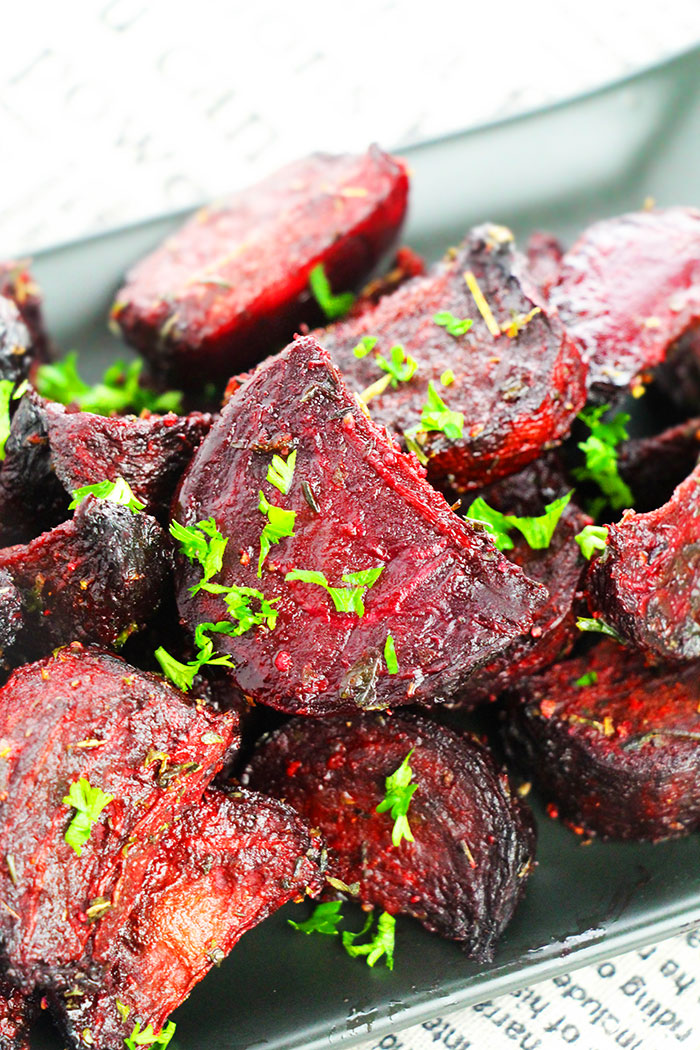 This Is The Best Way To Cook Beets
How To Make Oven Roasted Beets Recipe From Scratch?
Spread beets– On a baking tray.
Season beets– With oil, Italian seasoning, garlic powder, salt, pepper.
Toss– Until combined.
Bake– Until cooked through.
Garnish– With fresh parsley.
How To Make Roasted Beets in Foil?
This method is very similar to roasted garlic. All you need to do is season and oil the beets according to this recipe. Then, wrap the beets in foil like you would wrap a package. Place it on a baking sheet, and roast at 400 degrees for 30-35 minutes.
What To Serve With Roast Beetroot?
Serve these with pasta such as:
Proteins are also a great option:
Mix them in salads:
Use them as a filling in: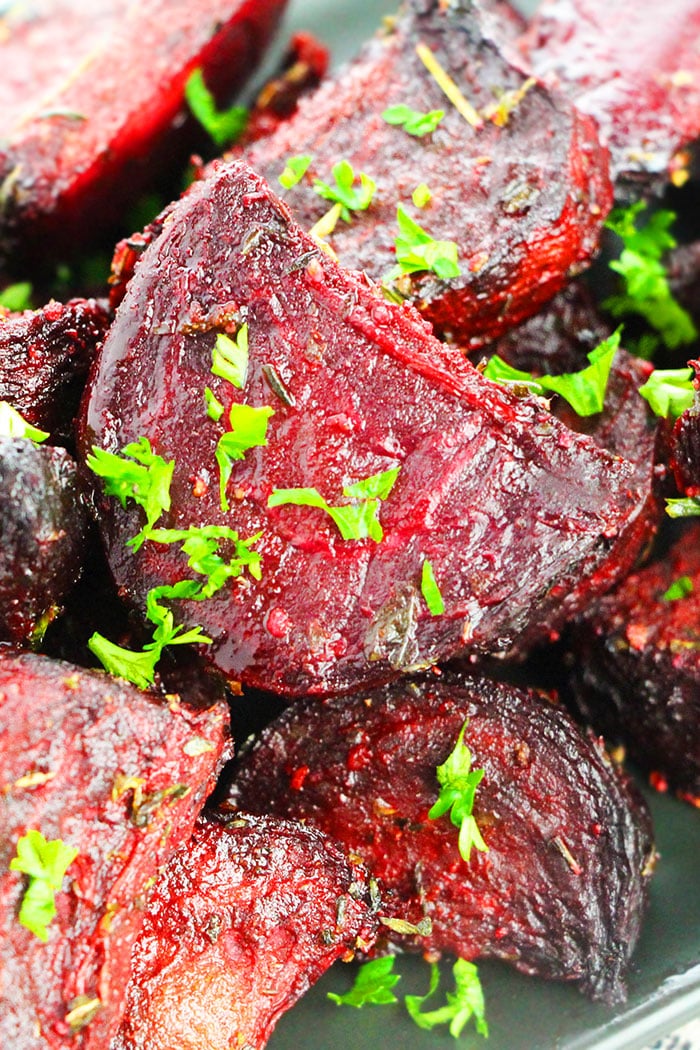 Variations For Baked Beets/Baked Beetroot
Roasted whole beets– Leave them whole instead of cutting them. This will take longer to cook so keep an eye on them.
Roasted beet salad/ Beet and goat cheese salad– Add them to an arugula salad topped with goat cheese. This is one of my favorite ways to eat them.
Beet humus– Add them to this Easy Hummus (One Bowl) for a bright red and delicious variation.
Use golden beets– They have a milder flavor but the instructions are the same,
Use other seasoning– Such as Greek seasoning or black pepper and tarragon.
Add balsamic glaze– Once baked, you can drizzle them with a balsamic reduction or you can drizzle it before roasting. Do whatever you prefer.
Add citrus– Add a a drizzle of lemon juice or lime juice to brighten the flavor.
Add fruit– Serve them with a topping of dried cranberries for a sweet and savory flavor profile.
Serve with a sauce– Such as a sweet yogurt, thick cream, or even sour cream.
Use them as a topping– On flatbread, pizzas, salads, in a vegetarian wrap or sandwich.
Tips And Techniques
Do you have to peel beets for roasting? How do you peel beets? Yes, peel them using a vegetable peeler. You may also want to wear gloves so that the red flesh doesn't stain your skin.
Why are my beets bitter? This usually means they were over-cooked. Next time, cook them for a shorter amount of time.
How do you know when beets are done baking? When they are crispy on the outside and fork tender on the inside. This usually takes about 30-35 minutes when baked at 400 degrees.
Toss beets halfway through baking– Because this ensures even crispiness on all the beets.
Adjust seasoning– Add more or less of whatever you prefer!
Don't overlap beets on the lined baking tray– Because they will end up a little soggy and not super crispy. Spread them out!
Line the baking tray with foil– Because this makes for really easy clean-up. The red juices from beets will stain so this is one way to keep the mess contained. It also helps prevent the beets from sticking to the pan.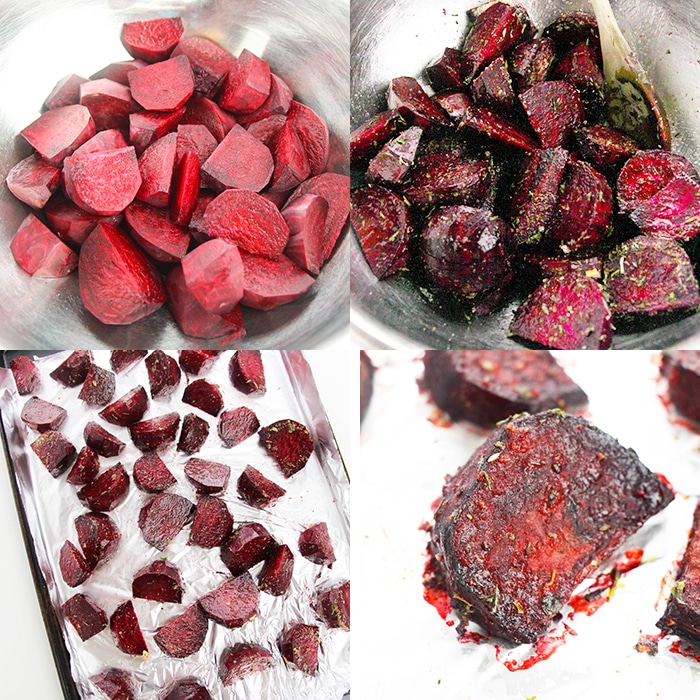 Storage
Refrigerate– In a sealed container for up to 2 days. Please note they won't be as crispy any more.
Freeze– I do not recommend freezing them, because they will become soggy upon thawing and just don't taste fresh.
Reheat– In the microwave, oven, or air fryer to re-crisp the outside.
More One Pan Roasted Vegetables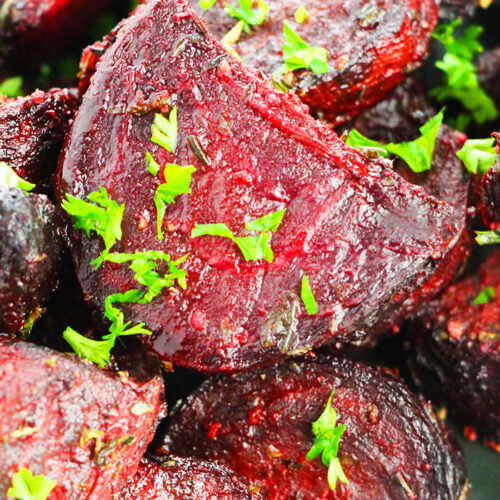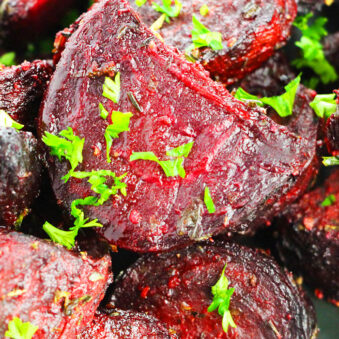 One Pan Roasted Beets
Quick and easy oven roasted beets recipe, homemade with simple ingredients in one pan in 30 minutes. Loaded with herbs, garlic, olive oil.
Yield: People
Ingredients
3 Beets, Large, Peeled, Diced into 1.5-2 inch pieces, Patted dry with paper towels
2 tbsp Olive oil
2 tsp Italian seasoning
1 tsp Garlic powder
Salt , To taste
Pepper, To taste
1 tbsp Parsley, Fresh, Roughly chopped, For garnish
Instructions
Spread the beets on a baking tray, lined with foil paper.

Drizzle olive oil on top.

Sprinkle Italian seasoning, garlic powder, salt, pepper.

Toss until combined.

Spread out the beets so that they are not overlapping and bake evenly. 

Bake at 400 degrees F for 30 to 35 minutes, or until beets are slightly crisp on the outside but tender on the inside. Be sure to toss everything halfway through.

Remove tray from oven and garnish with parsley. Enjoy!
Notes
Read all my tips above.
Tastes best when served immediately but leftovers can be stored in a sealed container in the fridge for up to 2 days and reheated in an air fryer, oven  or microwave. 
Nutrition
Calories: 38kcal, Carbohydrates: 7g, Protein: 1g, Fat: 1g, Saturated Fat: 1g, Sodium: 111mg, Potassium: 229mg, Fiber: 2g, Sugar: 4g, Vitamin A: 137IU, Vitamin C: 4mg, Calcium: 30mg, Iron: 1mg