Garlic Cheese Bombs (One Pan)
Quick and easy cheese bombs recipe, homemade with simple ingredients in one pan in 20 minutes. Stuffed with cheese and topped with garlic butter.
These are the perfect appetizer for the holiday and party season. Gooey, cheesy biscuits drenched in garlic butter will make everyone hungry and they truly can't stop at just one! This Chicken Puff Pastry (One Pan) and Cheesy Spinach Puffs (One Pan) will also make a statement at your next gathering.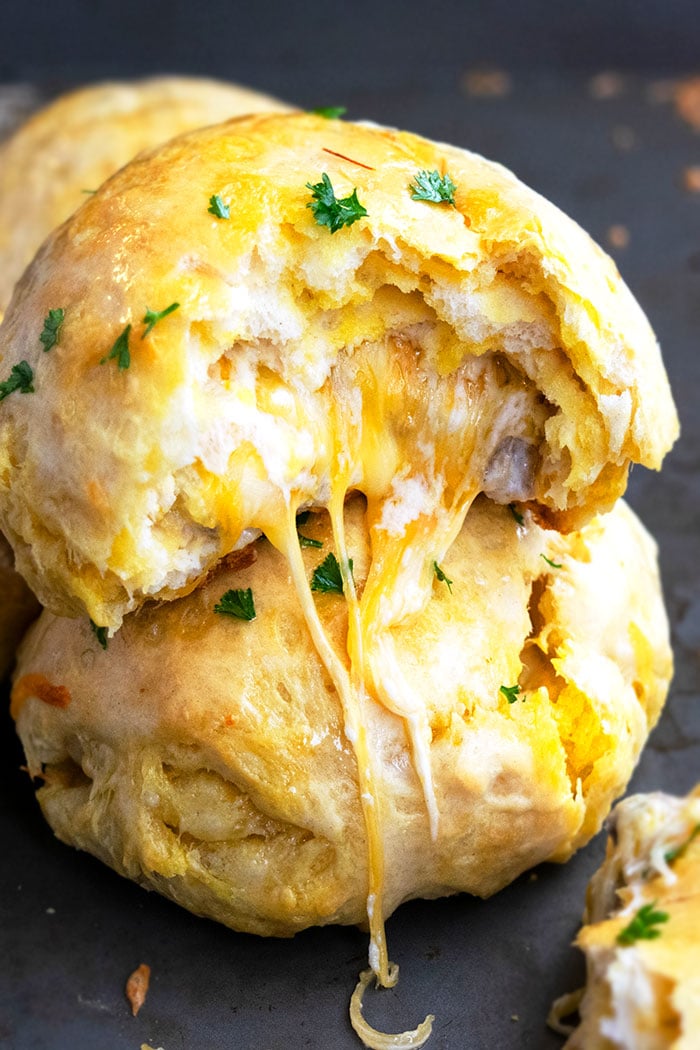 How To Make Cheese Bomb Recipe?
Open can of biscuit dough– And separate each biscuit.
Add cheese in center- And wrap the dough around it.
Bake– Until golden brown.
Brush butter- Do this with a pastry brush.
Enjoy– Garnish with parsley and dig in!
What To Serve With Cheese Bombs Recipe?
Serve them with soups such as:
They would also be a great accompaniment to salads like any of these:
These would also be the perfect precursor to protein main dishes such as:
Serve it alongside a dipping sauce like these: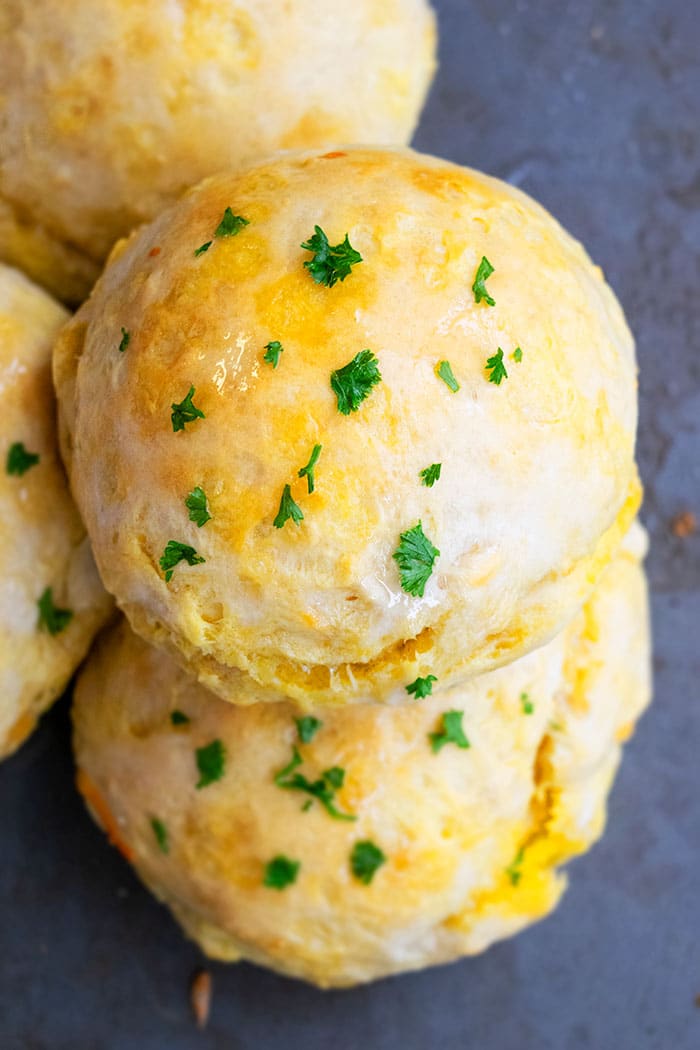 Variations
Cheddar bombs– Use cheddar in place of Colby jack.
Mozzarella cheese bombs- Use mozzarella in place of Colby jack.
Add cream cheese– Add a spoonful of cream cheese, along with the Colby cheese cube for an even creamier center.
Include other add-ins– Like cooked meat such as shredded chicken, turkey, bacon, or pulled pork or ground beef.
Add other seasoning– Sprinkle a seasoning blend on top of the cheese. Try Italian, Cajun, Greek, or Mexican seasoning.
Add finely chopped jalapenos– For a spicy kick. Deseed them to keep the heat level low.
Mix in caramelized onions– For a savory yet slightly sweet flavor addition.
Tips And Techniques
Seam-side must be face down on the baking tray– This is very important because if it's facing the side or the top, the buns will burst during baking and make a mess.
Homemade garlic butter– Simply mix together 4 tbsp butter with 1 tsp garlic powder and 1 tsp. Italian seasoning (optional). You can also use store-bought garlic butter, if you are short on time.
Grand style biscuits have to be used– The other sizes are too small and the cheese will keep leaking out.
Seams of the dough must be pinched tight– Because this prevents the cheese from melting out and making a mess.
Don't over-bake– The cheese will melt out of the biscuits if you do and the buns will become dry.
How do you know when they are done? They are ready to be removed from the oven when tops and sides are light golden brown.
How big should you cut the cubes of cheese? They should be about 3/4inch – 1 inch in size. If they are too big, the cheese will leak out. If you cut them too small, you won't really taste it.
Line tray with parchment paper- Because this prevents the buns from sticking to the tray and makes cleanup easier too.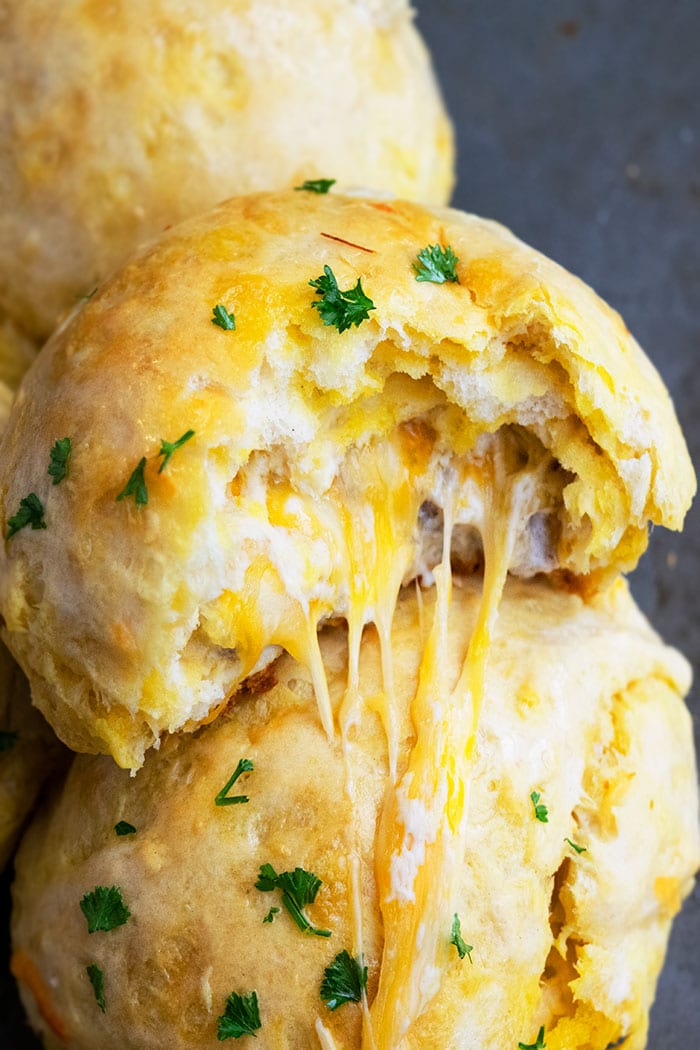 Storage
Refrigerate– Although they taste best when served immediately, they can be stored in a sealed container for up to 2 days.
Freeze- I don't recommend freezing because the texture is just not the same when thawed and reheated.
Reheat– In the microwave or oven.
More One Pot Appetizers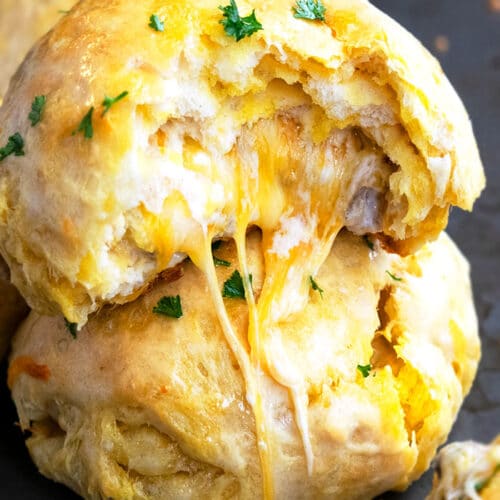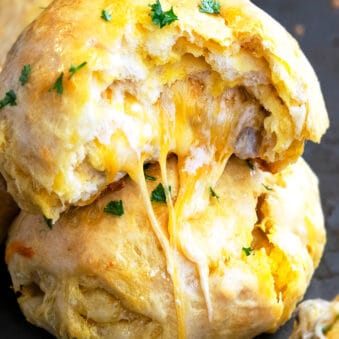 One Pan Cheese Bomb Bread
Quick & easy cheese bombs recipe, homemade with simple ingredients in one pan in 20 minutes. Stuffed with cheese, topped with garlic butter.
Yield: Individual balls
Ingredients
1 can Refrigerated biscuit dough, 16.3 oz. can Grands style
8 cubes Colby jack cheese, About 3/4inch -1 inch in size, Can be replaced with cheddar cheese cubes or mozzarella cheese cubes in the same size.
2 tbsp Garlic butter, Melted, For brushing on top
1 tbsp Parsley, Fresh, Roughly chopped, For ganrish
Instructions
Open the can of biscuit dough and separate each biscuit.

Place 1 cube of cheese in the center of each slice.

Wrap the dough around the cheese. Pinch to seal.

Place them on baking a baking tray, lined with parchment paper (seam-side down).

Bake at 400 degrees F for about 10-12 minutes or until tops and sides are light golden brown. Be careful not to over-bake because the cheese will melt out of the bread.

Remove tray from oven and immediately brush the tops of each roll with melted garlic butter.

Garnish with fresh parsley and serve immediately! Enjoy!
Notes
Read all my tips above.
Tastes best when served immediately but leftovers can be stored in the fridge for up to 2 days and reheated in the microwave or oven. 
Nutrition
Calories: 215kcal, Carbohydrates: 28g, Protein: 4g, Fat: 10g, Saturated Fat: 2g, Cholesterol: 2mg, Sodium: 550mg, Potassium: 129mg, Fiber: 1g, Sugar: 2g, Vitamin A: 50IU, Vitamin C: 1mg, Calcium: 35mg, Iron: 2mg