Best Avocado Toast (One Pan)
The best, quick and easy avocado toast recipe, homemade with simple ingredients in one pot in 10 minutes. Creamy mashed avocados are spread on crispy toasted bread.
This toast is a popular breakfast and brunch choice at many restaurants, but now you can make and enjoy it in your own home! It's a vegetarian option full of healthy fats to help start your day. Be sure to try my Mediterranean Veggie Sandwich (One Pan) and this Best Grilled Cheese Sandwich (One Pan) too. They are just as fantastic!
What is avocado toast?
It's an open sandwich that's composed of toasted bread with a spread of freshly mashed avocados and topped off with eggs, herbs, seasonings, tomatoes e.t.c.
How to make avocado toast with egg?
Prepare avocado spread– Remove pit from avocado and use a big spoon to scoop out the flesh in a bowl.
Mash it– With a fork until it's slightly chunky.
Add seasoning– Sprinkle some salt and pepper.
Spread it– On top of the toasted bread slices.
Add toppings– Such as fried or boiled egg, seasonings, fresh herbs, nuts e.t.c and dig in!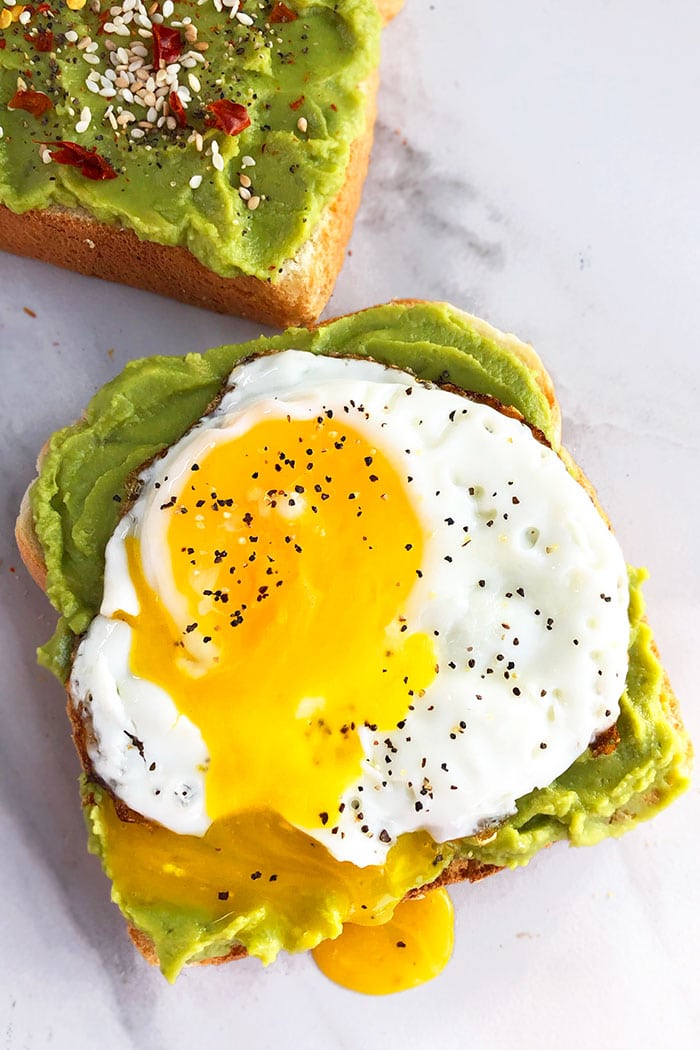 What to serve with avocado toast recipe?
A serving of fresh fruit makes the perfect healthy addition to this recipe.
You can also serve this toast with a soup such as this Instant Pot Mexican Soup or this Instant Pot Chicken Enchilada Soup or even this Easy Chicken Tortilla Soup (One Pot) as a filling brunch or lunch option
Serve it alongside a salad such as this Mexican Corn Salad (One Bowl) or a simple green salad.
Another great side dish is roasted vegetables. Try these delicious Oven Roasted Vegetables (One Pan).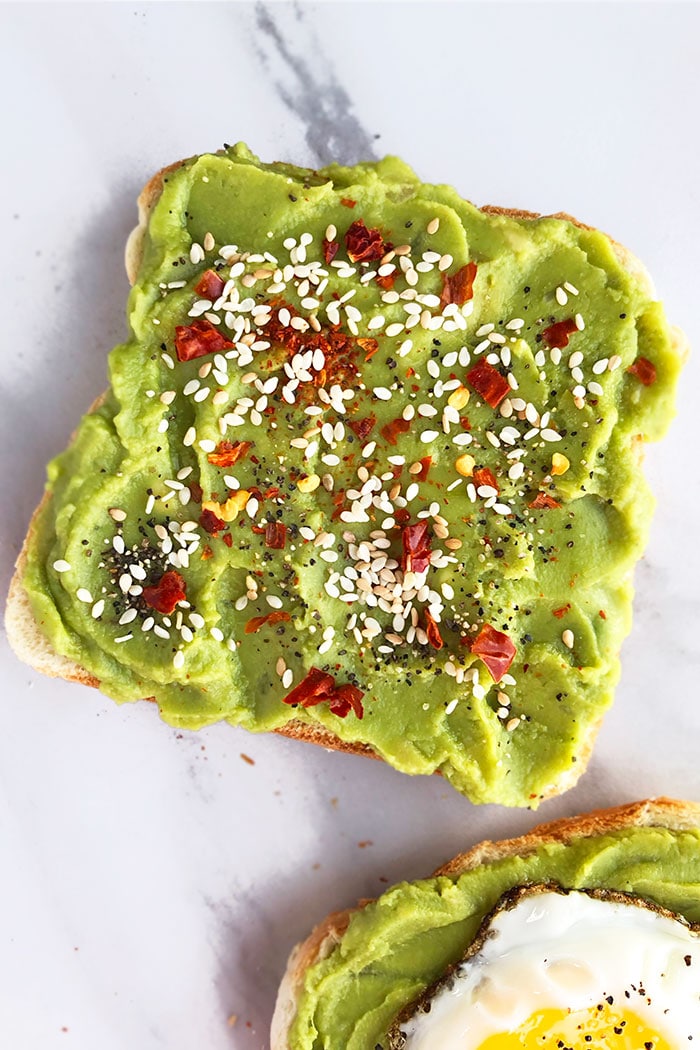 Avocado toast toppings ideas
Eggs– They can be sunny side up, fried, boiled, poached, or scrambled.
Seasoning– Try Mexican taco seasoning, Italian seasoning, Everything Bagel, or Indian curry seasoning for additional flavor.
Make it spicy– Add red chili flakes, cayenne pepper, or finely chopped jalapenos.
Herbs– Use fresh herbs such as cilantro, chives, green onions, parsley, or basil.
Garlic– Rub a clove of garlic on bread, and then spread mashed avocado on top.
Cheese– Add shredded cheddar, goat cheese, feta cheese, cream cheese, pepper jack, Colby jack or anything else you like.
Salsa– Top off with Salsa Verde (Blender) or Pico De Gallo (One Bowl)
Tomatoes- Add thinly sliced fresh tomatoes on top or try these Marinated Tomatoes (One Bowl) or even sun dried tomatoes.
Onions- You can use thinly sliced fresh onions or for a gourmet version, try caramelized onions.
Bacon– Sprinkle cooked crumbled bacon for a salty, smoky and crispy addition.
Nuts– Add toasted almonds, pistachios, cashews, pecans or walnuts.
Strawberries and balsamic– Add sliced strawberries and a balsamic drizzle/glaze.
Caprese– Add mozzarella, tomatoes, and fresh basil.
Meat– Such as Mexican Shredded Chicken (One Pot) or Ground Beef Taco Meat (One Pot).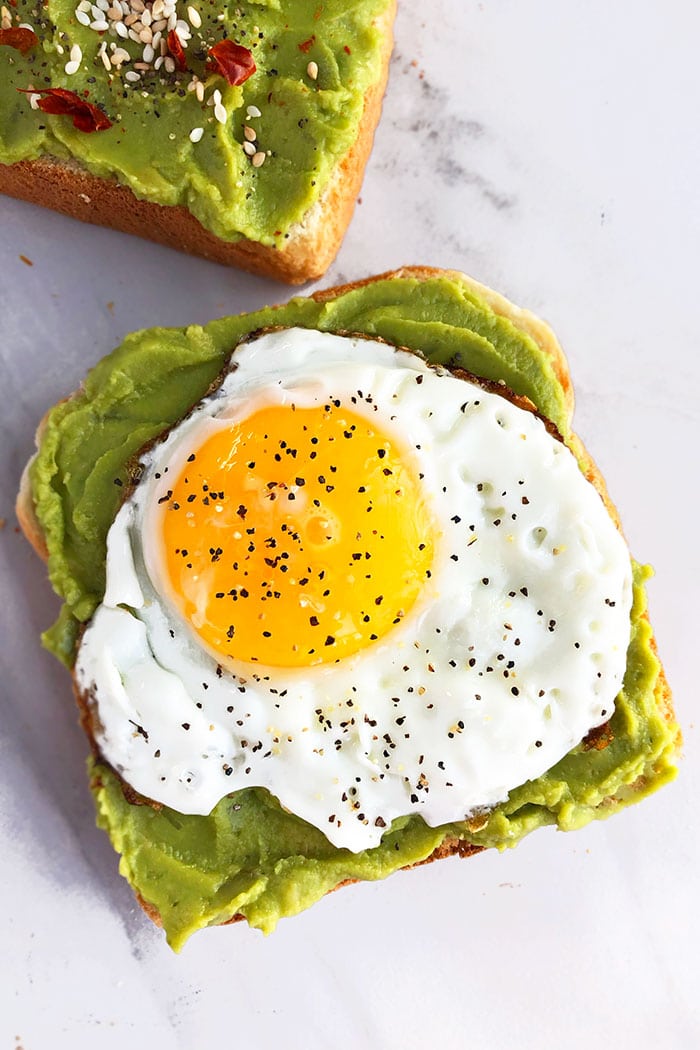 Tips and Techniques
Make ahead instructions- This is not a recipe you can make ahead. Avocado will brown if left exposed to the air. Also, the toast is best served warm and crispy. This recipe needs to be made when you are ready to serve it.
Is guacamole on toast same as avocado on toast? No, it's almost the same thing but Guacamole (One Bowl) is made with more ingredients such as garlic, salt, onion, cilantro, lime juice in it and takes more time to prepare than just mashing avocados. However, you can easily replace mashed avocados with guac, if you have it on hand.
Pick the right avocados– A fresh, ripe avocado is slightly firm, with a little give and squish, but not too soft and mushy to the touch. It should not have dents and spots on it either.
What bread to use? Use high quality bread. My favorite is thickly sliced bread like Texas toast or use hearty bread such as sourdough, Ciabatta or whatever you personal favorite bread is.
Can you freeze or refrigerate this open sandwich? No, the bread will become soggy and the avocado will will brown.
More Easy Vegetarian Recipes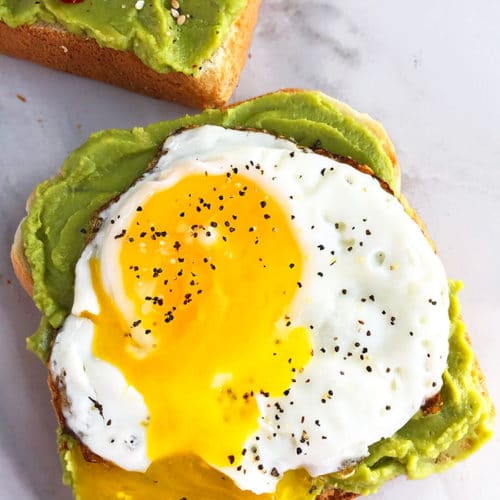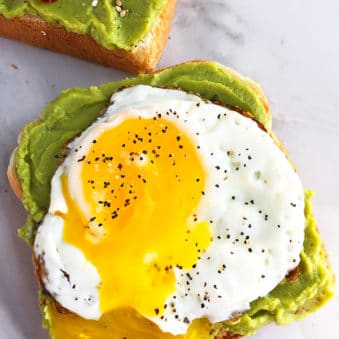 One Pan Egg Avocado Toast
Quick and easy avocado toast recipe, homemade with simple ingredients in one pot in 10 minutes. Creamy mashed avocados are spread on crispy toasted bread.
Yield: People
Ingredients
Instructions
Remove pit from avocado and use a big spoon to scoop out the flesh in a bowl.

Mash it with a fork until it's slightly chunky.

Sprinkle some salt and mix.

Spread it on top of the toasted bread slices.

Add any toppings you like and enjoy!
Notes
Read all my tips above.
Serve immediately. I don't recommend refrigerating or freezing leftovers since the bread becomes soggy and the avocado turns brown.  
Nutrition
Calories: 236kcal, Carbohydrates: 22g, Protein: 5g, Fat: 16g, Saturated Fat: 2g, Sodium: 152mg, Potassium: 538mg, Fiber: 8g, Sugar: 2g, Vitamin A: 147IU, Vitamin C: 10mg, Calcium: 51mg, Iron: 2mg
Happy cooking everyone!