Cranberry Chicken Salad (One Pot)
The best quick and easy cranberry chicken salad recipe, homemade with simple ingredients in one pot or bowl in 10 minutes. Rich, creamy, packed with mayo, sour cream, roasted pecans, walnuts, dried cranberries, shredded chicken. Seasoned with garlic, parsley and basil. Also known as "cranberry walnut chicken salad."
This recipe is just as classic as Creamy Cucumber Salad (One Bowl) and Three Bean Salad (One Bowl). It's very popular for Summer picnics and potlucks.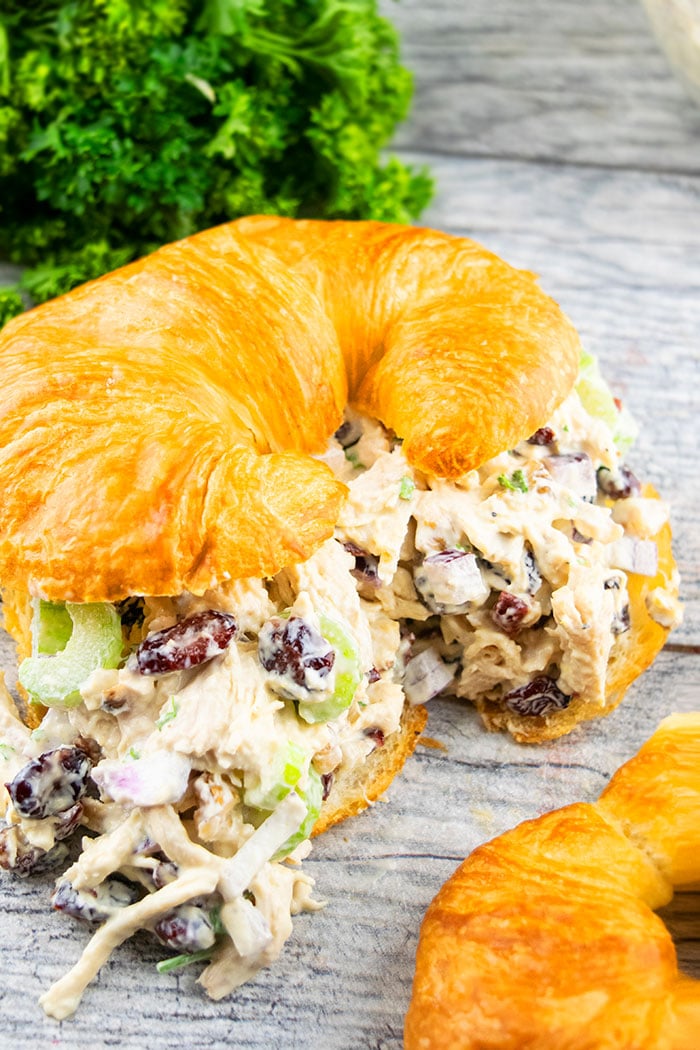 How to make cranberry chicken salad?
Make dressing– By mixing together mayonnaise, sour cream, salt, pepper, garlic powder, mustard, ginger powder until smooth.
Add chicken and veggies- Mix in shredded chicken, celery, dried cranberries, red onions, pecans, walnuts, parsley, basil until combined.
Enjoy! Fill it in a sandwich or croissant and dig in!
What sides to serve with cranberry chicken salad recipe?
This salad makes a great filling for croissants, sandwiches, tortilla wraps and even tacos.
Some crispy veggie sides are potato chips, french fries, Baked Sweet Potato Fries (One Pan), Baked Sweet Potato Wedges (One Pan), Oven Roasted Potatoes (One Pan) or even Oven Roasted Sweet Potatoes (One Pan).
A platter of toppings would be a great addition such as dill pickles or Pickled Vegetables (One Pot), lettuce, sliced tomatoes, cucumbers, crumbled bacon.
Serve it alongside simple soups such as Easy Lentil Soup (One Pot) or this Easy Vegetable Soup (One Pot).
Can you freeze cold chicken salad with mayo?
No, it cannot be frozen. That's because the fresh vegetables in this recipe have high water content, which causes them to release a lot of water when it thaws. It becomes a watery mess and the veggies and nuts loose their crunch.
Variations
Add other nuts– Such as almonds. Cranberry pecan chicken salad is also very popular.
Fresh cranberries vs. Dried cranberries vs. Frozen cranberries– It is best to use dried cranberries because the tartness is more mild than fresh and frozen cranberries. Also, fresh and frozen cranberries will make the salad very wet and "watery."
Make it healthy– Use low fat mayo and sour cream or your can replace some of that with Greek yogurt.
Add pasta– Mix in some boiled/ drained macaroni pasta near the end to make a creamy pasta salad.
Add other dried fruits- Replace dried cranberries with dried cherries, raisins, mangoes or apricots or a combination of multiple dried fruits .
Add fresh fruits- Replace cranberries with fresh red grapes or green grapes. You can even mix in freshly diced apples or pears.
Use other herbs- I uses basil and parsley but use whatever fresh herbs you like such as chives, mint, sage, cilantro, thyme, rosemary, dill e.t.c.
Storage
Refrigerate– Store in a sealed container in the fridge for up to 3 days.
Freeze– Freezing leftovers is not recommended as it does not thaw well.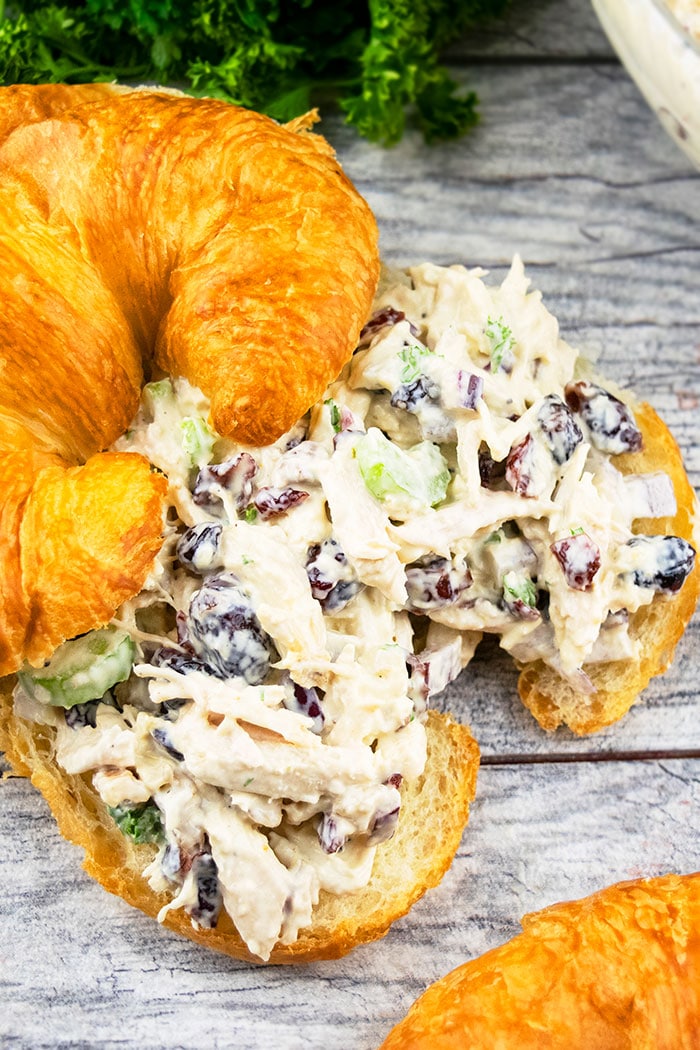 Tips and Techniques
Can chicken be cooked ahead of time? Yes, it can be made 1-2 days in advance and stored in the fridge until you are ready to use it. You can even use store-bought rotisserie chicken and shred that for this recipe.
Can you used grilled chicken? Or course! Check out my Grilled Chicken Breast recipe. Use those leftovers in this salad. It will add a nice smoky flavor. Make sure to cook the chicken until its internal temperature is 165 degrees F.
Can you use meat from the legs, thighs and wings? Absolutely. Make sure they are cooked all the way through.
Chicken must be cool- It cannot be hot or warm because the warmth will cause the veggies in this salad to wilt and lose their crisp/crunch texture.
Use roasted nuts- Because it enhances the nutty flavor.
Adjust quantity of ingredients– This is a very versatile recipe. Use more or less of whatever ingredient you like or dislike.
Use full fat ingredients- This is especially with regards to mayonnaise and sour cream. The higher the fat content, the more rich and creamy this salad will be.
Make a bigger batch- Double all the ingredients and serve a crowd!
More Salad Recipes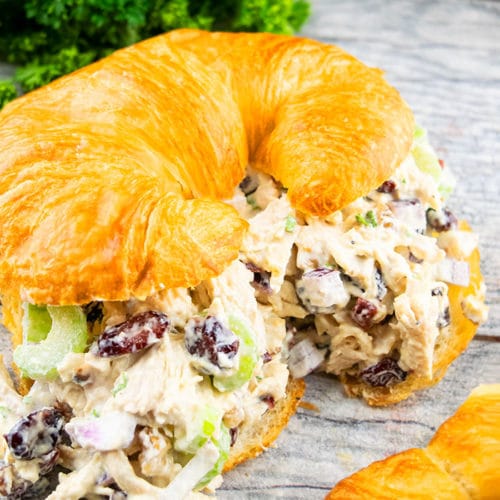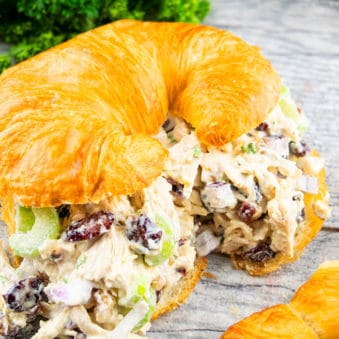 One Pot Cranberry Chicken Salad
Quick, easy cranberry chicken salad recipe, homemade with simple ingredients in one pot in 10 minutes. Creamy, packed with mayo, pecans, dried cranberries.
Yield: People
Ingredients
1/2 cup Mayonnaise, Full fat
1/4 cup Sour cream, Full fat
1 tbsp Mustard
Salt, To taste
Pepper, To taste
1 tsp Garlic powder
1/2 tsp Ginger powder
2.5 cups Shredded chicken , Can use rotisserie chicken
1/4 cup Red onions, Finely chopped
1/4 cup Celery, Finely chopped
1/2 cup Dried cranberries
2 tbsp Pecans, Roughly chopped
2 tbsp Walnuts, Roughly chopped
1 tbsp Parsley, Fresh, Finely chopped
1 tbsp Basil, Fresh, Finely chopped
Instructions
In a large mixing bowl or salad bowl, add mayonnaise, sour cream, mustard, salt, pepper, garlic powder, ginger powder and mix until smooth and creamy.

Add shredded chicken, onions, celery, dried cranberries, pecans, walnuts, parsley, basil and mix until combined.

Fill it in sandwich or croissant and enjoy!
Notes
Read all my tips above.
Leftovers can be stored in a sealed container in the fridge for up to 3 days. 
Nutrition
Calories: 299kcal, Carbohydrates: 11g, Protein: 14g, Fat: 23g, Saturated Fat: 5g, Cholesterol: 58mg, Sodium: 323mg, Potassium: 193mg, Fiber: 1g, Sugar: 8g, Vitamin A: 187IU, Vitamin C: 1mg, Calcium: 22mg, Iron: 1mg
Happy cooking everyone!