Baked Sweet Potato Fries (One Pan)
The best, quick, easy, healthy, crispy, oven baked sweet potato fries recipe, homemade with simple ingredients in one pan in 30 minutes. Sweet and salty. Enjoy as side dish, appetizer or snack!
These are also known as sweet potato french fries, and take all the guilt out of eating fries, while maximizing satisfaction. Even though they are baked, they don't sacrifice on flavor or texture.
Also, no soaking of potatoes in water necessary and and no more soggy fries ever again!
They are the perfect Fall side dish and also perfect for game day or weekly dinners. Even restaurants are catching on to how good they are and have them on their menu!
More sweet potato recipes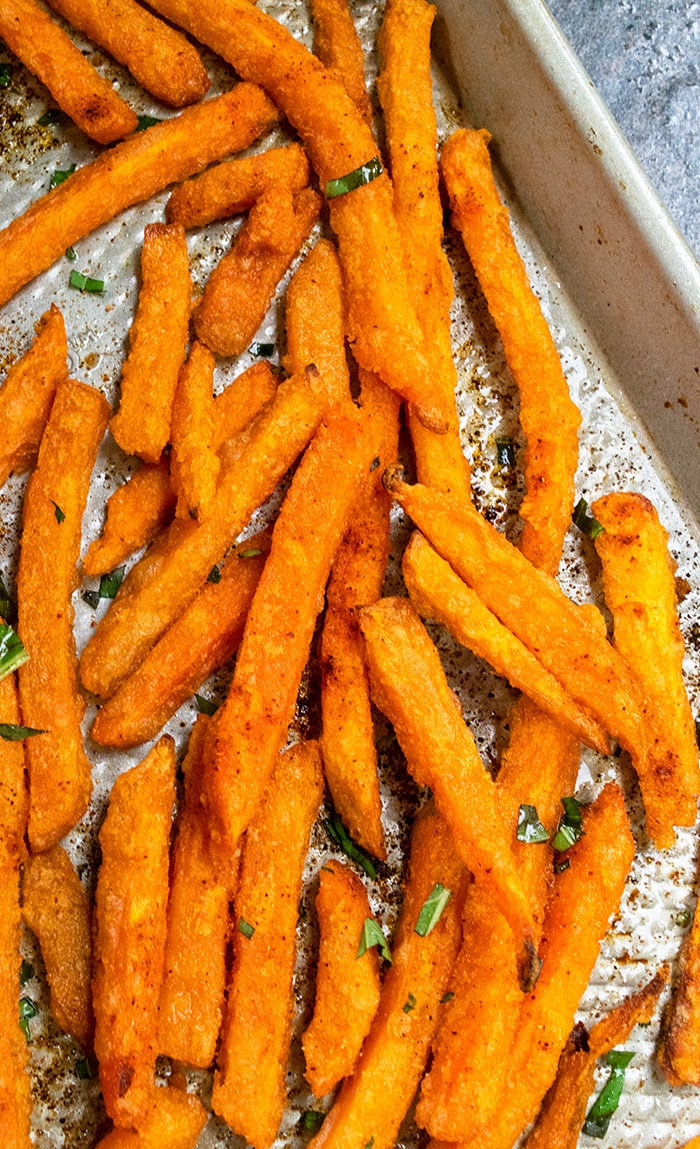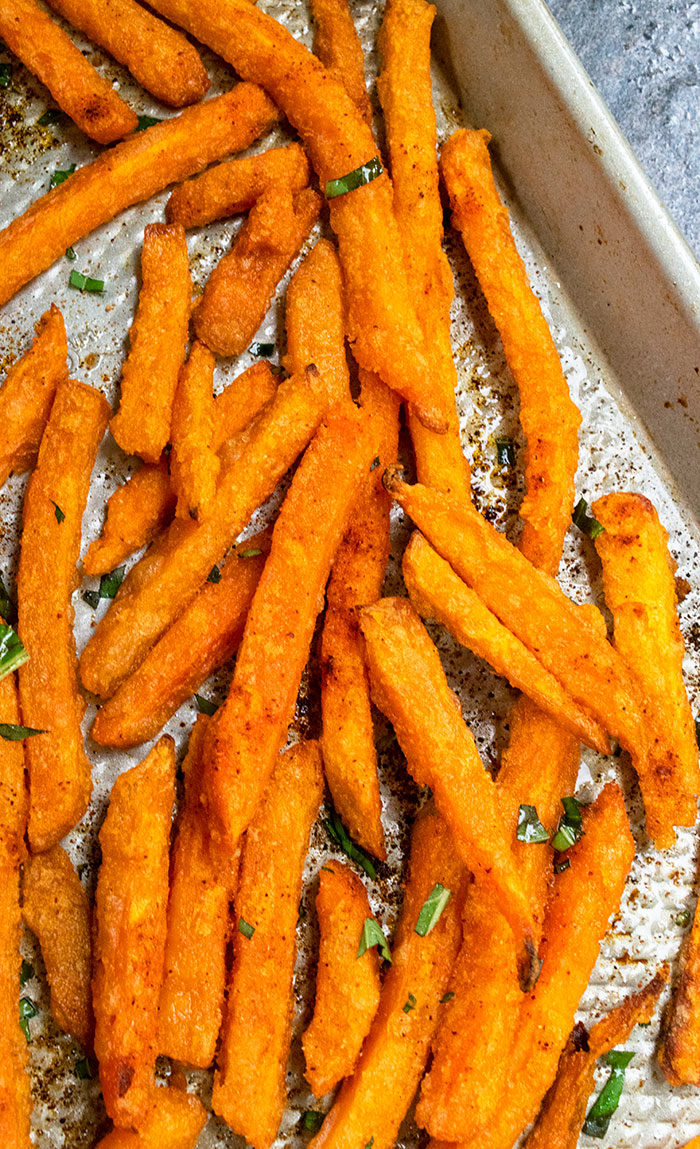 How to make sweet potato fries?
Prep the baking sheet- Cover with parchment paper and place sliced potatoes in a single layer.
Coat them- Toss them in olive oil, cornstarch, paprika, garlic powder, onion powder, chili powder, and pepper until fully coated.
Spread them- Spread them back out so they are in a single, spaced out layer.
Bake them- Bake at 425 for 20-25 minutes, flipping half-way through.
Garnish- Remove them from the oven. Sprinkle with salt and basil leaves. Enjoy!
How to cut sweet potato fries?
Peel the potato with a vegetable peeler to remove the skin.
Using a sharp knife, cut the thin ends off if you have long potatoes with narrow ends.
Slice the potato lengthwise into no larger than 1/2 inch slabs.
Place each slab flat and cut it lengthwise again into matchsticks.
Repeat this step until all slabs are cut into matchsticks.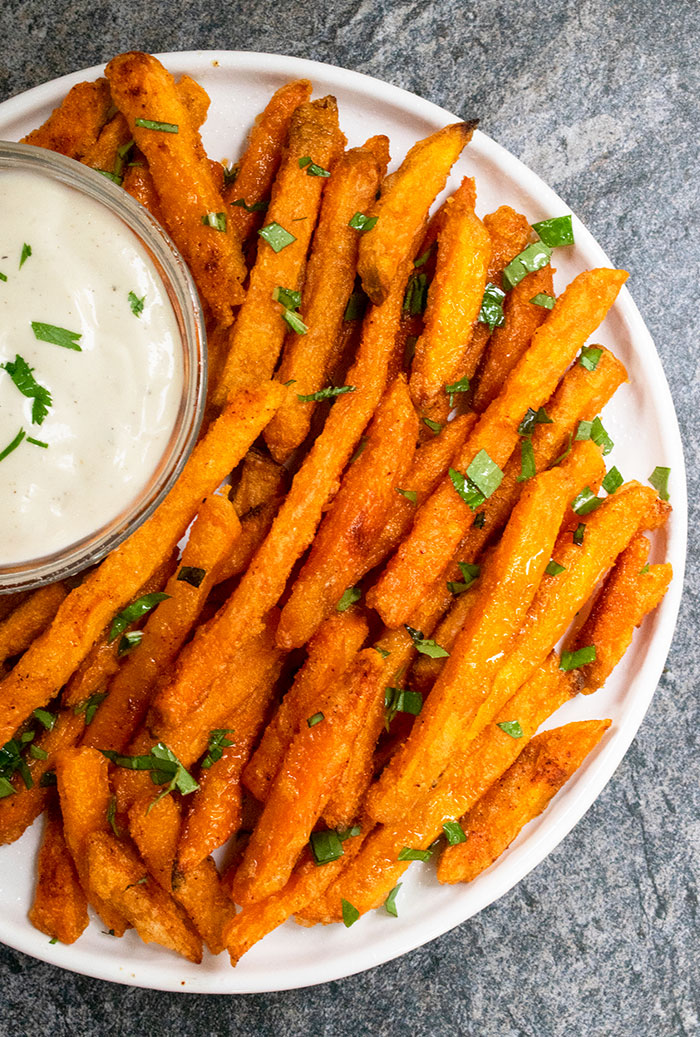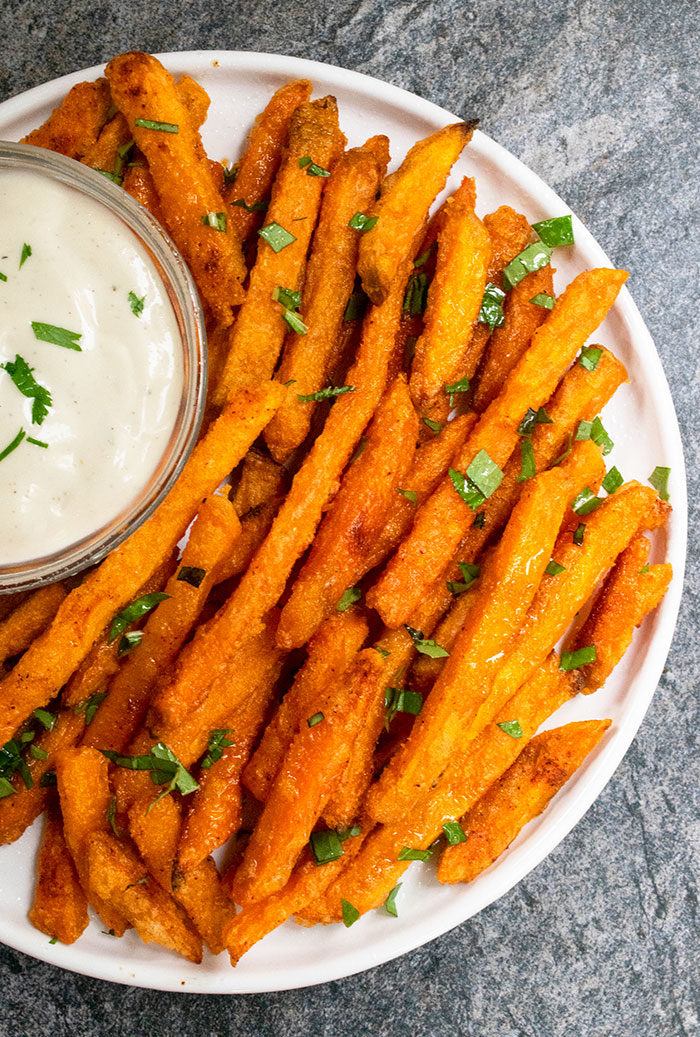 How do you make sweet potato fries crispy in oven?
Size- Cut the sweet potatoes no larger than 1/2 inch thickness and make sure they are all similar in matchstick length as well.
Coating– Toss them evenly in olive oil so they will cook and crisp without burning immediately.
Corn Starch- Don't skip this key ingredient! This will help them crisp up tremendously.
High Heat- Baking at 425 degrees F is a high enough heat to crisp them without burning them before they cook through.
Spacing- Place the fries flat, in a single layer, and with space between each fry so they crisp instead of steam.
Flip them- Flip them half-way through. If you don't, the bottom will burn, and the top won't crisp. Flipping solves this problem.
Salt timing- Adding the salt after the fries bake ensures that the water is not drawn out of the sweet potatoes while baking, making them unable to crisp.
Fried sweet potato fries vs. Oven baked sweet potato fries
Fried version– These require dredging the sweet potatoes in batter and then deep-frying in oil in a cast iron skillet, dutch oven, or fryer. They must be watched closely to make sure they are taken out of the oil at the right time to prevent burning.
Oven baked version- These take fewer steps and are healthier because they are not battered and don't soak up oil like fried potatoes do. They are lightly covered in oil, and once placed on the baking sheet, only need to be flipped once while baking. They don't require constant attention.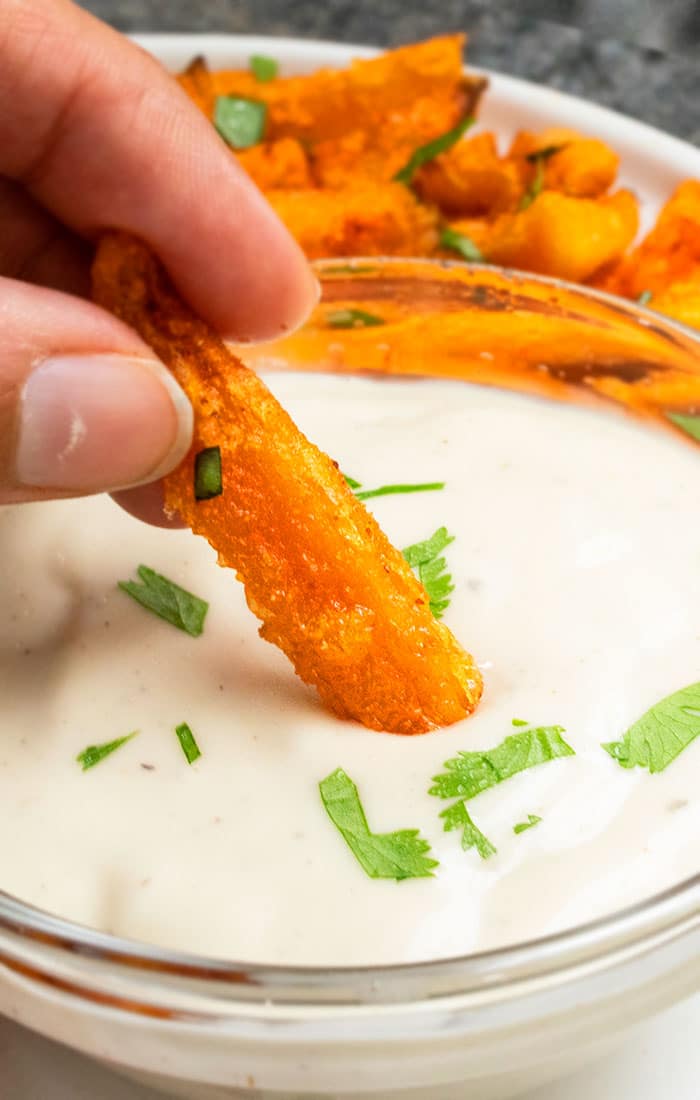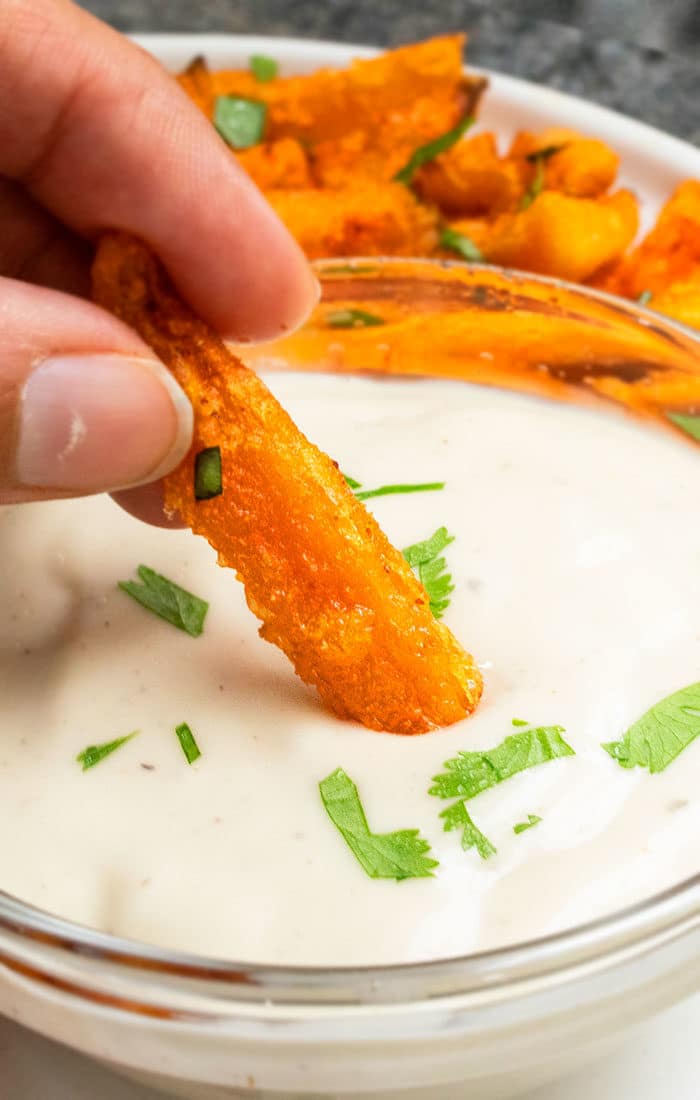 What to serve with crispy homemade sweet potato fries recipe?
You can enjoy it as a side dish or snack or appetizer. It's also a great addition to game day and tailgating parties.
Serve it as a side with burgers, wraps and sandwiches such as this Mediterranean Veggie Sandwich (One Pan) or this Loose Meat Sandwich (Tavern Sandwich) or this Vegetarian Quesadilla (One Pan) and obviously classic grilled cheese sandwiches.
Try it with baked or Grilled Chicken Breast (One Pot) or Chili Lime Chicken (One Pan) or Garlic Butter Steak Bites (One Pot) and even seafood to make a more filling meal.
How long to bake sweet potato fries?
20-25 minutes at 425 degrees F is the best temperature. Don't forget to flip them half-way through baking.
Sweet potato fries dipping sauce
There are so many options that the sky is the limit. Many folks are crazy about fry sauce but you can try some of these other sauces too:
Ranch
Sriracha mayo
Ketchup
Dill dip
Garlic dip
Maple Mustard
Honey Mustard
Chili Mayo
BBQ sauce/ BBQ Ranch
Chipotle Lime Dip
Sweet potato fries seasoning
You can keep it very simple with just salt and pepper or combine a few spices together like I did and make a custom spice blend: salt, pepper, paprika, onion powder, garlic powder, chili powder.
Moreover, you can just use pre-made seasoning blend such as:
Italian seasoning
Cajun seasoning
Mexican taco seasoning
Curry seasoning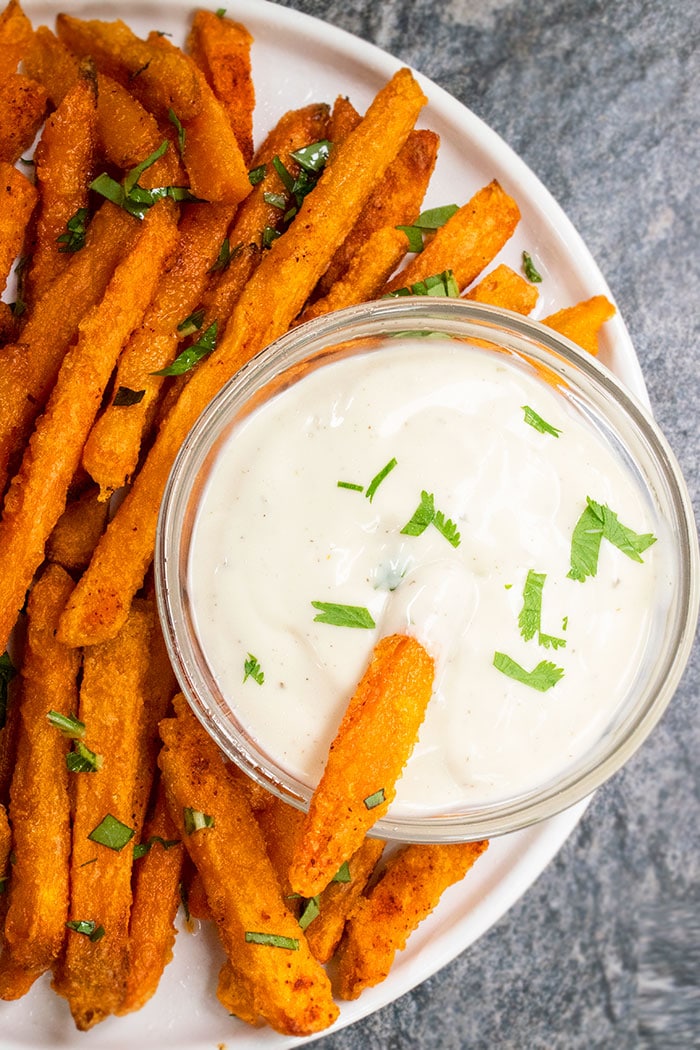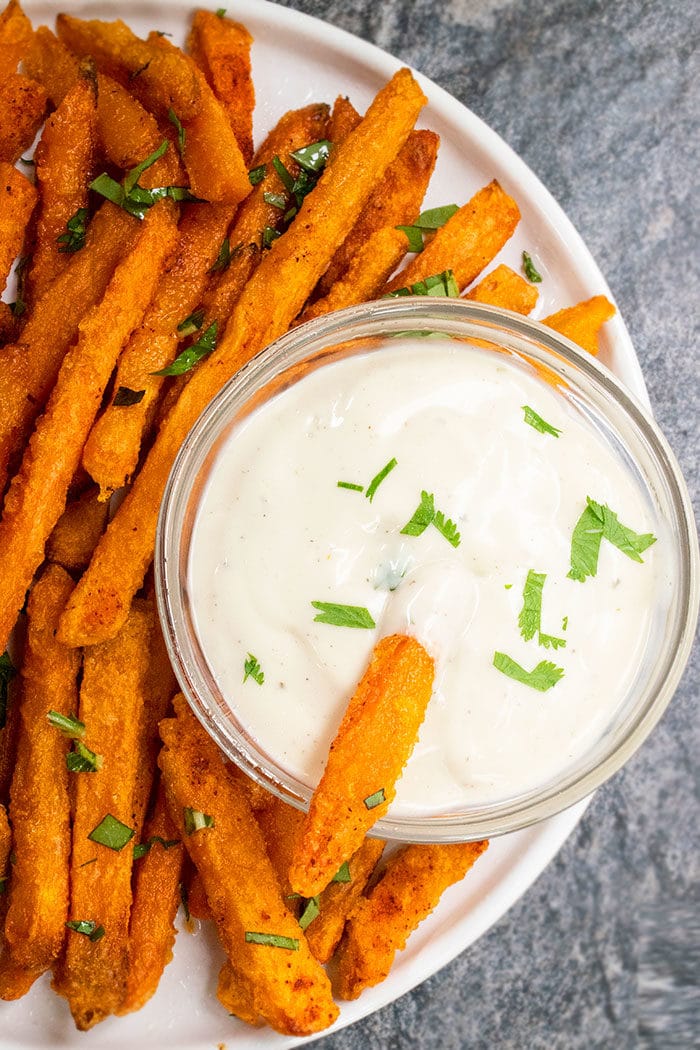 Tips and Techniques
Can you freeze fries? No, you cannot freeze them because as they thaw, they would lose their crisp texture and become limp.
Make ahead instructions– These fries can be cut ahead of time, and stored in a Ziploc bag or sealed container in the fridge. When you are ready to make them, oil and season as directed, and bake.
Storage and reheating instructions– I am not fond of chilling leftovers. They loose their crispy texture when reheated. However, some people reheat leftovers in the oven at 350 degrees F until warm and somewhat crispy again in about 10 minutes.
Do you have to peel sweet potatoes? Can you make them with the potato skin? This is a matter of personal preference. You can eat the skin, as long as it is washed first. The skin does have some extra nutritional value, and leaving it on cuts down on prep time. However, I prefer them without the skin like this recipe below suggests.
Even slicing is important- Even slicing ensures that the fries cook evenly and at the same rate. Otherwise, the small ones may burn while the larger are still raw. If you want the perfect crisp, make sure they are the same size!
Don't overcrowd the pan– Use 2 pans, if necessary, so that you don't get soggy fries.
What is a good substitute for cornstarch? A substitute for cornstarch is arrowroot flour, which also happens to be gluten- free. Regular flour can also be used.
Do I need to soak the potatoes first? Some people like to soak their peeled and sliced potatoes for 30 minutes, even up to overnight, before baking them to increase the crispiness. You can do that if you like. However, I have found that it does not make enough of a difference in crispiness to make the extra step worth the time.
How much olive oil should I use? Use enough that it coats all of the fries evenly, but doesn't pool on the sheet pan. Too much oil will keep them from crisping, and not enough oil will make them burn easily.
More One Pan Vegetarian Recipes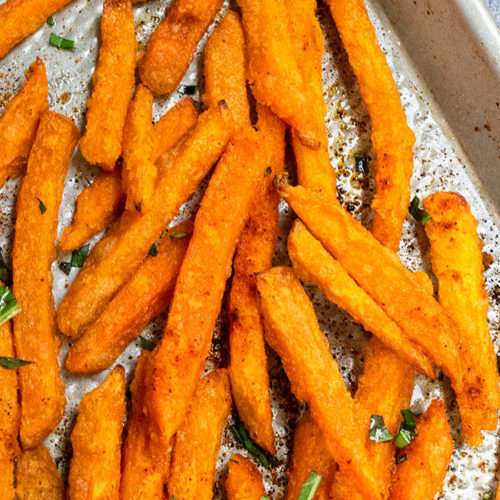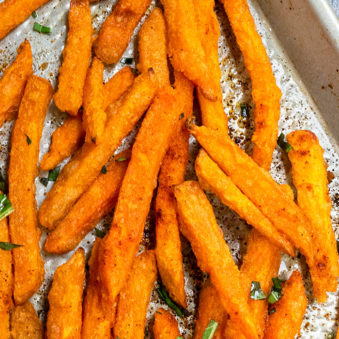 One Pan Crispy Baked Sweet Potato Fries
Quick, easy, healthy, crispy, oven baked sweet potato fries recipe, homemade with simple ingredients in one pan in 30 minutes. Enjoy as side dish or snack!
Yield: People
Instructions
Line a baking tray with parchment paper.

Add sweet potatoes and spread them out.

Pour olive oil and toss them until fully coated.

Sprinkle cornstarch, garlic powder, onion powder, paprika, chili powder, pepper and toss until fully coated.

Spread out the fries.

Bake at 425 degrees for 20-25 minutes, making sure to toss everything halfway through, for even cooking. Fries are ready when they are tender on the inside but crispy and golden brown on the outside.

Remove from oven and sprinkle salt and basil leaves. Enjoy!
Notes
Read all my tips above. 
Tastes best when served immediately but leftovers can be stored in a sealed container in the fridge for up to 2 days and reheated in the oven. 
Nutrition
Calories: 220kcal, Carbohydrates: 50g, Protein: 4g, Fat: 1g, Saturated Fat: 1g, Sodium: 222mg, Potassium: 774mg, Fiber: 7g, Sugar: 10g, Vitamin A: 32391IU, Vitamin C: 5mg, Calcium: 71mg, Iron: 1mg
Happy cooking everyone!