Baked Sweet Potato Wedges (One Pan)
The best, quick, easy, healthy, crispy, oven baked sweet potato wedges recipe, homemade with simple ingredients in one pan in 30 minutes. Loaded with Italian seasoning! Great as an appetizer, side dish or snack.
These Candied Sweet Potatoes and Hassleback Sweet Potatoes are two side dishes you must make, if you love sweet potatoes as much as me.
Today, I am sharing another way to enjoy this vegetable, which can also be added to your Thanksgiving menu. Kids, especially love them! They are perfectly crispy on the outside and tender on the inside.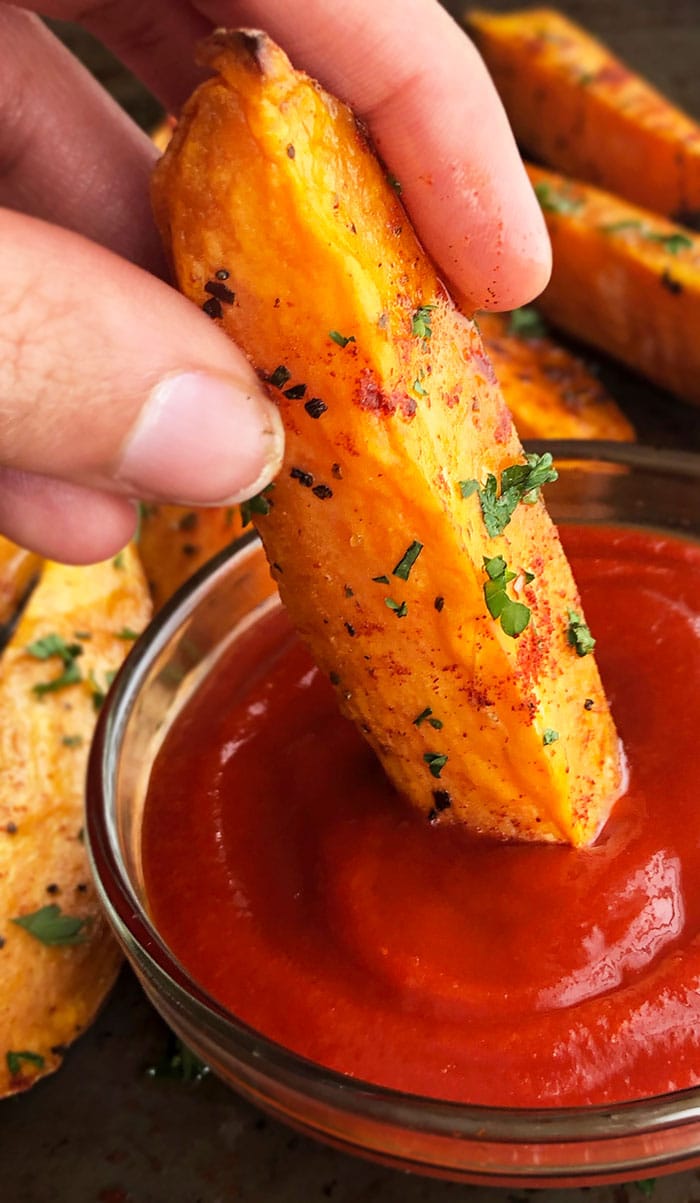 How to make oven baked sweet potato wedges?
Prepare potatoes– Wash them, pat them dry, cut into thick wedges.
Coat potatoes- Toss potatoes with olive oil, salt, pepper, Italian seasoning in a baking tray, lined with foil paper.
Spread them- Spread them so they are not overlapping.
Bake them- The best temperature is 450 degrees F for 20-25 minutes, flipping half-way through.
Broil them– This allows the tops to get really nice and crispy.
Enjoy- Remove tray from oven. Garnish with freshly chopped basil or parsley, if you like and dig in!
What to serve with oven roasted sweet potato wedges recipe?
You can enjoy them as a side dish or snack or appetizer. It's also a great addition to game day and tailgating parties.
If you are serving as an appetizer, be sure to serve alongside some dips or condiments like ketchup, Sriracha sauce, mustard, ranch sauce.
Serve it as a side with burgers, wraps and sandwiches such as this Mediterranean Veggie Sandwich (One Pan) or this Loose Meat Sandwich (Tavern Sandwich) or this Vegetarian Quesadilla (One Pan) and obviously classic grilled cheese sandwiches.
You can also serve them as a side with steak or baked/ grilled chicken to make the meal more filling.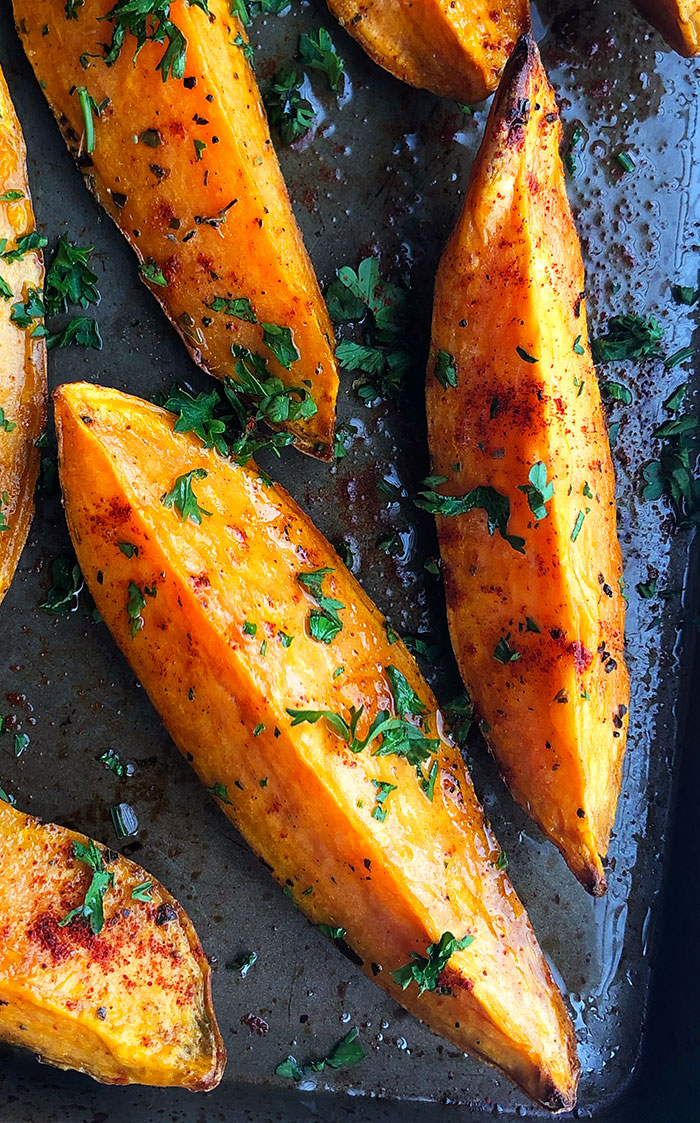 How to cut sweet potato wedges?
Cutting sweet potatoes can be a bit tricky because of the different shapes and sizes of the sweet potatoes. Be sure to buy more rounded sweet which are easier to slice.
Place potatoes on a sturdy cutting board.
Use a sharp knife to cut off the thin ends (if you are using large sweet potatoes with narrow ends).
Cut potatoes in half lengthwise.
Then, cut those pieces in half again.
Cut them in half again if the potatoes are very large.
Even slicing is very important because it ensures that all the wedges will cook at the same rate. Otherwise, the small, thin ones will cook faster than the long, thick ones.
How long do you bake crispy sweet potato wedges?
Bake them for 30 minutes at 450 degrees F.
Baking times depends on two things:
Thickness of the wedges– The thicker and bigger they are, the longer they take to bake.
Temperature settings– The higher the temperature, the quicker they bake.
Variations
Try different herbs or spice blends– Such as Cajun seasoning, Mexican taco seasoning, ranch seasoning, Mediterranean spices and even Indian spices.
Make them spicy– Add some red chili flakes.
Fry them- You can pan fry them or deep fry them. Obviously, baking is a healthier option.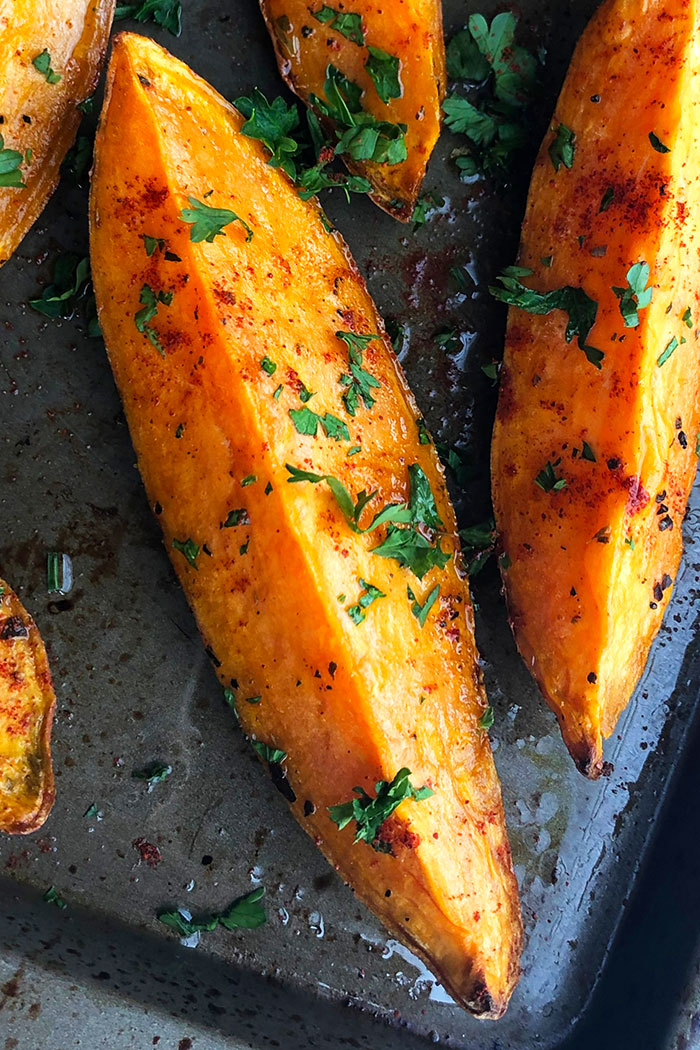 Tips and Techniques
Do I need to soak the potatoes first?  No, you don't have to soak them. A good scrub and wash is enough. Some people say that soaking potatoes in cold water overnight or at least 30 minutes removes excess potato starch, which makes them super crispy. I have not noticed any difference when I soaked them and when I didn't soak them.
Do you have to peel sweet potatoes? Can you make them with the potato skin? The skin in sweet potatoes is very delicate and crisps nicely in the oven, which is why I like to leave it on. However, if you are not fond of it, feel free to peel it.
Can you freeze wedges? No! That's because when they thaw, they loose their crispy texture. Bake and serve immediately.
Why are my wedges soggy? There could be a few reasons for this. Potatoes must be patted dry. If there is even some moisture on them, they won't crisp up that well during baking. Also, the wedges need to be spread out evenly in the pan because over-crowding prevents them from cooking perfectly.
Watch wedges closely when broiler is on– The wedges can burn in a matter of seconds. Watch like a hawk!
Baking time may vary- That's because this is dependent on the thickness of the wedges. The thicker they are, the longer they take to bake. The thinner they are, the quicker they cook through.
Line pan with foil paper– It just makes clean up easier.
Adjust amount of spices– Only salt, pepper and Italian seasoning were used in this recipe. Add more or less of whatever you like or dislike.
Make ahead instructions– These wedges can be cut ahead of time, and stored in a Ziploc bag or sealed container in the fridge. When you are ready to make them, toss them in seasoning and oil and bake.
Storage and reheating instructions– I do not recommend chilling leftovers for later. That's because they loose their crispy texture when reheated. Serve immediately.
More Sweet Potato Recipes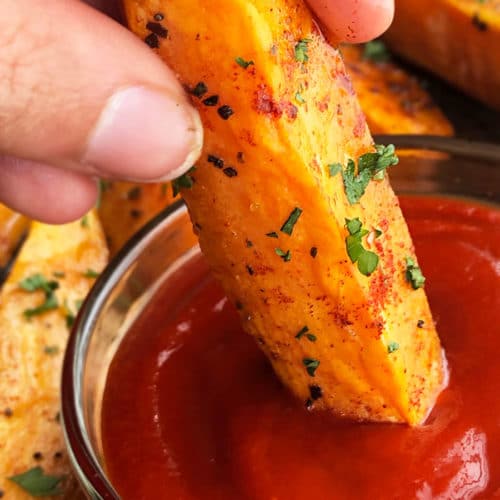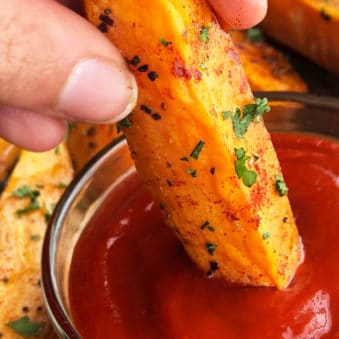 One Pan Sweet Potato Wedges
Quick, easy, crispy, oven baked sweet potato wedges recipe, homemade with simple ingredients in one pan in 30 minutes. Loaded with Italian seasoning!
Yield: People
Instructions
Spread the wedges on a baking tray, lined with foil paper.

Pour olive oil and sprinkle paprika, salt, pepper, Italian seasoning and toss everything together until wedges are fully coated.

Spread them out on the tray.

Bake at 450 degrees F for 30 minutes.

Then, broil for about 5 minutes or until tops of wedges are golden brown and crispy.

Garnish with freshly parsley or basil. Enjoy!
Notes
Read all my tips above.
Tastes best and crispy when served immediately. I don't recommend storing leftovers for later. 
Nutrition
Calories: 136kcal, Carbohydrates: 28g, Protein: 2g, Fat: 2g, Saturated Fat: 1g, Sodium: 259mg, Potassium: 470mg, Fiber: 5g, Sugar: 6g, Vitamin A: 18533IU, Vitamin C: 3mg, Calcium: 85mg, Iron: 2mg
Happy cooking everyone!