Oil and Vinegar Coleslaw (One Bowl)
Quick and easy vinegar coleslaw recipe, homemade with simple ingredients, from scratch in one pot or bowl in 10 minutes. Crunchy shredded cabbage is flavored with apple cider vinegar dressing and sweetened with honey. No mayonnaise needed for this healthy side dish.
This is a very popular and classic Summer side dish that you are going to see at a lot of barbecue parties, potlucks and picnics. This is a no mayo alternative to the classic version. This Three Bean Salad (One Bowl) and Broccoli Salad Recipe (One Bowl) are two other recipes that you should totally have in your collection for irresistible classic sides.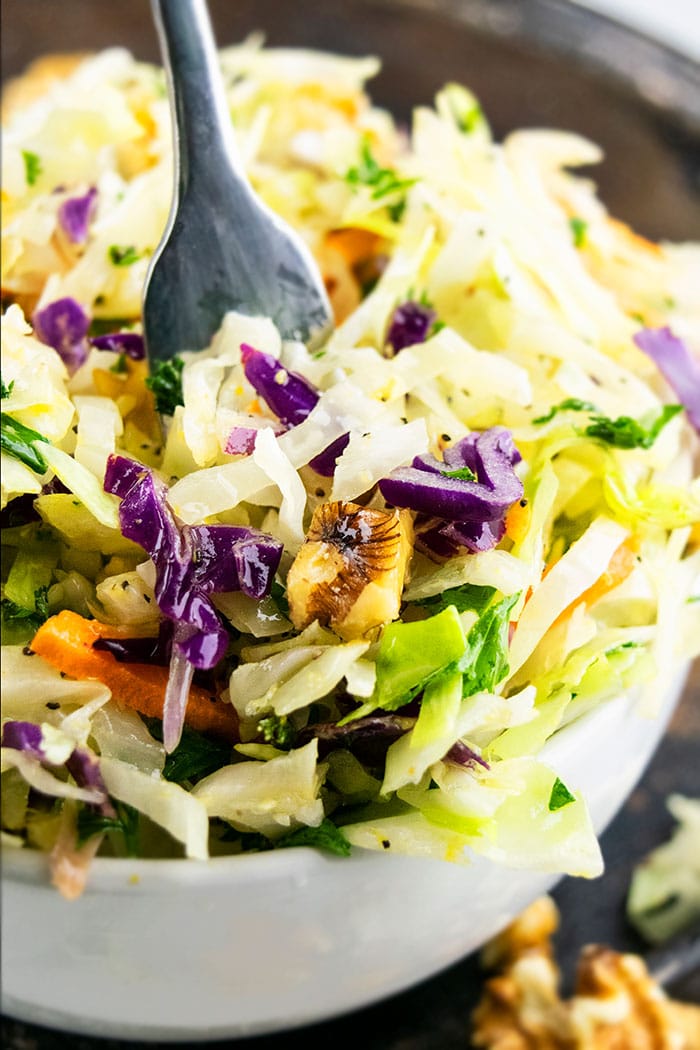 How to make vinegar coleslaw recipe (no mayo coleslaw)?
Make vinaigrette– Add oil, vinegar, honey, mustard, celery seeds, salt, pepper and mix until smooth.
Add shredded slaw mix, red onions, carrots– Mix until combined.
Let it rest– Do this for about 10 minutes.
Enjoy– Sprinkle nuts and dig in!
What to serve with apple cider vinegar based coleslaw?
This fresh Summer slaw makes a wonderful side dish with any beef and chicken main course. Try smoked, baked, Grilled Chicken Breast or these Garlic Butter Steak Bites (One Pan) and even Instant Pot Shredded Beef or BBQ Shredded Beef (One Pot). It's also amazing with pulled pork, bbq ribs and Slow Cooker Ham.
You can even use it as a topping on sandwiches, burgers, hot dogs, wraps, tacos, stuffed potatoes and even baked pizzas. Try them in these Shredded Chicken Tacos (One Pot) or Chicken Stuffed Sweet Potatoes (One Pan) or even Loose Meat Sandwich (One Pot) or this Avocado Toast (One Pan).
Serve it alongside pasta such as this Creamy Spinach Pasta (One Pot) or Bacon Pasta (One Pot).
Coleslaw Dressing with Vinegar
In a large mixing bowl or salad bowl, add the following and mix until smooth.
1/4 cup olive oil
1/4-1/3 cup apple cider vinegar
1-2 tbsp honey
1 tbsp dijon mustard
1 tsp celery seeds
Salt (To taste)
Pepper (To taste)
What is the difference between coleslaw and salad?
Salads are typically made with diced vegetables and slaws are made with shredded veggies and lots of cabbage.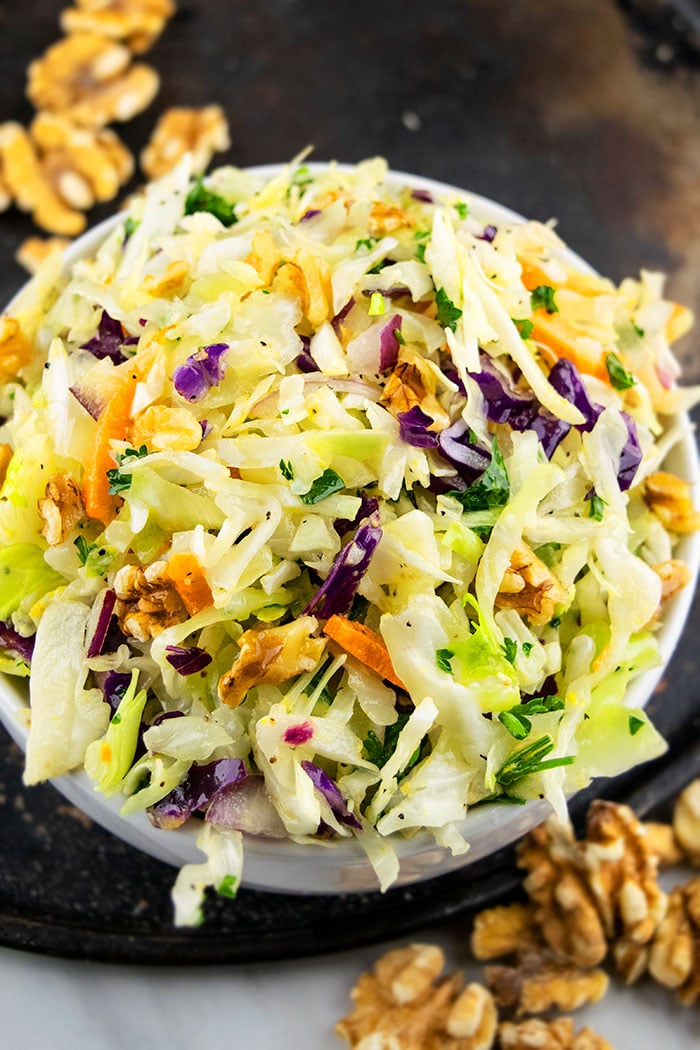 Storage
How long does homemade slaw last? It can be stored in a sealed container in the fridge for up to 2 days.
Do not freeze slaw– Because it does not thaw well and releases a lot of water and loses its crunchy texture.
Variations
Adjust seasoning– Add more or less according to your personal preference.
Adjust amount of vinegar- Add more for a strong tangy flavor or add less for a subtle tanginess.
Try a different vinegar– Such as red wine vinegar or distilled white vinegar.
Try different oils– Such as avocado oil, or even infused olive oils.
Add bacon– For a salty smoky flavor.
Add other vegetables– Such as broccoli, bell peppers, cauliflower, kale, or brussels sprouts.
Add herbs– Such as fresh cilantro, basil, parsley, chives, dill e.t.c.
Try other onions– Such as thinly sliced green onions, shallots, yellow or white onions for a different flavor.
Make it spicy– Add thinly sliced jalapenos or red pepper flakes.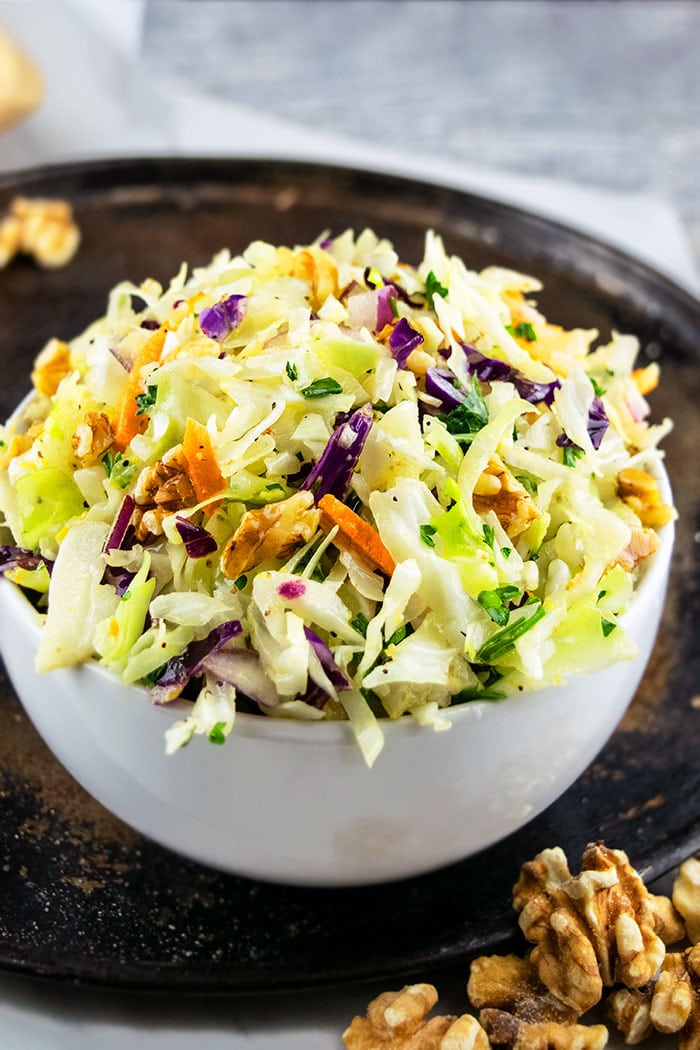 Tips and Techniques
Apple cider vinegar vs. Distilled white vinegar- Apple cider vinegar is brown and made from apples. It also has more nutritional value than distilled white vinegar, and a better flavor for this recipe. You can also use a combination of both vinegars.
Serve immediately- This is because adding vinegar and salt causes cabbage to break down and get soggy and lose that perfect crunchy texture.
Make ahead instructions– Make the dressing and keep it separately from the veggies in the fridge until you are ready to serve. Then, toss everything together and enjoy.
Honey substitute– You can use agave or brown sugar or granulated sugar or even maple syrup. The flavor will change slightly, depending on the sweetener being used.
Thinly slice and shred your vegetables– Because that allows you enjoy all the veggies in each bite. It also allows the vinaigrette to distribute more evenly.
Homemade cabbage mix vs. Store-bought mix- Either can be used. I like to use the shredded bagged mix because it's convenient and you save time.
Should this be served hot or cold? It's always served cold. Heating would cause the veggies to break down and get soggy.
Serve a crowd– Make a bigger batch by doubling or even tripling all the ingredients.
Let it rest- This is optional. I usually let the slaw rest for 5-10 minutes at room temperature to allow the flavors to marinate.
What nuts to use? This is a personal preference. Use whatever nuts you like (almonds, pistachios, pecans, cashews, walnuts e.t.c.). I use a combination of walnuts and pecans for a little crunch and added flavor. It can also be omitted altogether.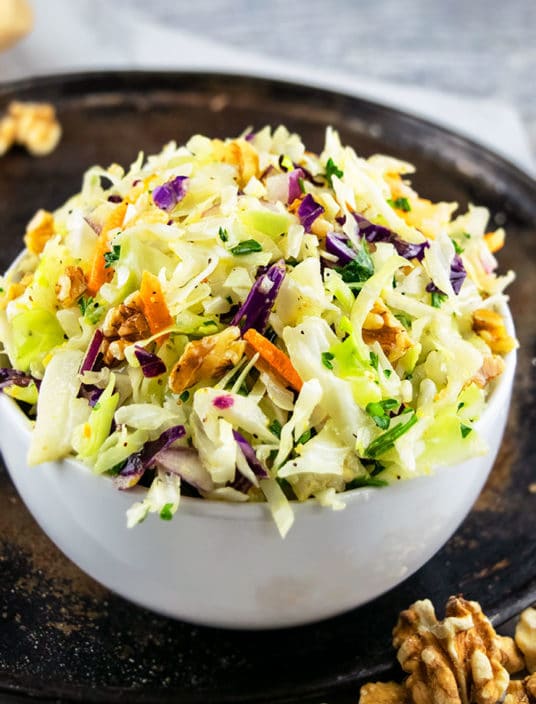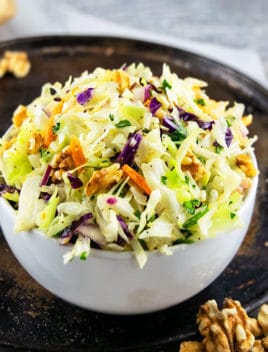 One Pot Vinegar Coleslaw
Servings: 6 People
Course: Side Dish
Cuisine: American
Keyword: homemade vinegar coleslaw, no mayo
Calories: 34 kcal
Ingredients
1/4 cup Olive oil
1/4-1/3 cup Apple cider vinegar Adjust quantity, based on your preference.
1-2 tbsp Honey
1 tbsp Dijon mustard
1 tsp Celery seeds
Salt To taste
Pepper To taste
1.5 bags Shredded coleslaw mix 16 oz. bag, 3 color mix
1/2 cup Red onions Thinly sliced
1 Carrot Shredded, Medium size
1/4 cup Nuts Roughly chopped, Any nuts of your choice
Instructions
In a large mixing bowl or salad bowl, add oil, vinegar, honey, mustard, celery seeds, salt, pepper and mix until smooth.

Add shredded coleslaw mix, red onions, carrots and mix until combined.

Optionals- Let it rest for 10 minutes to allows the flavors to develop.

Sprinkle nuts on top and and enjoy!
Recipe Notes
Read all my tips above.
Tastes best when served immediately but leftovers can be stored in a sealed container in the fridge for up to 2 days.
Nutrition Facts
One Pot Vinegar Coleslaw
Amount Per Serving
Calories 34 Calories from Fat 9
% Daily Value*
Fat 1g2%
Saturated Fat 1g5%
Sodium 125mg5%
Potassium 62mg2%
Carbohydrates 6g2%
Fiber 1g4%
Sugar 4g4%
Protein 1g2%
Vitamin A 1721IU34%
Vitamin C 2mg2%
Calcium 15mg2%
Iron 1mg6%
* Percent Daily Values are based on a 2000 calorie diet.