Chicken Quesadilla (One Pan)
The best, quick and easy chicken quesadilla recipe, homemade with simple ingredients in one pot over stovetop in 20 minutes. Loaded with ooey gooey cheese and Mexican shredded taco chicken. Also known as "chicken and cheese quesadilla."
The simplicity yet deliciousness of this recipe is what makes it so popular with so many people around the world, just like its vegetarian counterparts: Vegetarian Quesadilla (One Pan) and Cheese Quesadilla (One Pan).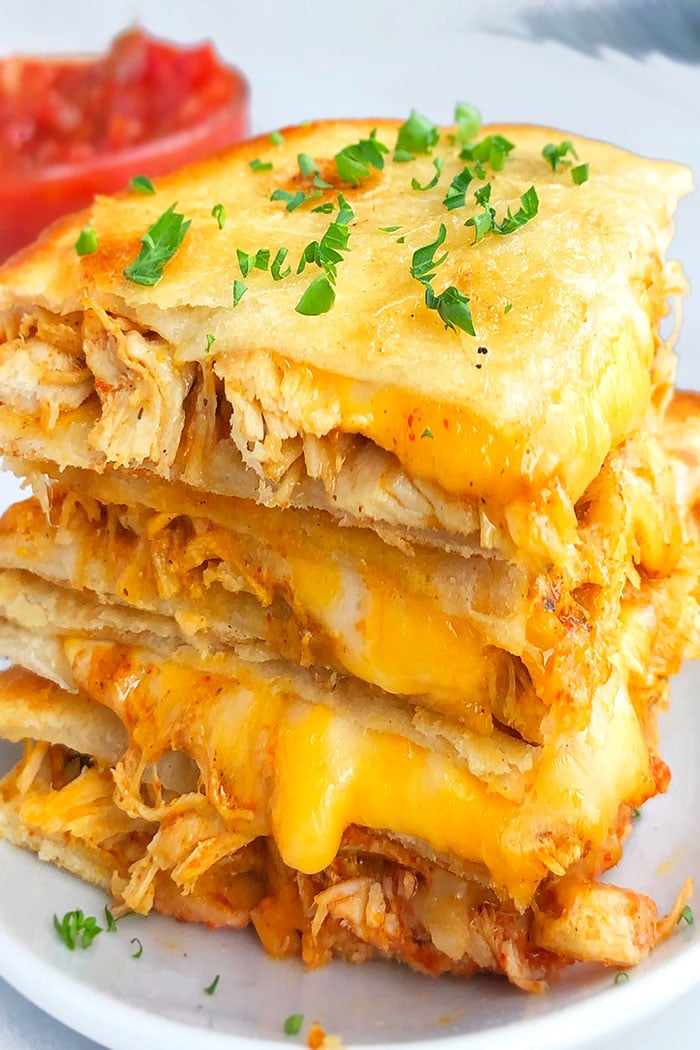 How to make chicken quesadillas?
Heat butter– Until it's fully melted.
Pan fry tortilla- Place one tortilla on top of the melted butter and pan-fry only one side until golden brown. Remove and keep aside.
Pan fry second tortilla– Heat more butter and place second tortilla over all that butter.
Add cheese– Sprinkle it evenly on top of the tortilla.
Add chicken– Spread shredded Mexican chicken on top of the cheese.
Add more cheese– Sprinkle more cheese on top of all that chicken.
Cover– Place the pan-fried tortilla you prepared earlier on top of the cheese (brown side up). Press gently.
Cook– Until cheese melts.
Slice– Use a sharp knife or pizza cutter and enjoy!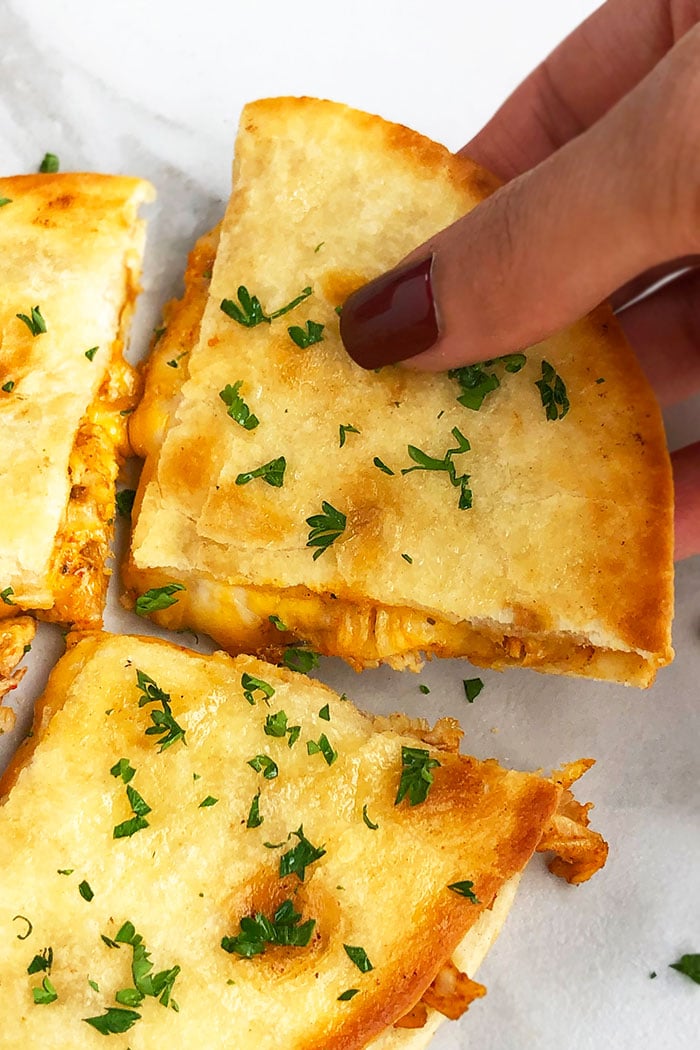 What sides to serve with easy chicken quesadilla recipe?
They can be enjoyed on their own but my family loves them with dips and salsas such as:
Salsa Verde
Guacamole
Cheese Sauce
Queso Dip
Sour cream
Serve them alongside soups to make a more filling meal such as:
If you are looking for lighter healthier side options, try vegetables and salads such as a simple green salad, black bean salad, Mexican Corn Salad or this Tomato Avocado Salad. You also can't go wrong with Mexican Corn on the Cob.
What toppings can be added to quesadillas?
I only added chicken and cheese but so many other ingredients can be added to take it to a whole new level of deliciousness:
Vegetables– Try these Vegetable Fajitas (One Pot)
Rice– Try this Cilantro Lime Rice (One Pot) or Pineapple Rice (One Pot).
Beans– Mexican refried beans are an incredible addition!
Corn– Can be steamed or boiled.
Olives– Black olives taste the best.
Tomatoes- Make sure they are finely chopped.
Onions or green onions– Should be finely chopped.
Jalapenos– Can be deseeded to minimize the spice factor.
Fresh herbs– Such as finely chopped cilantro or parsley.
Cheese- Such as shredded cheddar, mozzarella, parmesan, monterey jack, provolone, feta, and even cream cheese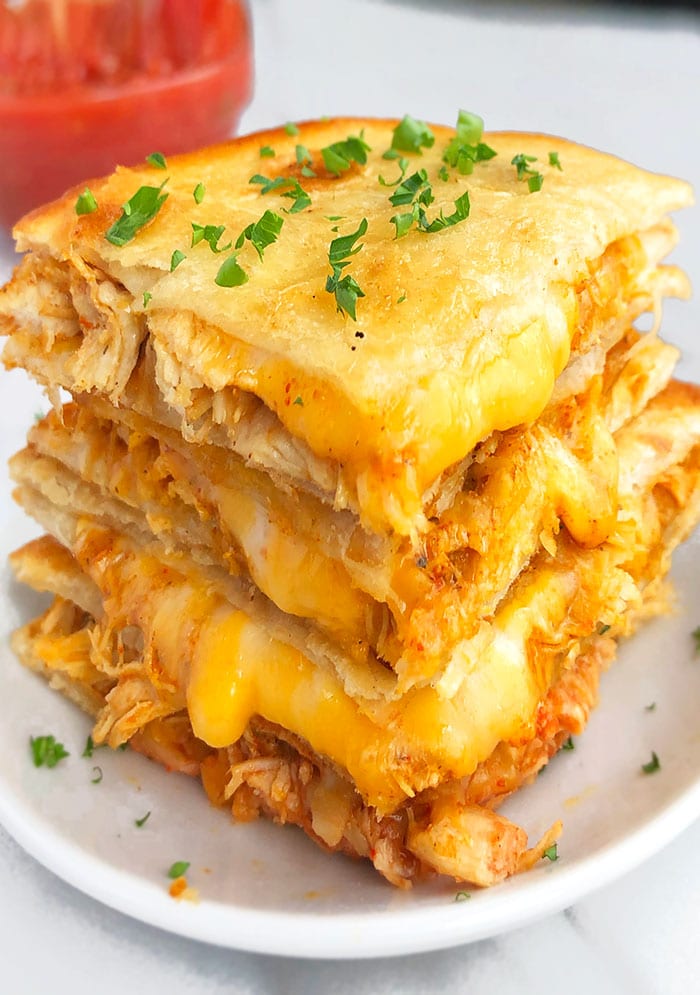 Best Chicken Quesadilla Seasoning
Mexican taco seasoning is the best choice. It can be homemade or store-bought.
For DIY homemade taco seasoning, mix together the following ingredients:
1 tbsp chili powder
1 tsp ground cumin
1.5 tsp garlic powder
1 tsp paprika
1/2 tsp oregano
1/2 tsp onion powder
1/4 tsp salt
1/4 tsp black pepper
1/4 tsp red chili flakes
Any of the spice quantities can be adjusted to your liking. Keep it in a sealed jar at room temperature.
Variations
Buffalo chicken quesadilla– If you have leftover chicken from this Buffalo Chicken Pasta, use that instead of the Mexican chicken.
Bacon ranch chicken quesadillas– If you have leftover chicken from this Chicken Bacon Ranch Pasta (One Pot), use that instead of the taco chicken.
BBQ chicken quesadilla- Use shredded bbq chicken.
Chicken fajita quesadilla– Use these Chicken Fajitas (One Pot).
Use baked or grilled chicken– It can be diced or chopped. This Grilled Chicken Breast is phenomenal.
Use other meats- Such as cooked beef or turkey.
Make it spicy- Add finely chopped jalapenos.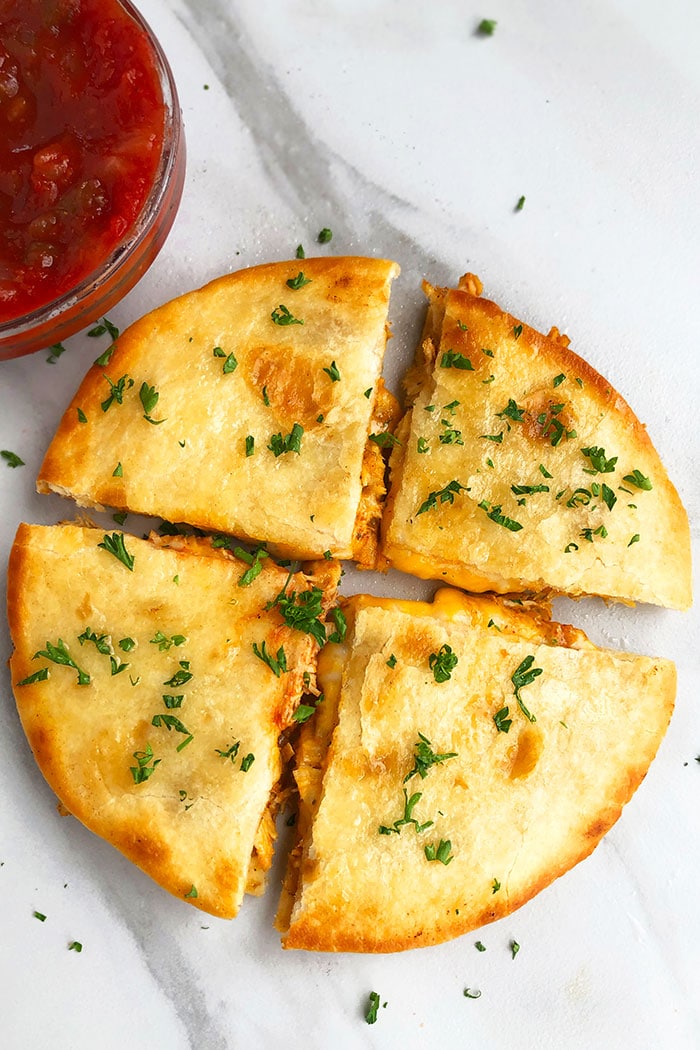 Tips and Techniques
What's the best cheese for quesadilla? A blend of various cheeses should be used for best flavor. I highly recommend Mexican cheese blend or you can make your own blend of mozzarella, cheddar, parmesan, Romano, Asiago or any other cheese you like. Please note that freshly shredded cheese taste the best and also melts the best.
Use one tortilla- Instead of using two tortillas, you can also just use one tortilla and fold it in half.
What type of tortillas to use? Quesadillas are always made with soft tortillas and not hard ones. The two popular options are flour or corn tortillas. Whole wheat tortillas are a great healthy option. I like to use white tortillas, made with all-purpose flour. They are the softest!
Make ahead instructions– These can be made 1 day in advance and reheated on the stovetop to make crispy again.
Can you freeze quesadillas? Yes! Prepare them, according to the recipe below and let them cool down. Then, wrap them in saran wrap and freeze in an airtight container for up to 1 month. When you are ready to eat them, reheat in the microwave, toaster oven, air fryer or stovetop.
How to reheat quesadillas? How to keep them warm? If you are not serving immediately, you can keep them warm in the oven in a baking tray on the lowest heat setting. You can also reheat leftovers in the air fryer or stovetop again.
Watch the heat- The tortillas should crispy and golden brown on the outside and not burnt. Adjust the heat, as necessary and don't cook on High heat.
Use nonstick pan– Because this prevents tortillas from burning and sticking to the pan.
Butter vs. Oil- I love USING butter. It has a rich flavor and aroma. Just make sure it's unsalted to prevent the meal from becoming too salty.
More One Pot Mexican Meals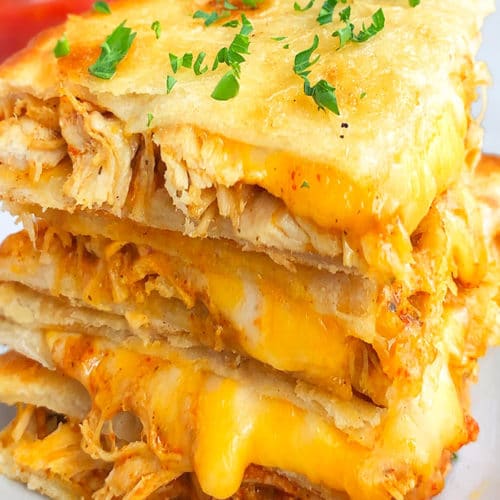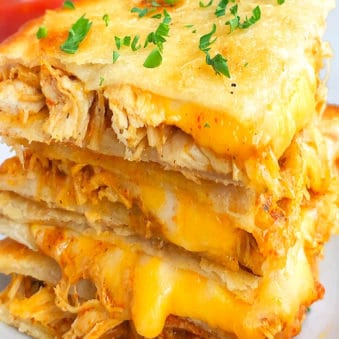 One Pan Chicken Quesadilla
Quick, easy chicken quesadilla recipe, homemade with simple ingredients in one pot over stovetop in 20 minutes. Loaded with cheese and shredded taco chicken.
Yield: People
Instructions
Heat half the butter in nonstick pan over medium heat.

Place one tortilla on top the the melted butter and pan fry one side only.

Remove it from pan and keep aside.

Heat remaining butter and place the other tortilla in the pan.

Sprinkle half the cheese on top of the tortilla.

Top it off with shredded chicken.

Sprinkle remaining cheese on top.

Place the fried tortilla (browned side up) on top of the fillings.

Press them together gently with a spatula.

Continue cooking until the cheese is melted and the bottom tortilla is golden brown too. There is no need to flip it. Lower the heat, if pan starts to become too hot.

Remove from pan and use a sharp knife or pizza cutter to cut slices. Enjoy!
Notes
Read all my tips above.
Tastes best and crispy when served immediately. Leftovers can be stored in a sealed container in the fridge for up to 2 days and reheated in the microwave or stovetop. 
Nutrition
Calories: 379kcal, Carbohydrates: 16g, Protein: 25g, Fat: 23g, Saturated Fat: 12g, Cholesterol: 95mg, Sodium: 588mg, Potassium: 202mg, Fiber: 1g, Sugar: 2g, Vitamin A: 454IU, Calcium: 315mg, Iron: 2mg
Happy cooking everyone!