Shredded Chicken Tacos (One Pot)
Quick and easy shredded chicken tacos recipe, homemade with simple ingredients in one pot over stovetop in 30 minutes. Loaded with Mexican taco seasoning. Also known as "pulled chicken tacos."
When it comes to quick meals that are packed with flavor, nothing can get easier than tacos. Everyone seems to love them! You can fill them with Chicken Fajitas (One Pot) or Salsa Chicken (One Pot) but today's recipe is another option, especially for Taco Tuesday or Cinco de Mayo.
If you are having family and friends over to your place for dinner, just set up a taco bar. Simply, line a table with with shredded chicken or Slow Cooker Barbacoa Beef, various toppings, tortillas and shells. This way, people can make their tacos any way they like and just have fun!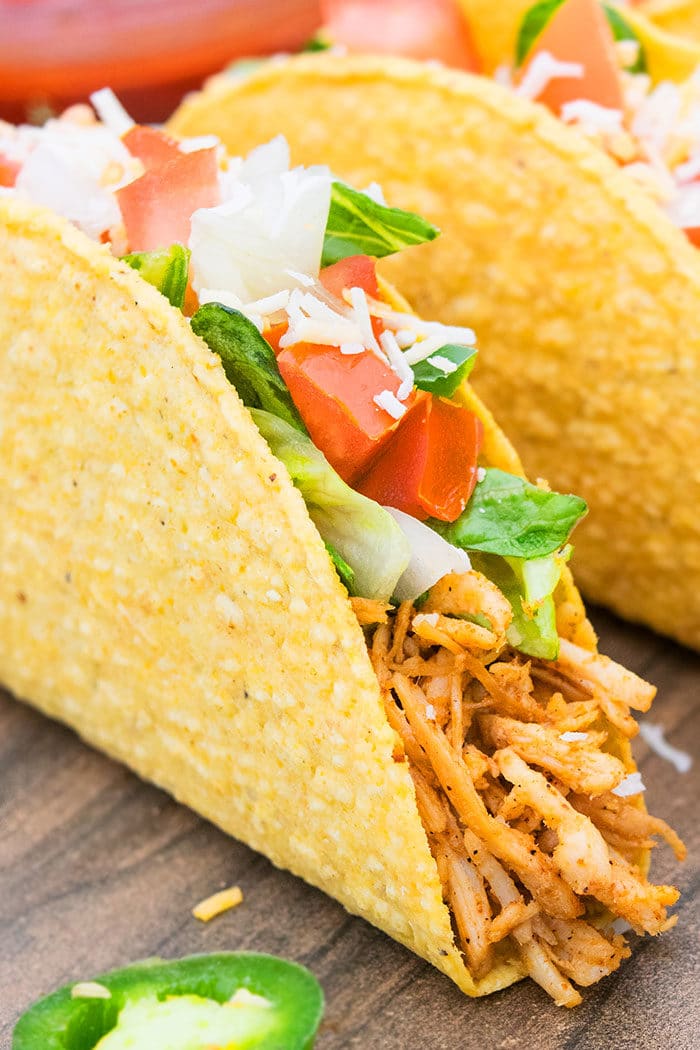 How to make shredded chicken tacos?
Saute onion– Heat oil and cook the onion until tender.
Add chicken– Cook for a couple of minutes until it's no longer pink.
Add seasonings and broth– Mix everything together.
Cover and cook– Do this until until chicken is cooked through.
Uncover and cook– This reduces excess liquid.
Shred chicken– Use 2 forks to do this.
Enjoy! Fill this pulled chicken in tortillas or hard shells, along with toppings of your choice and dig in.
What sides to serve with Mexican chicken taco recipe?
It's typically served on its own as a meal . However, to make a more hearty filling meal, serve it alongside a salad such as Mexican Corn Salad (One Bowl) or Tomato Avocado Salad (One Bowl). Another option would be Mexican Corn on the Cob (One Pan).
If you are fond of soups, try these soups on the side: Instant Pot Mexican Soup or Instant Pot Chicken Enchilada Soup or Easy Chicken Tortilla Soup (One Pot).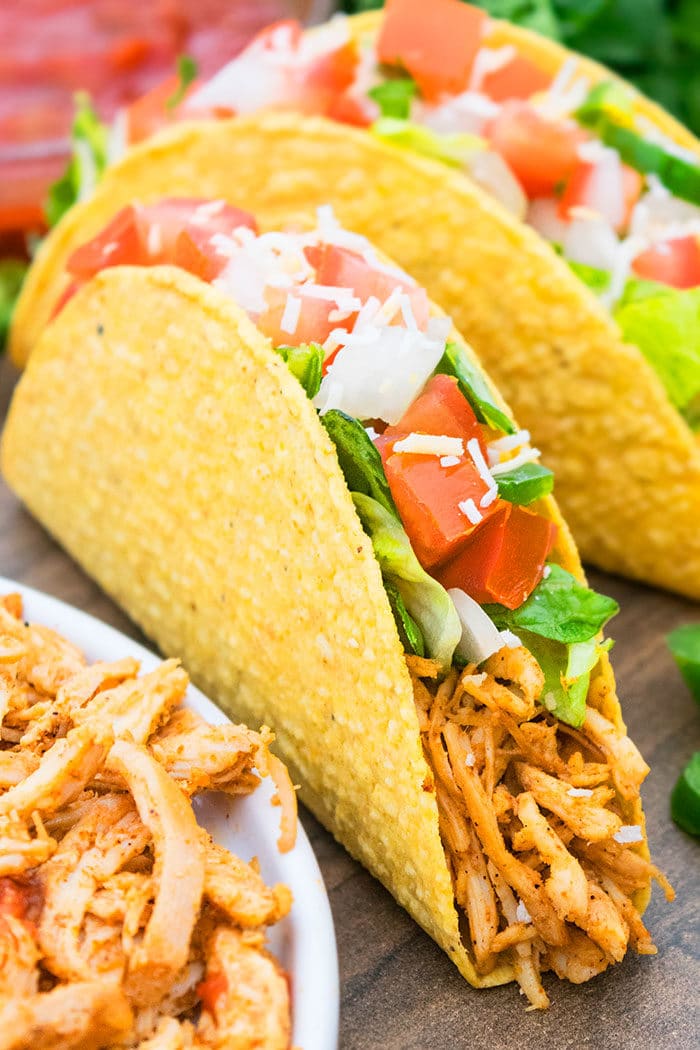 How to shred chicken?
There are 2 methods:
Forks– Once the chicken is tender and cooked through, use 2 forks to tear the chicken and shred it into small pieces.
KitchenAid Mixer– Add the cooked chicken in the mixer and use the paddle attachment to shred chicken.
Chicken taco seasoning
Homemade or store-bought seasoning can be used. To make DIY homemade taco seasoning, mix together the following spices:
1 tbsp Chili powder
1 tsp Cumin powder
1 tsp Garlic powder
1 tsp Paprika
1 tsp Onion powder
1/2 tsp Oregano
1/2 tsp Salt
1/4 tsp Black pepper
1/4 tsp Red chili flakes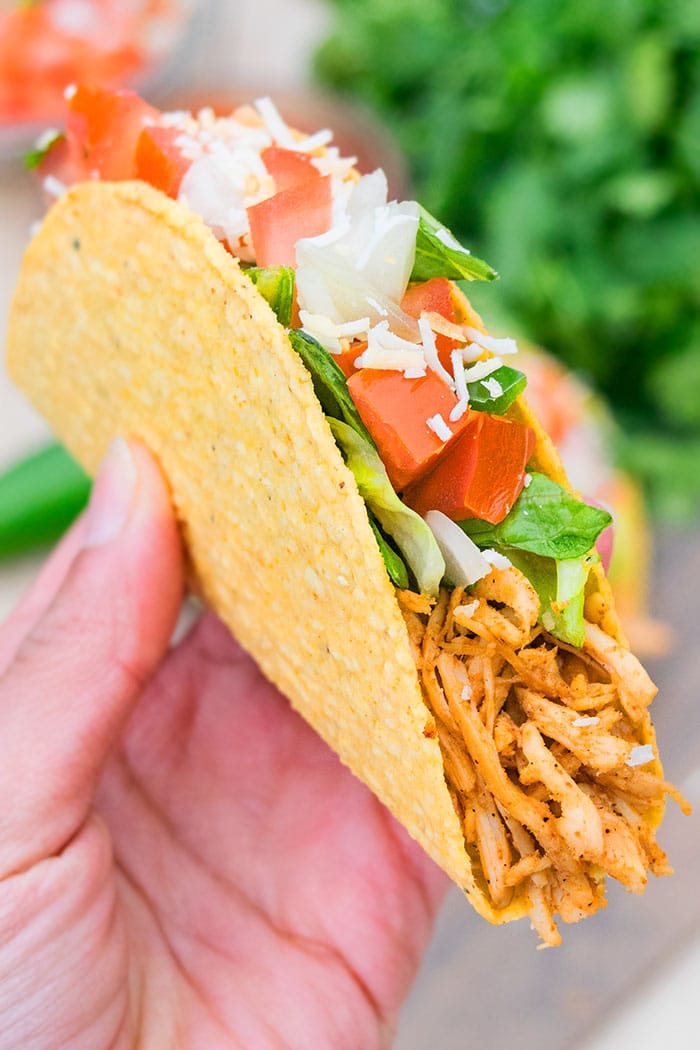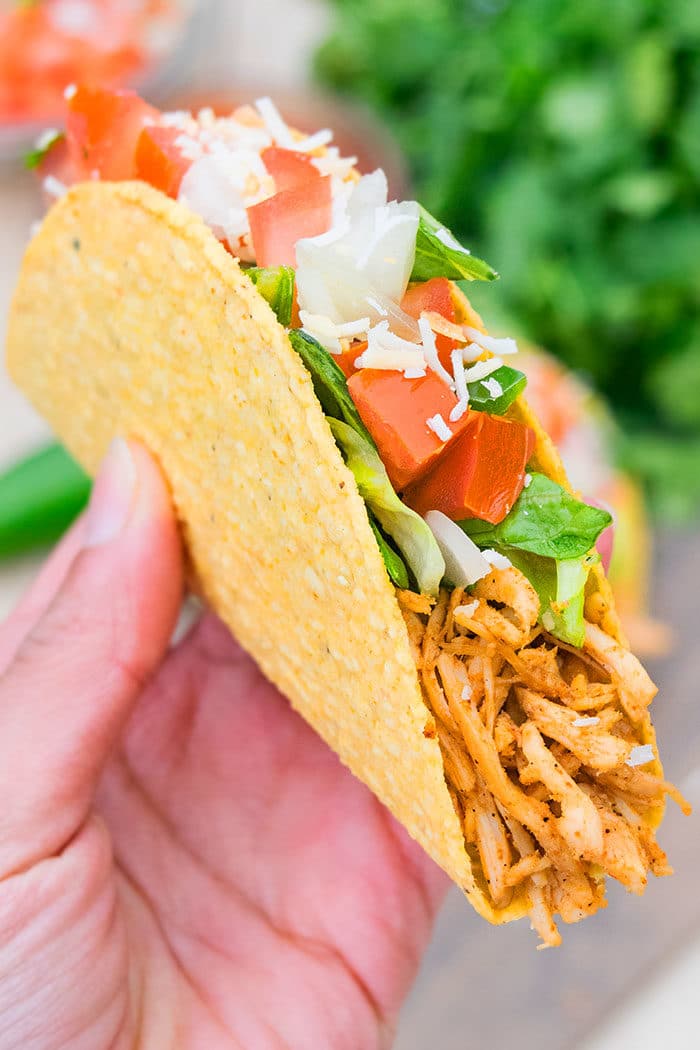 Taco toppings
There are so many options. However, don't use all the toppings at once. Pick and choose a few items from the list to create different flavor combinations.
Sour cream– Full fat is best.
Lettuce– Roughly chopped.
Guacamole– Homemade or store-bought.
Sliced avocados– Use ripe ones.
Tomatoes– Finely chopped.
Onions- Finely chopped red onions are great!
Salsa– Such as Corn Salsa (One Bowl) or Mango Salsa (One Bowl) or Pineapple Salsa (One Bowl) or Pico De Gallo Salsa (One Bowl) or even Strawberry Salsa (One Bowl)
Jalapenos– Finely chopped or can also use pickled jalapenos.
Cheese– Shredded Mexican cheese blend is amazing.
Rice– To make it more filling, stuff tacos with Cilantro Lime Rice (One Pot).
Vegetables– Vegetable Fajitas (One Pot) are a great addition.
Cilantro– Finely chopped.
Lemon– A drizzle of fresh lemon juice on top adds a lovely tangy flavor.
Beans– Black beans and/or red beans. If you are using canned beans, be sure to drain and rinse them.
Variations
Ground chicken tacos– Replace chicken breast with ground chicken.
Baked or Grilled tacos– Marinate meat in Mexican marinade for a few hours. Then, bake or grill until cooked through. Let chicken rest, then dice it and use as a filling.
Crockpot/ Slow cooker chicken tacos– Just just dump all the ingredients in the slow cooker. Cover lid and cook on Low heat for 4 hours.
Rolled chicken tacos– Add fillings in soft flour tortillas and roll them. They can be baked for a few minutes or even deep fried to make the tops crispy.
Chicken taco marinade– Mix together some 1/4 cup olive oil, 1/4 cup lemon juice, 1 tbsp finely chopped cilantro, 1 finely minced clove of garlic and 2-3 tbsp taco seasoning. Marinate chicken breasts for at least 30 minutes or overnight.
Soft tacos vs. Hard tacos– Either can be used. I like the crunch of hard taco shells and it also holds the filling more securely than a soft corn or flour tortilla. I highly recommend using taco shells with a flat base because they don't wobble around your plate, making it easier to fill them
Make it spicy- Add some red chili flakes or finely chopped jalapenos.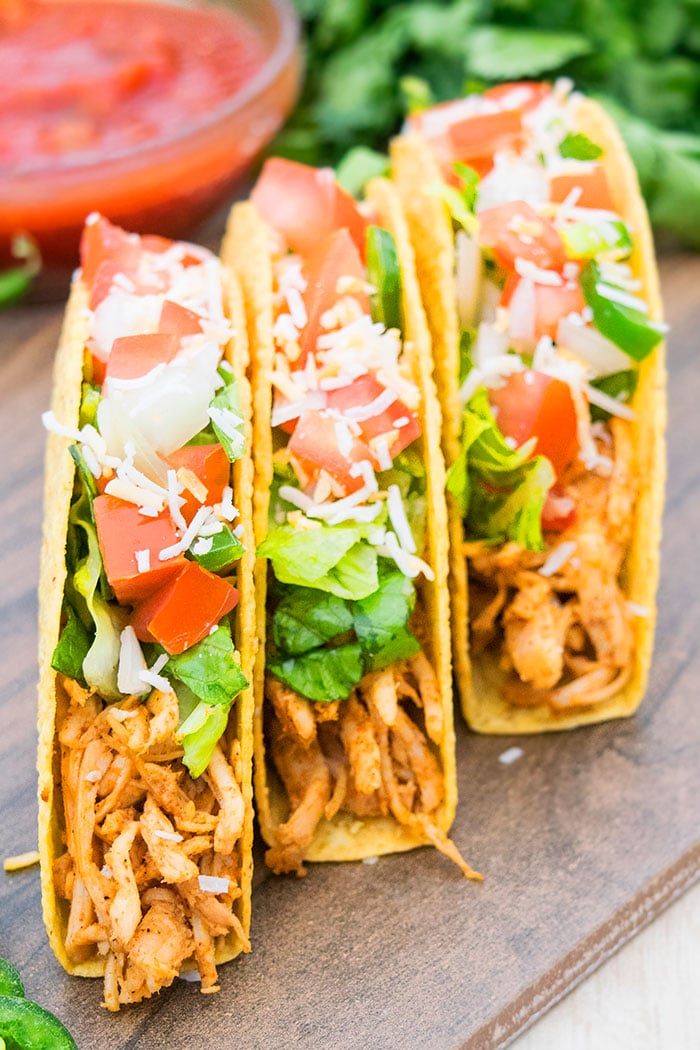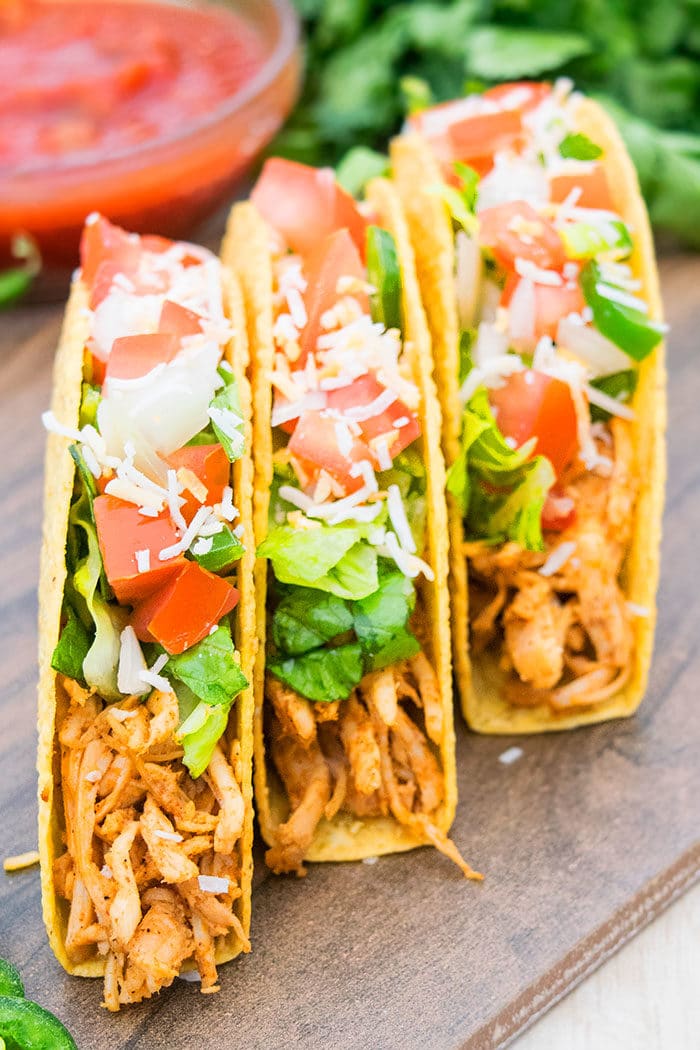 Tips and Techniques
Use nonstick pot– Because that prevents the chicken from burning and sticking to the pan.
Make ahead instructions- Make the Mexican shredded chicken and prepare all the toppings a day in advance. Store them in sealed container in the fridge until you are ready to assemble these street tacos and enjoy them for dinner.
Can I use frozen chicken breast? Yes, you can but it will increase the cooking time by a few minutes since frozen chicken releases more water.
Adjust amount of seasoning– Add more or less taco seasoning, based on your preference.
Use low sodium broth– Because it prevents the meal from becoming too salty. You can also use water instead of broth.
Cut chicken into small cubes– Because this will allow it to cook faster.
More One Pot Mexican Meals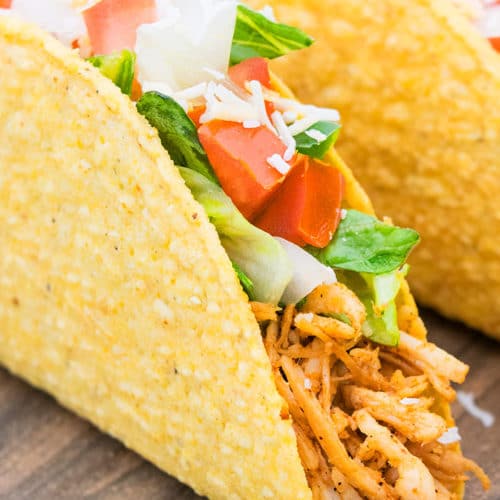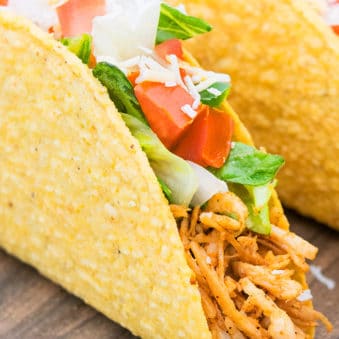 One Pot Shredded Chicken Tacos
Quick and easy shredded chicken tacos recipe, homemade with simple ingredients in one pot over stovetop in 30 minutes. Loaded with Mexican taco seasoning.
Yield: People
Ingredients
2 tbsp Oil
1 tbsp Onion, Finely chopped
1 pound Chicken breast, Boneless, Cut into small cubes
4 tbsp Taco seasoning, Adjust according to your preference
Salt, To taste
Pepper, To taste
1/2 cup Chicken broth, Low sodium, Or water
8-10 Hard taco shells
Toppings, Lettuce, cheese, onions, tomatoes, salsa, guacamole e.t.c.
Instructions
Heat oil in a non stick pot or pan over medium-high heat.

Add onions and saute until translucent and tender.

Add chicken and cook until it's no longer pink.

Sprinkle taco seasoning, salt, pepper and pour broth.

Mix until combined.

Cover and cook for about 15 minutes.

Remove lid and continue cooking until liquid is reduced to your desired consistency. Stir often.

Turn off the heat and use two forks to shred the chicken.

Fill taco shells with shredded chicken and your choice of toppings. Enjoy!
Notes
Read all my tips above.
Tastes best when served immediately. Leftover tacos cannot be stored for later because the shells will become soggy. However, you can store this cooked Mexican shredded chicken and all the toppings separately in a sealed container in the fridge and assemble tacos together when you are ready to enjoy them. 
Nutrition
Calories: 208kcal, Carbohydrates: 11g, Protein: 17g, Fat: 10g, Saturated Fat: 2g, Cholesterol: 48mg, Sodium: 341mg, Potassium: 333mg, Fiber: 1g, Sugar: 1g, Vitamin A: 188IU, Vitamin C: 3mg, Calcium: 19mg, Iron: 1mg
Happy cooking everyone!