Sweet Potato Hash (One Pan)
Healthy, quick and easy sweet potato hash recipe, homemade with simple ingredients in one pan in 30 minutes. Loaded with Italian seasoning, eggs, onions, peppers.
Sweet potatoes are one of my favorite vegetables ever. There are so many ways to enjoy them from Candied Sweet Potatoes (One Pot) to traditional Mashed Sweet Potatoes (One Pot). I am always looking for new ways to add them to my family meals and constantly developing new recipes.
Today's version can be enjoyed as breakfast, brunch, lunch or even a Thanksgiving side dish.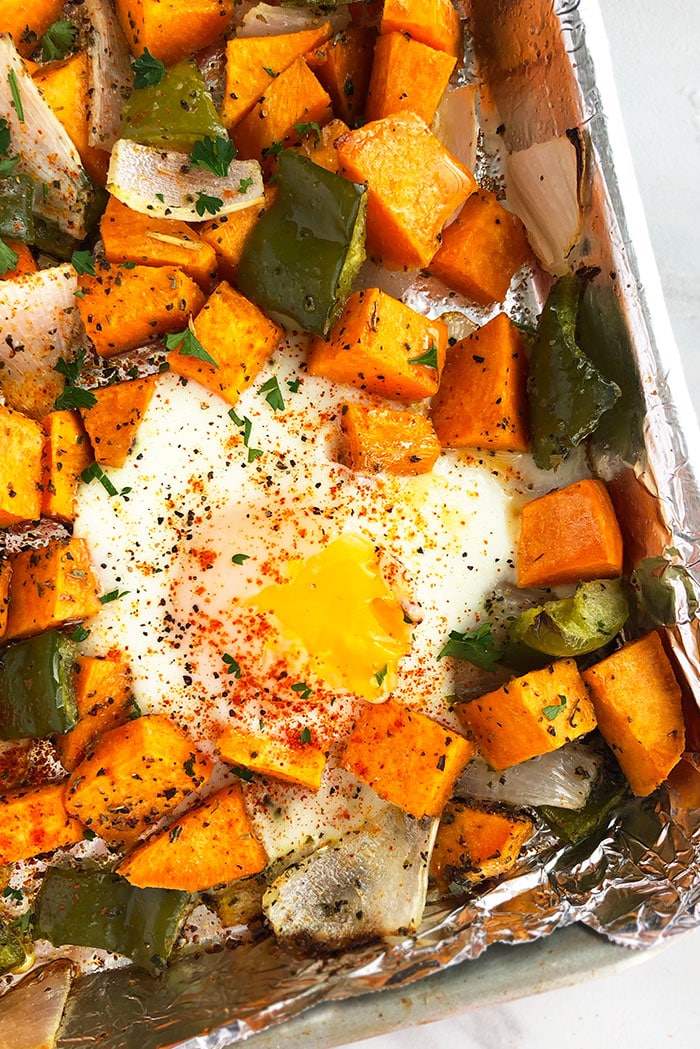 How to make sweet potato hash?
Prepare pan– Spread sweet potatoes, onions and peppers in a large baking tray.
Add oil and seasonings– Drizzle oil, Italian seasoning, salt, pepper and then toss everything until is fully coated.
Bake– The best temperature is 400 degrees F for about 12 minutes. It will only be partially cooked.
Add eggs- Remove tray from oven and toss everything. Make four spaces and add eggs in each empty space.
Bake again– Cook for another 8-10 minutes or until potatoes and eggs are cooked through.
Enjoy- Garnish with parsley, toss some bacon (optional) and dig in!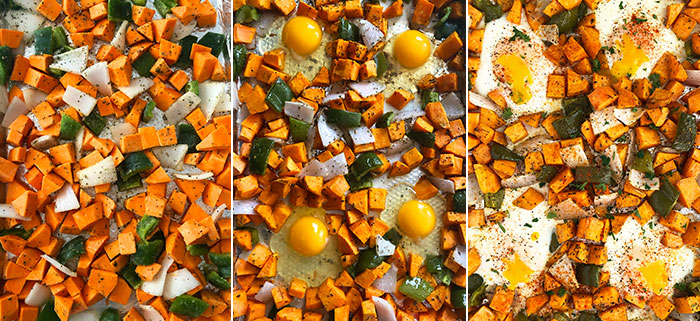 What to serve with sweet potato hash recipe?
It's typically enjoyed on its own. However, you can also serve it with biscuits, dinner rolls, breadsticks or toast to make it more filling.
A light salad is always a great side dish. Try this Cucumber Tomato Salad (One Bowl) or this Three Bean Salad (One Bowl) or even this Broccoli Salad (One Bowl).
Is this the same as sweet potato hash browns?
No. Hash browns are typically made with shredded potatoes and when they are baked, they are crispier than diced potatoes. Basically, the texture and appearance is different. However, both are commonly served for breakfast and taste similar.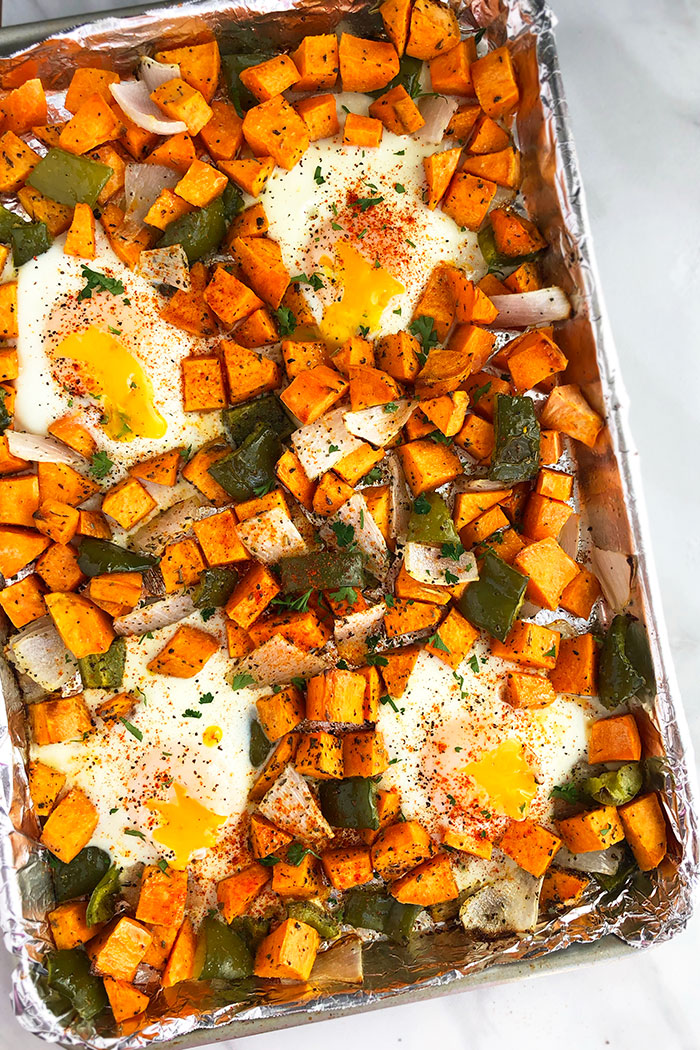 Sweet potato breakfast hash variations
Add meat- Such as sausages, ground beef, chicken, bacon, ham, turkey, especially from leftover Thanksgiving Turkey (One Pan).
Add mushrooms– This adds a nice, earthy element and are a good protein source for vegetarians.
Add canned beans– Make sure to drain and rinse them. Chickpeas can be used too.
Add other vegetables– Such as frozen veggies or spinach, kale, brussel sprouts, carrots e.t.c. Some people even add diced apples.
Add other herbs and spices– I used Italian seasoning but you can use other spice blends such as Mexican taco seasoning, Indian curry powder, Cajun seasoning, ranch seasoning, bbq seasoning e.t.c.
Garnish options– Fresh herbs such as parsley, basil, chives, green onions or cooked crumbled bacon.
Omit eggs– If you don't like them, just don't add them. This will also turn them into a delicious Thanksgiving side dish.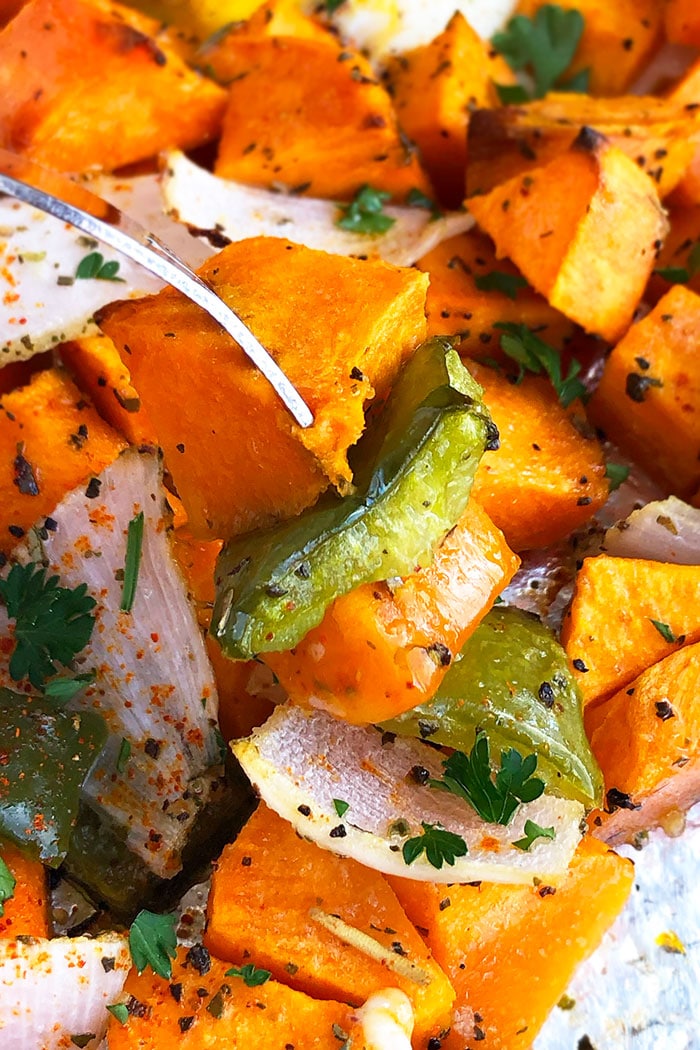 Tips and Techniques
Do have to peel sweet potato skin? Can you eat potato skin? It's a personal choice. I didn't do it this time but some people love the baked, crispy skin.
How to peel and cut sweet potatoes? Using a potato peeler is best way to peel them. To cut them, use a sharp knife and sturdy cutting board. Cut them in half lengthwise and then dice them into smaller 1 inch pieces.
Can you eat sweet potato and egg together? Yes, of course. It is perfect if you want to eat it for breakfast.
Choose the right potatoes- Make sure the skin is firm, smooth, even-toned and there are no "dents."
Line tray with foil paper– Because this makes clean up easy.
Cut potatoes in small similar sizes– Because this allows even baking and quick baking too.
Space out sweet potatoes in pan- Because this will allow them to cook evenly and help them become crisp. Make sure they are not overlapping.
More One Pot Sweet Potato Recipes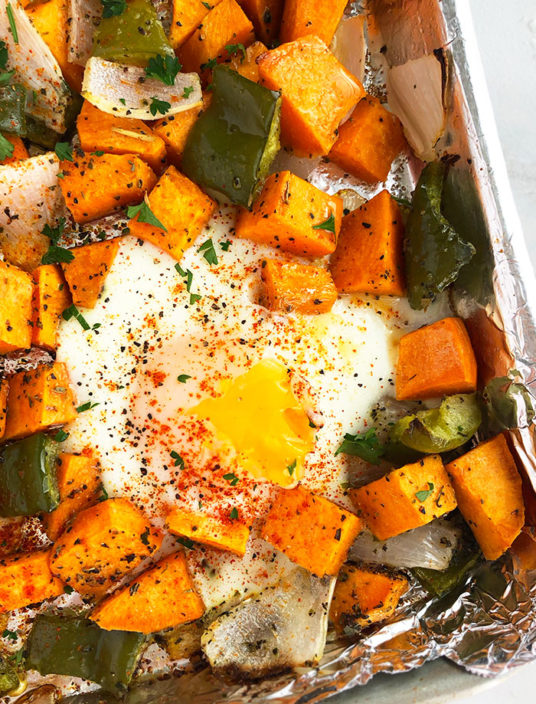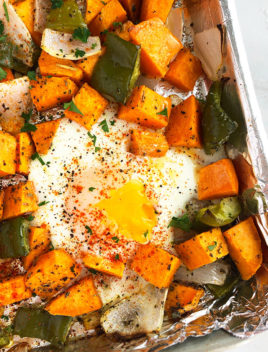 One Pan Sweet Potato Hash With Eggs and Bacon
Servings: 2 People
Course: Breakfast, Side Dish
Cuisine: American
Calories: 301 kcal
Ingredients
2 Sweet potatoes Large, Peeled, Cut into 1 inch cubes
1/2 cup Onion Roughly chopped
1/2 cup Peppers Green or red
2 tbsp Olive oil
1-2 tsp Italian seasoning
Salt To taste
Pepper To taste
4 Eggs Large
2 tbsp Crumbled bacon For topping, Optional
1 tbsp Parsley Fresh, Roughly chopped, For topping
Instructions
Spread sweet potatoes, onions, peppers on a large baking tray (Dimensions: 10×15), lined with foil paper.

Drizzle oil, Italian seasoning, salt, pepper and toss everything together until potatoes are fully coated.

Bake at 400 degrees F for for about 12 minutes.

Remove from oven and stir gently toss everything.

Use a spatula to create four little spaces for your eggs.

Crack one egg into each hole.

Optional: Sprinkle some salt and pepper on eggs.

Return the tray back into the oven and continue baking for 8 to 10 minutes or until eggs are cooked to the way you like them.

Remove tray from oven and sprinkle cooked crumbled bacon and parsley.

Serve immediately and enjoy!
Recipe Notes
Read all my tips above.
Tastes best when served immediately but leftovers can be stored in a sealed container in the fridge for up to 2 days and reheated in the microwave. 
Nutrition Facts
One Pan Sweet Potato Hash With Eggs and Bacon
Amount Per Serving
Calories 301 Calories from Fat 99
% Daily Value*
Fat 11g17%
Saturated Fat 4g20%
Cholesterol 337mg112%
Sodium 535mg22%
Potassium 683mg20%
Carbohydrates 33g11%
Fiber 6g24%
Sugar 8g9%
Protein 17g34%
Vitamin A 19248IU385%
Vitamin C 39mg47%
Calcium 112mg11%
Iron 3mg17%
* Percent Daily Values are based on a 2000 calorie diet.
Happy cooking everyone!