One Pot Chicken Pasta (Chicken Fajita Pasta)
The best quick and easy chicken pasta recipe (Mexican chicken fajita pasta), homemade with simple ingredients in one pot over stovetop. A delicious 30 minute meal.
If you were to fuse this Cheesy Taco Pasta (One Pot) with Chicken Fajitas (One Pot), you will end up with today's recipe. It allows Mexican flavors to shine through in pasta form that the whole family approves, especially kids.
More easy chicken pasta recipes/ chicken and pasta recipes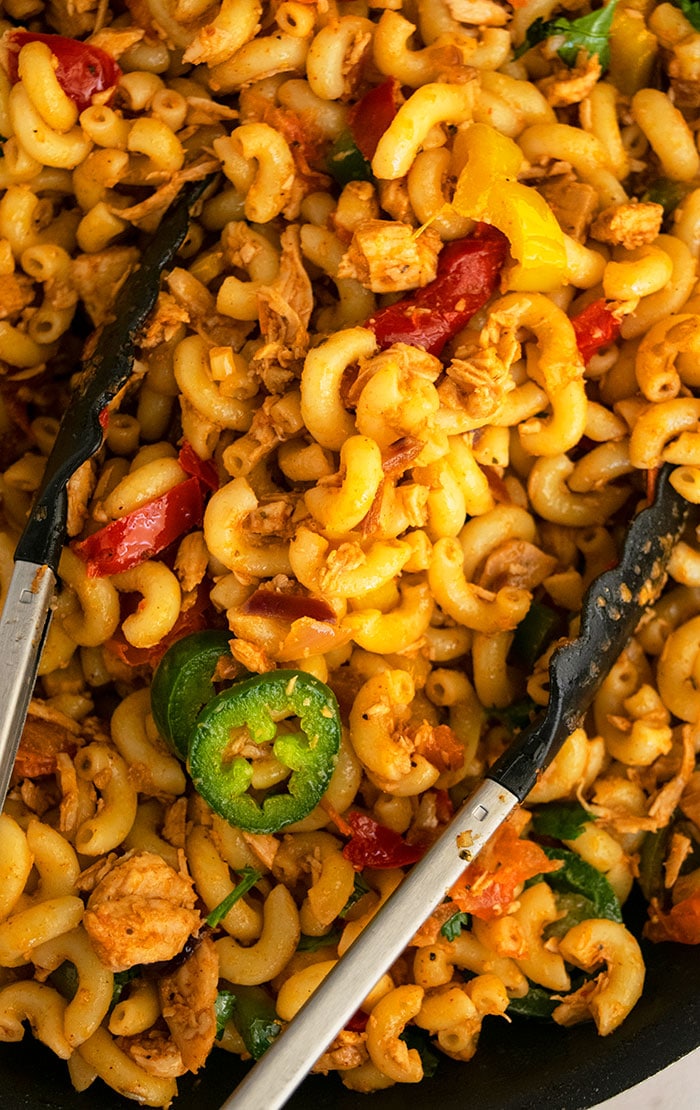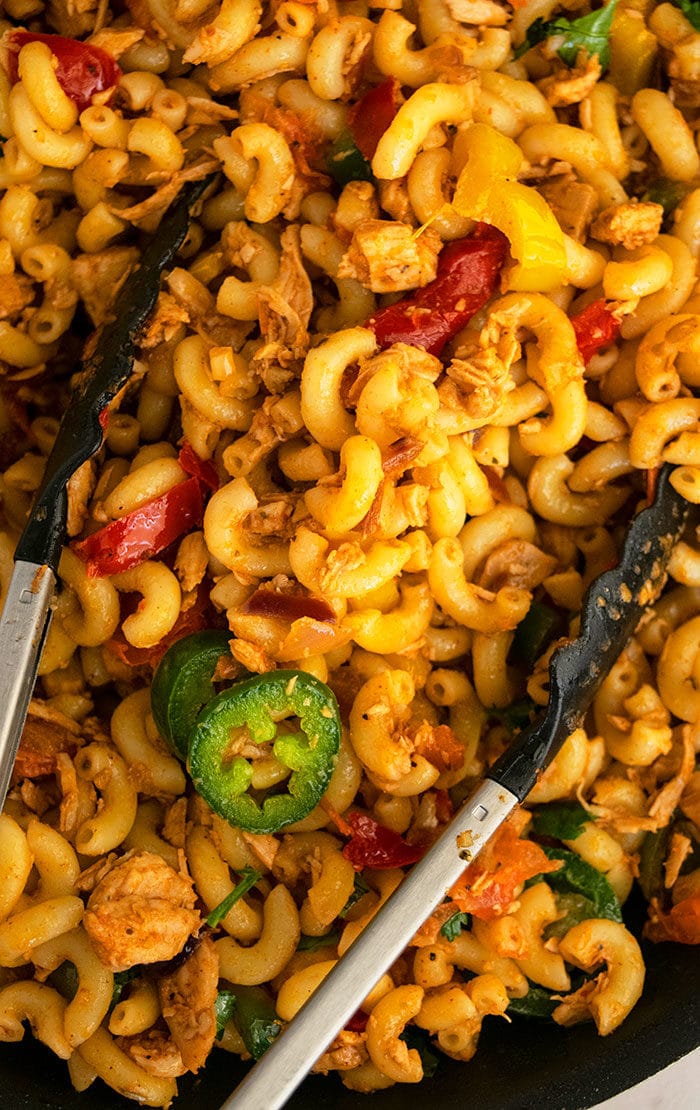 How to make chicken pasta?
Saute chicken with taco seasoning and keep aside.
Stir fry peppers and onions with taco seasoning and keep aside.
Mix together broth, heavy cream and pasta in a pot.
Bring to boil.
Cover and cook.
Mix in chicken and vegetables.
Enjoy!
What sides to serve with Mexican chicken fajita pasta recipe?
I typically serve it with a simple salad. You can make a green salad or try this Tomato Avocado Salad (One Bowl) or even this Mexican Corn Salad (One Bowl).
If the weather is warm enough for grilling, then serve this Mexican Corn on the Cob (One Pan) on the side.
Obviously, traditional sides like breadsticks and garlic bread work great too.
You can also serve pasta toppings on the side such as finely chopped onions, jalapenos, cilantro, tomatoes and even salsa and guacamole.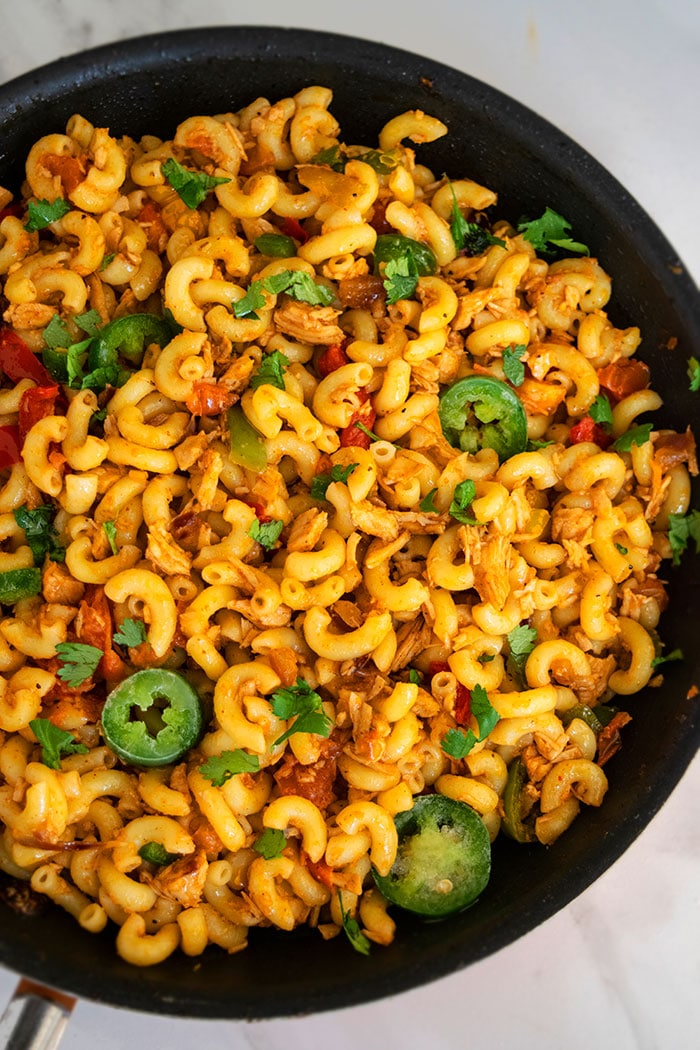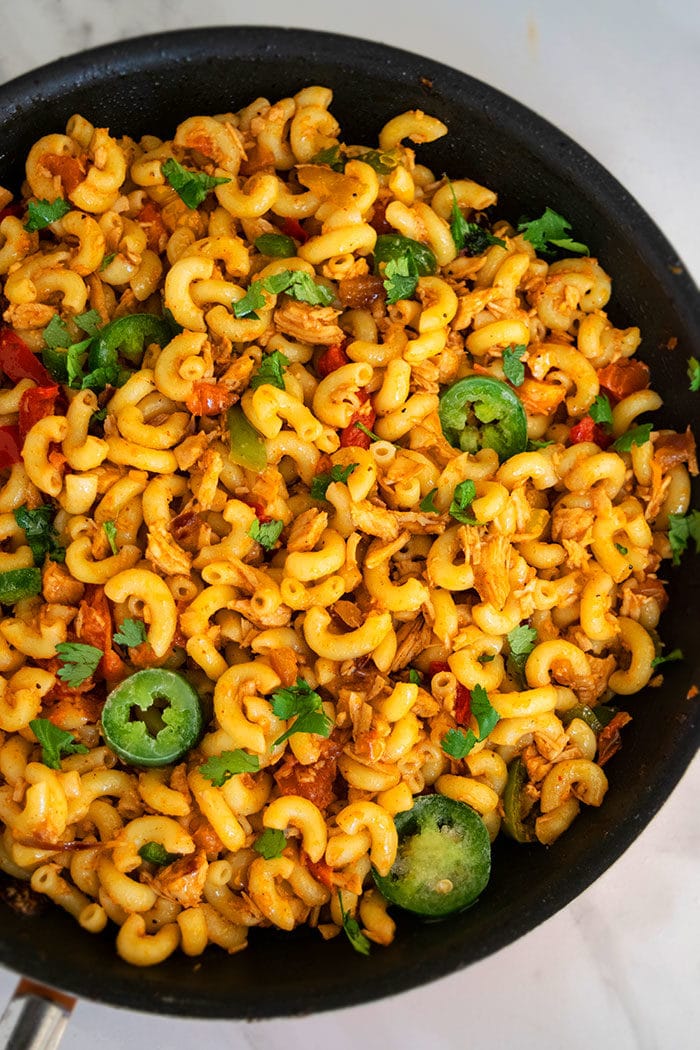 Pasta toppings and garnish
I really don't feel the need to any toppings but you can take it over the top with some of these additions, just before serving:
Salsa– A classic topping. You can make it at home or buy it from the market. Try this Pico De Gallo Salsa (One Bowl) or this fruity Strawberry Salsa (One Bowl) and Mango Salsa (One Bowl) or even this Pineapple Salsa (One Bowl).
Guacamole– Homemade or store-bought both work well.
Add Doritos– Sprinkle crushed Doritos chips or even Tortilla chips to add a yummy crunch. Remember to serve immediately or else the chips will become soggy and yucky.
Fresh herbs– Such as roughly chopped cilantro tastes the best.
Avocado– You can dice them into small pieces or slice them.
Onions- Finely chopped red onions taste the best.
Jalapeno slices– For a spicy kick.
Cheese– Shredded mozzarella, parmesan, cheddar all work well.
Variations
Chicken pasta bake or casserole– Spread the cooked taco chicken, boiled pasta, mixture of cream cheese and shredded cheese, vegetable fajitas in layers in a casserole dish. Bake until cheese is melted and enjoy.
Chicken pasta salad– Cook the chicken with taco seasoning. Then, mix it in with boiled pasta, finely chopped red onions, mixed peppers, lettuce, avocados, cherry tomatoes, jalapenos, cilantro, shredded cheese, lemon juice, lime juice, taco seasoning, olive oil. Chill and enjoy.
Try different seasonings– Replace taco seasoning with Italian seasoning, Cajun seasoning, Indian seasoning or even lemon pepper for a completely different flavor profile. There are endless possibilities.
Creamy chicken pasta– Add more heavy cream or mix in 1/3 cup cream cheese at the end.
Chicken penne pasta- Use penne pasta instead of macaroni.
Add spinach– Mix in 1/2 cup frozen spinach (thawed and drained) in the last 5 minutes.
Add broccoli– Mix in 1 cup frozen broccoli in the last 5 minutes.
Add mushroom– Mix in 1/2 cup roughly chopped sautéed mushrooms at the end.
Add sausage– Mix in 1 cup cooked sausage slices at the end.
Make it healthy– By using whole wheat pasta. Omit heavy cream and replace that with additional broth. Don't add any cheeses and if you do, use low fat cheeses.
Use leftover chicken fajitas– If you have leftover chicken from a previous meal, just use that in this recipe. You can even use leftover Mexican Shredded Chicken (One Pot). It will save you time!
Make this a vegetarian meal- By just omitting the chicken entirely and adding more vegetables and canned red beans/ black beans (drained and rinsed). This would be a delicious meatless dinner idea.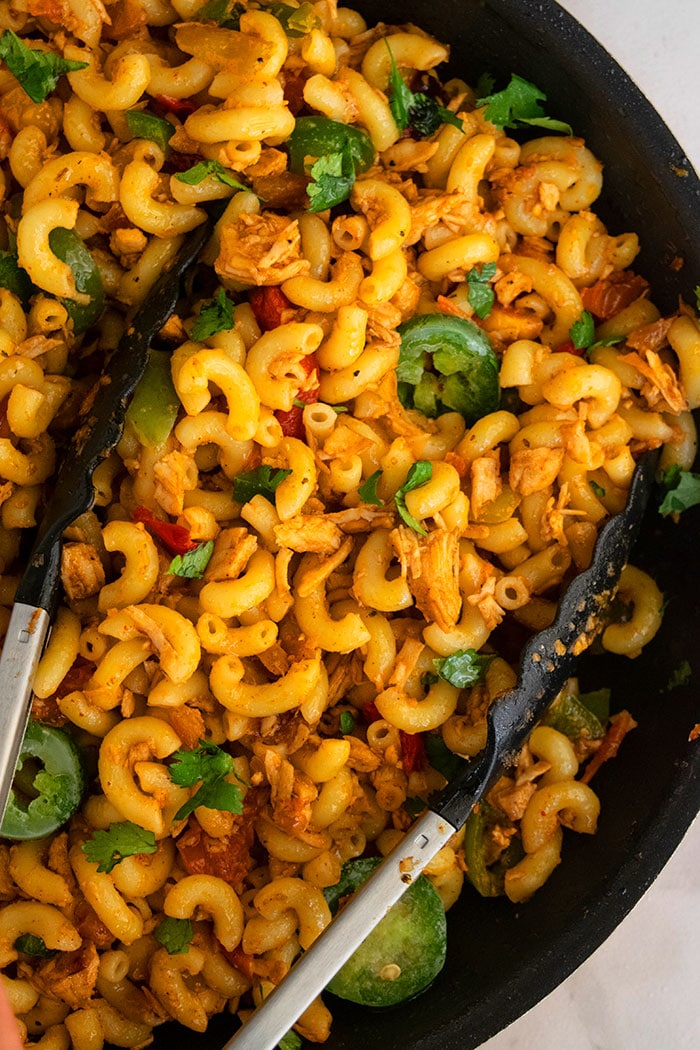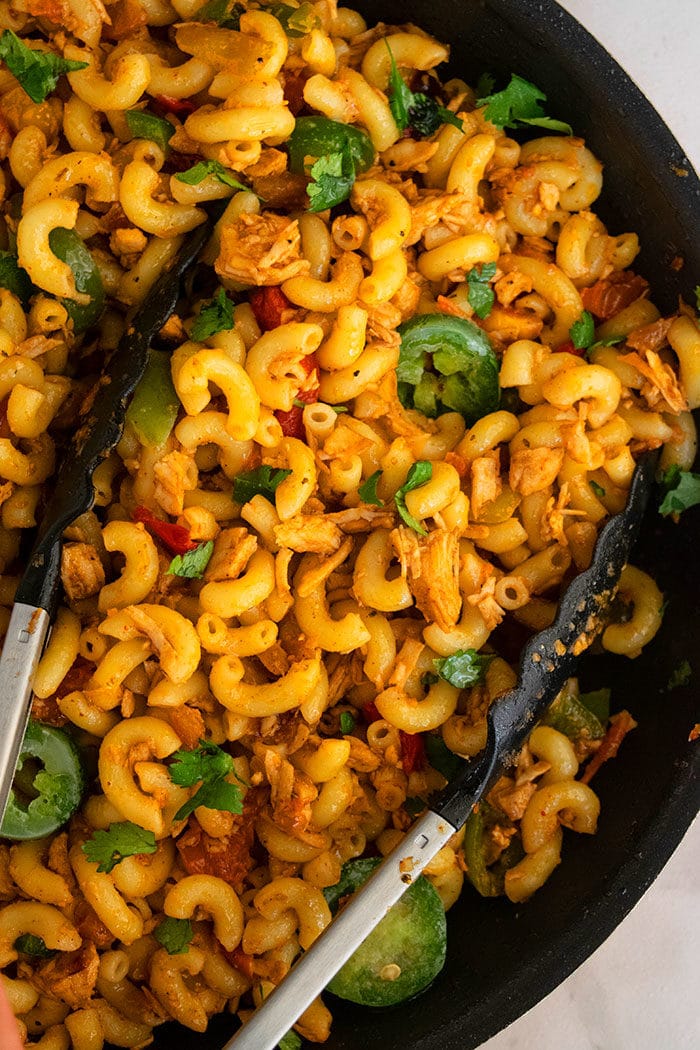 Tips and Techniques
Use nonstick pot- Because this prevents sticking and burning.
Use full fat ingredients- Because they make the meal rich and creamy. No low fat ingredients!
What cheese to use? I didn't add any cheese this time but Mexican cheese blend would be the best choice. Cheddar, parmesan and mozzarella would be great too.
What pasta to use? I usually use macaroni but any shape of pasta can be used such as penne, shells, bows e.t.c. can be used too. If you are using whole wheat pasta, the cooking time may vary since it take a few minutes longer to cook. Please note that you are using UNCOOKED pasta.
Use low sodium broth– Because that prevents this meal from becoming too salty.
Broth vs. Water- I highly recommend using broth because it adds a lot of flavor. You can either use chicken broth or vegetable broth. Don't use beef broth.
Adjust quantity of taco seasoning– Use more or less, based on your preference.
Serve a crowd– You can easily double or triple this recipe for dinner parties.
What to do if pasta is too thick? Add a little broth to thin it out to your desired consistency.
What to do if pasta is too watery? Cook uncovered on high heat until liquid is absorbed/evaporated.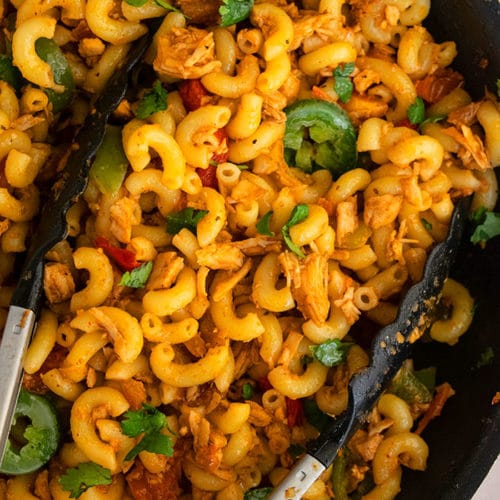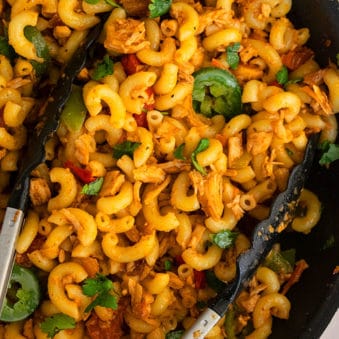 One Pot Chicken Fajita Pasta Recipe
Quick and easy chicken pasta recipe (Mexican chicken fajita pasta), homemade with simple ingredients in one pot over stovetop. A delicious 30 minute meal.
Yield: People
Ingredients
4 tbsp Oil
1 pound Chicken breast, Cut into small cubes OR use whole breast and shred it after cooking
3 tbsp Taco seasoning
3/4 cup Onion, Finely chopped
1 cup Peppers, Variety of red, green, yellow, orange peppers, Finely chopped
3-4 cloves Garlic, Minced
2 cups Chicken broth, Low sodium
1/2 cup Heavy cream
1 can Fire roasted diced tomatoes, 10 oz. can
8 oz. Pasta, Uncooked, Any shape (macaroni, penne, farfaelle e.t.c)
Salt, To taste
Pepper, To taste
Garnish, E.g. Shredded cheese, Sliced jalapeno, Diced avocado, Finely chopped cilantro, Lemon wedges e.t.c.
Instructions
Add chicken and 1.5 tbsp taco seasoning and mix everything together.

Cook until chicken is golden brown.

Remove to a plate and keep aside. I shredded it but you you don't have to.

In the same pot, heat remaining 2 tbsp oil.

Add onion, peppers, garlic, remaining 1.5 tbsp taco seasoning and mix everything together.

Cook until veggies are firm but tender and slightly charred.

Remove these vegetables to the plate with the chicken. Keep aside.

In the same pot, add broth, heavy cream, diced tomatoes, pasta, salt, pepper and stir everything together.

Bring to a boil.

Cover and cook on medium-low heat for about 12-15 minutes, stirring often.

Then, mix in chicken and vegetables and cook, uncovered for another 5 minutes.

If the pasta is looking too watery, cook on high for a few additional minutes until all the excess liquid is absorbed into the pasta. If the pasta is still not cooked through and pasta is becoming dry, add a little more broth or water and continue cooking, uncovered for a few additional minutes.

Garnish with toppings of your choice and enjoy.
Notes
Read all my tips above.
Leftovers can be stored in a sealed container in the fridge for up to 2 days and reheated in the microwave. 
Nutrition
Calories: 622kcal, Carbohydrates: 54g, Protein: 34g, Fat: 29g, Saturated Fat: 8g, Cholesterol: 113mg, Sodium: 897mg, Potassium: 780mg, Fiber: 4g, Sugar: 6g, Vitamin A: 1205IU, Vitamin C: 45.2mg, Calcium: 89mg, Iron: 2.3mg
Happy cooking everyone!