Twice Baked Sweet Potatoes (One Pan)
The best old fashioned, classic, loaded, easy twice baked sweet potatoes recipe, homemade with simple ingredients in one pan. Stuffed with butter, marshmallows, pecans and cinnamon.
This is the ultimate fixing or side dish for Fall and Thanksgiving parties. The warm scent and flavor screams Autumn and family togetherness. Sweet potatoes can be made in so many ways, but this recipe is one of my holiday favorites!
The toasted pecans add a beautiful crunchy texture that contrasts the soft potatoes and melted marshmallows. This is also known as marshmallow stuffed sweet potatoes.
More Thanksgiving recipes
I also want to point out that this is not the recipe for sweet potato fries, wedges, slices or cubes. Instructions, baking times and temperatures for those are totally different.
The way I make these sweet potatoes is different than the typical version, which requires scooping out the cooked potato flesh and whipping it with butter and cinnamon and then adding it back into the potato skins.
I have skipped this "scooping and whipping" step and made the process simpler. Just use a fork to roughly mash the baked potato flesh in the skins, sprinkle your toppings and broil. There is no need to dirty another bowl.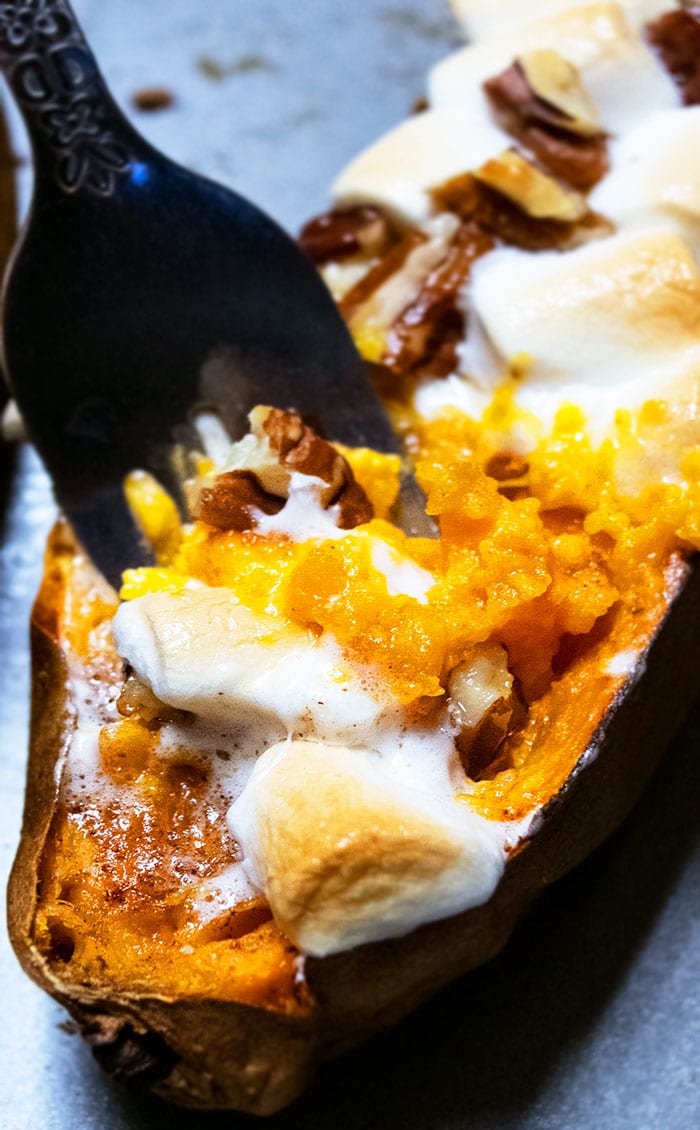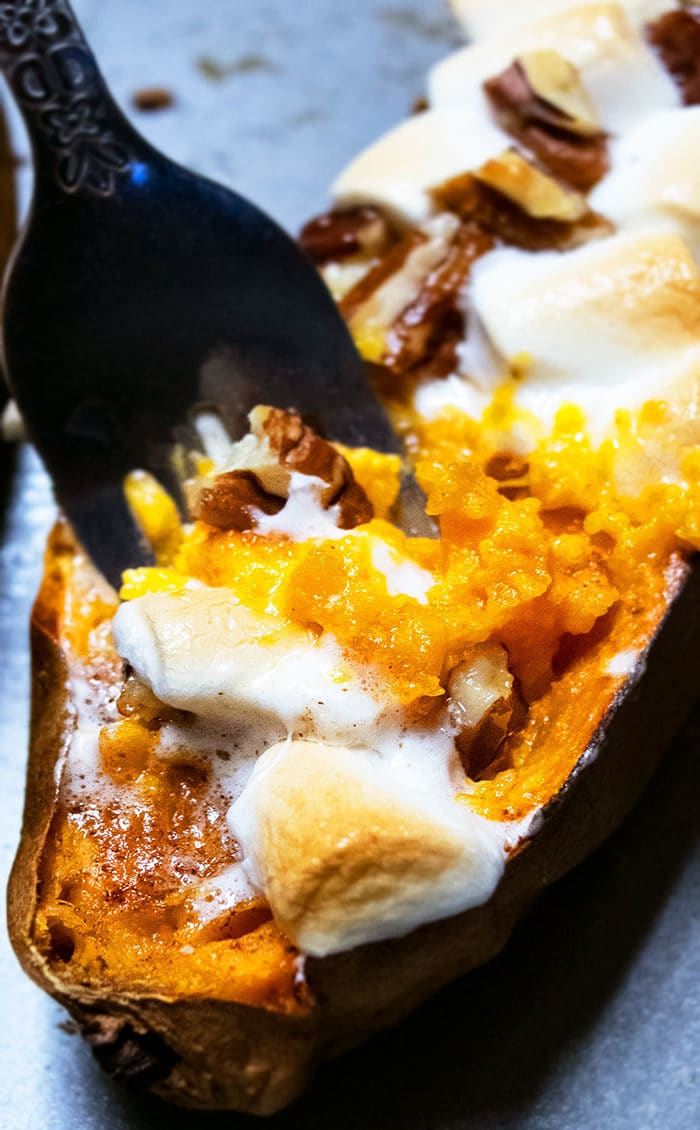 How to bake sweet potatoes? In foil? In microwave? In oven? On grill?
In foil– Wash, dry, and poke holes in the potato with a fork. Lightly cover it with olive oil and wrap in foil. Bake for 60 minutes at 425 degrees.
Microwave– Wash, pat dry, pierce with a fork 3-4 times, and microwave for 3 minutes. Flip the sweet potato with an oven mitt, and microwave for another 2-3 minutes. If it's not done, continue cooking for 30 second increments until the potato feels soft.
Oven– Wash, pat dry, pierce with a fork, lightly cover in olive oil, place on a foil lined sheet pan, and bake at 400 for 45 minutes.
Grill– Preheat the grill to medium/low heat. Wash, dry, and poke holes in the potato. Wrap tightly in foil, and place onto the grill. Shut the lid and grill for 45 minutes. Continue cooking, if needed, until the potato is soft. Make sure to check with tongs or an oven safe mitt.
What is the difference between yams and sweet potatoes?
The terms yam and sweet potato are often used interchangeably, but they are actually very different. Yams are darker in color and are often said to resemble tree bark. The flesh can range from white or yellow all the way to purple or pink. They are less sweet, and more starchy and dry. Sweet potatoes come in multiple colors, including orange, white, and purple. The flesh is sweet and more moist than other potatoes or yams.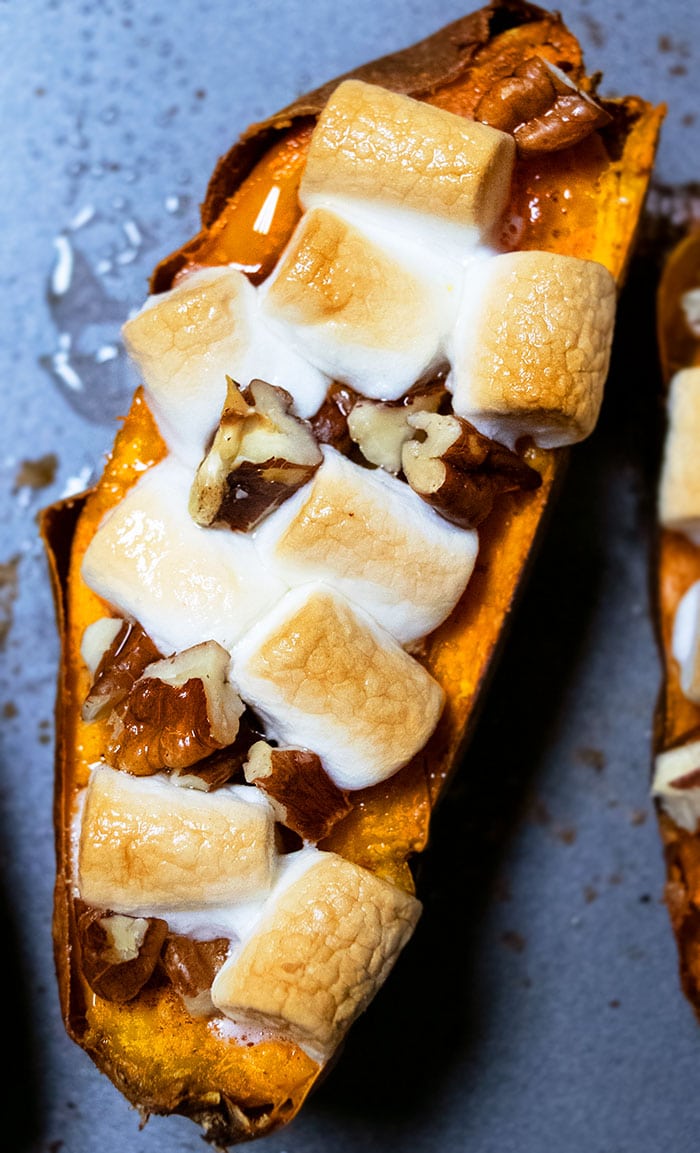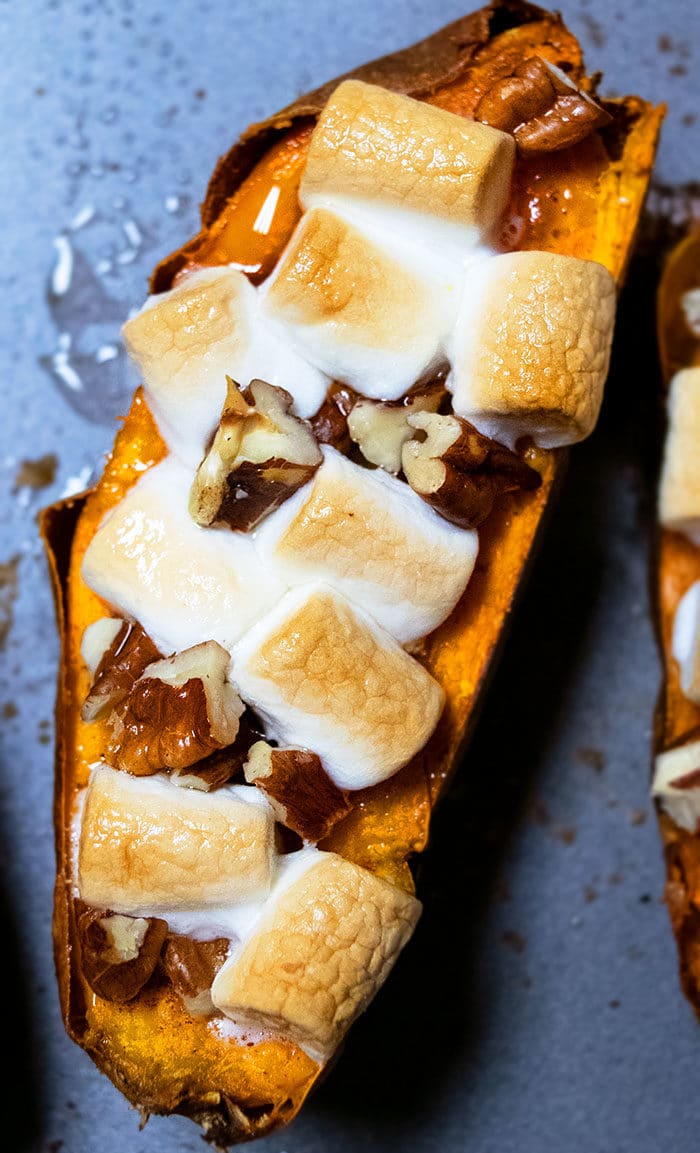 How long to bake sweet potatoes?
Cooking times vary based on the size of the potatoes. Smaller sweet potatoes will cook for less time (around 20-25 minutes) and the larger they get, the longer you will need to cook them.
They are ready when they can be easily pierced with a fork are "fork tender." A medium sized potato will most likely take 45 minutes to cook at 400 degrees.
Can you eat sweet potato skin?
Yes, sweet potato skins are edible. Make sure to wash the skin first though!
What to serve with twice baked sweet potato recipes?
They are typically served as a side dish. Since the sweet potatoes are rich and starchy, lean towards serving them with meat and vegetables. Always serve them hot out of the oven along with the meal.
They are usually paired with a Thanksgiving turkey or even baked/grilled chicken, ham and steak. Try some of these main dishes: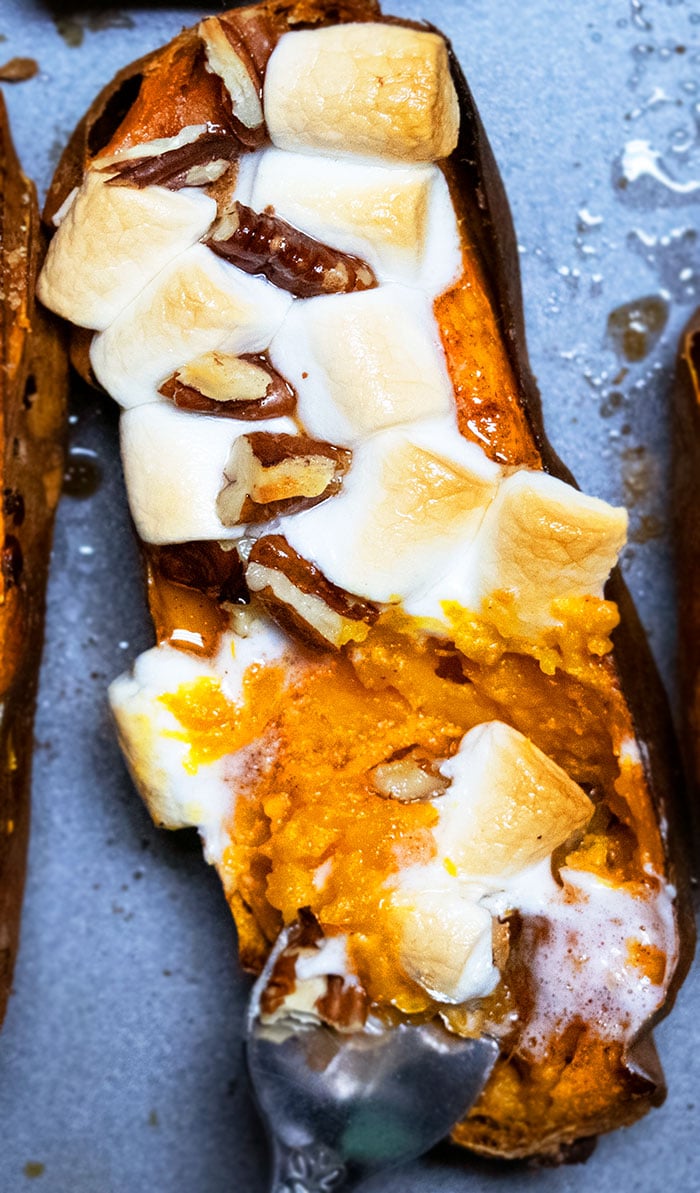 Oven baked sweet potato toppings
Nuts– Such as walnuts, cashews, almonds, peanuts, or pistachios. The classic choice is obviously pecans.
Dried fruits– Such as cranberries, cherries, pitted dates, figs, apples, apricots, raisins.
Drizzle– With maple syrup, butter, honey, caramel, agave syrup, or a bourbon glaze.
Herbs and spices– Choose warm flavors such as clove, ginger, cardamom, and pepper.
Zests– Orange is best, but you could add a small amount of lemon or lime with the orange, if desired.
Extracts– Use vanilla, orange, amaretto, almond extracts.
Mexican- Stuff the potatoes with black beans, corn, bacon, avocado, Monterey jack cheese and top it all off with some cilantro and freshly squeezed lime juice.
Buffalo chicken- Add shredded chicken, hot sauce, and blue cheese.
Loose meat stuffed sweet potato- Use this recipe for a Loose Meat Sandwich to prepare the beef and serve it in a baked sweet potato instead of bread.
Breakfast stuffed sweet potato- Stuff with scrambled eggs, bacon, and avocado.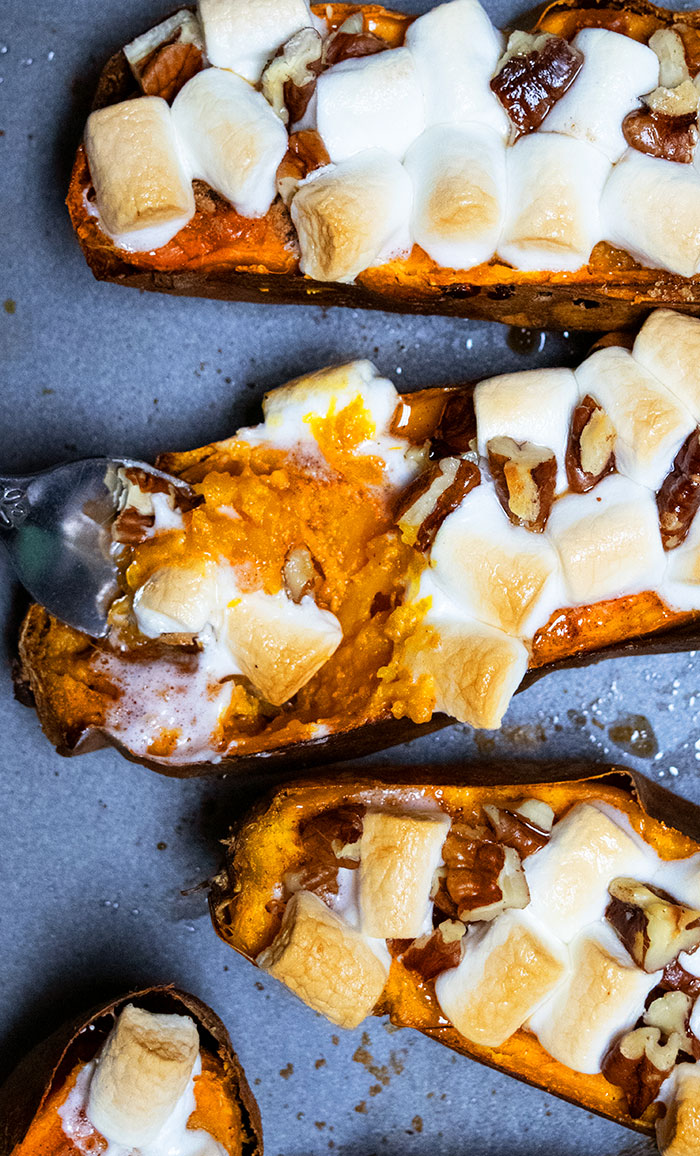 Tips and Techniques
Make it healthier– Use coconut sugar in place of the brown sugar, and add whipped cream instead of marshmallows. Remember you must top with whipped cream after baking so that is doesn't melt before you serve it.
Make it savory– Add some Italian seasoning, chives, butter, sour cream instead of sugar and marshmallow to make a savory side dish.
Can candied sweet potatoes be frozen? No. The sweet potatoes are starchy so they will begin to degrade and the texture will be altered when re-heated.
Make ahead instructions– You can bake the potatoes ahead of time, mash the potato flesh, sprinkle the cinnamon and nutmeg and pat with butter, and keep this chilled. When you are ready to serve, add the marshmallow and pecans on top and broil the potatoes. Serve immediately.
Why do I need to poke the sweet potatoes? This allows steam from inside of the potato to be released. If you don't do this, the inside will become soft and mushy, and the outside will still be dry and inedible.
Keep a close eye at the broiling stage– This is crucial! Broiling happens quickly and you can get to the burnt stage in just a few seconds. You do not want to char the toppings so much that they taste burnt like ash. You want them browned so they still taste delicious.
Baking time may vary– Since potatoes are sized differently you will have to poke them with a fork to check if they are done. Try to choose sweet potatoes that are close in size, weight, and shape in order to reduce the varying cooking times. If needed, remove those that cook through first, and continue cooking the rest for additional time.
Serve immediately– These potatoes taste best straight from the oven because they need to be served warm while marshmallows are still ooey gooey. As the potatoes become cold, the marshmallow will harden and will not be soft and loose that gooey texture.
What to do with leftovers? Leftovers can be stored in a sealed container in the fridge for up to 2 days, and can be re-heated in the microwave.
Do I need to oil the potato before cooking? Yes, this ensures that the skin cooks with a nice texture instead of shriveling and becoming too dry to eat. Always oil the potato skin.
Choosing your sweet potatoes– Choose potatoes with no rot spots on the skin. Pick potatoes that are as similar in size, shape, and weight as possible for similar cooking times. Choose potatoes that are symmetrical for best presentation.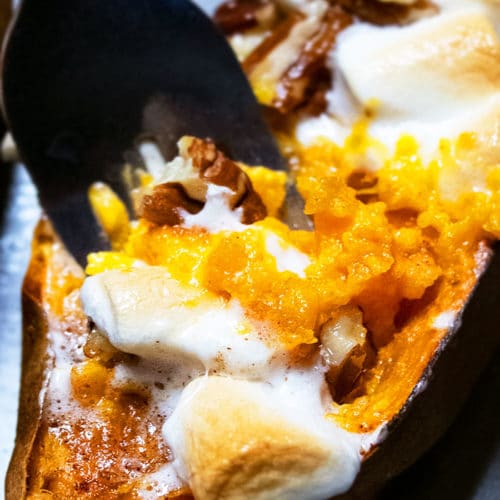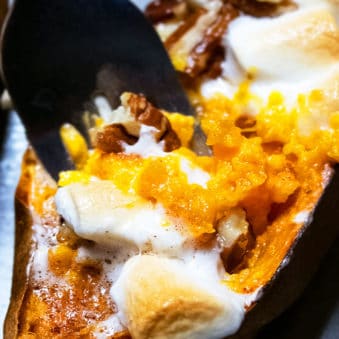 One Pan Twice Baked Sweet Potatoes
Classic, loaded, easy twice baked sweet potatoes recipe, homemade with simple ingredients in one pan. Stuffed with butter, marshmallows, pecans, cinnamon.
Yield: People
Instructions
Rub oil all over the sweet potatoes and prick them randomly all over with a fork.

Place them on a baking tray, lined with foil or parchment paper.

Bake at 400 degrees for about 45 minutes or until they are tender.

Remove from oven and let them cool for 10 minutes.

Use a sharp knife to slice them in half, length wise.

Use a fork to roughly mash the potato flesh.

Sprinkle some cinnamon and nutmeg on each potato half.

Top off with thin slices of butter.

Cover the top with marshmallows and pecans.

Broil for about 2 minutes or until marshmallows are toasted and golden brown.

Serve immediately and enjoy!
Notes
Read all my tips above.
Tastes best when served immediately but leftovers can be stored in a sealed container in the fridge for up to 2 days and reheated in the microwave. 
Nutrition
Calories: 439kcal, Carbohydrates: 68g, Protein: 5g, Fat: 18g, Saturated Fat: 8g, Cholesterol: 31mg, Sodium: 277mg, Potassium: 795mg, Fiber: 8g, Sugar: 24g, Vitamin A: 32417IU, Vitamin C: 5mg, Calcium: 83mg, Iron: 2mg
Happy cooking everyone!