Candied Sweet Potatoes (One Pot)
Easy candied sweet potatoes recipe, homemade with simple ingredients in one pot over stovetop. Tender sweet potatoes are are coated in a butter sugar glaze. A classic Fall and Thanksgiving side dish! Also known as "candied yams" or "glazed sweet potatoes."
These are the perfect addition to any holiday or fall meal. There isn't much more comforting and delicious than these candied or caramelized sweet potatoes. The tender potatoes combined with the sweet brown sugar and warm spices make these the best Southern old fashioned candied sweet potatoes.
Serve them as the star side of your Thanksgiving or Christmas meal, and your guests are sure to be pleased.
More Sweet Potato Recipes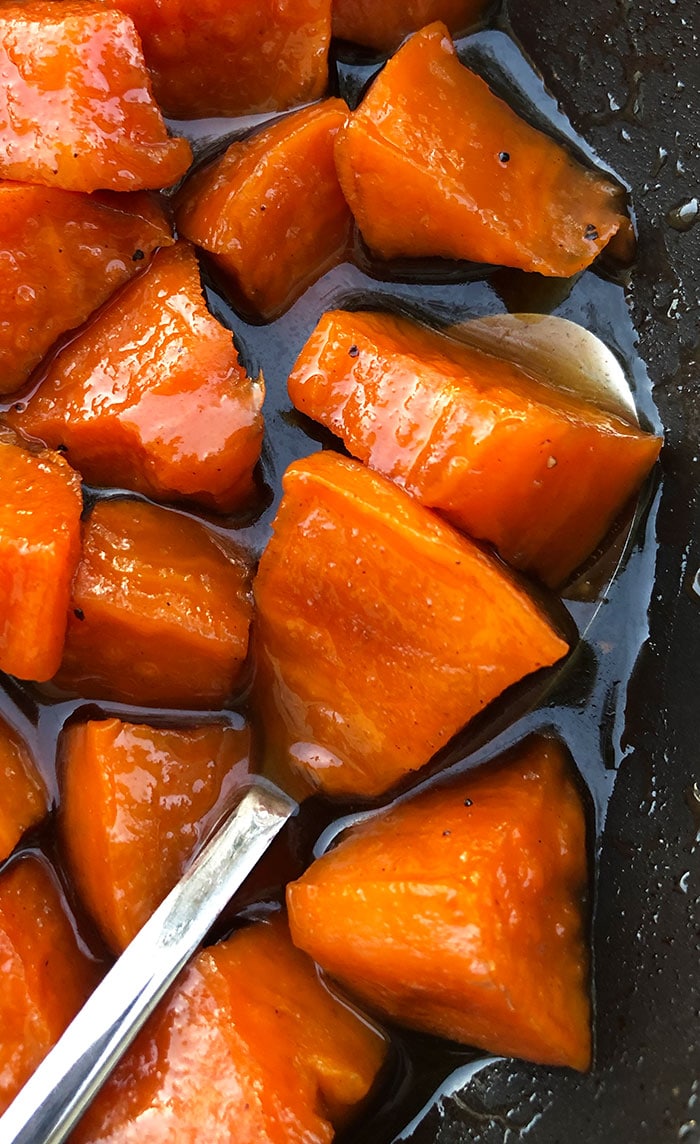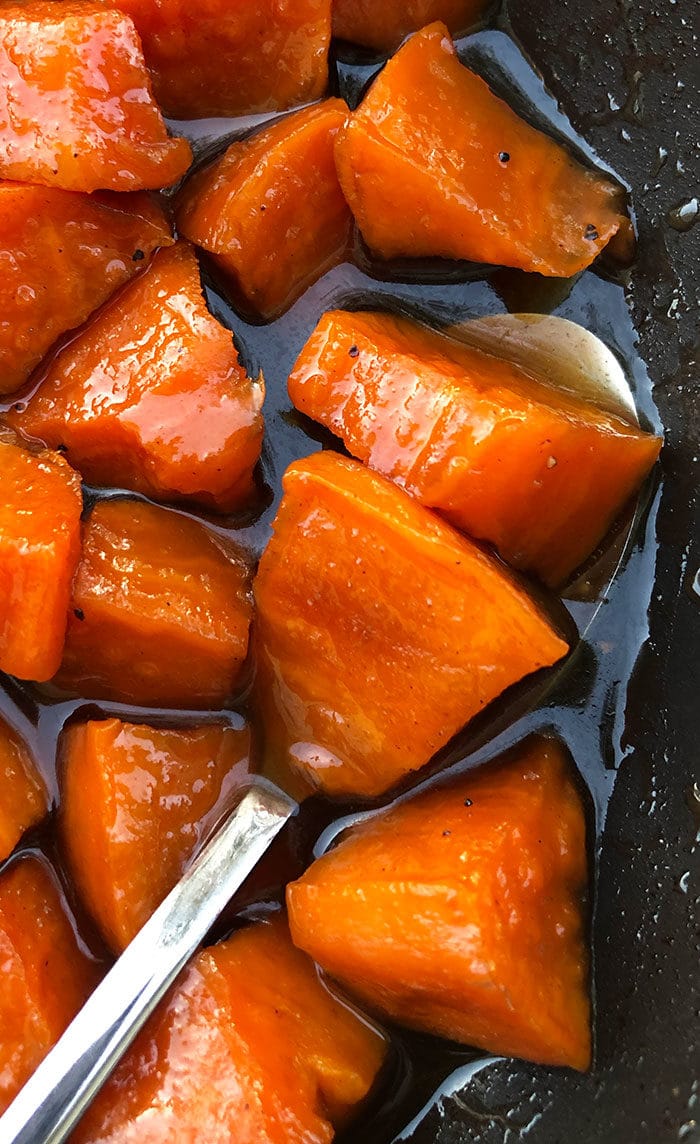 How to make candied sweet potatoes?
Heat butter- Warm butter in a nonstick pot over low heat.
Add potatoes, sweeteners, flavors– Add sweet potatoes, brown sugar, granulated sugar, water, cinnamon, nutmeg, vanilla extract. Mix until combined.
Cover and cook- Use low heat for up to 1 hour or until potatoes are tender, but still maintain their firm shape. Stir often.
Enjoy- Serve hot as a side with your favorite main dish.
What to serve with candied sweet potato recipes?
This recipe goes particularly well with turkey or ham for the holidays. Try this Easy Thanksgiving Turkey (One Pan), or this Slow Cooker Ham.
The following chicken main dishes also compliment these potatoes extremely well: Oven Roasted Chicken and Vegetables (One Pan), Grilled Chicken Breast (One Pan), and 40 Cloves Garlic Chicken (One Pot).
If you need a few more ideas, try one of these other beef dishes to accompany the potatoes: Garlic Butter Steak Bites (One Pot) or this Instant Pot Pot Roast Recipe.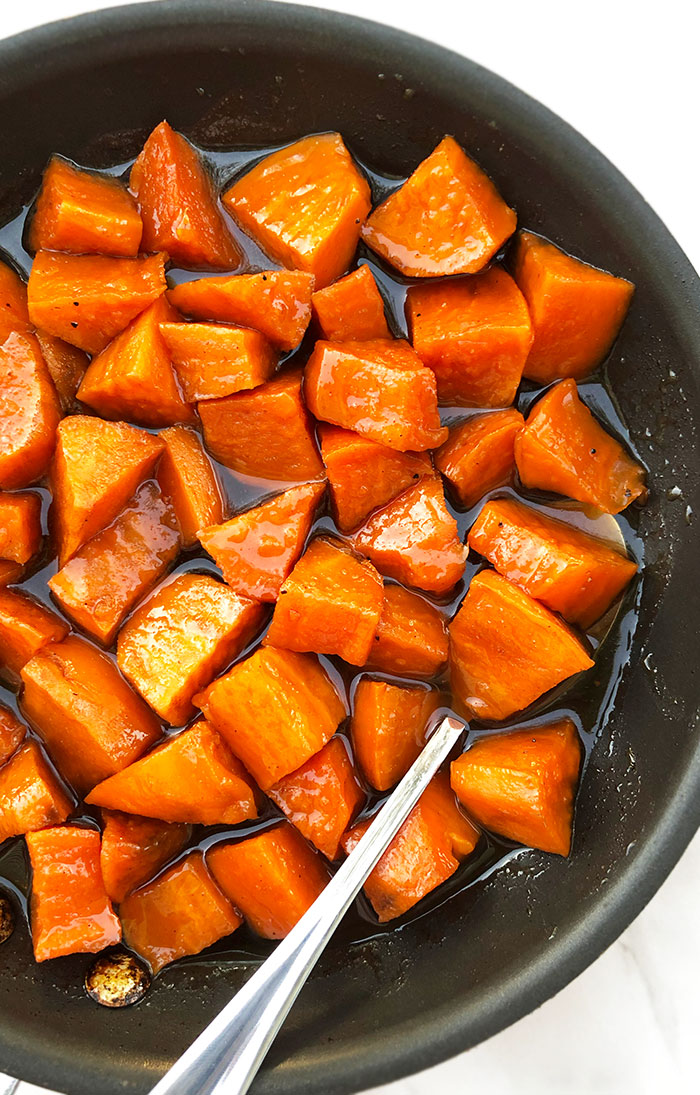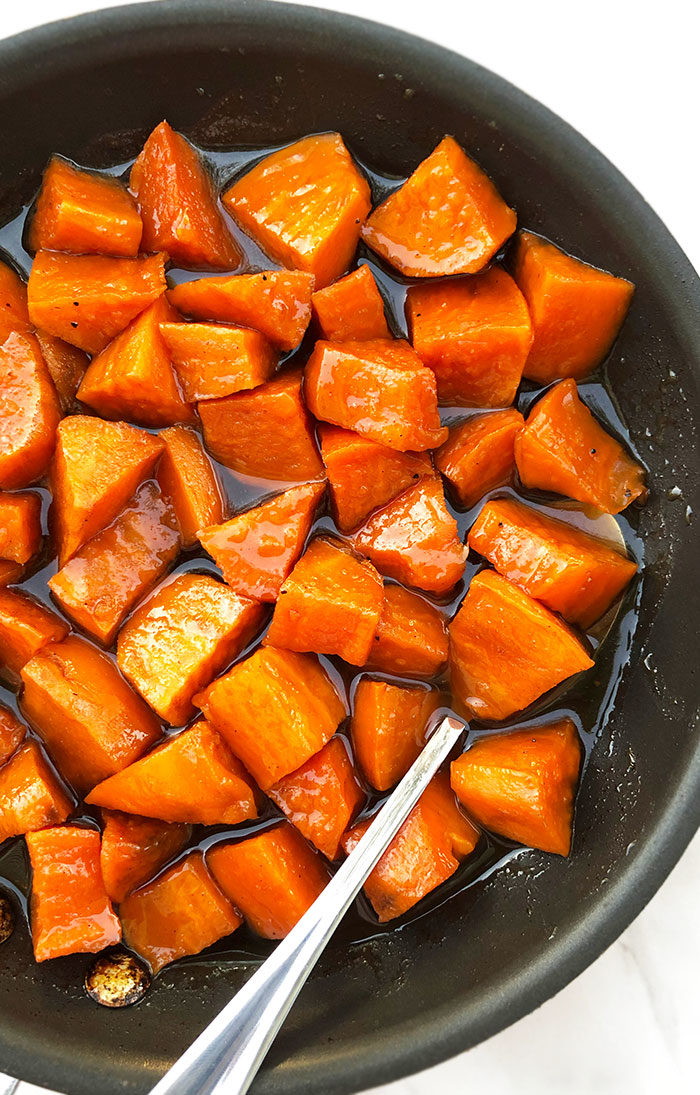 How to make glaze or syrup for sweet potatoes?
Mix ingredients in saucepan– Mix together butter, brown sugar, granulated sugar, water, cinnamon, nutmeg, and vanilla.
Cook– Use low heat for 5 minutes, mixing often, till ingredients combine and form a glaze.
Variations
Crockpot candied sweet potatoes– Add all ingredients to the crockpot and cook on low for 2-3 hours. If there is too much liquid for your liking at the end, cook with the lid off to evaporate some of the liquid or you can just discard some of the excess liquid too.
Oven baked candied sweet potatoes– Preheat oven to 350 degrees. Heat glaze ingredients in a saucepan till dissolved and combined. Pour over the sweet potatoes in a 9×13 casserole dish. Bake for 30 minutes covered. Remove cover and bake for an additional 30 minutes.
Candied sweet potato casserole– Mash these potatoes and whip them with some milk or heavy cream. Spread it in a casserole dish. Cover them in mini marshmallows and pecans. Broil for 1-3 minutes. Watch very carefully so that the marshmallows brown and don't char.
Candied potato add-ins– Add pecans, and then melt mini marshmallows on top. Just cover the pot with a lid to melt them.
Use maple syrup– You can use maple syrup in place of brown or white sugar, if you prefer.
Use other spices- Such as ginger, cardamom, all spice, or pumpkin pie spices would all taste delicious in this recipe.
Add dried fruit– Such as raisins, dates, cranberries, or apricots to add another layer of flavor to this recipe.
Add extracts– Such as almond, bourbon, amaretto, or orange extracts to enhance the flavor.
Add nuts– Such as pecans, walnuts, cashews, or pistachios for additional flavor.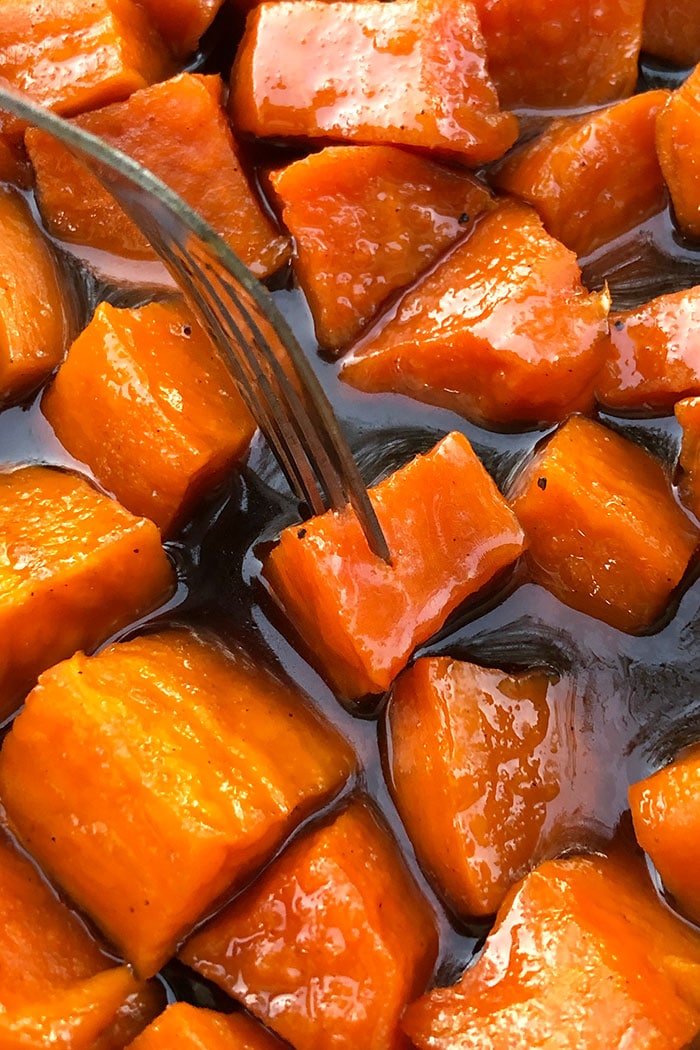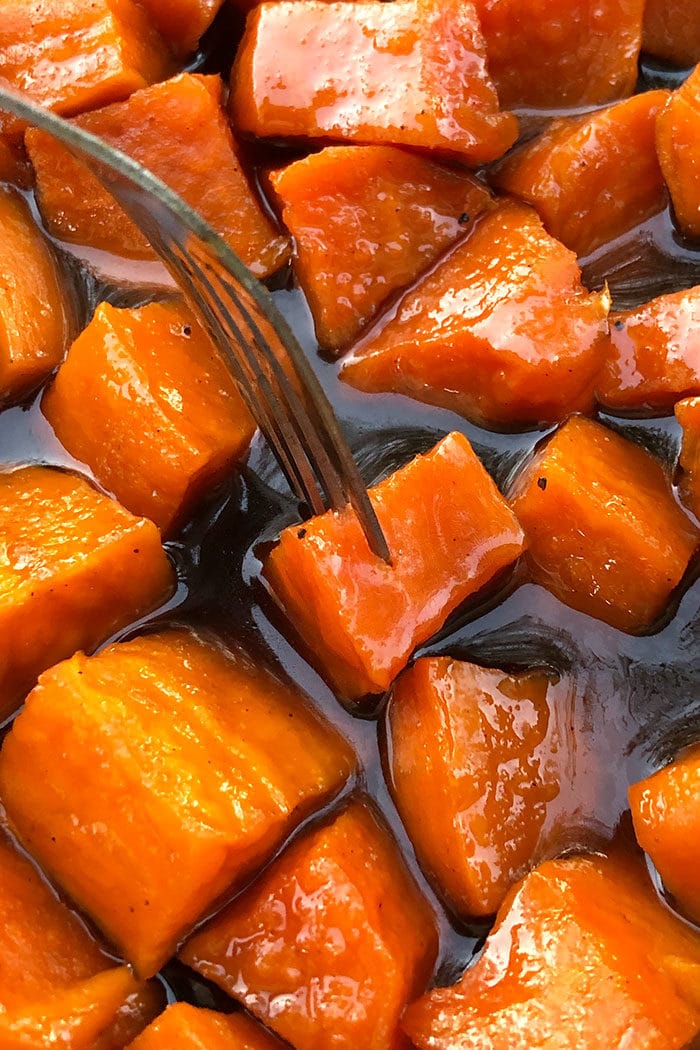 Tips and Techniques
Cut big pieces– The thinner and smaller they are, the more likely they are to get mushy and disintegrate into mashed sweet potatoes.
How to peel sweet potatoes? Use a vegetable peeler and peel from end to end as you would a carrot.
Do you need to boil sweet potatoes? No, that's an unnecessary step. They will soften while cooking, on the stove in the sugar sauce.
Double recipe– To feed a crowd, double the ingredients. If needed, cook in 2 batches.
How to cut potatoes? Peel first. Then, cut lengthwise in thick slabs. Then cut each slab into thick matchsticks, and then dice into cubes.
How to thicken the glaze? Cook sauce down for an additional few minutes if the glaze is too runny for your liking. Please note that the glaze will thicken further as it cools.
Stir often– This is very important! Make sure to stir the potatoes every 10-15 minutes to prevent the potatoes from burning on the bottom. This ensures even cooking without burning.
What to do with leftovers? Leftovers can be stored in a sealed container in the fridge for up to 3 days. They can be reheated in the microwave or on the stovetop.
Use both, granulated and brown sugar– Using both truly creates the best flavor.
Use unsalted butter– Because this prevents the potatoes from becoming too salty. Also, don't replace butter with oil or margarine since it doesn't add the same type of flavor.
Use nonstick pot- Because this prevents sticking and burning.
Cook on low heat– "Slow and low" is the best way to cook these potatoes because it really allows the flavors to go deep into the potatoes.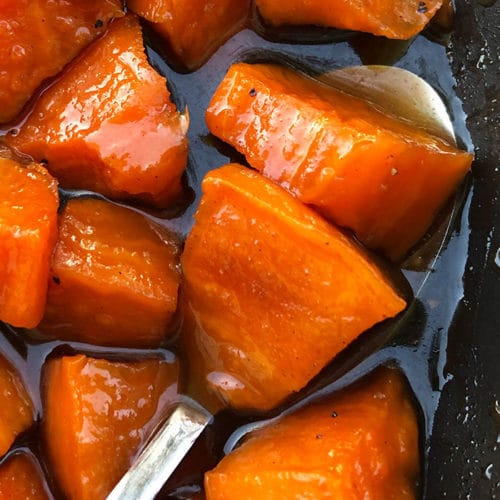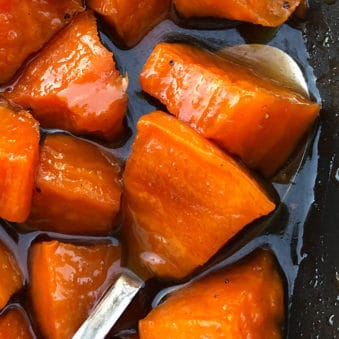 One Pot Candied Sweet Potatoes
Easy candied sweet potatoes recipe, homemade with simple ingredients in one pot over stovetop. Tender sweet potatoes are are coated in a butter sugar glaze.
Yield: People
Ingredients
1/2 cup Butter, Unsalted
6 Sweet potatoes, Large, Peeled, Diced
3/4 cup Brown sugar
3/4 cup Granulated Sugar
3 tbsp Water
1 tsp Cinnamon powder
1/4 tsp Nutmeg powder, Optional
1 tsp Vanilla extract
Instructions
Heat butter in a large nonstick pot over low heat.

Add sweet potatoes, brown sugar, granulated sugar, water, cinnamon, nutmeg, vanilla extract and mix until combined.

Cover and cook on LOW heat for 45 minutes to 1 hour or until potatoes are soft and tender but still maintain their firm shape. Be sure to stir every 10-15 minutes to prevent the potatoes from burning.

Enjoy!
Notes
Read all my tips above.
Leftovers can be stored in a sealed container in the fridge for up to 3 days. 
Nutrition
Calories: 452kcal, Carbohydrates: 79g, Protein: 2g, Fat: 15g, Saturated Fat: 10g, Cholesterol: 41mg, Sodium: 215mg, Potassium: 475mg, Fiber: 4g, Sugar: 57g, Vitamin A: 18916IU, Vitamin C: 3mg, Calcium: 71mg, Iron: 1mg
Happy cooking everyone!