Instant Pot Cheesy Cauliflower
Quick and easy instant pot cheesy cauliflower recipe, homemade with simple ingredients in 20 minutes. Full of cream cheese, cheddar cheese.
Trying to eat a more plant-based diet? Then, this side is for you! This cauliflower is decadent and creamy, making even the pickiest of eaters happy. This Garlic Mashed Cauliflower (One Pot) and Baked Buffalo Cauliflower Wings (One Pan) are two more excellent ways to incorporate more vegetables into you diet without sacrificing flavor or comfort.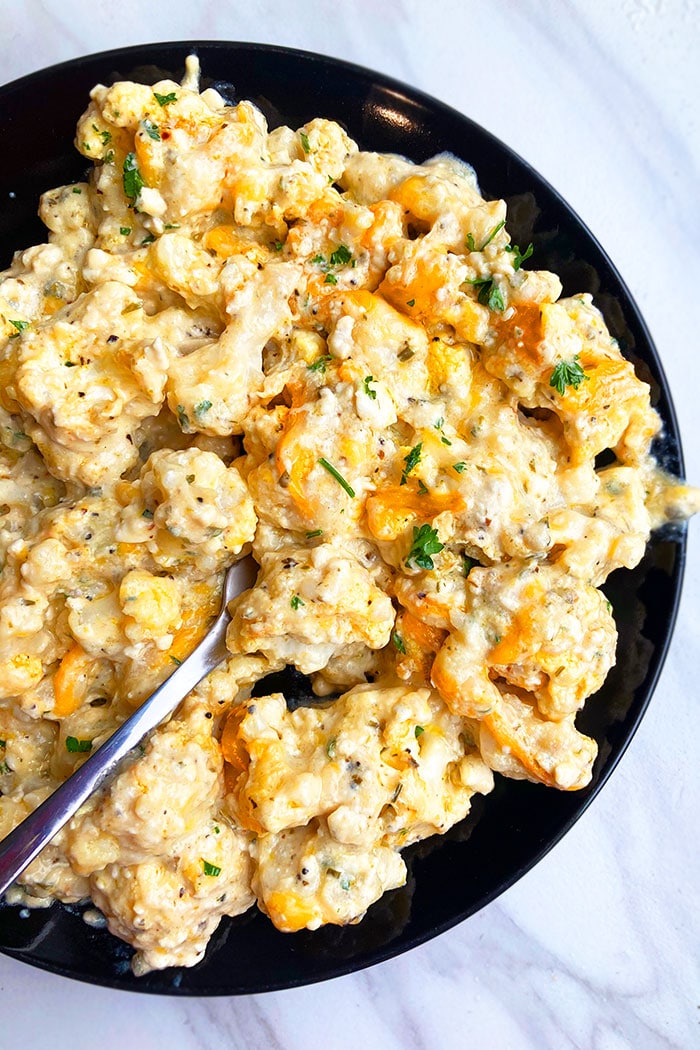 How To Make Instant Pot Cheesy Cauliflower Recipe From Scratch?
Add steamer basket in instant pot– And add cauliflower and water.
Cover- And cook.
Release pressure- Do a quick pressure release.
Remove basket and cauliflower– Keep aside.
Make cheese sauce– By mixing together heavy cream, cream cheese, salt, pepper, garlic powder, onion powder, Italian seasoning until smooth.
Coat cauliflower– Add cauliflower and toss until fully coated.
Garnish- With fresh parsley.
What To Serve With Easy Cauliflower Cheese?
This side can accompany just about anything, but here are a few suggestions to help narrow it down.
These main course chicken dishes will all pair well:
Try these beef main courses:
Some other protein choices are:
Variations
Cauliflower cheese bake/ Roasted cauliflower cheese– Follow the instructions as per recipe card below. Then, spread mixture in a baking dish along with a topping of breadcrumbs. Bake until the top is golden brown.
Cauliflower cheese casserole– Spread mixture in a baking dish, mix in cooked rice and and top with extra shredded cheese. Bake until top is golden brown.
Use broccoli and cauliflower– For a little more variety and color in this dish.
Use full cauliflower head– This makes for a unique presentation, and a fun way to serve "slices".
Use other cheeses– Such as parmesan, mozzarella, asiago, or white cheddar.
Make it healthy/vegan– Use vegan cheese and full fat coconut cream in place of dairy.
Make on stovetop– Boil the cauliflower on the stovetop, drain the water, and then add remaining ingredients and cook.
Make it spicy– Add red chili flakes for a little spice.
Add buffalo sauce– For a spicy version.
Add other seasonings– Such as Cajun, Mexican, or even just smoked paprika and dill.
Add bacon– For more flavor and a smoky and salty taste, add bacon crumbles.
Add other garnishes– Such as fresh chives or sour cream.
Chicken cauliflower casserole– Add cubed or shredded chicken from leftover meals or a rotisserie chicken.
Add ranch seasoning– 1 packet should be enough. Omit all other seasonings.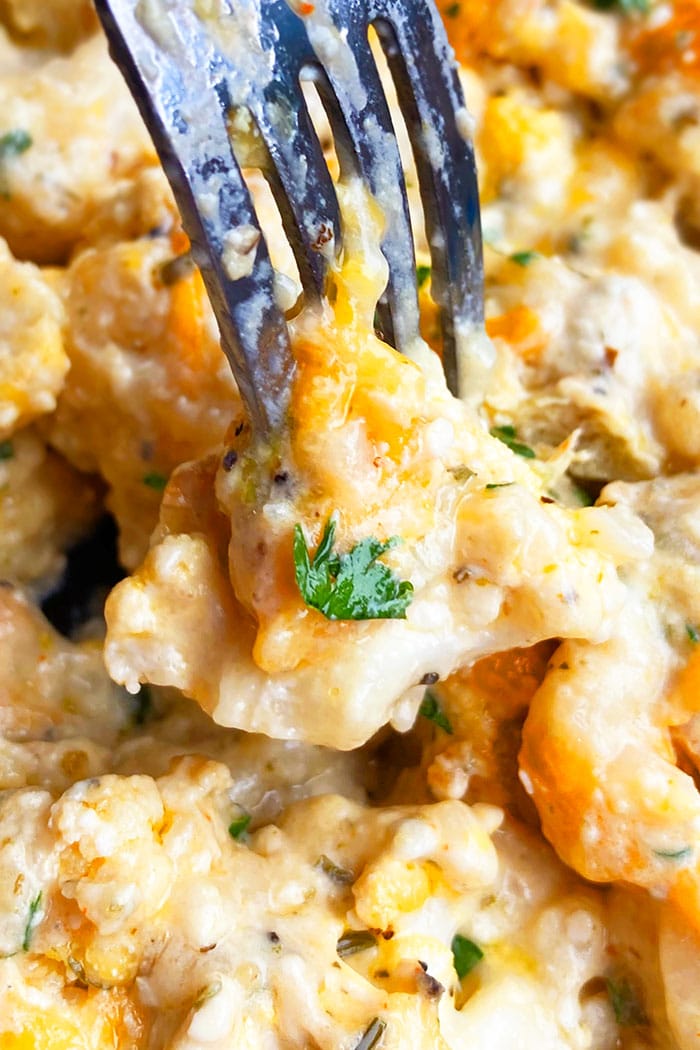 Tips And Techniques
Why does my cauliflower become watery? Make sure to wash and pat dry the cauliflower before cooking it. This helps to reduce the water content and prevent the dish from becoming too runny. This can also happen if frozen cauliflower was used.
Why does my cauliflower cheese sauce split? Because the cheese sauce was cooked at too high of a temperature. In order to avoid this, turn off the Instant Pot before adding the cheese.
Fresh cauliflower vs. Frozen cauliflower– I recommend fresh cauliflower because frozen contains a lot of extra water making the dish too runny in the end. If you must use frozen, thaw it, drain it, and pat it as dry as possible before coking it.
Adjust seasoning– Add more or less according to your preference.
Do a quick pressure release– When the timer is done, do a quick release instead of a manual release which takes longer and will over-cook the cauliflowers
Use the steamer basket– This ensures that the cauliflower cooks properly and doesn't become too mushy and over-cooked.
Use nonstick pot- Because they prevent sticking and burning. You can buy this online.
Use full fat ingredients- For maximum creaminess.
Make sure cauliflower florets are all about the same size– Because this ensures they will all cook at the same time.
Storage
Refrigerate– In a sealed container for up to 2 days.
Freeze– I do not recommend freezing this dish because of the high dairy content. It tends to separate upon thawing.
Reheat– In the microwave or on the stovetop.
More One Pot Cauliflower Recipes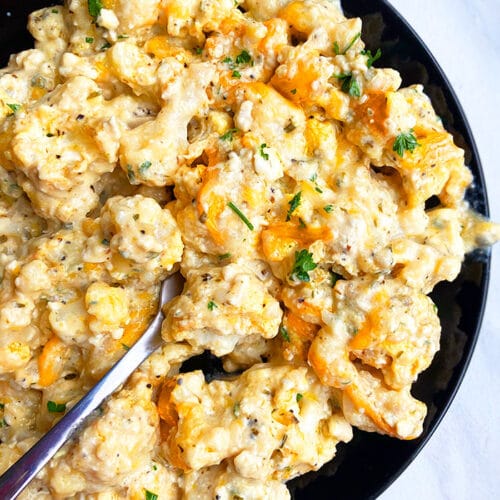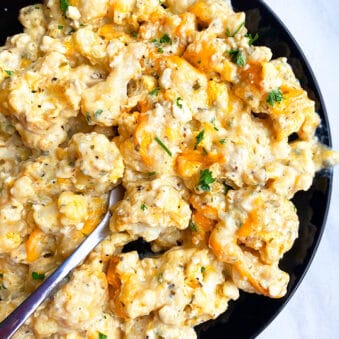 Instant Pot Cheesy Cauliflower
Quick and easy instant pot cheesy cauliflower recipe, homemade with simple ingredients in 20 minutes. Full of cream cheese, cheddar cheese, Italian herbs.
Yield: People
Ingredients
1.5 cups Water
1 head Cauliflower, Fresh and not frozen, Medium size, Washed, Patted dry, Stems removed, Cut into 1.5-2 inch florets
1 cup Heavy cream
1/4 cup Cream cheese, Full fat
Salt, To taste
Pepper, To taste
1 tsp Garlic powder
1 tsp Onion powder
1-2 tsp Italian seasoning, Adjust according to your preference
2 cups Cheddar cheese, Shredded, Full fat
1 tbsp Parsley, Fresh, Roughly chopped, For garnish
Instructions
Place a steamer basket in the Instant Pot and pour water.

Add the cauliflower in the basket.

Put the lid on and turn the valve to "Sealing."

Select "Manual" mode and set the timer for 1 minute.

When the cook time is over, do a quick pressure release.

Remove lid and then, remove basket with cooked cauliflower. Keep this aside.

Remove/ discard water from the pressure cooker.

Turn on the "Saute" mode and add heavy cream, cream cheese, salt, pepper, garlic powder, onion powder, Italian seasoning.

Stir until mixture is smooth.

Turn off the instant pot and gently mix in cheddar cheese and the steamed cauliflower until all pieces are coated in the cheese mixture.

Garnish with fresh parsley and enjoy.
Notes
Read all my tips above.
Leftovers can be stored in a sealed container in the fridge for up to 2 days and reheated in the microwave.
Nutrition
Calories: 523kcal, Carbohydrates: 11g, Protein: 19g, Fat: 46g, Saturated Fat: 28g, Cholesterol: 156mg, Sodium: 468mg, Potassium: 575mg, Fiber: 3g, Sugar: 4g, Vitamin A: 1724IU, Vitamin C: 71mg, Calcium: 506mg, Iron: 1mg