Sausage Stuffing (One Pot)
A classic, easy sausage stuffing recipe, homemade with simple ingredients in one pot or pan. Loaded with dried bread, herbs, butter, celery, onions. It's baked until perfectly crisp and golden brown on top. No more soggy stuffing! This is the best old fashioned Thanksgiving side dish.
Thanksgiving dinner is not complete without this classic side. If you prefer the meatless version, then try this Thanksgiving Turkey Stuffing (One Pot). Either recipe will complete your feast perfectly!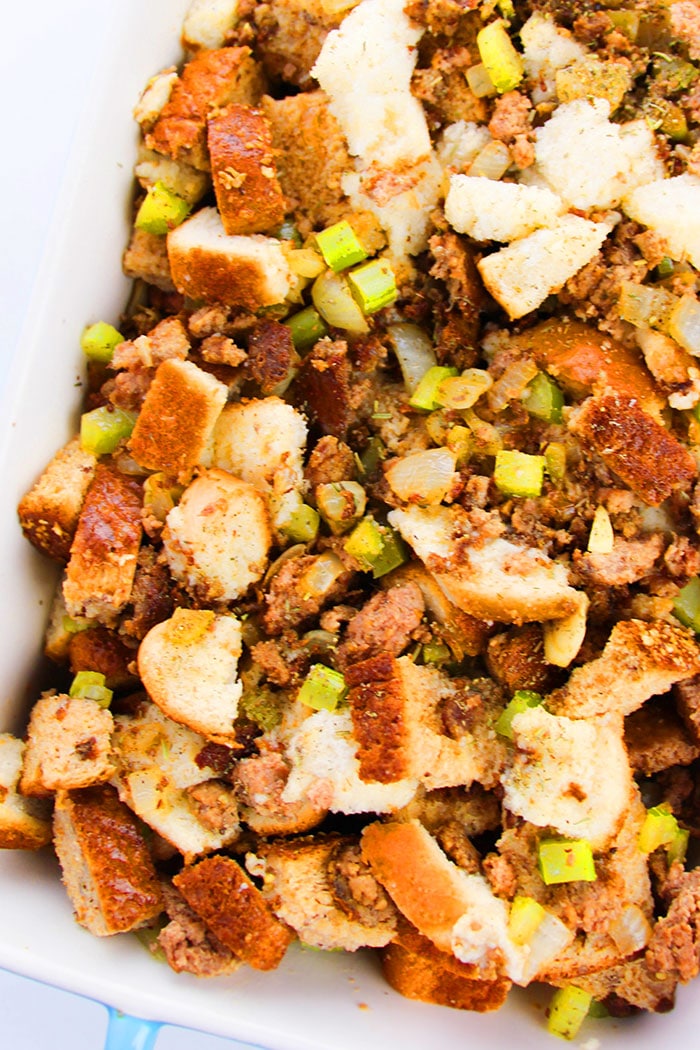 How to make Italian sausage stuffing recipe from scratch?
Saute vegetables- This includes onion, garlic, celery.
Add other ingredients- This includes sausage, poultry seasoning, salt, pepper.
Mix– Until combined.
Add bread cubes- They must be stale and dry.
Add egg- It should be whisked.
Bake uncovered– Until top is crispy and golden brown.
Enjoy– Garnish with fresh herbs and dig in.
What is the difference between dressing and stuffing?
They are are generally made of the same ingredients and are a side dish. However, stuffing is typically cooked inside something, like a turkey, and dressing is usually cooked in a pan. Also, these days, the two terms are used interchangeably.
What to serve with easy sausage meat stuffing recipe?
The most classic dish to serve is turkey! Try my Easy Thanksgiving Turkey (One Pot) or this Roast Turkey Breast (One Pan). You can use leftovers the next day in these Shredded Turkey Tacos.
Ham is another great choice, especially if you are not a turkey fan. Make this Slow Cooker Ham to accompany today's side dish.
Chicken pairs well too. Try Bacon Ranch Chicken (One Pot), Creamy Lemon Garlic Chicken (One Pot), Lemon Pepper Chicken (One Pan), or Grilled Chicken Breast (One Pan).
It's also delicious alongside gravy, especially this Mushroom Gravy (One Pot).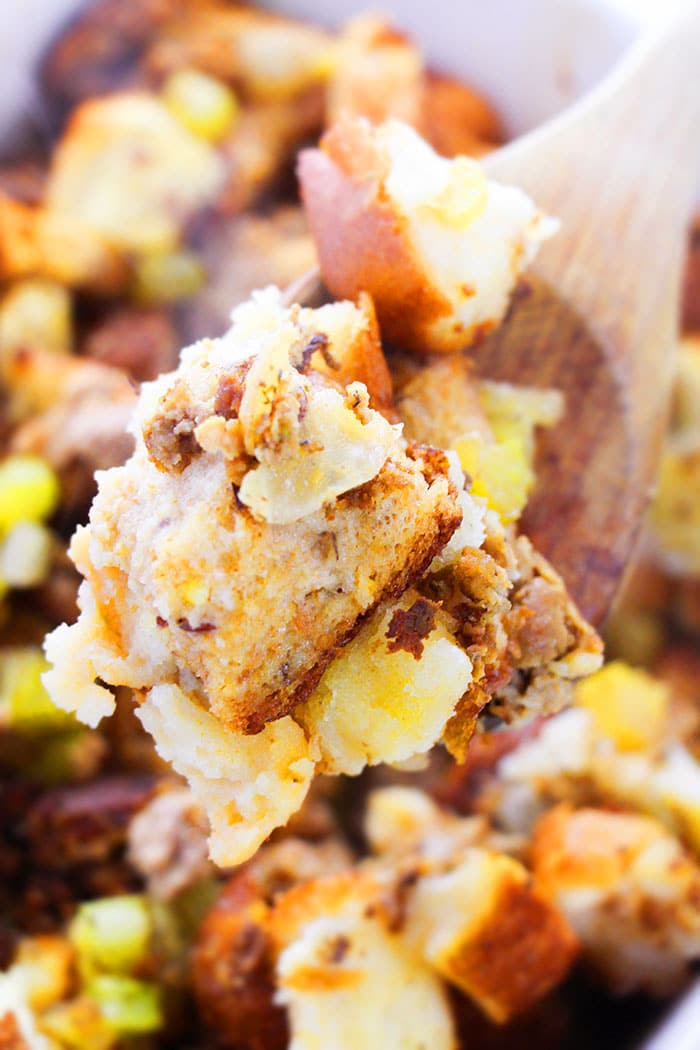 Storage
Refrigerate– In a sealed container in the fridge for up to 2 days. However, it still tastes best, when served fresh.
Freeze– I don't recommend freezing it because it doesn't taste as good when it thaws.
Reheat– In the microwave or in the oven.
Variations for sausage dressing
Apple sausage stuffing– Add 1 small diced apple.
Cornbread sausage stuffing– Use cornbread as the base instead of white or wheat bread.
Turkey stuffing– Make the turkey on the side and then stuff the cooked stuffing inside it, prior to serving, for presentation purposes. Don't cook the stuffing inside the turkey.
Add dried fruit– Such as cranberries, yellow or red raisins, or even dried cherries for a sweet addition.
Add cheese– Such as shredded mozzarella, white cheddar, or even Swiss.
Add nuts– Such as toasted pecans, walnuts, pistachios, or almonds.
Add other herbs (fresh or dried)– Such as basil, parsley, chives, thyme, or rosemary.
Sage sausage stuffing– Add sage for a unique warm flavor.
Add mushrooms– For more depth of flavor and heartiness.
Make it spicy– Add red chili flakes or even a little cayenne for some spice.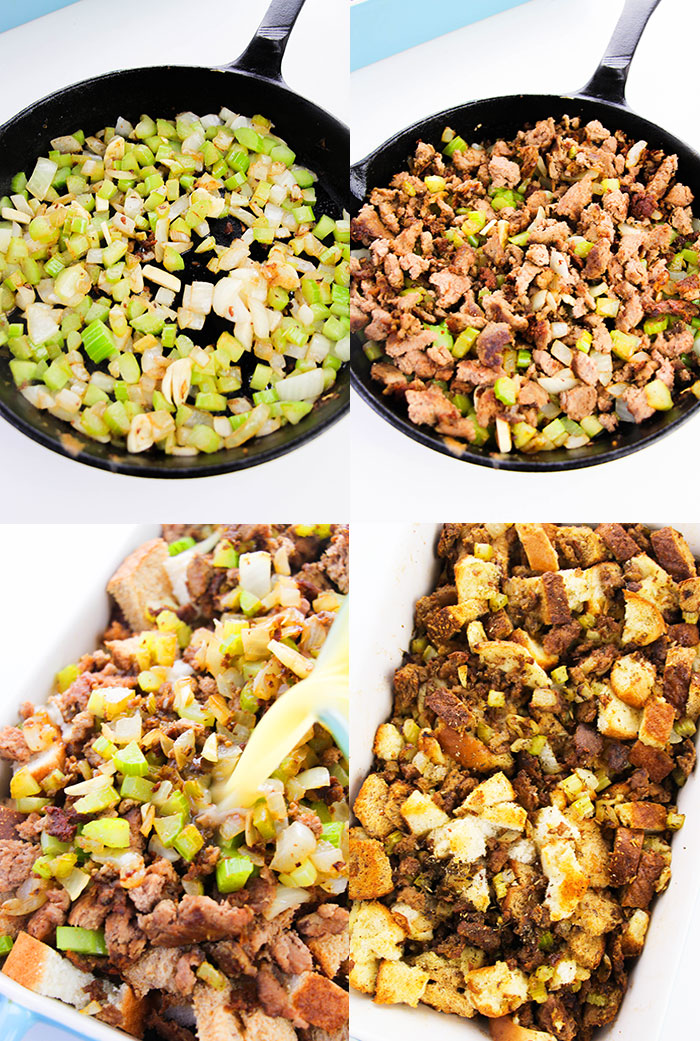 Tips And Techniques
Can you make stuffing the night before (Make ahead instructions)? Yes, you can assemble the stuffing, store it covered in the fridge, and then cook the next day.
Should stuffing or dressing be cooked covered or uncovered? Bake uncovered so the top won't be soggy.
What kind of sausage to use? I used one pond of ground pork sausage, but you can use mild Italian sausage, maple sausage, or even seasoned sausage like sage.
How to fix soggy stuffing? Add more bread to soak up the excess moisture. You will have to add some more spices to balance the flavors again.
How to fix dry stuffing? Add more broth and toss gently until it starts to clump together. Remember that it takes some time for the liquid to be absorbed in the dried bread cubes. DO NOT RUSH! Wait for a few minutes before adding more broth. Only add a little at a time because this will prevent it from becoming soggy.
What kind of bread cubes to use for stuffing? Use unseasoned and dried bread cubes. They can be store bought. You can also use stale dry bread that's been cut into about 1 inch cubes.
Use low sodium broth and unsalted butter– To prevent this dish from becoming too salty.
Adjust the amount of herbs– This is based on your preference.
More One Pot Thanksgiving Side Dishes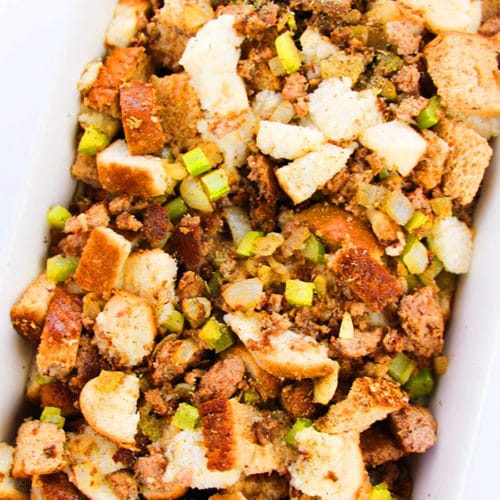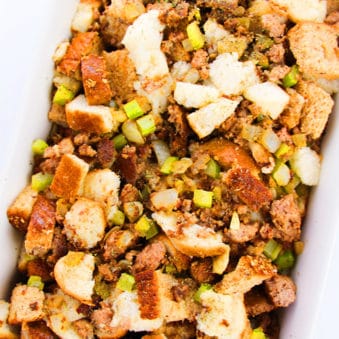 One Pot Sausage Stuffing
Easy sausage stuffing recipe, homemade with simple ingredients in one pot or pan. Loaded with dried bread, herbs, butter, celery, onions.
Yield: People
Ingredients
1/4 cup Butter, Unsalted
3/4 cup Onion, Finely chopped
3 cloves Garlic, Finely minced
2 stalks Celery, Diced
1 pound Sausage
1.5 tbsp Poultry seasoning, Or replace with 1 tbsp Italian seasoning blend
Salt, To taste
Pepper, To taste
5 cups Bread cubes, Unseasoned, Dried, Can be store bought or use stale dry bread that's been cut into about 1 inch cubes
1 Egg, Large, Whisked
2 cups Chicken broth, Low sodium
Instructions
Heat butter in a large, wide nonstick pot or pan over medium-high heat until melted.

Add onion, garlic, celery, and cook until garlic is fragrant. This takes about 2 minutes.

Add sausage and 1/2 tbsp poultry seasoning, salt, pepper and cook until well-browned. Stir often for about 5 minutes.

Remove from heat and add dried bread cubes and mix it with the sausage and veggies.

Pour whisked egg and broth over the stuffing.

Sprinkle remaining poultry seasoning and mix everything until combined.

Bake uncovered at 350 degrees F for 35-45 minutes or until top is crispy and golden brown.

Garnish with fresh parley or green onions.

Serve immediately and enjoy!

For a better presentation, especially for Thanksgiving or a dinner party, spread the dried bread cubes in a rectangle casserole dish (Dimensions: 9×16). Cook the sausage and veggies on the side and mix that with the bread cubes, along with remaining seasoning, whisked egg, broth. Then, bake until golden brown.
Notes
Read all my tips above.
My mom likes to use a fork fluff the mixture, prior to serving but I prefer the whole bread cubes and skip this step.
Tastes best when served fresh but leftovers can be stored in a sealed container in the fridge for up to 2 days and reheated in the oven or microwave. 
Nutrition
Calories: 453kcal, Carbohydrates: 27g, Protein: 18g, Fat: 30g, Saturated Fat: 12g, Trans Fat: 1g, Cholesterol: 102mg, Sodium: 1100mg, Potassium: 424mg, Fiber: 3g, Sugar: 4g, Vitamin A: 422IU, Vitamin C: 9mg, Calcium: 105mg, Iron: 3mg