Bacon Ranch Chicken (One Pot)
Quick and easy ranch chicken breast recipe, homemade with simple ingredients in one pot over stovetop in 30 minutes. Packed with ranch seasoning, crumbled bacon and mozzarella cheese!
This is one of the best flavor combinations out there. It's a dish that really is as comforting as it gets, just like this Chicken Bacon Ranch Pasta (One Pot).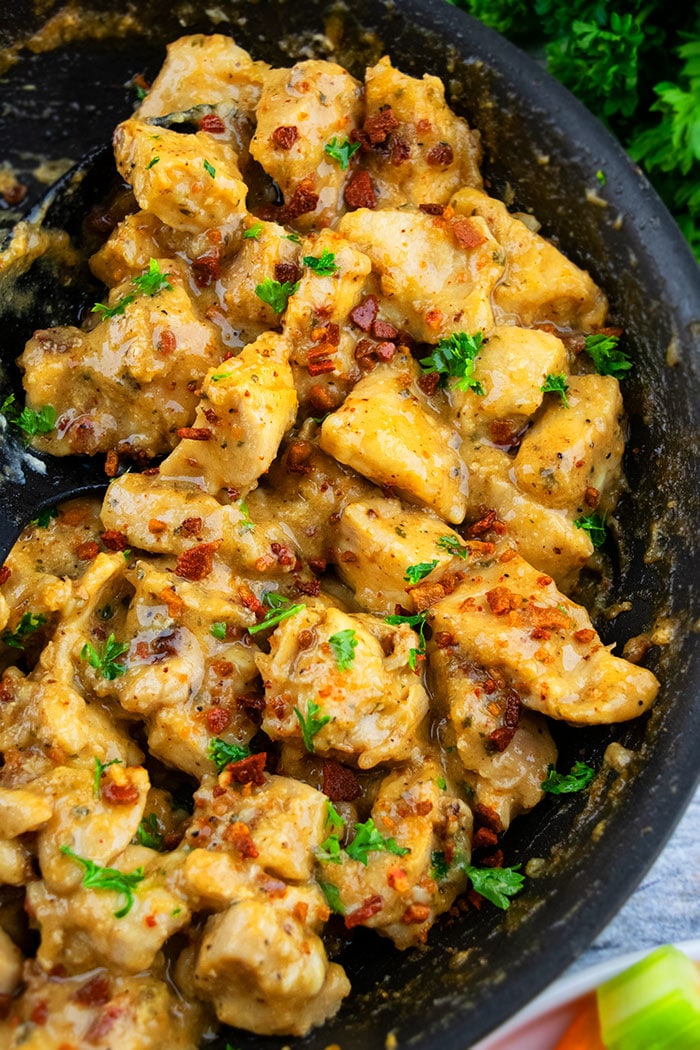 How to make ranch chicken breast?
Heat butter and oil– Until butter is fully melted.
Add garlic, chicken, salt, pepper– Cook for 1-2 minutes.
Add water- Mix until combined.
Cover and cook- Lower heat, cover with lid and cook until chicken is done.
Add toppings– Sprinkle shredded cheese and crumbled bacon.
Cover and cook– Until cheese is fully melted for about 1 minute.
Enjoy- Serve immediately and dig in!
What sides to serve with creamy bacon ranch chicken recipe?
Salad– Serve it with simple green salad with just lettuce, kale, spinach and/or arugula. Don't add any strong vinaigrettes or dressings because this chicken already has a lot of flavor. You ca also try this Italian Chopped Salad (One Bowl) or this Cucumber Onion Salad (One Bowl).
Rice– Simple steamed rice is a great option. basmati and jasmine are my favorite. You can also try this Rice Pilaf (One Pot) or Garlic Rice (One Pot). Cauliflower rice would be a great low carb option.
Pasta– Any type of pasta would work well here. Try angel hair pasta, fettuccine, spaghetti, shells, macaroni e.t.c. This Instant Pot Spaghetti Squash or zoodles (zucchini noodles) would be a nice low carb option.
Bread– Such as dinner rolls, breadsticks, crusty Ciabatta bread.
Vegetables– Roasted/ baked, grilled, steamed veggies all work well and make the meal more healthy and filling. Try any of the following: Oven Roasted Broccoli (One Pan), Oven Roasted Green Beans (One Pan) or Green Beans and Potatoes (One Pot)
Starchy sides– I would recommend Creamy Mashed Potatoes (One Pot), Oven Roasted Potatoes (One Pan), and even Mashed Sweet Potatoes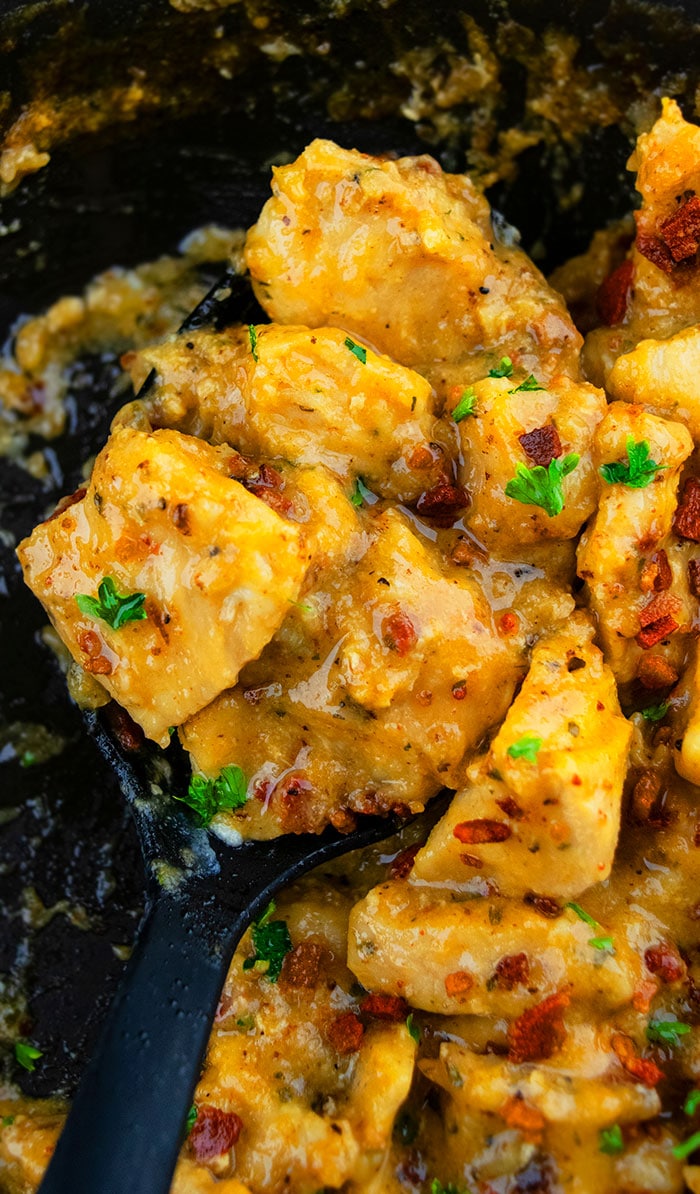 How to make homemade ranch seasoning?
Use this homemade ranch powder substitute. Mix together the following ingredients and store in an airtight container at room temperature for up to 3 months.
1/2 cup dry buttermilk powder
2 tbsp dried parsley
2 tsp dried chives
2 tsp garlic powder
1 tbsp onion powder
1 tsp dried dill
1 tsp salt
1 tsp ground black pepper
You can adjust the quantities of individual ingredients, based on your personal preference.
Variations
Chicken bacon ranch pizza– Dice this chicken into very small pieces and use it as topping on your pizza with lots of mozzarella cheese, tomato sauce and bacon bits.
Bacon ranch chicken quesadillas or tacos– Replace Mexican shredded chicken with this one in this Chicken Quesadilla (One Pan) or Shredded Chicken Tacos (One Pot). Add toppings of your choice like lettuce, tomatoes, sour cream, and shredded cheese.
Chicken sandwich or wrap– Shred this chicken and use it to make a sandwich or wrap with your favorite veggies. Use high quality bakery bread.
Chicken bacon ranch pasta salad– Add your favorite pasta (boiled and drained) along with tomatoes, olives, red onions, cucumbers, celery.
Fried version– Coat the meat in ranch seasoning and then pan fry each side in oil until golden brown and crispy.
Grilled or baked ranch chicken– Make a ranch marinade and marinate meat in that mixture for at least 1 hour before grilling or baking.
Make it spicy– Add some, red chili flakes, cayenne pepper, hot sauce or buffalo sauce for a spicy kick.
Buffalo ranch chicken dip– Shred some of this chicken and mix it in this Buffalo Chicken Dip (One Pot). Serve it with crackers, tortilla chips or pita chips.
Make it creamy- Mix in half and half or heavy cream at the end, although I don't think it's necessary.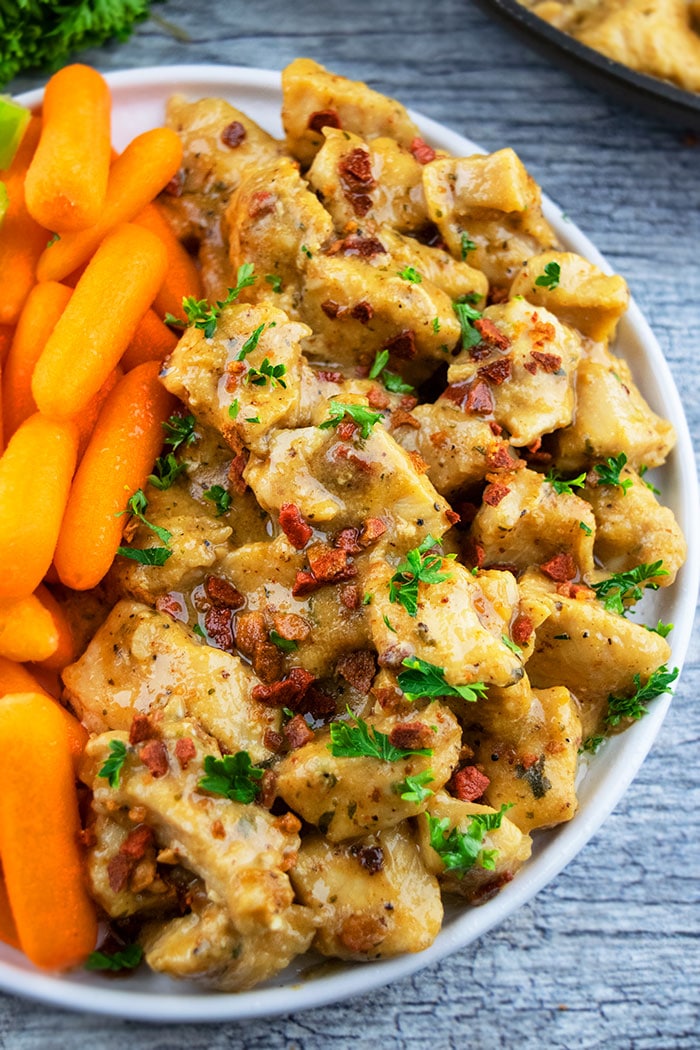 Storage
Refrigerate- Store in a sealed container in the fridge for up to 3 days
Freeze– That's not recommended for this recipe since ranch seasoning has milk powder and it doesn't thaw that well and the sauce can separate.
Reheat– Warm it up again in the microwave.
Tips and Techniques
Don't omit butter– Because it adds flavor but make sure it's unsalted.
Broth vs. Water- I used water because the recipe is already flavorful and broth does not seem necessary. However, broth can be used too as long as it's low sodium.
How do you know chicken is cooked through? How do you know chicken is done cooking? Internal temperature should read 165 degrees F on a meat thermometer.
Why is my chicken dry? This is due to over-cooking or not adding enough liquid to keep the chicken moist during cooking.
Can you use ranch dressing instead of ranch mix? No. For this recipe, you have to use ranch seasoning in powder form.
Adjust quantities– Use more or less ranch seasoning, based on your personal preference.
What to do with leftovers? Use in sandwiches, wraps, tacos, quesadilla or soups. You can also shred it and mix it in pasta or salad, or stuff it in a baked potatoes.
What cut of chicken to use? This is entirely up to you. Chicken breast, thighs, wings, drumsticks all work well. The cooking time may vary though.
More One Pot Chicken Recipes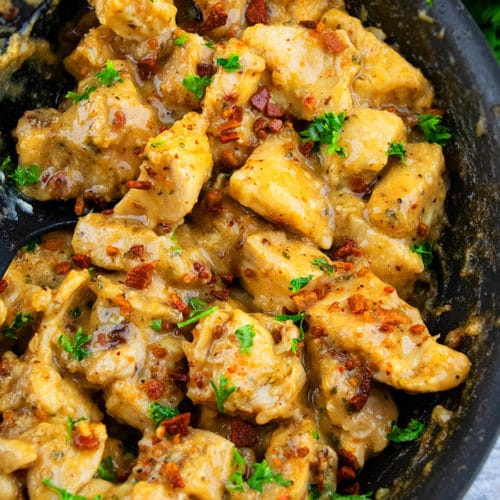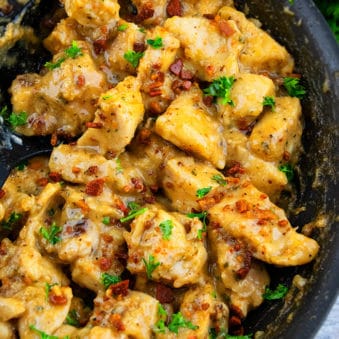 One Pot Bacon Ranch Chicken
Quick and easy ranch chicken recipe, homemade with simple ingredients in one pot over stovetop in 30 minutes. Packed with ranch seasoning, bacon, cheese!
Yield: People
Instructions
Heat butter and oil in a large nonstick pot or pan over medium-high heat.

Add garlic, chicken, ranch seasoning, salt, pepper and cook for 1-2 minutes.

Mix in water.

Reduce heat to Medium and continue cooking, while mixing often, until chicken is cooked through.

Cook uncovered until excess liquid evaporates and consistency is to your liking.

Sprinkle cheese and crumbled bacon on top of the chicken. Don't mix.

Cover and cook for 1 minute until cheese is fully melted.

Serve immediately and enjoy!
Notes
Read all my tips above.
Leftovers can be stored in a sealed container in the fridge for up to 3 days and reheated in the microwave. 
Nutrition
Calories: 381kcal, Carbohydrates: 6g, Protein: 54g, Fat: 14g, Saturated Fat: 6g, Cholesterol: 174mg, Sodium: 1322mg, Potassium: 850mg, Fiber: 1g, Sugar: 1g, Vitamin A: 251IU, Vitamin C: 3mg, Calcium: 82mg, Iron: 1mg
Happy cooking everyone!