Chinese Bourbon Chicken (One Pot)
Quick and easy Chinese bourbon chicken recipe, homemade with simple ingredients in one pot over stovetop in 30 minutes. Tender chicken breast cubes are coated in an Asian sweet and sticky sauce. It's even better than your favorite take-out!
This recipe brings all the goodness of Chinese restaurant take-out into your own kitchen. The chicken is so tender and the sauce is the perfect balance of sweet and savory. Even the picky eaters in the house will enjoy this dish.
If you are craving more Chinese dishes, add the following to your rotation: Chicken and Broccoli (One Pot) and Crockpot Sesame Chicken. They make a delicious and quick weeknight meal and leftovers are awesome for work the next day.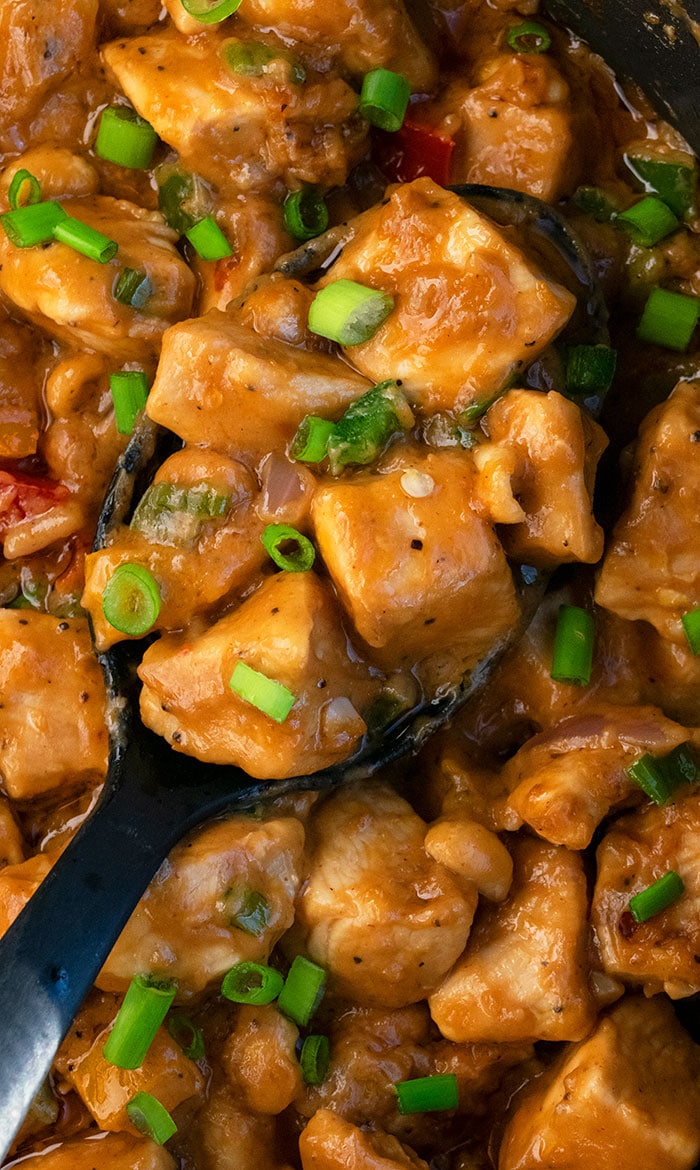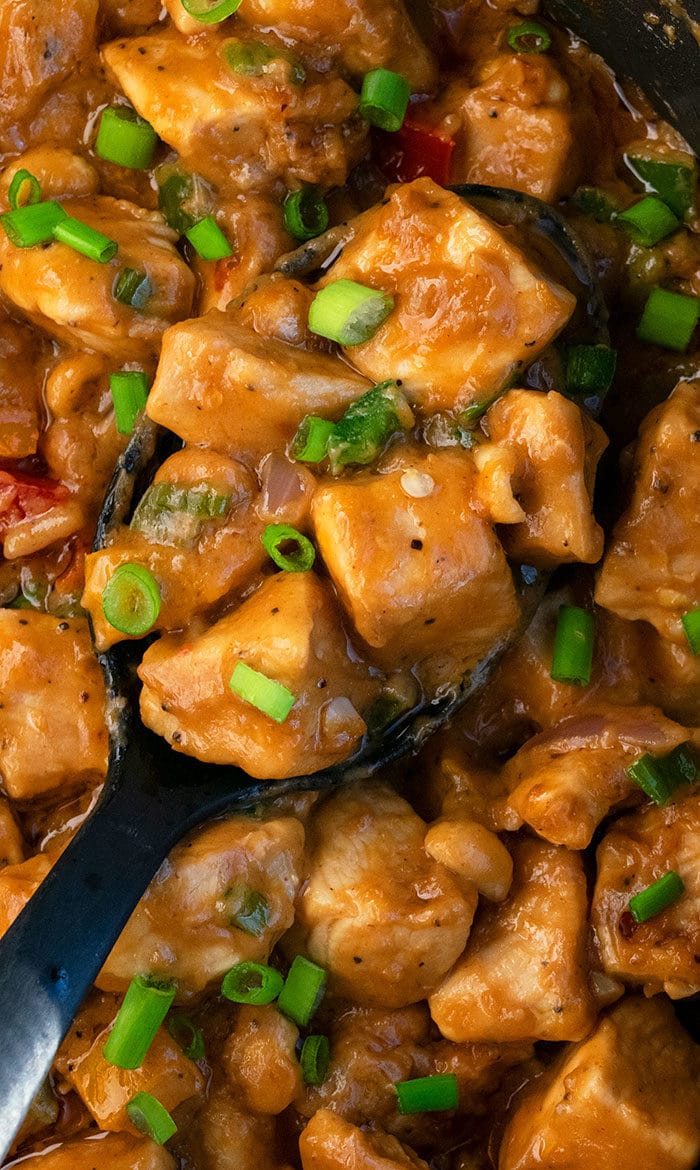 What is bourbon chicken?
It is a Chinese dish that consists of tender juicy chicken tossed in a sweet, savory, and sticky sauce made of bourbon and soy sauce. It's also known as "bourbon street chicken."
How to make bourbon chicken?
Stir-fry chicken– Heat oil, season chicken, and stir-fry until golden brown and cooked through.
Add ingredients– Add garlic first. Stir fry till fragrant. Add broth, bourbon, soy sauce, vinegar, ketchup, brown sugar, ginger powder, red chili flakes, and mix.
Make it thick– Add dissolved cornstarch, while stirring. Bring to a boil and lower the heat. Simmer for a few minutes until sauce has thickened.
Garnish– Top it all off with green onions and peanuts, if you like. Serve immediately.
What is bourbon sauce made of?
The bourbon sauce is made of broth, bourbon, soy sauce, vinegar, ketchup, brown sugar, ginger powder, and red chili flakes. Then dissolved cornstarch is added to thicken the sauce.
What sides to serve with honey bourbon chicken?
Typically, it's served with steamed rice (white or brown) but you can also serve it along with some of these other rice recipes:
If you prefer noodles over rice, serve with plain boiled egg noodles or Sesame Noodle Recipe (One Pot) or even zucchini noodles (zoodles) and Spaghetti Squash (Instant Pot).
If you are fond of salads, this Asian Cucumber Salad Recipe (One Bowl) would accompany this meal perfectly or you could try a very simple green salad.
As for appetizers, try spring rolls, egg rolls, wontons or crab rangoon.
In terms of soups, you can serve this Egg Drop Soup (One Pot) or this Crockpot Chicken Noodle Soup on the side as well.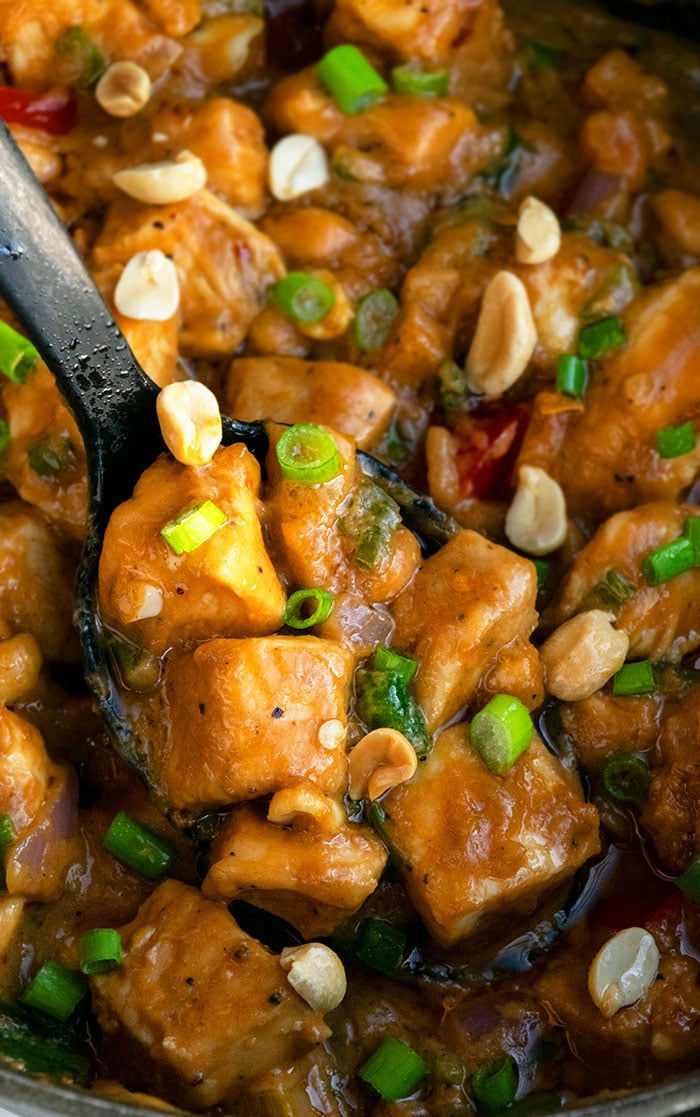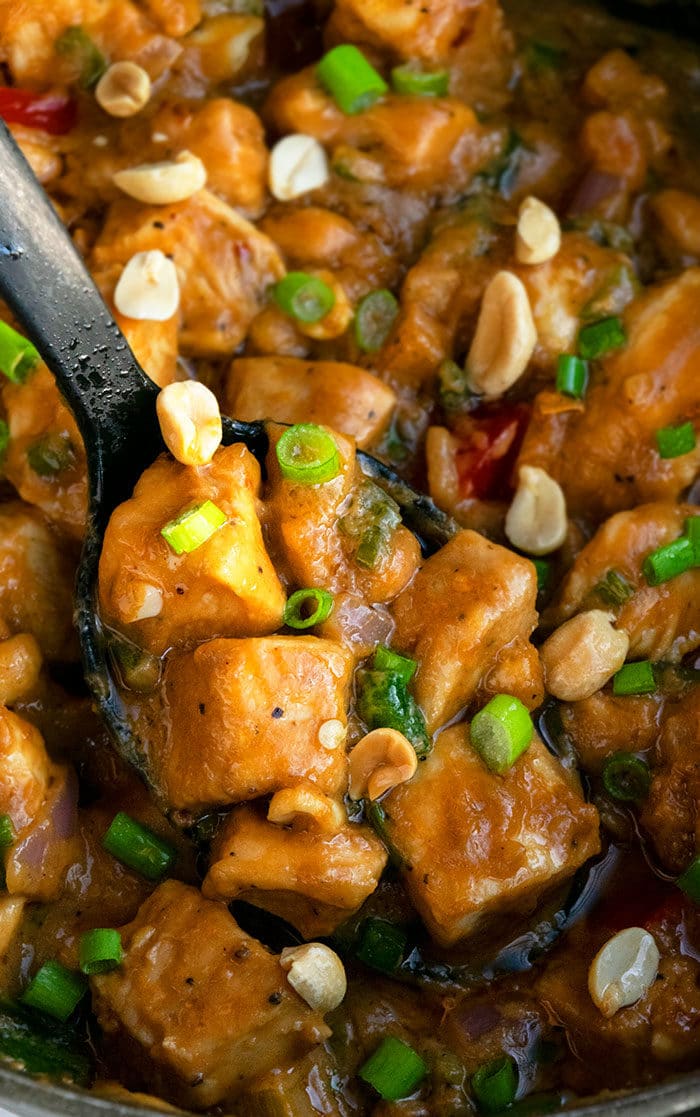 Variations
Grilled bourbon chicken– Marinade the chicken in the bourbon sauce and then grill till no longer pink inside.
Slow cooker/ Crockpot bourbon chicken– Brown chicken, then place all ingredients in the slow cooker on low for 2-3 hours. Add dissolved cornstarch in the last 20 minutes to thicken.
Add shrimp– Replace chicken with shrimp. Use the same sauce, just with a different source of protein.
Glazed chicken– Mix all ingredients (minus chicken) in a saucepan and then heat until reduced to a glaze. When it coats the back of a spoon it is the right consistency for a bourbon glaze. Then coat or brush the glaze onto baked or grilled chicken.
Make it spicy– Add whole dried red chilis red chili flakes.
Add vegetables- Use frozen veggies such as broccoli, green beans, carrots, water chestnuts, sugar snap peas. Add them in the last 5 minutes to prevents them from over-cooking and becoming too soft and "mushy."
Garnish– The classic choice is green onions but you can also toss some toasted sesame seeds, crushed peanuts, or cashews.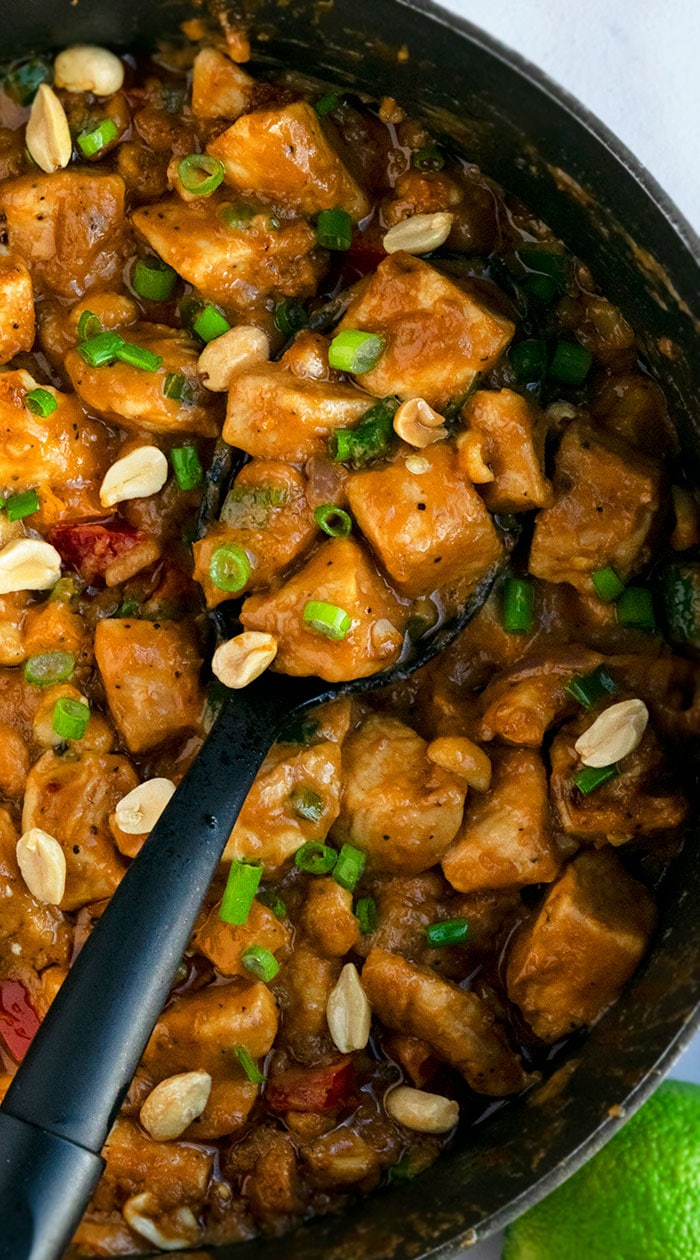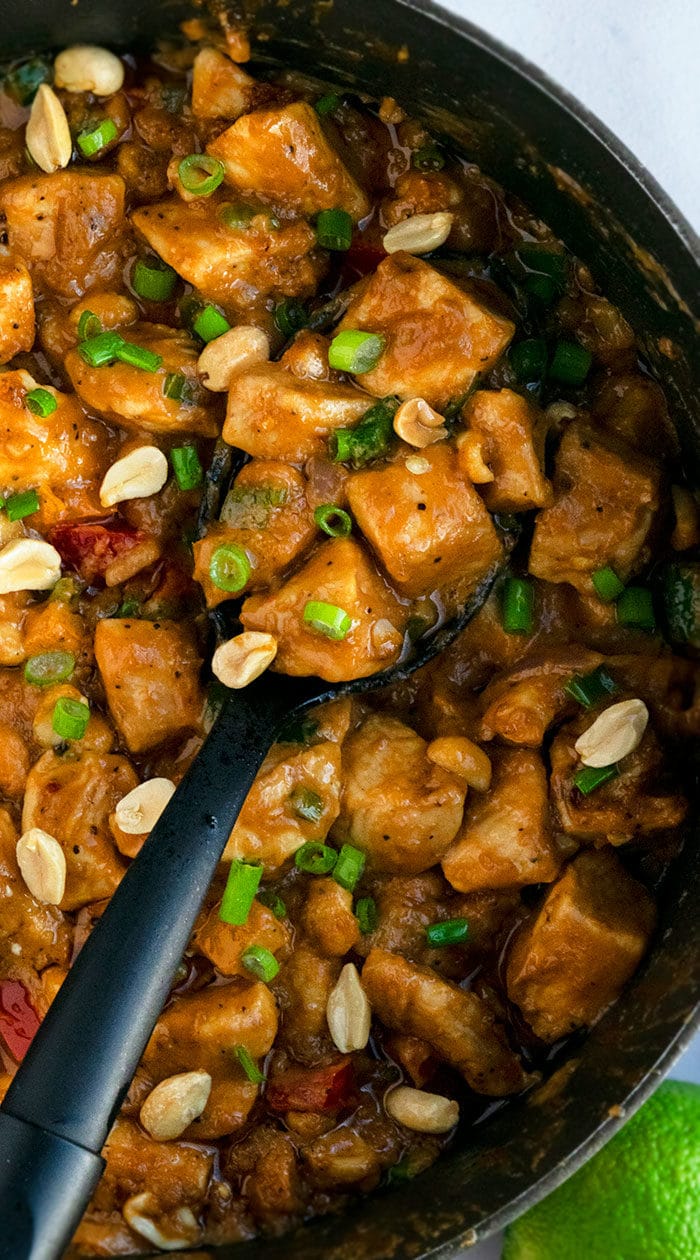 Tips and Techniques
What cut of chicken to use? Wings, thighs, breast, drumsticks. Any of these cuts of meat can be used. Bake the chicken, and then add the prepared sauce.
Can you make bourbon chicken without bourbon/ without alcohol? The alcohol evaporates as the sauce cooks. However, if you don't want to use alcohol, apple juice is a great substitute.
How do you thicken bourbon sauce? You can cook the sauce down, or reduce it on the stovetop over medium heat. I don't recommend adding more cornstarch since it can alter the flavor and make the sauce very "chalky."
How to thin sauce? Add a small amount of broth or water until desired consistency is achieved.
Adjust the sweetness– Reduce the amount of sugar to your desired preference.
Make it gluten- free- Use arrowroot powder to thicken the sauce instead of cornstarch, and use coconut aminos instead of soy sauce. Also, make sure your chicken broth is gluten-free.
Use a non-stick pan- This will make for easier clean-up, and prevent your chicken from sticking to the bottom of the pan.
Feed a crowd- This recipe can easily be doubled or tripled to serve more people, especially at dinner parties.
Use low sodium ingredients– This is especially with regards to the broth and soy sauce. If you use high sodium ingredients, it can potentially make the meal very salty.
More Chinese Recipes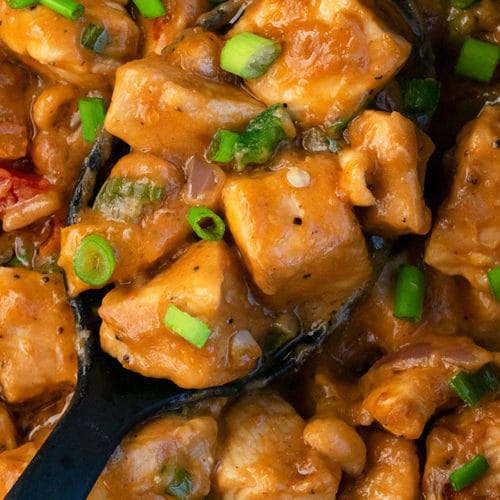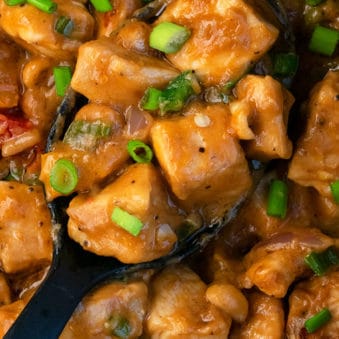 One Pot Bourbon Chicken
Quick, easy Chinese bourbon chicken recipe, homemade with simple ingredients in one pot over stovetop in 30 minutes. Loaded with sweet and sticky sauce.
Yield: People
Instructions
Heat oil in a nonstick pan or pot over medium-high heat.

Add chicken and sprinkle salt and pepper.

Stir fry chicken until golden brown and cooked through.

Add garlic and stir fry for a few seconds until fragrant. Be careful not to burn it!

Add broth, bourbon, soy sauce, vinegar, ketchup, brown sugar, ginger powder, red chili flakes and mix until combined.

Add dissolved cornstarch, while gently mixing.

Bring to a boil and then lower the heat and simmer for a few minutes until sauce has thickened to your desired consistency.

Garnish with green onions. I also tossed some peanuts because I love that crunch but that's not necessary at all.

Serve immediately and enjoy!
Notes
If you prefer a slightly crispy chicken, remove the stir-fried chicken onto a plate and then prepare the bourbon sauce in the same pot. Finally, add the chicken back into the pan and toss until fully coated. 
Read all my tips above.
Tastes best when served immediately but leftovers can be stored in a sealed container in the fridge for up to 3 days. The sauce will thicken over time and will need to be thinned out by the addition of some broth. 
Nutrition
Calories: 441kcal, Carbohydrates: 19g, Protein: 51g, Fat: 13g, Saturated Fat: 2g, Cholesterol: 145mg, Sodium: 1535mg, Potassium: 949mg, Fiber: 1g, Sugar: 16g, Vitamin A: 179IU, Vitamin C: 6mg, Calcium: 27mg, Iron: 1mg
Happy cooking everyone!