Jalapeno Popper Chicken (One Pot)
Quick and easy jalapeno popper chicken recipe, homemade with simple ingredients in one pot or pan over stovetop in 30 minutes. This delicious meal is stuffed with lots of rich and creamy cheese as well as spicy jalapenos.
Today's recipe is a must-make for anyone who enjoys Mexican food. It's seriously even better than my Chicken Fajitas (One Pot) and Mexican Shredded Chicken (One Pot).
This is a spin on the super popular version that you have probably all seen or heard of: Bacon wrapped jalapeno popper stuffed chicken. The only difference is I don't wrap it in bacon but you can easily do that, if you like. It also happens to be a low carb meal!
How to make jalapeno popper chicken?
Prepare chicken-Cut slits along the side of the breast, making sure not to cut through fully.
Fill chicken– Fill with different types of cheeses and light seasoning.
Secure edges– Use toothpicks to hold the filling inside.
Pan fry– Sprinkle taco seasoning on breasts and cook both sides in little oil until golden brown and chicken is cooked through.
Enjoy! Squeeze some lemon juice on top and garnish with jalapenos and cilantro. Dig in!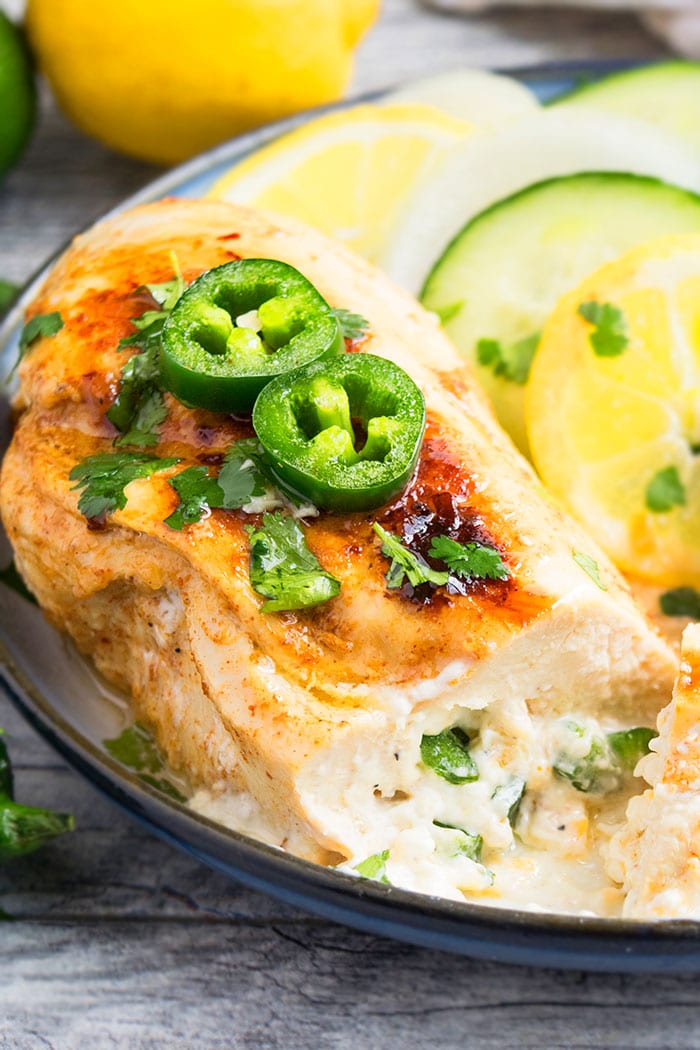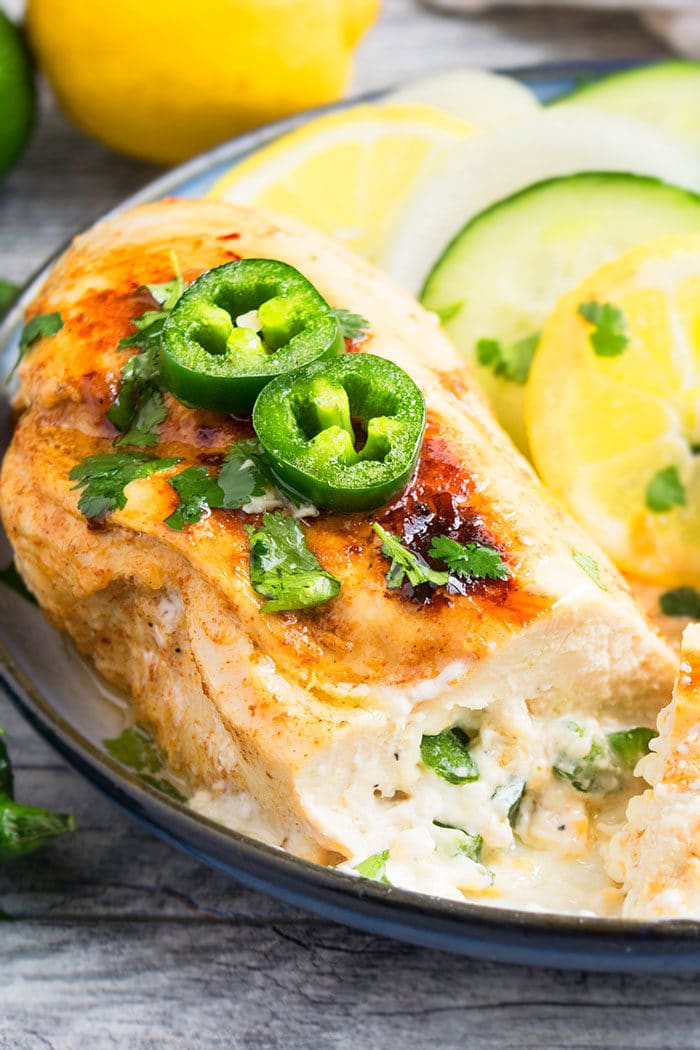 What sides to serve with jalapeno popper chicken?
You can serve it with salads such as this Tomato Avocado Salad (One Bowl) or this Mexican Corn Salad (One Bowl). You can even top off the chicken with some salsa like this Corn Salsa (One Bowl) or this Pico De Gallo (One Bowl).
For a more filling meal, serve it with rice. It could be just steamed rice with a little butter or you can make Pineapple Rice (One Pot) and Cilantro Lime Rice (One Pot).
If you are fond of bread, serve it with breadsticks, dinner rolls, tortillas or my favorite Vegetarian Quesadilla (One Pan).
How to stuff a chicken breast?
The easiest way to do this is to use a sharp knife and cut along the side of the breast, being careful not to cut through fully to the other side. Fill it with cheese, veggies, seasoning and anything else you like. Secure it with toothpicks and pan-fry or bake until cooked through.
Some people prefer making "jalapeno popper hasselback chicken," which is another way of stuffing a breast. Make little cuts on top, ensuring you don't cut through fully. Then, stuff each little pocket with cheese. Bake and enjoy!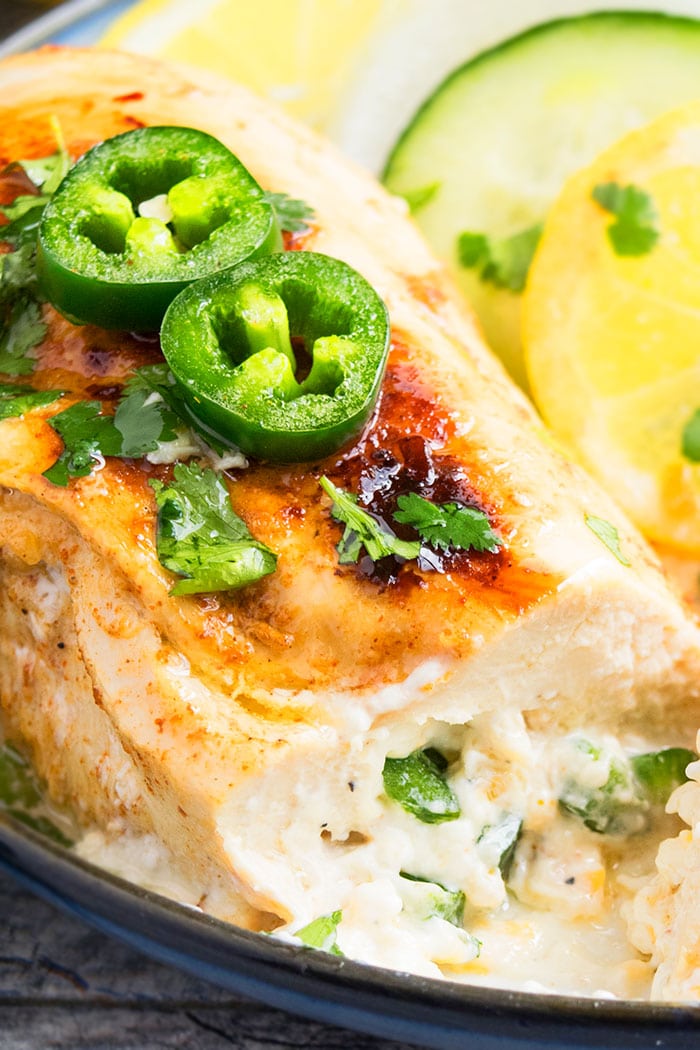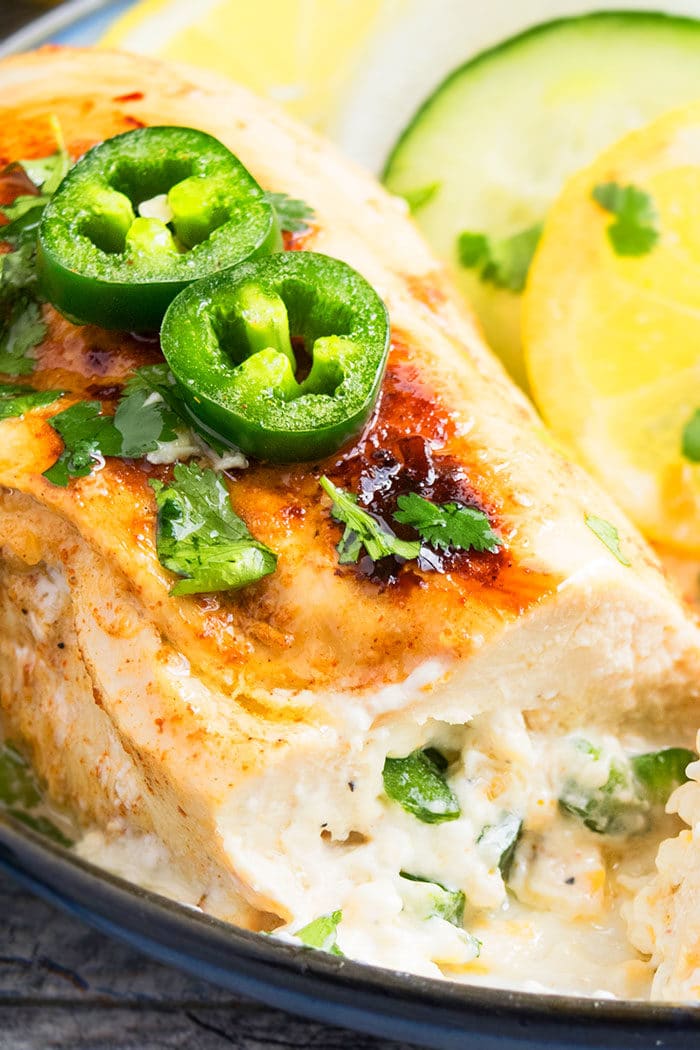 What to make with leftover stuffed chicken?
Jalapeno popper chicken pasta casserole– Prepare your favorite pasta or casserole recipe and instead of cooking chicken beforehand, just chop up this chicken and use that instead. Try one of these recipes: One Pot Chicken Pasta (Chicken Fajita Pasta) or this Cheesy Taco Pasta (One Pot)
Soup and chili– Shred this chicken or slice it and mix into this Instant Pot Mexican Soup or a white chicken chili.
Sandwiches, subs, wraps, sliders– Add veggies, shredded cheese, spreads and this leftover chicken and voila… you have an easy tasty lunch!
Pizza– Chop it up to use as the most delicious topping ever!
Quesadillas, tacos, taquitos, burritos, enchiladas, tamale, tostada– This can be used as a filling in all of those dishes!
Salad– Mix it into a chopped salad and dig in!
Dips– Make a creamy cheesy dip such as an enchilada dip and mix in sliced chicken pieces or just spread it heavily on top.
Nachos– Slice chicken into small cubes and use it as a topping in an epic loaded nachos.
Spring rolls, egg rolls, puffs– Sliced it really small and use it as a filling in an appetizer.
Zucchini boats– Cut small slices and use it in these Stuffed Zucchini Boats (One Pan).
Stuffed portobello mushrooms– Cut small slices and use it in this Portobello Mushroom Pizza (One Pan)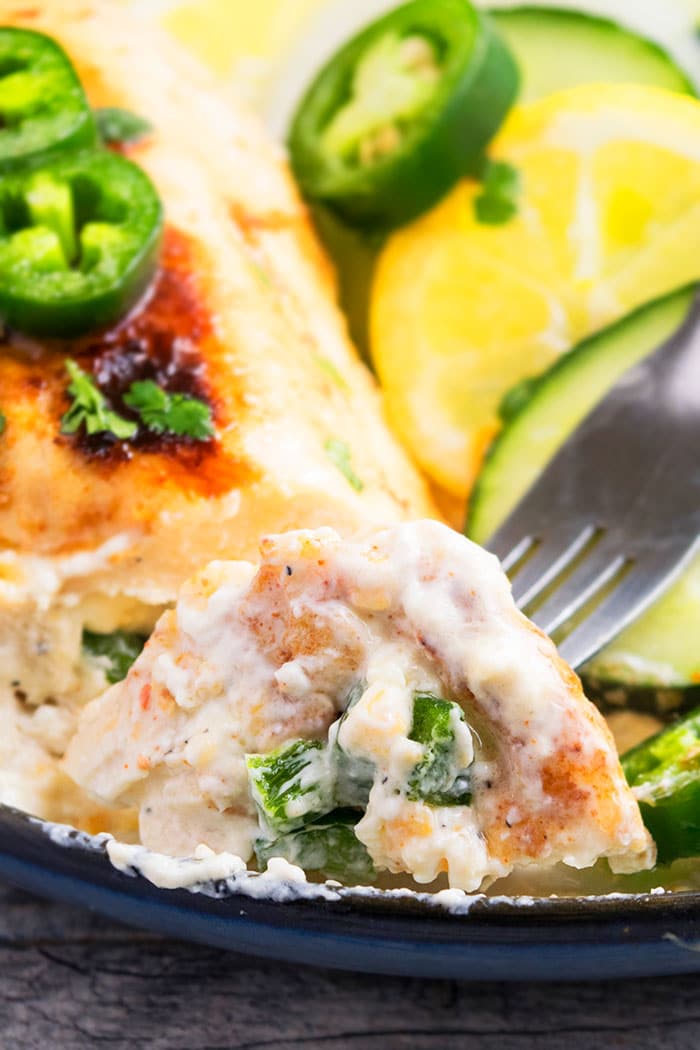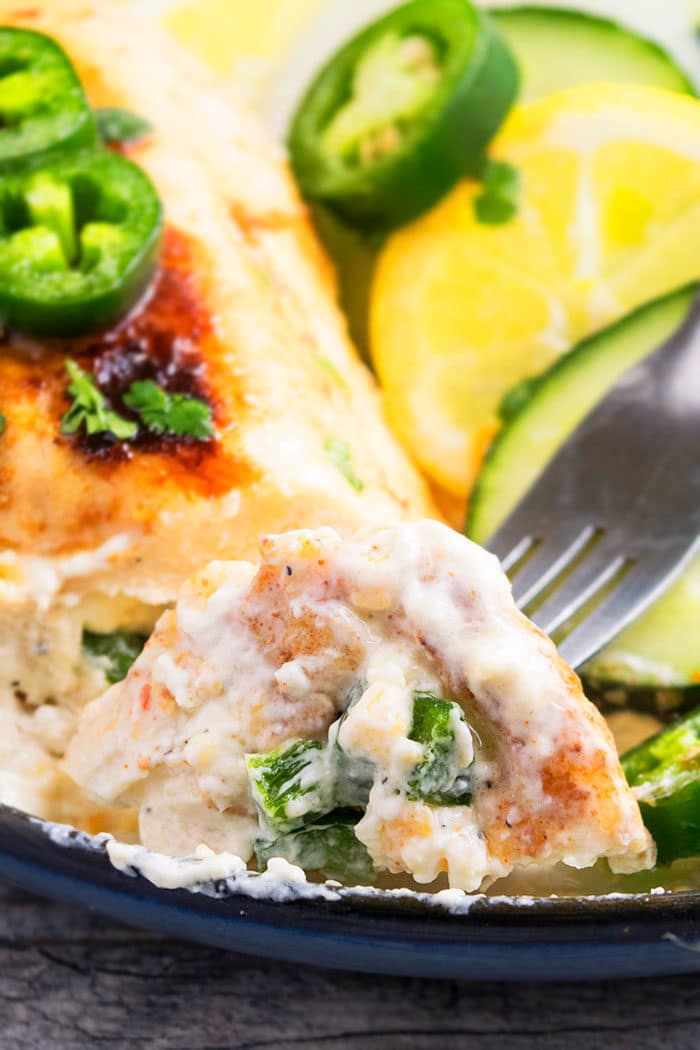 Tips and Techniques
How long to cook stuffed chicken breast? That depends on the thickness of the breast. The thicker it is, the longer it needs to be cooked but if you over-cook it, your chicken will become dry. The best way to check doneness is to use a meat thermometer and make sure the temperature of the breast reads 165 degrees F. This typically happens at the 16-20 minute mark on the stovetop, which chicken is no longer pink in the center and cooked through.
How to bake stuffed chicken breast? I prefer making it on stovetop and pan-frying but you can also bake at 350 degrees F for 20-25 minutes.
Use full fat ingredients- Because that makes the filling very rich and creamy.
Make it healthier– By using low fat cheeses.
What cheese to use? I used cream cheese, mozzarella and cheddar but you can use your favorite combination of cheeses.
Deseed jalapenos- This is especially important if you can't handle spicy food. Removing the seeds will cut down the spice level.
Garnish options– My favorite is freshly squeezed lemon juice, jalalpeno slices, and fresh finely chopped cilantro. You can also sprinkle some shredded cheddar cheese in the last 2 minutes and sprinkle bacon bits on top.
Use nonstick pot pr pan– Because this prevents burning and sticking.
Adjust seasonings– Add more or less, based on your preference.
Some of the filling will escape from the center- This is normal. Don't panic! Cheese melts as it heats and oozes out a little during cooking, even though it' been secured with toothpicks. Some people like to wrap the entire chicken breast with bacon strips, secured tightly with toothpicks, to help hold the filling inside.
More Mexican Recipes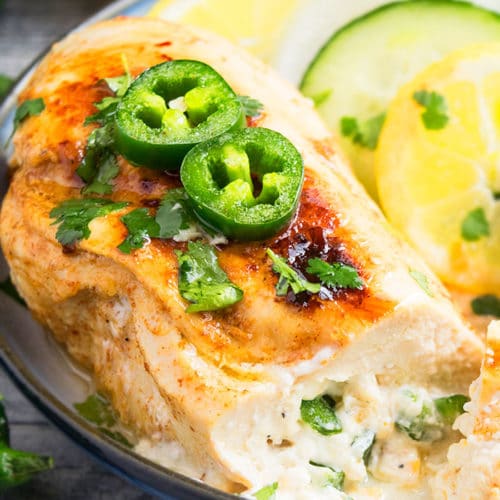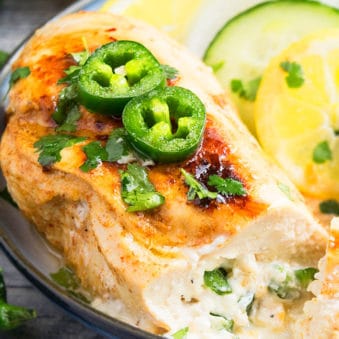 One Pot Jalapeno Popper Chicken
Quick and easy jalapeno popper chicken recipe, homemade with simple ingredients in one pot over stovetop in 30 minutes. Stuffed with lots of creamy cheese!
Yield: People
Ingredients
4 Chicken breasts
8 oz. Cream cheese, Full fat
1/4 cup Mozzarella cheese, Shredded, Full fat
1/4 cup Cheddar cheese, Shredded, Full fat
2 Jalapenos, Finely chopped, Deseeded if you don't want it too spicy
Salt , To taste
Pepper, To taste
1 tsp Garlic powder
1 tsp Onion powder
2-3 tbsp Taco seasoning
2-3 tbsp Olive oil, For pan-frying
1 Lemon , For drizzling on top
1-2 tbsp Cilantro , Fresh, Finely chopped, For garnish
Instructions
Use a sharp knife to slice halfway through the chicken breasts to make a pocket.

Fill each chicken pocket with some cream cheese, mozzarella cheese, cheddar cheese, jalapeños.

Sprinkle some salt, pepper, garlic powder, onion powder inside each pocket.

Use the back of a spoon to press the filling down and squeeze it into the pocket.

Secure the opening with toothpicks to ensure the filling doesn't all ooze out during cooking.

Note: You can also make a cheese mixture first by mixing together cream cheese, mozzarella cheese, cheddar cheese, jalapeños, salt, pepper, garlic powder, onion powder and then, fill this cheese mixture into each pocket. That's what I did in the video below but you can do what I did above and this way, you won't need to dirty another bowl.

Spread taco seasoning on both sides of the chicken breasts. 

Cover and cook for about 10-12 minutes or until chicken is fully cooked. 

Heat oil over a non-stick pan over medium heat.

Place the chicken and pan fry one side until golden brown. Then flip it over and pan fry the other side. 

Remove from pan and place on a plate and squeeze some lemon juice on top and garnish with sliced jalapeños and cilantro. Enjoy!
Notes
Read all my tips above.
Tastes best when served immediately because the cheese is warm and ooey gooey but leftovers can be stored in a sealed container in the fridge for up to 2 days and reheated in the microwave or stovetop.

 
Nutrition
Calories: 524kcal, Carbohydrates: 7g, Protein: 55g, Fat: 30g, Saturated Fat: 15g, Cholesterol: 220mg, Sodium: 703mg, Potassium: 978mg, Fiber: 1g, Sugar: 3g, Vitamin A: 1163IU, Vitamin C: 26mg, Calcium: 160mg, Iron: 1mg
Happy cooking everyone!