Parsley Potatoes (One Pot)
Quick and easy parsley potatoes recipe, homemade with simple ingredients in one pot on stovetop in 30 minutes. Full of butter, garlic, onion and fresh parsley and a hint of lemon flavor.
Tired of waiting multiple hours for your potatoes to cook? Try this recipe and satisfy those cravings in no time! Be sure to add your own toppings to put your own spin on it. Also, be sure to try these Oven Roasted Baby Potatoes or Crispy Breakfast Potatoes.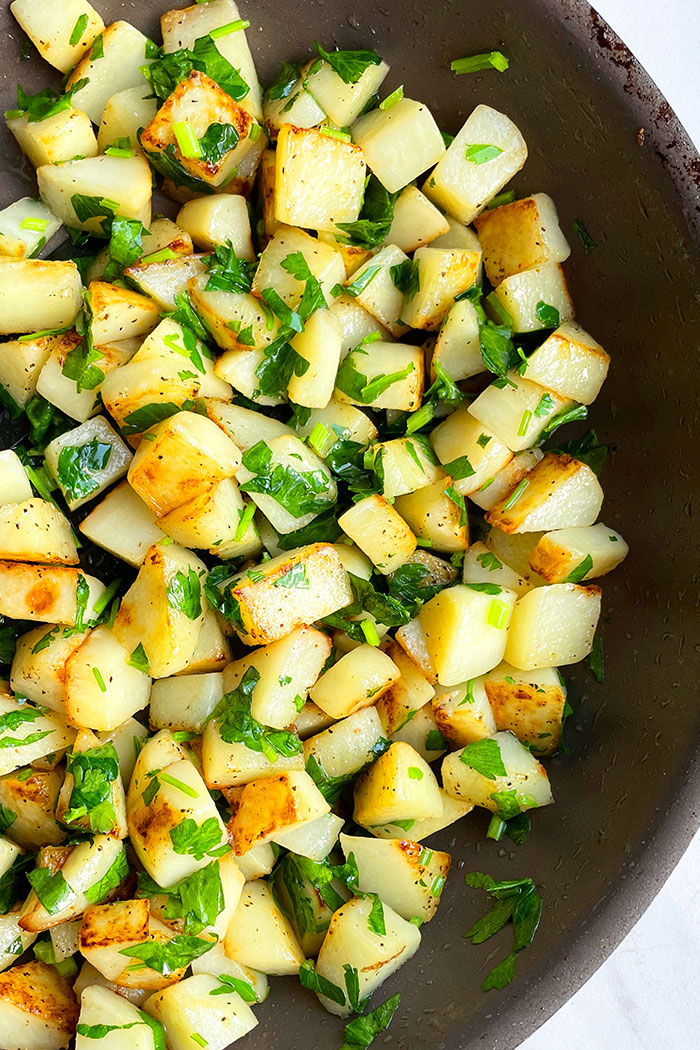 How to make parsley potatoes recipe from scratch on stovetop?
Heat butter in large pan – Use medium heat.
Add potatoes, salt, pepper, garlic powder, onion power – Mix until combined. 
Cover- And cook.
Continue cooking – Without lid.
Mix in remaining ingredients- This includes butter, fresh parsley, lemon juice.
Serve immediately – Enjoy!
What to serve with old fashioned lemon garlic parsley potatoes?
You can serve this dish on its own and it's quite filling but here's a list of sides to make it a feast.
Serve alongside sandwiches:
Try adding chicken on the side:
Beef also works incredibly well as a side:
You can also serve alongside pork/ ham. Try this Slow Cooker Ham.
How to make crispy potatoes?
It's important that you use high heat and you keep the potatoes spaced out. Avoid overlapping and mixing too much. Also, be sure to use two pans if there isn't enough room in one pan.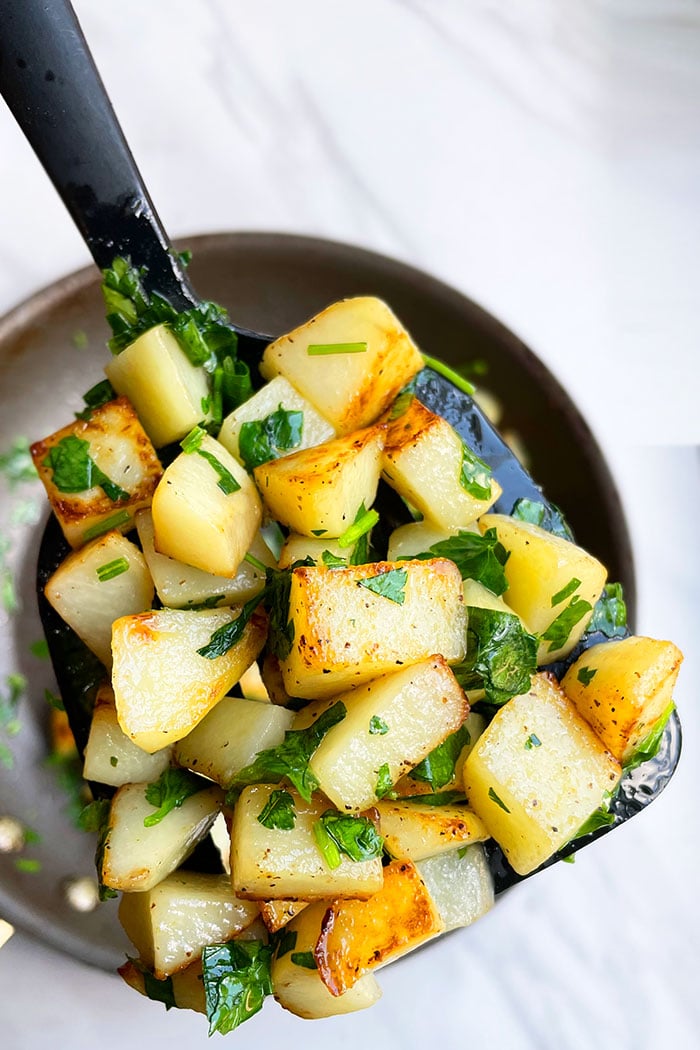 Variations for buttered potatoes
Try roasted or oven baked parsley potatoes – Bake in oven instead of cooking on stovetop.
Use a variety of potatoes – Such as sweet potatoes, laura potatoes, yukon potatoes, fingerling potatoes, melody potatoes etc. 
Make it creamy – Mix in a small amount of heavy cream or cream cheese at the end. Cover and cook until fully melted.
Add bacon – Use fully cooked bacon bits as a topping at the end.
Make it cheesy – Sprinkle come shredded colby jack, blue cheese, provolone cheese, parmesan cheese, etc at the end. You can also drizzle some Cheddar Cheese Sauce (One Pot), prior to serving.
Use other herbs – Try fresh basil, cilantro, rosemary, thyme, etc.
Make it spicy – Add red chili flakes, jalapenos, or even cayenne if you prefer more heat.
Add other seasonings – Such as smoked paprika or Cajun seasoning or Mexican taco seasoning. The overall flavor changes based on your choice of seasoning.
Add meat – Mix in some pre-cooked ham, shredded chicken, beef, etc.
Add veggies – Such as carrots, shallots, kale, mushrooms, peppers, etc. 
Make it vegan – Use plant-based butter.
Tips and Techniques
How to prep potatoes? Wash the skins, pat the potatoes dry, dice into 1 inch cubes.
Do you need to boil potatoes first? No, this is not necessary at all.
Avoid cutting potatoes too thick – Because they will take too long to cook. Make sure they are all about the same size so they cook evenly.
What kind of potatoes to use? The classic choice is Yukon Gold or whatever suits your preference. 
Cooking time may vary – This depends on how thick potatoes were sliced and the heat you cook at.
Fresh parsley vs. Dried parsley – Must be fresh for taste and aesthetic purposes.
Should I use lemon juice? It is optional but highly recommended because it really takes up the flavor a notch! Use freshly squeezed for best flavor.
Fresh Garlic vs. Garlic Powder – Either works, whichever you prefer.
Make sure to use non-stick pan – Because it prevents sticking and burning. Also, no one likes sticky burnt potatoes! 
Adjust seasoning– Add more or less parsley, garlic powder, onion powder, salt, pepper according to your preference.
Spread potatoes evenly in pan – Because this allows them to cook evenly and ensures crispiness.
Fresh ingredients vs. Frozen ingredients – Use fresh ingredients because they taste better and look better in dishes. Also, they don't release a lot of water during cooking.
How to know when the potatoes are done cooking? They are ready when they are fork-tender and golden brown.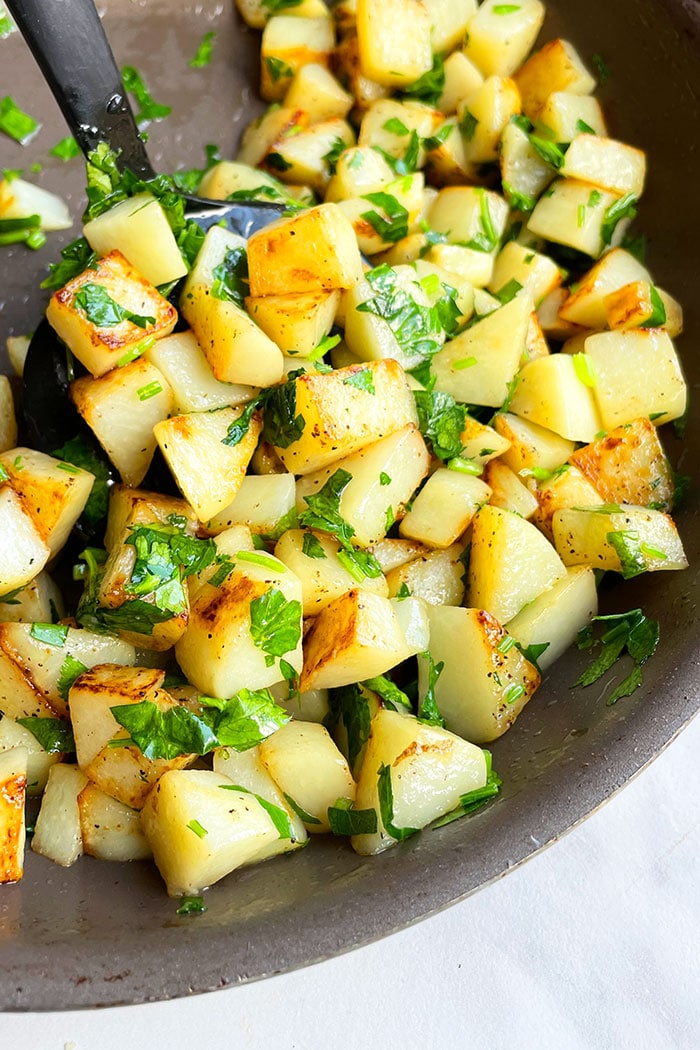 Storage
Refrigerate– These are best served immediately, but they can be stored in a sealed container for up to 2 days.
Freeze- I do not recommend freezing them because they will lose their crispy texture when thawed.
Reheat– In the oven, air fryer, on the stovetop, or in the microwave, but they won't be as crispy as when made fresh.
More One Pot Potato Recipes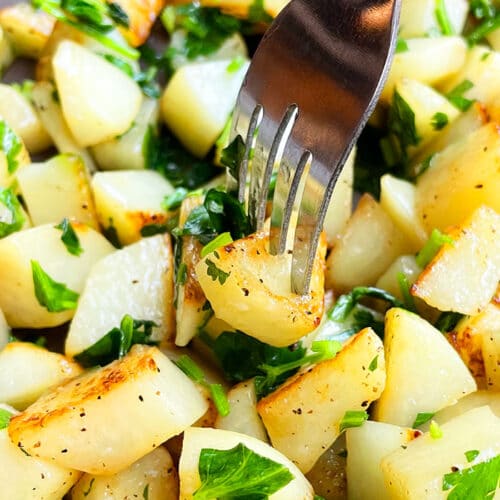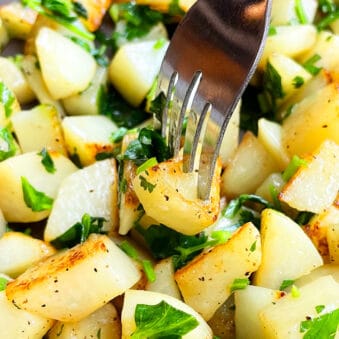 One Pot Parsley Potatoes
Quick and easy parsley potatoes recipe, homemade with simple ingredients in one pot on stovetop in 30 minutes. Full of butter, garlic, onion and fresh parsley and a hint of lemon flavor.
Yield: People
Ingredients
3 tbsp Butter, Unsalted, Melted
2 tbsp Olive oil
3 Potatoes, Large size, Washed, Peeled, Diced into 1 inch cubes
Salt, To taste
Pepper, to taste
1 tsp Garlic powder
1 tsp Onion powder
4-5 tbsp Parsley, Fresh, Roughly chopped, Adjust according to your preference
1-2 tsp Lemon juice, Optional but highly recommended
Instructions
Heat butter and oil in a large nonstick pan or skillet over medium heat. Reserve 1 tbsp butter for the end.

Add potatoes, salt, pepper, garlic powder, onion powder and mix until combined.

Use 2 pans if necessary because you don't want the potatoes overlapping, if you want them crispy.

Cover and cook until potatoes are tender, about 10 minutes, mixing gently halfway through.

Remove lid and increase the heat to medium-high.

Continue cooking until potatoes are golden brown and crispy on all sides. Be sure to toss everything a couple of times but do so very gently so as to not break the potatoes.

Add remaining 1 tbsp butter, fresh parsley and toss until combined.

Optional step: Mix in some lemon juice for a subtle citrus flavor.

Serve immediately and enjoy!
Notes
Read all my tips above.
Leftovers can be stored in a sealed container in the fridge for up to 2 days and reheated in the microwave or stovetop but they won't be as crispy any more. 
Nutrition
Calories: 87kcal, Carbohydrates: 1g, Protein: 1g, Fat: 9g, Saturated Fat: 5g, Trans Fat: 1g, Cholesterol: 23mg, Sodium: 140mg, Potassium: 42mg, Fiber: 1g, Sugar: 1g, Vitamin A: 615IU, Vitamin C: 6mg, Calcium: 13mg, Iron: 1mg