Oven Roasted Baby Potatoes (One Pan)
Quick and easy roasted baby potatoes recipe, homemade with simple ingredients in one pan in 30 minutes. Loaded with Italian herbs, garlic, olive oil.
These potatoes boast a crispy skin that is coated in flavor, with a tender center, that is delicious at any time of day! Make sure to try these Oven Roasted Potatoes (One Pan) or these Crispy Breakfast Potatoes (One Pan) for slight variations on a classic side dish.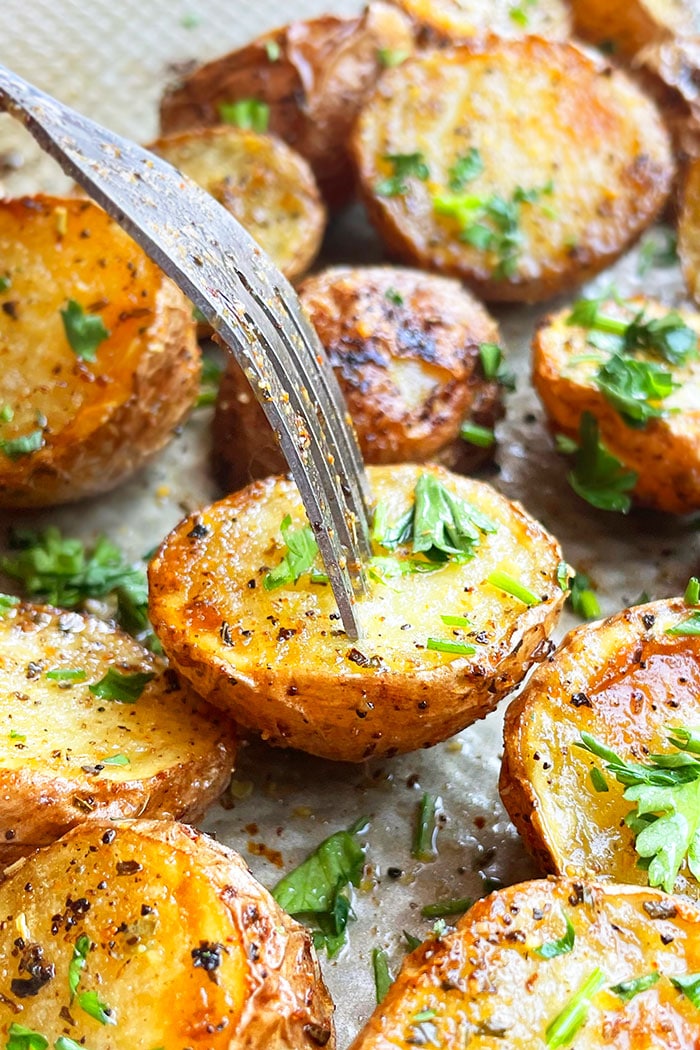 How To Make Oven Roasted Baby Potatoes Recipe From Scratch?
Prep potatoes– Drizzle olive and melted butter on top.
Season– Sprinkle Italian seasoning, garlic powder, salt, pepper.
Toss– Until combined.
Bake– Until fork tender.
Garnish– With parsley.
What To Serve With Roasted Mini Potatoes?
These potatoes compliment pot roasts incredibly well for a guest worthy meal:
Chicken is an excellent pairing as well:
How Do You Keep Roast Potatoes Crispy? Why Are My Potatoes Not Crispy?
Serve the potatoes immediately for the best texture. Also, prior to roasting the potatoes make sure to pat them dry to remove any excess water. This allows them to crisp nicely. Do not cover the potatoes with foil after roasting them. The steam will soften the potatoes. Also, spread them out in the baking tray so they are not overlpping for even baking.
Baby Potatoes Cooking Time
The time varies depending on the temperature. Here is a list of temperatures and their respective baking times.
350 degrees F: 60-70 minutes
400 degrees F: 40-45 minutes
425 degrees F: 30-35 minutes
450 degrees F: 20-30 minutes
Variations For Roasted Small Potatoes
Use other seasonings– Such as Greek, Cajun, Indian (Curry), or Mexican seasonings.
Add other herbs– Such as rosemary, thyme, or smoked paprika. Fresh or dried herbs both work well.
Add other veggies– Such as broccoli, green beans, cauliflower, zucchini, bell peppers, or eggplant and roast at 425 degrees F for 30 minutes.
Make it spicy– Add crushed red chili flakes or cayenne pepper for more heat.
Roasted smashed mini potatoes– Boil the potatoes first until fork tender. Then, smash them with the bottom of a cup or bowl, add butter, olive oil and seasonings and roast according to the instructions below.
Roasted mini potatoes and onions- Add 1 whole onion that has been diced into big 2 inch chunks.
Herb roasted mini potatoes and carrots– Add baby carrots and season with parsley, rosemary, and thyme.
Tips And Techniques For Baked Baby Potatoes In Oven
What potatoes are best for baking? Baby red, yellow, gold, or fingerling potatoes are all excellent choices. Choose whichever you prefer. You can even use a combination of potatoes for some visual variance and appeal. Make sure they are all about the same size so they don't take different time frames to cook.
Do you need to soak potatoes before roasting? Do you need to boil them? I don't do this, and I haven't seen a major difference when I did it. If you want, you can soak diced potatoes in cold water for up to 1 hour. This removes starch and makes for a fluffier potato. You must pat them dry before baking or else they will end up being soggy. There is no need to boil them at all unless you are planning on making the smashed version.
Fresh herbs vs. Dried herbs- Dried herbs can be added before the potatoes are cooked. However, fresh herbs need to be added at the end so that they don't char. Add them accordingly for best results.
Spread out the potatoes– Overlapping the potatoes will prevent them from browning and crisping on the outside. Make sure to spread them out on the baking tray.
Line the tray with foil– Because this helps prevent the potatoes from sticking to the tray and makes for easy clean-up as well.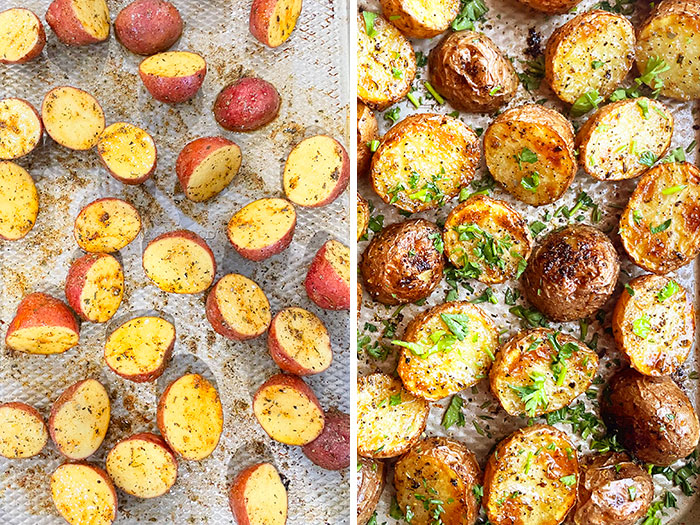 Storage For Roasted Little Potatoes
Refrigerate– These are best served immediately, but they can be stored in a sealed container for up to 2 days.
Freeze- I do not recommend freezing them because they will lose their crispy texture when thawed.
Reheat– In the oven, air fryer, on the stovetop, or in the microwave, but they won't be as crispy as when made fresh.
More One Pan Roasted Vegetable Recipes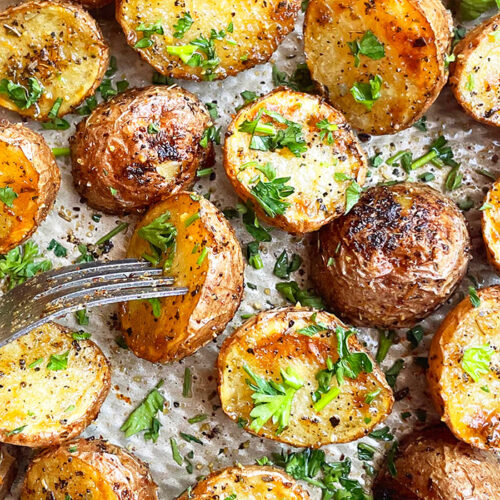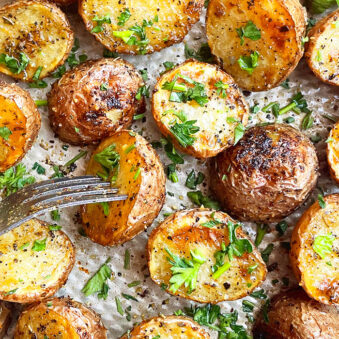 One Pan Roasted Baby Potatoes
Quick and easy roasted baby potatoes recipe, homemade with simple ingredients in one pan in 30 minutes. Loaded with Italian herbs, garlic, olive oil.
Yield: People
Instructions
Spread the potatoes on a baking tray, lined with foil paper.

Drizzle olive and melted butter oil on top.

Sprinkle Italian seasoning, garlic powder, salt, pepper.

Toss until combined.

Spread out the potatoes so that they are not overlapping and bake evenly. 

Bake at 450 degrees F for about 20 minutes, or until potatoes are slightly crisp on the outside but fork tender on the inside.

Remove tray from oven and garnish with parsley. Enjoy!
Notes
Read all my tips above.
Tastes best when served immediately but leftovers can be stored in a sealed container in the fridge for up to 2 days and reheated in an air fryer, oven  or microwave. 

 
Nutrition
Calories: 280kcal, Carbohydrates: 51g, Protein: 6g, Fat: 7g, Saturated Fat: 4g, Trans Fat: 1g, Cholesterol: 15mg, Sodium: 130mg, Potassium: 1224mg, Fiber: 7g, Sugar: 2g, Vitamin A: 298IU, Vitamin C: 57mg, Calcium: 56mg, Iron: 3mg