Sauteed Brussels Sprouts (One Pot)
Quick, easy, crispy sauteed brussels sprouts recipe, homemade with simple ingredients on stovetop in one pot in 20 minutes. Topped off with dried cranberries and roasted pecans.
This simple vegetable can easily be elevated from boring to impressive with the addition of a few basic ingredients. Cranberries and maple syrup add warmth and sweetness, while pecans and balsamic balance that sweetness with nutty and tangy flavors. In just 20 minutes you will have a side fit for your holiday table, or your next family gathering. These Crispy Sauteed Potatoes (One Pot), Sauteed Sugar Snap Peas Recipe (One Pot), and Sauteed Green Beans (One Pot) all feature this stovetop cooking method and taste unbeievable!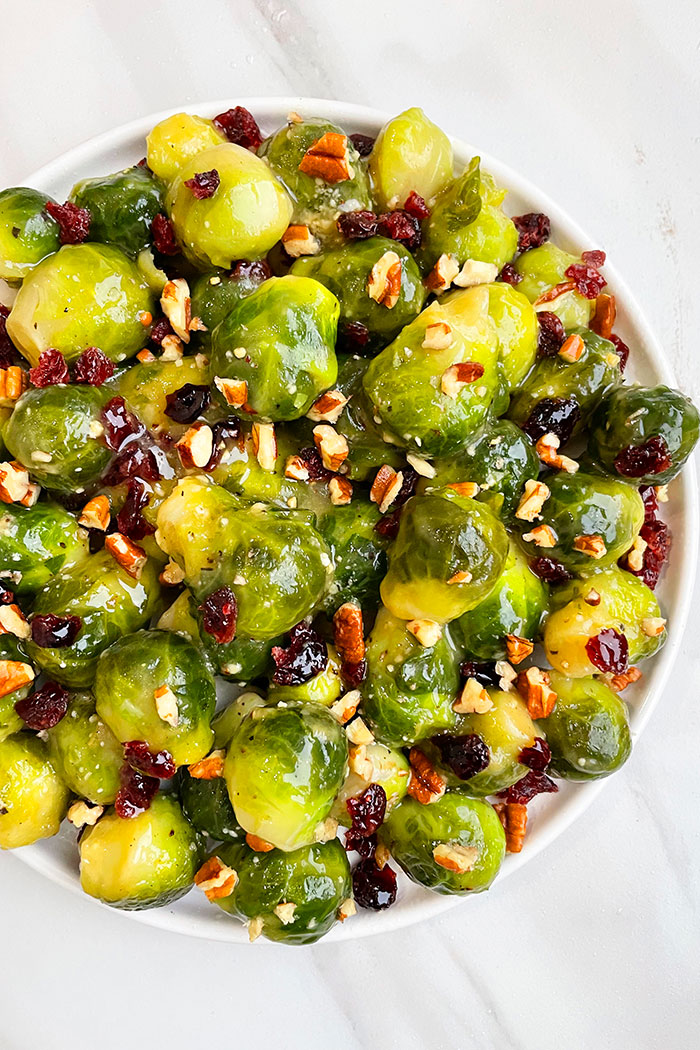 How To Make Sauteed Brussels Sprouts Recipe From Scratch?
Heat fats– This includes butter and oil.
Add brussels sprouts– Spread them out.
Season– Sprinkle salt and pepper.
Cook– On each side until they are golden brown.
Add liquids– Mix in balsamic vinegar and maple syrup.
Remove- From heat.
Garnish– Sprinkle pecans and cranberries on top.
Enjoy! Serve immediately.
What To Serve With Crispy Brussels Sprouts?
These pair so nicely with just about any protein main dish. Try them alongside the following:
Chicken
Beef and Pork
Turkey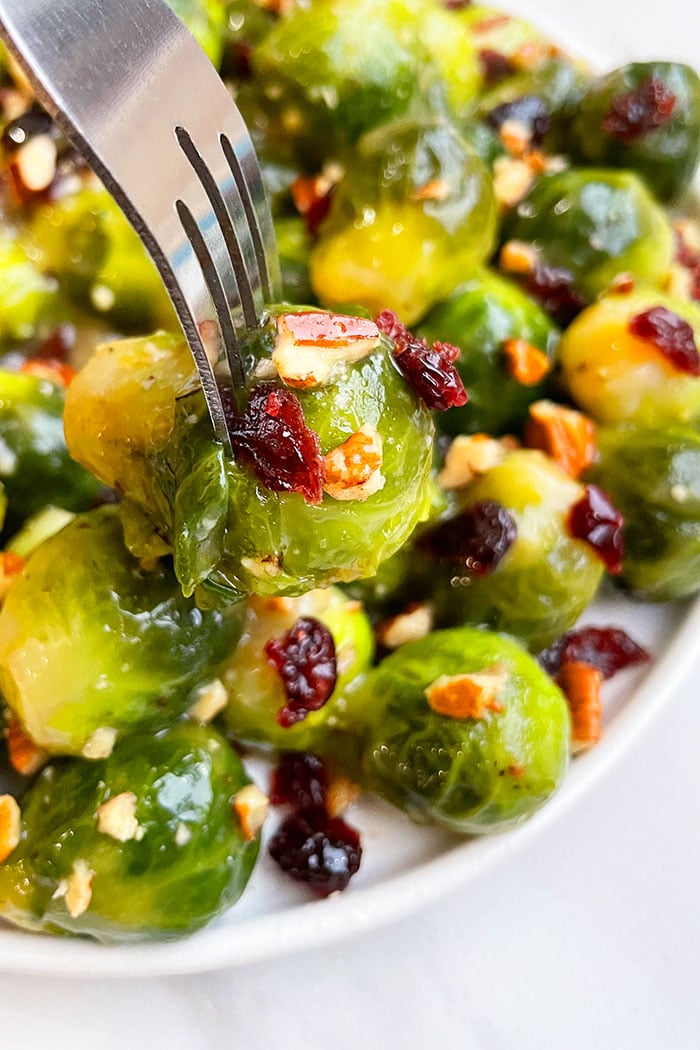 Do You Need to Soak Brussels Sprouts Before Cooking?
No. Soaking the sprouts before cooking may help to soften them up for a quicker cook time later, but it's an unnecessary step. Do make sure to wash them well before cooking, and then pat them dry so that they can crisp up nicely.
Why Are My Brussels Sprouts Soggy And Mushy?
This can happen if they were wet when you began to saute them. Make sure to pat them dry before cooking. They may also be soggy and mushy if you cover and cook them for too long, causing them to become steamed. Just pan fry on each side until golden brown for best crispy texture.
Variations For Balsamic Brussels Sprouts
Add bacon– Cooked crumbled bacon, or candied bacon are both amazing choices.
Try other nuts– Such as toasted walnuts, cashews, pistachios, pine nuts, or another favorite.
Add cheese toppings– Such as freshly grated parmesan, mozzarella, provolone, or even crumbled goat cheese.
Dried cranberry alternative/substitute– You can use raisins, dried cherries, dried mangoes or even dried apricots.
Add herbs– Such as parsley, basil, oregano, or dill.
Add seasoning– Such as Italian seasoning, or even a dash of cinnamon or nutmeg for a different flavor profile.
Add onion– Add finely sliced onions, or even caramelized onions for even more flavor.
Add garlic– Use fresh garlic if you can.
Make them spicy– Add red chili flakes or even a little cayenne pepper.
Add zest or juice– Add lemon or orange zest or splash of juice for a hint of citrus at the very end.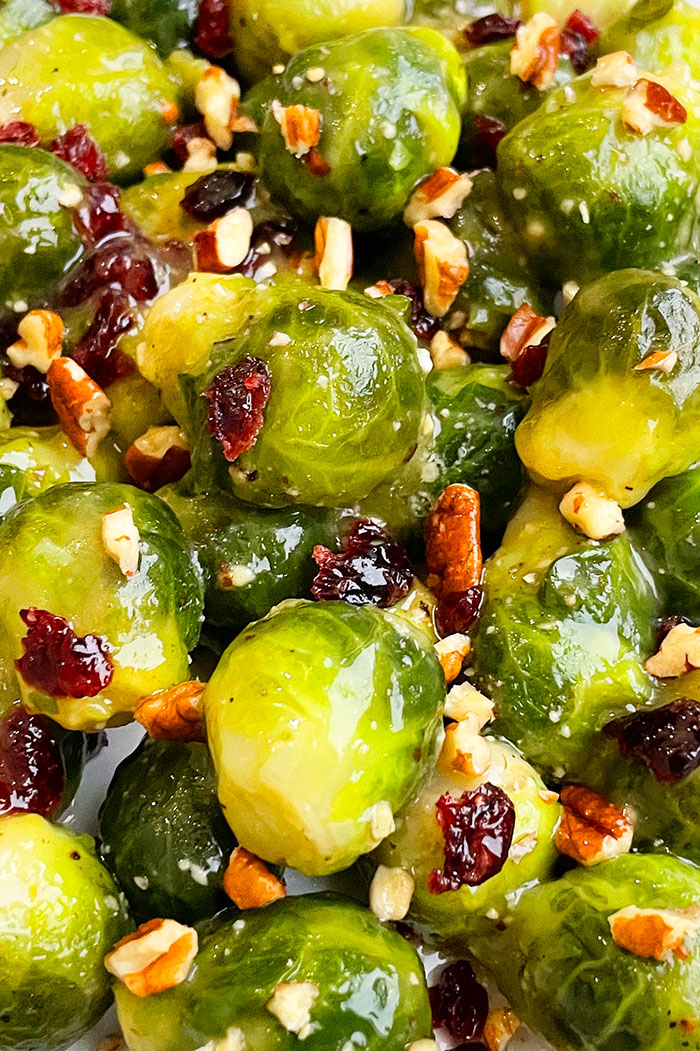 Tips And Techniques For Pan Fried Brussels Sprouts-
Make sure to use toasted nuts– Because this adds so much depth of flavor.
Use unsalted nuts– Because this prevents the dish from becoming too salty.
Maple syrup substitute/alternative– You can use honey or agave syrup but it will have a slightly different flavor.
Use non-stick pan– Because this prevents the sprouts from sticking and burning, and also makes clean-up easier.
Make sure sprouts are not overlapping– Because they need space to brown properly. If you overlap them, they will not brown and may be mushy instead.
Fresh brussels sprouts vs. Frozen ones– Definitely use fresh because frozen will release so much water and become a soggy mess.
Turn them every 5 minutes– So that they can become golden brown on all sides and cook through evenly.
Add the nuts after removing from the heat– This ensures that the nuts stay crunchy.
Serve immediately– This is when the sprouts are the crispiest and therefore, have the best texture.
Storage For Maple Brussels Sprouts
Refrigerate– These are best served immediately, but can be store in a sealed container for up to 2 days. They won't be as crispy any more though.
Freeze– I do not recommend freezing because they will not be crispy when thawed and reheated. If you want to freeze them, do so in a freezer-safe sealed container for up to 1 month.
Reheat– In the microwave or stovetop.
More One Pot Vegetarian Side Dishes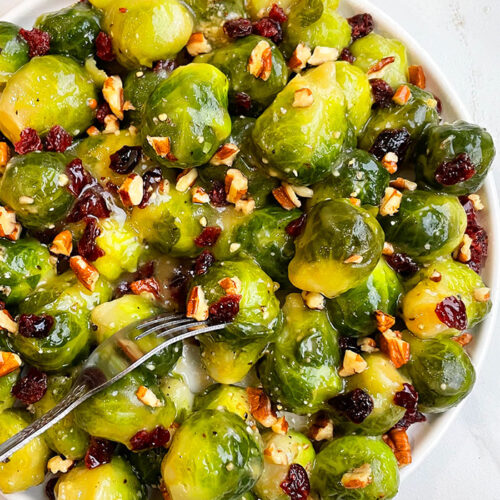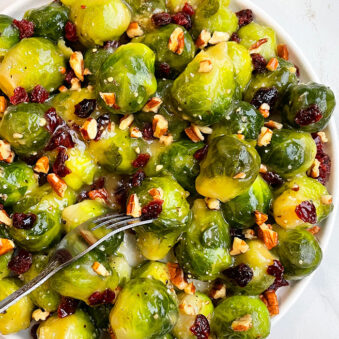 One Pot Brussels Sprouts
Quick, easy, crispy sauteed brussels sprouts recipe, homemade with simple ingredients on stovetop in one pot in 20 minutes. Topped off with dried cranberries and roasted pecans.
Yield: People
Instructions
Heat butter and oil in a large nonstick pan over medium-high heat.

Add brussels sprouts and spread them out so they are not overlapping.

Sprinkle salt and pepper.

Cook on each side for about 5 minutes or until they are golden brown on the outside and slightly tender on the inside.

Add balsamic vinegar, maple syrup and mix until sprouts are coated.

Remove from heat.

Sprinkle pecans and cranberries on top.

Serve immediately and enjoy.
Notes
Read all my tips above.
Tastes best when served immediately but leftovers can be stored in a sealed container in the fridge for up to 2 days and reheated in the microwave. 
Nutrition
Calories: 205kcal, Carbohydrates: 21g, Protein: 4g, Fat: 13g, Saturated Fat: 4g, Trans Fat: 1g, Cholesterol: 15mg, Sodium: 80mg, Potassium: 482mg, Fiber: 5g, Sugar: 11g, Vitamin A: 1033IU, Vitamin C: 96mg, Calcium: 60mg, Iron: 2mg