Crispy Sauteed Potatoes (One Pot)
Quick and easy crispy sautéed potatoes recipe, homemade with simple ingredients in one pot on stovetop in 30 minutes. Full of garlic and lemon pepper.
Potatoes are such a nice hearty side dish to add to any mealtime. They are so versatile and delicious! This particular recipe is a family favorite. Other great choices for using potatoes include my Parsley Potatoes (One Pot) and Crispy Breakfast Potatoes (One Pot).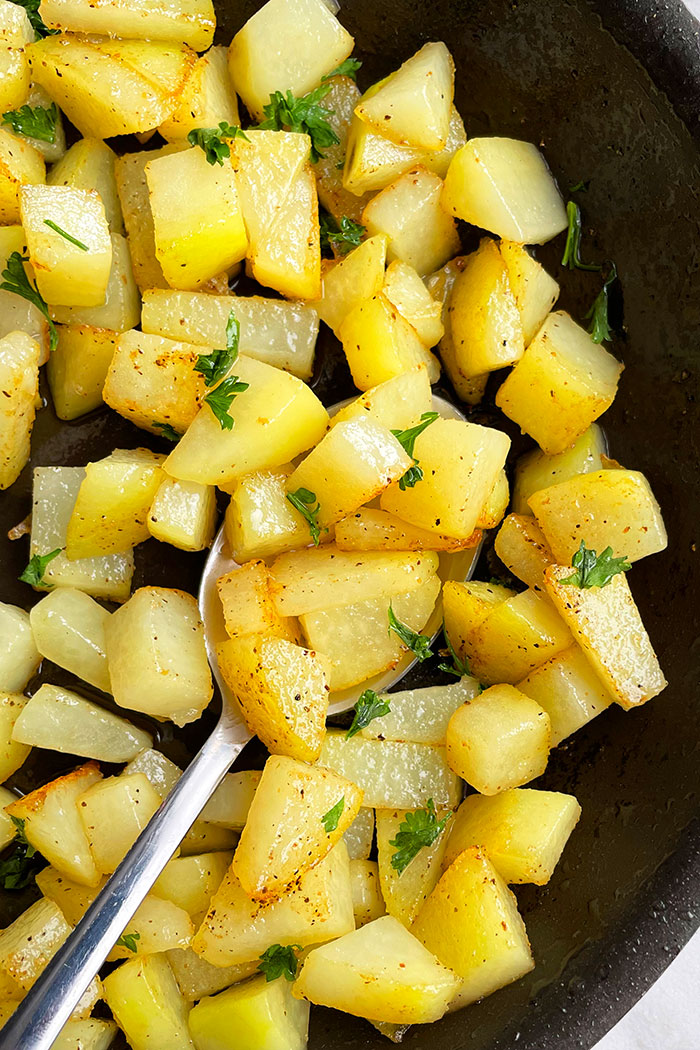 How to make crispy sautéed potatoes recipe from scratch?
Heat butter– Until fully melted.
Add remaining ingredients- This includes potatoes, garlic powder, lemon pepper, salt.
Spread potatoes– So they are not overlapping.
Cover- And cook.
Uncover- Flip and cook.
Add parsley– And toss until combined
Can you saute potatoes without boiling them first?
Yes. People often boil potatoes first because it softens the potatoes and cuts down on cook time. However, boiling them first is not necessary in this recipe, because the potatoes are cut in small pieces, cutting down the cook time substantially and preventing hard raw potatoes. Also, they are cooked covered for part of the time, helping to lock in that moisture until it's time to crisp them up at the end. As long as the heat and cook time are right, those potatoes will be perfect!
What is the best potato choice for sautéing?
I recommend using Yukon Gold potatoes for this recipe, but you can also use russet, red, baby potatoes, or any other variety you currently happen to have in your pantry/ A lot of it is personal preference, but keep in mind that each potatoes is a little different and will change the textures and flavor of the dish. Experiment with different types and find your favorite!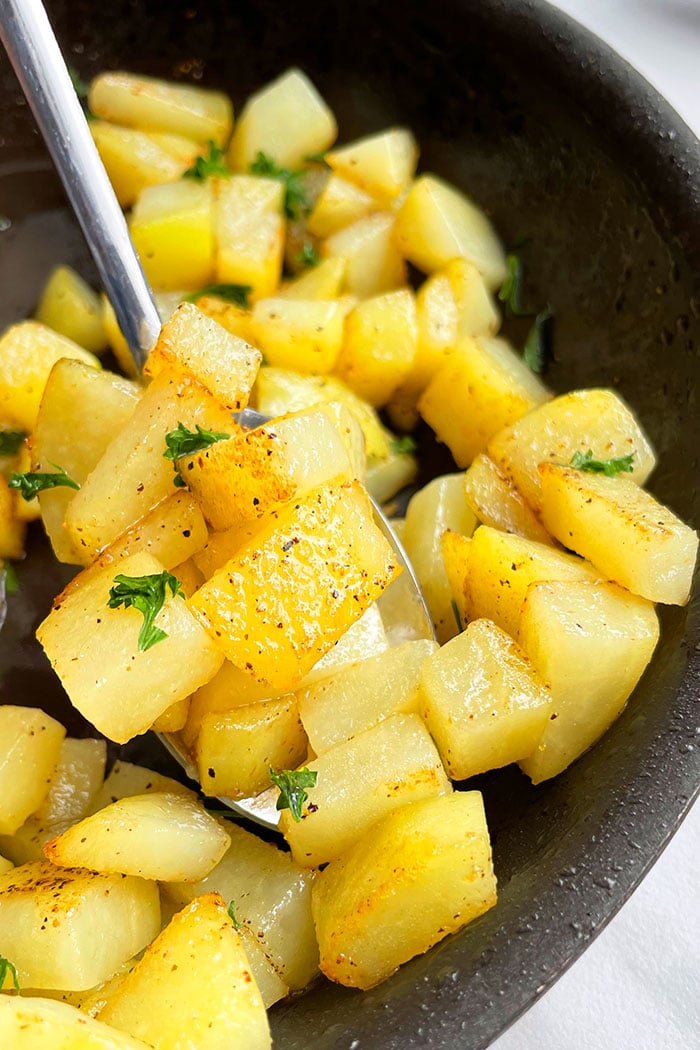 What to serve with stovetop potatoes?
When serving with breakfast serve alongside classics such as:
Scrambled eggs
Omelettes
Sausages
Salads–
Serve alongside breads:
Dinner rolls/hard rolls
French bread
Baguette
Biscuits
Bread sticks
Sliced bread
Chicken would pair wonderfully:
Beef would work very well too:
Ham and pork is a delicious pairing too:
Variations
Garlic sautéed potatoes and onions– Saute half an onion, diced. Throw them in with your potatoes, let them saute together a minute to soak up flavors, then enjoy!
Use other types of potatoes– Such as fingerling potatoes, baby potatoes, red potatoes, "New Potatoes," sweet potatoes, Russet potatoes, and so on.
Add other herbs and spices– To switch up the flavor of this dish. For example, you can add rosemary, paprika, Basil, or even dill. I prefer using fresh because the flavor is stronger and presentation is beautiful but dried herbs can work well too. Seasoning blends like Mexican taco seasoning, Tandoori masala, Cajun seasoning can add a different flavor profile.
Spicy potatoes- Go a head and add in some sliced jalepeno peppers, hot sauce, salsa, red chili flakes, or cayenne pepper to make it as spicy as you'd like.
Mexican potatoes- Make it a fiesta! Throw in cooked Mexican Ground Beef Taco Meat, some taco seasoning, black beans, corn, salsa and then top it off with some shredded cheddar cheese.
Cheesy potatoes- As your last step in the process, sprinkle some shredded cheddar cheese over the top of the potatoes and let it melt. You can also use mozzarella, colby jack, parmesan, or another one of your favorites.
Add meat- You can use bacon, sausage, Instant Pot Shredded Beef, Instant Pot Shredded Chicken, or even leftover Rotisserie Chicken.
Use bacon grease– What do you do with all that grease leftover from cooking delicious bacon? Don't throw it away! Bacon grease makes a great alternative to butter or oil when sautéing.
Use flavored butter- This adds so much flavor than using just plain unsalted butter.
Tips and techniques
Cut potatoes small– So they all cook evenly and quickly. You don't want hard or crunchy potatoes- only crispy ones!
Spread out potatoes- Make sure they are not overlapping, because this prevents them from becoming soggy. It also allows them to become super crispy!
Use large pan– So the potatoes don't overlap.
Hold off on over-mixing- The key to making these really crispy is to let one side cook and brown before flipping over. Don't mix it around too much, just allow the potatoes to cook through on each side.
Use unsalted butter- Because you don't want this dish to be too salty. It already has salt added into the recipe.
Wash potatoes thoroughly- Be sure to peel and wash potatoes before cooking. Potatoes have the tendency to come with lots of leftover dirt on them. Don't surprise anyone with gritty potatoes!
Use nonstick pan– Because it prevents potatoes from sticking and burning.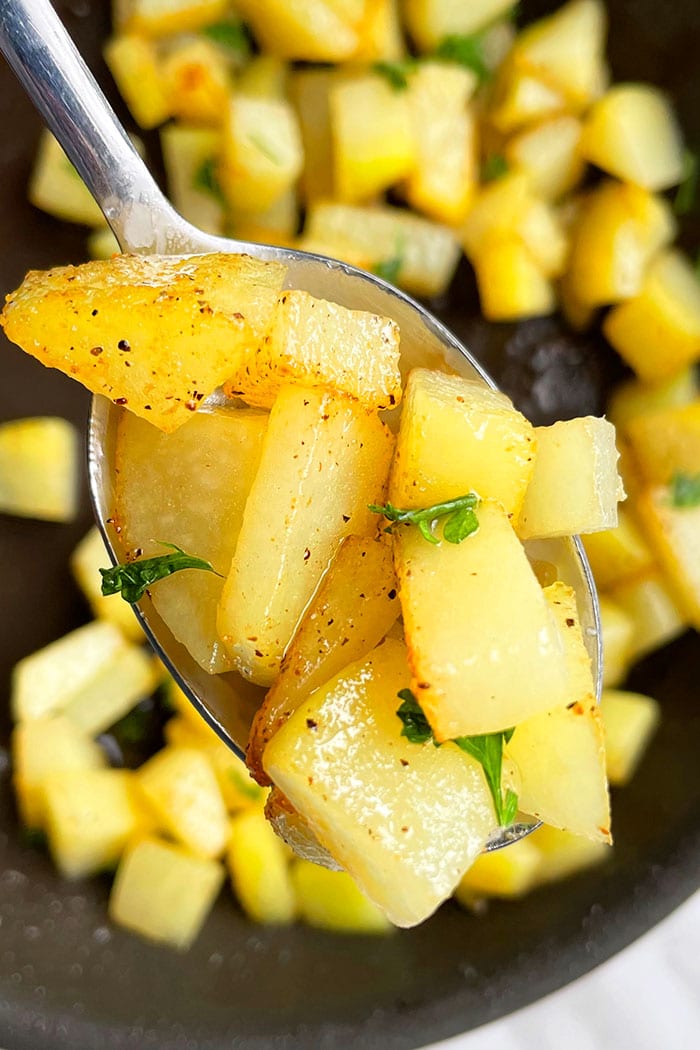 Storage
Refrigerator- Leftovers can be stored in a sealed container in the fridge for up to 3 days and reheated in the microwave but they won't be crispy any more.
Freezer- I don't recommend this because potatoes don't thaw with the best texture.
More one pot potato recipes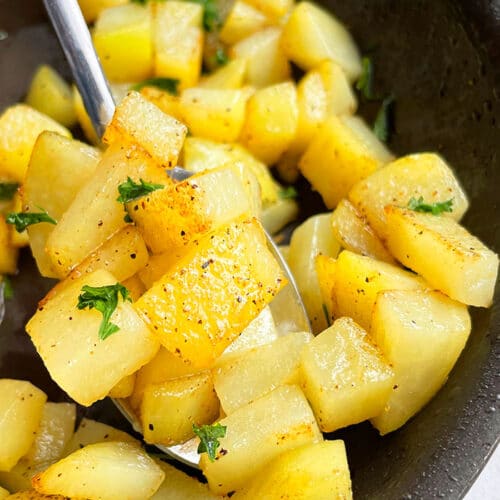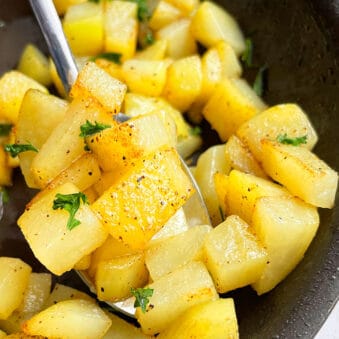 One Pot Sauteed Potatoes
Quick and easy crispy sauteed potatoes recipe, homemade with simple ingredients in one pot on stovetop in 30 minutes. Full of garlic and lemon pepper.
Yield: People
Ingredients
1 tbsp Butter, Unsalted
1 tbsp Oil
1 pound Potatoes, I used Yukon Gold, Washed, Peeled, Diced into half inch cubes
1/2 tsp Garlic powder, Can add up to 1 tsp if you prefer a very strong garlic taste
1/4-1/2 tsp Lemon pepper, Adjust according to your preference, Can use plain black pepper if you are not too fond of the lemon taste
Salt, To taste
1-2 tsp Parsley, Fresh, Roughly chopped
Instructions
Heat butter and oil in a large nonstick pan over medium heat.

Add potatoes, garlic powder, lemon pepper, salt.

Mix until combined.

Spread out the potatoes. Make sure they are not overlapping.

Cover and cook for 5-10 minutes or until they are golden brown and crispy on the bottom.

Flip the potatoes and cook the other other side for 5-8 minutes, uncovered, until this side is also golden brown and crispy.

Serve immediately and enjoy!
Notes
Read all my tips above.
Tastes best and crispy when served immediately. Leftovers can be stored in a sealed container in the fridge for up to 3 days and reheated in the microwave but they won't be as crispy any more. 
Nutrition
Calories: 58kcal, Carbohydrates: 1g, Protein: 1g, Fat: 6g, Saturated Fat: 2g, Trans Fat: 1g, Cholesterol: 8mg, Sodium: 25mg, Potassium: 7mg, Fiber: 1g, Sugar: 1g, Vitamin A: 90IU, Vitamin C: 1mg, Calcium: 2mg, Iron: 1mg