Easy Cornbread Stuffing or Dressing (One Pot)
Easy vegetarian cornbread stuffing or dressing recipe, homemade with simple ingredients in one pot. Full of Italian herbs, butter, veggies, mushrooms.
It's the season for turkey, sweet potatoes with marshmallows, and lots of thankful hearts. Thanksgiving is often the time we eat the most stuffing, and this recipe is a perfect choice! It's full of flavor and a great side for any dinner- Thanksgiving or not! If you are really into stuffing and need a few additional recipes on hand, check out Thanksgiving Turkey Stuffing (One Pot) and Sausage Stuffing (One Pot) and Instant Pot Vegetarian Stuffing.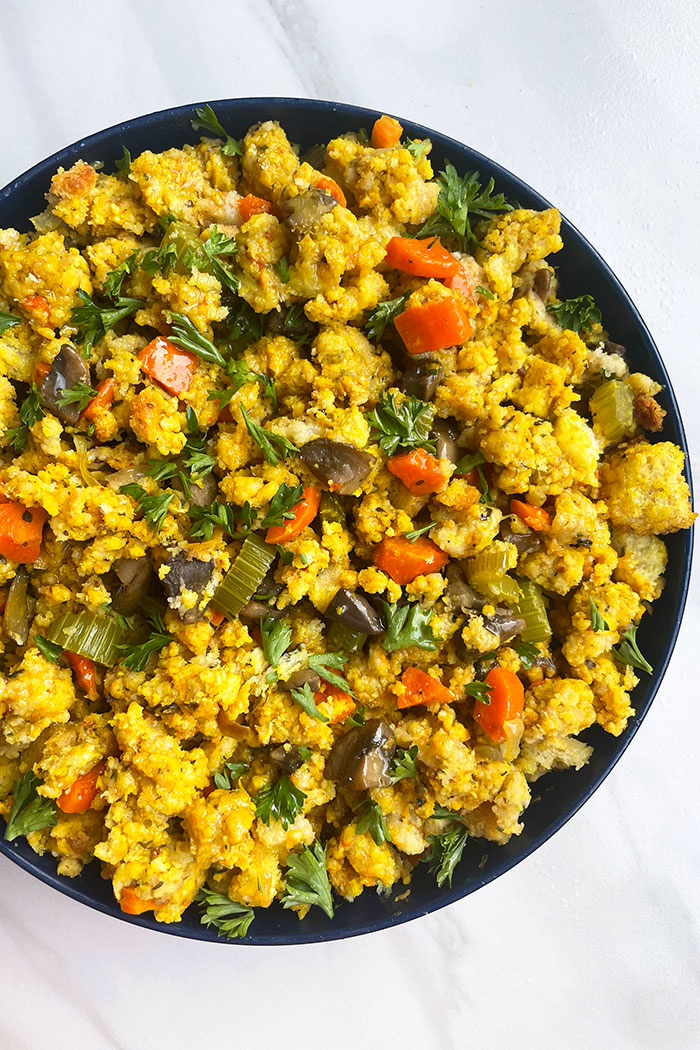 How to make easy homemade cornbread stuffing recipe from scratch in oven?
Melt butter– In a large pan.
Saute ingredients– This includes onions, garlic, celery, carrots, mushrooms, salt, pepper, poultry seasoning, Italian seasoning.
Mix in remaining ingredients- This includes cornbread, bread cubes, eggs, broth.
Spread stuffing– Evenly in the pan.
Fluff dressing– With a fork.
What to serve with cornbread dressing recipe?
This dish is typically served alongside a nice big Thanksgiving Turkey or Roast Turkey Breast (One Pan). However, it also pairs well with other protein options, such as Rotisserie or Spatchcock Chicken, Instant Pot Pork Tenderloin, Slow Cooker Ham, Instant Pot Sausage with Peppers, or even Roast Beef (One Pot).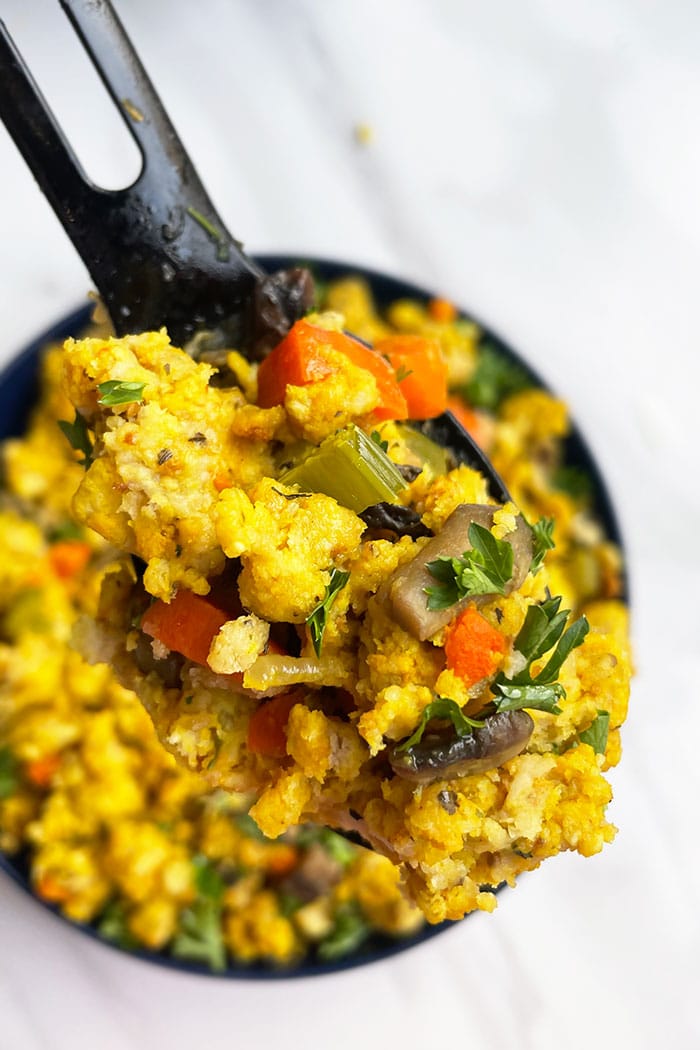 What is the difference between stuffing and dressing?
Simply put, stuffing is the mixture that was "stuffed" into the turkey while it got baked. Dressing is the mixture served off to the side. The traditional stuffing has mostly been done away with because of food safety concerns.
Variations for vegetarian cornbread stuffing for turkey
Cornbread sausage stuffing– Follow the directions below but buy pre-cooked, smoked sausage links, cut them up into quart inch pieces and add into your pan until fully warmed through. This can be done as one of the last steps.
Add other meat– Other protein options can be mixed in with stuffing, such as Shredded Chicken or Shredded Beef, or bacon bits.
Southern cornbread stuffing- This one is slightly different, because the overall mixture is more "wet." This is due to the addition of milk or buttermilk mixed in, as well as the use of less bread to soak it all up.
Stuffing casserole- This is great for using up Thanksgiving leftovers. Transfer leftovers to a casserole dish, mix in shredded turkey, drizzle some Homemade Brown Gravy (One Pot) and top with cubes of butter. Cover with aluminum foil, and bake at 350 degrees F for 15-20 minutes. Remove from oven and discard foil, then broil in oven for about 5 minutes until the top is golden brown. Serve with Apple Cranberry Chutney (One Pot) or Homemade Cranberry Sauce (One Pot).
Try other herbs and spice blends– There are a lot of aromatic herbs and spices to add into this recipe, such as sage, thyme, rosemary, paprika, garlic powder, onion powder, various Mrs. Dash blends, or your personal favorite blends!
Add other veggies– You can add a variety of vegetables into this recipe, including bell peppers, various squashes, and fresh string beans.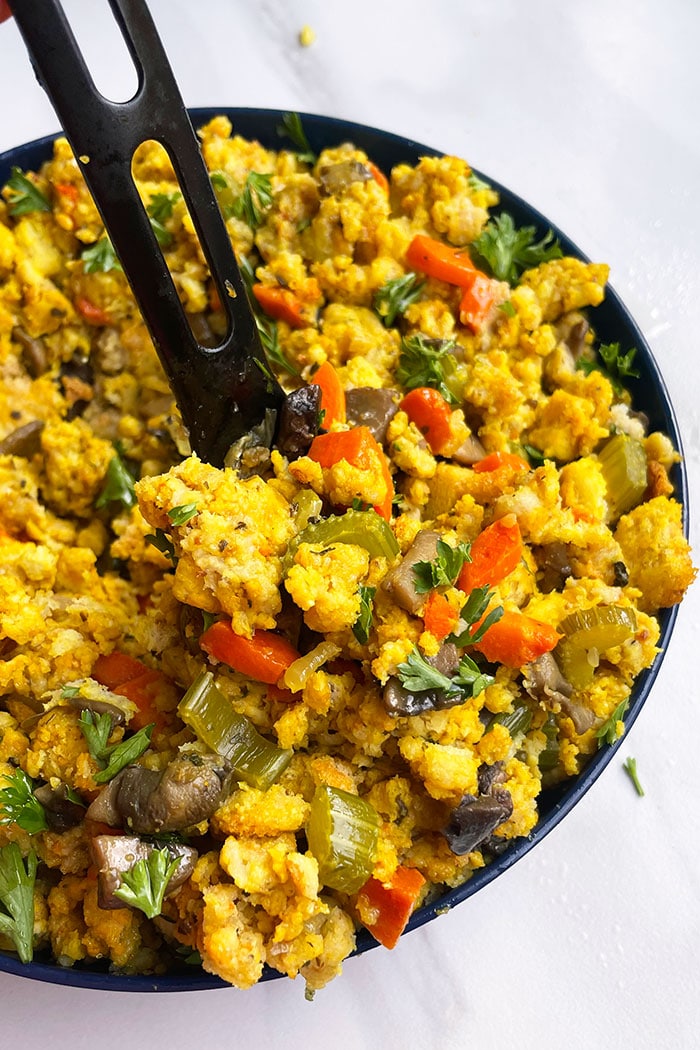 Tips and techniques
Why is my stuffing dry? How to fix it?-There may be a disproportionate ratio of cornbread to broth. Slowly add in more broth a little at a time until it reaches more of your desired consistency.
Why is stuffing soggy? How to fix it?– Oftentimes this can happen when too much broth is added. To fix it, simply add in more cornbread or bread crumbs to soak up the additional moisture.
Do I bake it covered or uncovered? It is important to note you will have portions of time when the stuffing is covered, which allows the broth to fully soak into the bread, and time when uncovered, which allows the top to get golden brown and crispy. You need to do both for it to turn out best.
Fluff with fork- This is important, because it breaks up any large, soggy clumps, making it fluffier and more appetizing.
Homemade cornbread vs. Store-bought cornbread– Either can be used, but if you are short on time, store bought is the way to go.
Dry cornbread overnight– This is highly recommended, because it allows the cornbread to release some moisture, become a little bit more dry, and, therefore, have the ability to soak up more juice and flavor.
Please note this stuffing is different than regular stuffing– It is more crumbly in appearance.
Use leftover cornbread– In fact, cornbread that is a day old often makes for a better choice, because it is more solid and dry and soaks in the juices more.
Allow excess water from mushrooms to evaporate– Otherwise your stuffing will be to wet, soggy, and mushy from the extra moisture.
Use low sodium broth– Because it prevents this side from becoming too salty.
Don't omit the eggs- It works as a binding agent and holds everything together.
Use both dried cornbread and dried bread cubes– Because they create the best overall texture.
Use seasoned bread cubes- Because they add flavor.
Storage
Fridge- Leftovers can be stored in a sealed container in the fridge for up to 3 days and reheated in the microwave.
Freezer- It is best served hot and fresh, but this can be saved in a sealed container for up to 1 month. Thaw and reheat when ready to serve.
More One pot Thanksgiving Recipes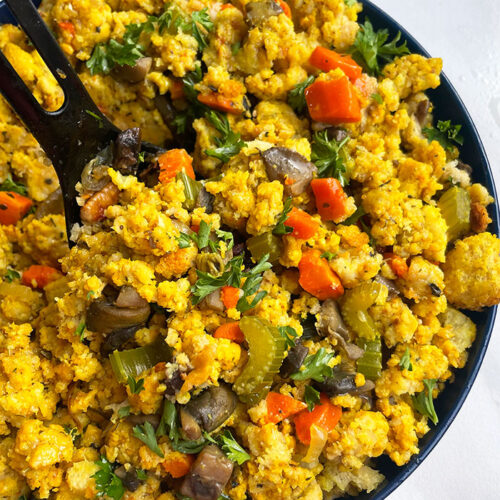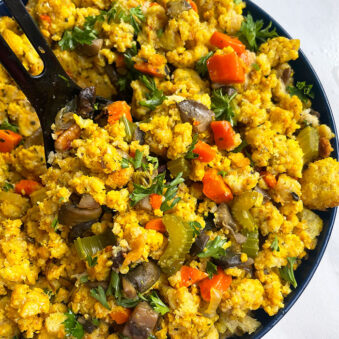 One Pot Cornbread Stuffing or Dressing
Yield: People
Ingredients
1/4 cup Butter, Unsalted
3/4 cup Onions, Finely chopped
2 cloves Garlic, Finely minced
3/4 cup Celery, Diced
3/4 cup Carrots, Peeled, Finely chopped
1 cup Mushrooms, Cleaned, Diced
Salt, To taste
Pepper, To taste
1 tsp Poultry seasoning
1-2 tsp Italian seasoning
8 cups Cornbread, Baked and cooled, Half can be cut into small 1 inch cubes and half can be crumbled, Preferably dried overnight uncovered
1 cup Dried seasoned bread cubes
2 Eggs, Lightly whisked
2.5-3 cups Vegetable broth, Low sodium, Adjust according to your preference
3 tbsp Additional butter, Unsalted, Cut into small cubes
Instructions
Add butter in a very large nonstick pan or cast iron skillet over medium-high heat.

When it's fully melted, add onions, garlic, celery, carrots, mushrooms, salt, pepper, poultry seasoning, Italian seasoning and saute for a few minutes until veggies are partially softened and excess liquid from mushrooms has evaporated.

Remove pan from heat.

Add cornbread, bread cubes and mix until combined.

Pour eggs, 2.5 cups broth and mix until combined. The bread should feel slightly moist. It should not be soaking wet.

Spread the stuffing evenly in the pan.

Note: For better presentation, especially if you are planning on serving this at a Thanksgiving feast, transfer mixture to a large casserole dish (Dimensions: 9×13) and then continue with the remaining steps below.

Top with cubes of butter.

Cover with aluminum foil.

Bake at 350 degrees F 20 minutes.

Remove from oven and discard foil.

Check the consistency of stuffing. If it feels too dry, add more broth. You may have to do this if you prefer a "wet" stuffing.

Bake uncovered for 10-15 minutes or until top is golden brown.

Remove from oven and fluff the dressing with a fork. Enjoy!
Notes
Read all my tips above.
Leftovers can be stored in a sealed container in the fridge for up to 3 days and reheated in the microwave. 
Nutrition
Calories: 579kcal, Carbohydrates: 89g, Protein: 12g, Fat: 20g, Saturated Fat: 9g, Trans Fat: 1g, Cholesterol: 127mg, Sodium: 1193mg, Potassium: 299mg, Fiber: 4g, Sugar: 27g, Vitamin A: 1441IU, Vitamin C: 2mg, Calcium: 229mg, Iron: 3mg