How to Make Zucchini Noodles (Zoodles)
Quick and easy zucchini noodles recipe (zoodles), homemade with simple ingredients in one pot in 10 minutes. Full of garlic and butter!
Do you love pasta but hate the carbs? Today's recipe is a great substitute, especially for spaghetti. You may be surprised by how much you like them because they are actually really truly very tasty. My favorite part is that they don't come with the guilt! Another low carb healthy option you can try is this Instant Pot Spaghetti Squash.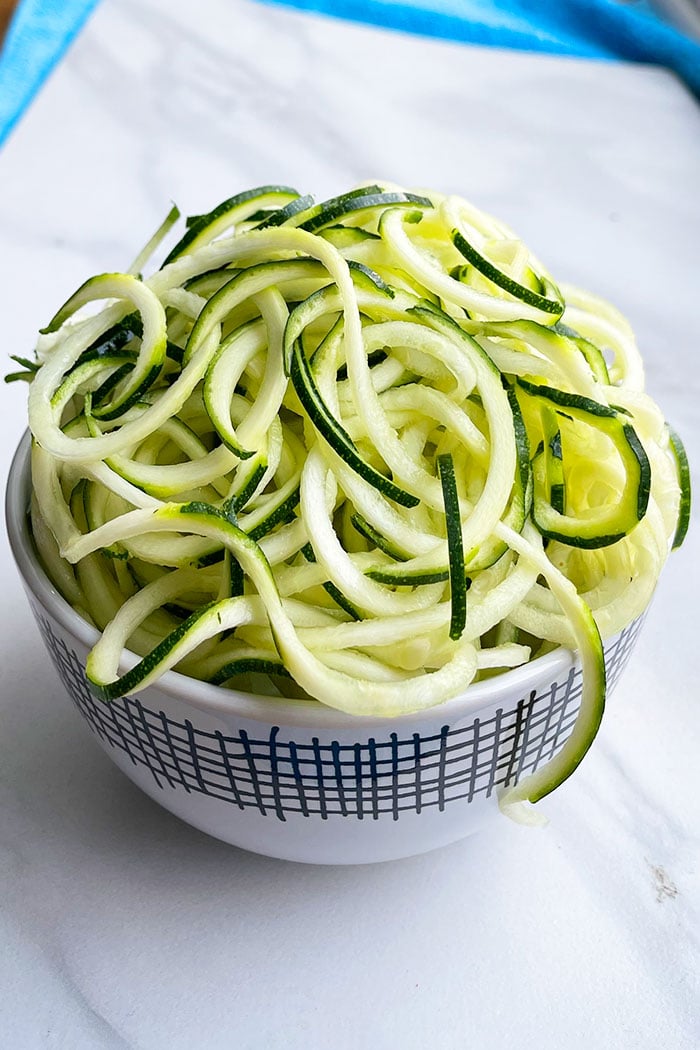 How to make zucchini noodles recipe from scratch?
Slice zucchini ends– With sharp knife.
Make noodles– using your preferred method (see below).
Pat dry- With paper towels.
Heat butter and garlic- Until fragrant.
Toss zucchini, salt, pepper- Until coated.
Serve immediately- And enjoy!
Methods for creating zucchini noodles:
Handheld, Countertop, or Kitchenaid spiralizers- Place the zucchini in the center of the spiralizer and rotate the handle.
Peeler- Simply peel the zucchini lengthwise from one end to another, making long, wide ribbons. Stack them on top of one another and use a knife to cut them into skinnier noodles, if desired. Keep in mind that the harder you push while peeling, the thicker your noodles will be.
Mandolin- Set to the 1/8 inch square, blade facing upward, and slide zucchini lengthwise.
Box grater- On the largest grater size, slide the zucchini lengthwise downward, using some pressure. The longer you keep the zucchini in contact with the grater, the longer the strips will be.
Chef's knife- You can always do it the old fashion way with no fancy tools. Simply cut thin slices lengthwise, stack on top of each other and slice again to desired width.
Methods for cooking zucchini noodles (zoodles)?
Microwave– Cook at 30 second increments, checking on them each time, to prevent sogginess.
Stovetop:

Saute method– Heat butter in a large, non-stick pan over medium-high heat and sauté' noodles 1-2 minutes until semi-tender.
Boiling method- Add spiralized zucchini to boiling water and cook for 1-2 minutes. Drain and pat dry.
How do you make zucchini noodles not soggy?
Don't overcook them! Be sure that no matter what method you use to cook the noodles that you are checking on them regularly to prevent them from turning into "mush." Also, patting the noodles dry with a paper towel after spiraling them helps cut down on moisture.
How to pick the best zucchinis for making noodles?
Get zucchinis that are fresh and firm. If they are soft, they are probably old and are very watery and it's best to avoid them. Also, be sure they are a medium size and not too small or too large so that it's easier to spirialize them.
What sides to serve with zucchini pasta?
Serve it with pasta sauces:
Consider serving alongside meats: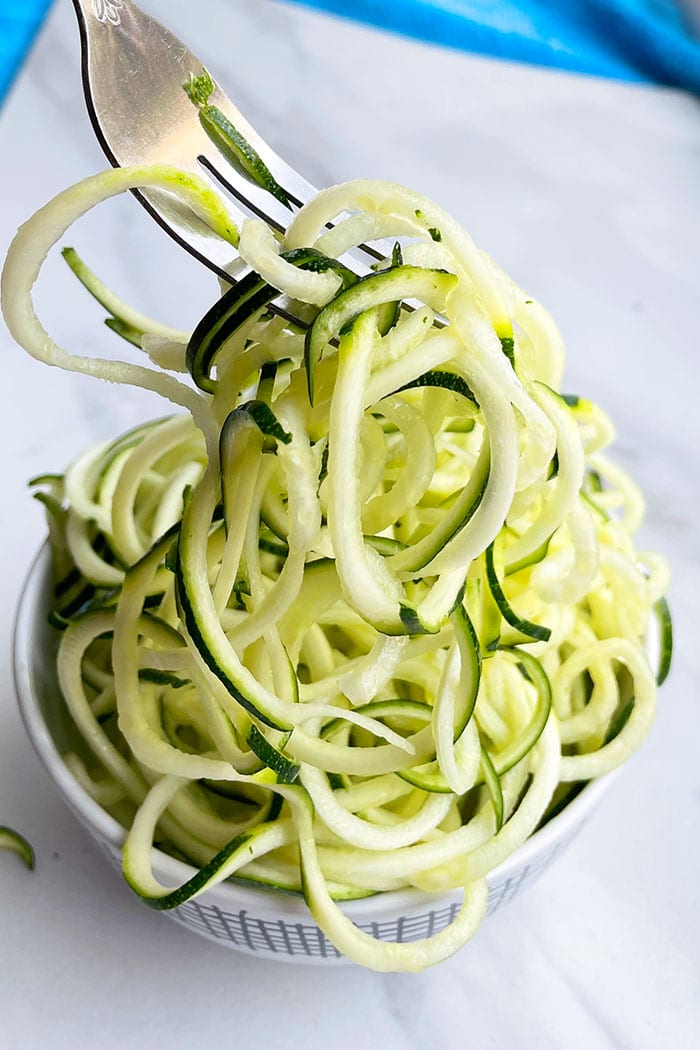 Variations for courgette noodles
Spiralize other veggies- Try using carrots, sweet potatoes, squash, or beets to make new low carb noodles for your next meal.
Mexican version- Use taco seasoning, chili powder, cayenne pepper, and/or red pepper flakes. Then, mix in some cooked Ground bee (Taco Meat), shredded cheddar cheese, black beans, and top it with some sour cream, green onions. Serve with a side of chips and Pico De Gallo Salsa.
Add meat- You can easily bring in some protein by mixing in some Shredded Chicken, Shredded Beef, Garlic Butter Steak Bites (One Pot), meatballs, or shredded/ cubed turkey and make it a more hearty meal.
Make it cheesy– Add freshly shredded parmesan, mozzarella, cheddar, or even Cheddar Cheese Sauce (One Pot).
Add lemon– A few squeezes of lemon juice and some zest will take these up a notch.
Tips and techniques for spiral zucchini spaghetti
Do you need to peel zucchinis? No, this is not necessary, because the skins get cooked and don't even notice them.
Don'd add salt during cooking– This contributes to sogginess, because the salt will draw out a lot of the water from zucchinis.
Pat noodles dry– Because this helps to prevent sogginess at the end.
Use scissors to cut the noodles before cooking them– Because when the noodles are shorter they are much easier to eat.
Serve immediately- This dish tastes best right after it is cooked. Leftovers can become watery, if salt has been added.
Storage
Refrigerate- Store in a sealed container for up to 3 days. If moisture accumulates at the bottom of your container, use paper towels to absorb it.
Freezer- I prefer them fresh as their texture is the firmest but they can be frozen in a sealed container for up to 1 month.
Make ahead instructions- Cut spiral shapes 2 days ahead of time and store in a sealed container lined with paper towels in fridge. When you are ready to enjoy it, cook according to instructions below.
More one pot pasta recipes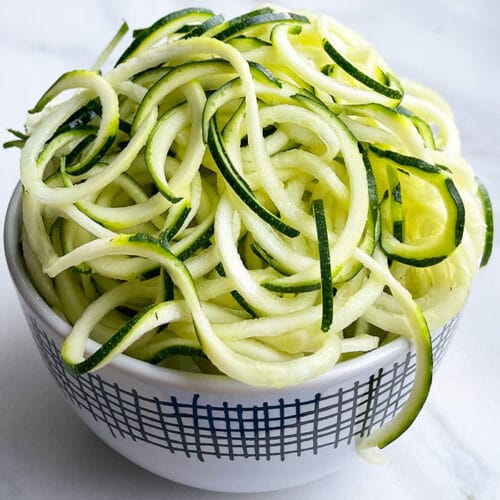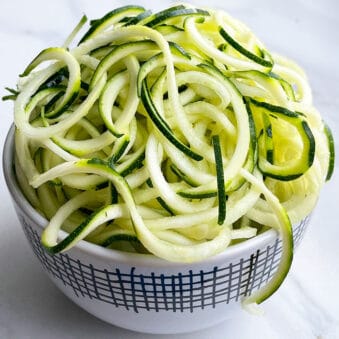 One Pot Garlic Butter Zucchini Noodles (Zoodles)
Quick and easy zucchini noodles recipe (zoodles), homemade with simple ingredients in one pot in 10 minutes. Full of garlic and butter!
Yield: People
Ingredients
Instructions
Use a sharp knife to slice the ends of the zucchinis.

Secure each zucchini in the center of the spiralizer.

Rotate the handle to create zoodles.

Spread them on a large plate, lined with paper towels and pat them gently to remove excess water. You can stop now. Your basic zoodles are ready but if you want to learn one way on how to cook them quickly and make a simple meal out of them, continue onto the next few steps.

Heat butter and oil in a large nonstick pan over medium-high heat.

Add garlic and sauté for a few seconds seconds until fragrant. 

Add the zucchini noodles and toss them around in garlic butter for 1-2 minutes until fully coated. Don't overcook. You just need just to warm it through.

Remove from heat and add some salt and pepper (I omitted the pepper this time).

Toss until noodles are evenly coated.

Serve immediately and enjoy!
Notes
Read all my tips above.
Tastes best when served immediately. Leftovers can only be stored in the fridge for up to 2 days, only if salt was not added as that will cause the zucchinis to release a lot of water. 
Nutrition
Calories: 150kcal, Carbohydrates: 7g, Protein: 3g, Fat: 13g, Saturated Fat: 4g, Trans Fat: 1g, Cholesterol: 15mg, Sodium: 66mg, Potassium: 525mg, Fiber: 2g, Sugar: 5g, Vitamin A: 567IU, Vitamin C: 36mg, Calcium: 38mg, Iron: 1mg