Asian Cabbage Salad (One Bowl)
Crunchy, quick and easy cabbage salad recipe, homemade with simple ingredients in one pot in 10 minutes. Green and red cabbage, carrots, peppers, edamame are tossed in an Asian dressing of peanut butter, sesame, honey.
This is a great, fresh salad to accompany a variety of dishes. This is something you can bring to a pot luck or serve at your family's dinner table any day of the week. If you enjoy this salad, you will also want to check out these delicious Asian inspired dishes: Asian Ramen Noodle Salad, Thai Chicken Salad, Asian Cucumber Salad, and Asian Slaw or Coleslaw.
How to make easy asian cabbage salad recipe from scratch?
Whisk together- All Asian dressing ingredients until combined.
Add in- All salad ingredients, toss to mix.
Sprinkle– Toasted peanuts on top.
Serve- Immediately and enjoy.
What is the difference between coleslaw and cabbage salad?
One main difference is that coleslaw is typically more creamy or saucy and primarily uses cabbage with shredded vegetables, such as this Classic Coleslaw. Cabbage salad on the other hand is made with various chopped up vegetables and usually has more of a crunch to it.
Do you cook or boil cabbage for salad?
Neither! You don't want to cook cabbage for a salad such as this, because then it loses its crunch. You want your salad to be crisp and crunchy.
What to serve with raw purple or red cabbage salad?
Asian style chicken-
Asian style beef-
Asian soups-
You can also use alongside other main dishes-
Variations for Chinese cabbage salad
Add other nuts– Such as sliced almonds, chopped cashews, walnut pieces, or sunflower seeds.
Use variety of sesame seeds– I used black, but you can also use white or brown or a combination of several.
Other sweetener options– Besides honey, you can also use pure maple syrup, agave, coconut sugar
Make it spicy– If you like an extra kick, you can add in some sriracha or tabasco sauce, red chili flakes, chili paste, diced jalapeños, or cayenne pepper.
Try other herbs- Add basil, parsley, or mint to mix up the flavor profile.
Add some garlic– This will add some great flavor. I recommend using fresh for the best taste.
Tips and techniques
Use low sodium soy sauce– Because you don't want your salad to be too salty and unappetizing. It's all about balance.
Don't omit sesame oil– Because it adds so much flavor! You can find it easily at most local grocery stores and its worth the find. There's nothing that quite substitutes for this nutty flavor.
Add more or less ginger based on your preference– Just remember that fresh is best. Don't replace with powder, because it won't have the same texture or flavor.
Toast sesame seeds and peanuts– Because that's what adds to the nice crunch of the salad and also adds flavor.
Substitute rice vinegar- If you don't have rice vinegar, apple cider vinegar can be used instead.
Serve immediately- This salad is best served soon after you make it because it will get soggy as time goes on and lose its crisp factor.
Storage
Make ahead- Store salad, dressing, and toppings in separate containers in the fridge. When you are ready to serve, toss altogether until combined.
Fridge- Not recommended, because the salad loses its crispiness and becomes wilted and soft. However, you can store leftovers in a sealed container for 1 day and store dressing separately until ready to serve. 
Freezer- Don't freeze! Salad does not freeze well and will not thaw to anything but a soggy mess.
More quick one pot salad recipes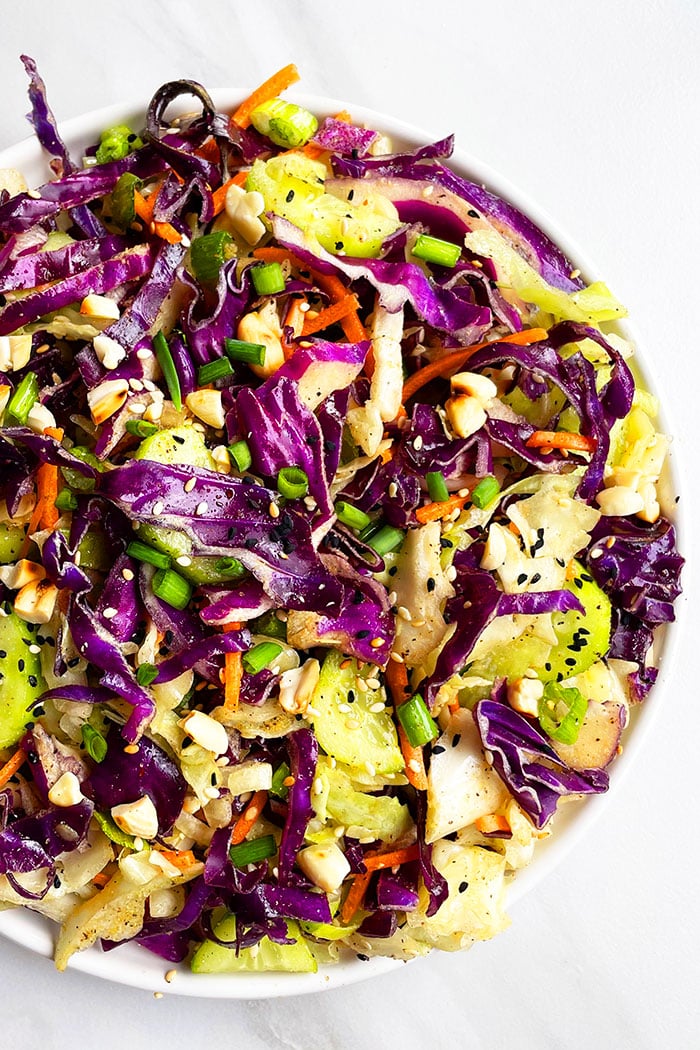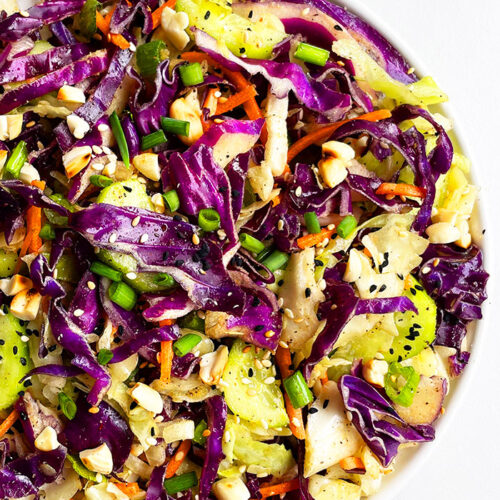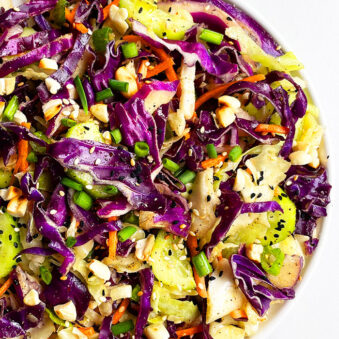 One Pot Asian Cabbage Salad
Quick and easy cabbage salad recipe, homemade with simple ingredients in one pot in 10 minutes. Green and red cabbage, carrots, peppers, edamame are tossed in an Asian dressing of peanut butter, sesame, honey.
Yield: People
Ingredients
Salad
3 cups Shredded cabbage , Use red and green cabbage
1 cup Shredded carrots
1/2 cup Peppers, Green or red, Finely chopped or thinly sliced
1/2 cup Edamame, Frozen, Thawed to room temperature and patted dry, I skipped this time and replaced with cucumbers
1/4 cup Green onions, Finely chopped
2 tbsp Cilantro , Finely chopped
Topping
2 tbsp Peanuts , Roasted, Roughly chopped
Instructions
In a large salad bowl, whisk together olive oil, sesame oil, rice vinegar, honey, soy sauce, peanut butter, ginger, black sesame seeds, sriracha sauce, salt, pepper until combined.

Add shredded cabbage, shredded carrots, peppers, edamame, green onions, cilantro.

Toss until combined.

Sprinkle toasted peanuts on top.

Serve immediately and enjoy.
Notes
Read all my tips above.
Tastes best when served immediately. Leftovers can be stored in a sealed container in the fridge for 1 day but the cabbage will become slightly soggy. It's best to store dressing and salad separately until you are ready to serve. 

 
Nutrition
Calories: 163kcal, Carbohydrates: 18g, Protein: 7g, Fat: 8g, Saturated Fat: 1g, Trans Fat: 1g, Sodium: 672mg, Potassium: 322mg, Fiber: 4g, Sugar: 12g, Vitamin A: 230IU, Vitamin C: 37mg, Calcium: 65mg, Iron: 2mg