Zucchini Noodles With Pesto (One Pot)
Quick, easy zucchini noodles with pesto recipe, homemade with simple ingredients in one pot in 15 minutes. Topped off with parmesan cheese.
If you are looking for a delicious, low-carb, healthy meal then you have come to the right page! Just follow along and prepare to be amazed. Another great option is these Garlic Butter Zoodles or you can even replace zucchini with Instant Pot Spaghetti Squash.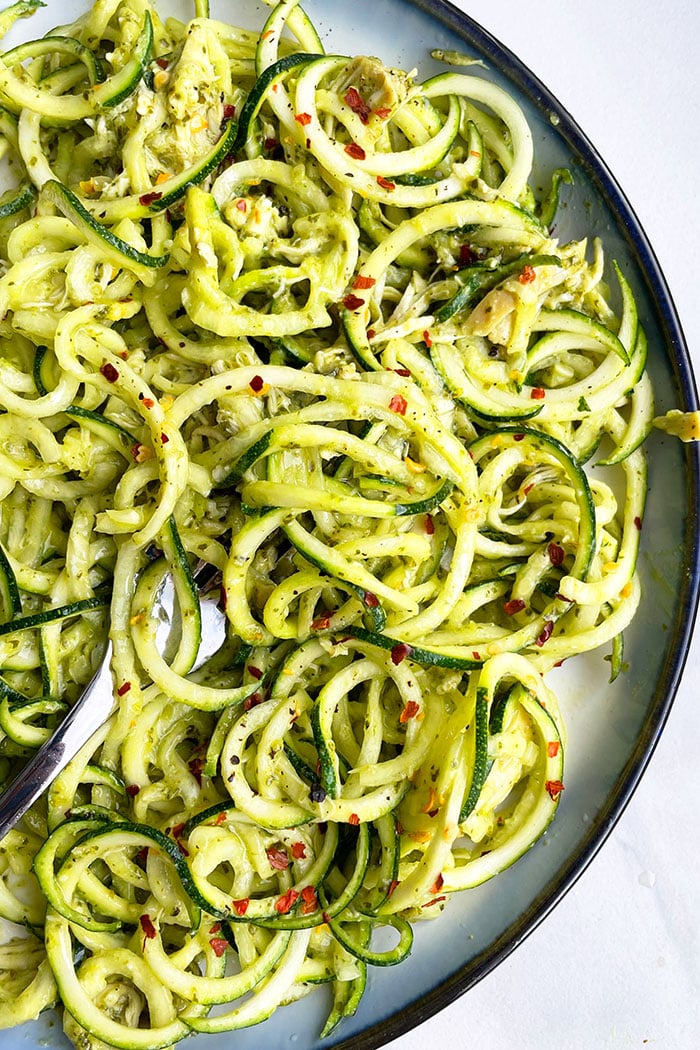 How to make zucchini noodles with pesto recipe from scratch?
Heat butter– In a large nonstick pan.
Add zoodles- And toss.
Remove from heat– Then add pesto sauce, salt, pepper, parmesan cheese.
Toss– Until combined. 
Sprinkle– Red chili flakes.
What to serve with pesto zoodles?
Pair it with chicken main dishes like this Instant Pot Cream of Mushroom Chicken or Instant Pot Whole Chicken (Rotisserie Chicken) or even this Easy Instant Pot Shredded Chicken. My son loves it with Bacon Ranch Chicken (One Pot) and Creamy Lemon Garlic Chicken (One Pot)
You can also pair with beef main dishes such as Cocktail Meatballs or Mexican Ground Beef (Taco Meat). Some of my family members enjoy it with Garlic Butter Steak Bites (One Pot) and Pepper Steak Recipe (One Pot).
If you want to keep it vegetarian, serve it with a side of salads like this Creamy Cucumber Tomato Onion Salad (One Bowl) or this Three Bean Salad (One Bowl).
Why are my zoodles soggy? How to fix it?
They can become soggy if you add salt during cooking. I recommend adding it in after you remove these veggie noodles from the heat. Another trick is to pat the freshly cut zoodles dry with a paper towels to remove excess moisture.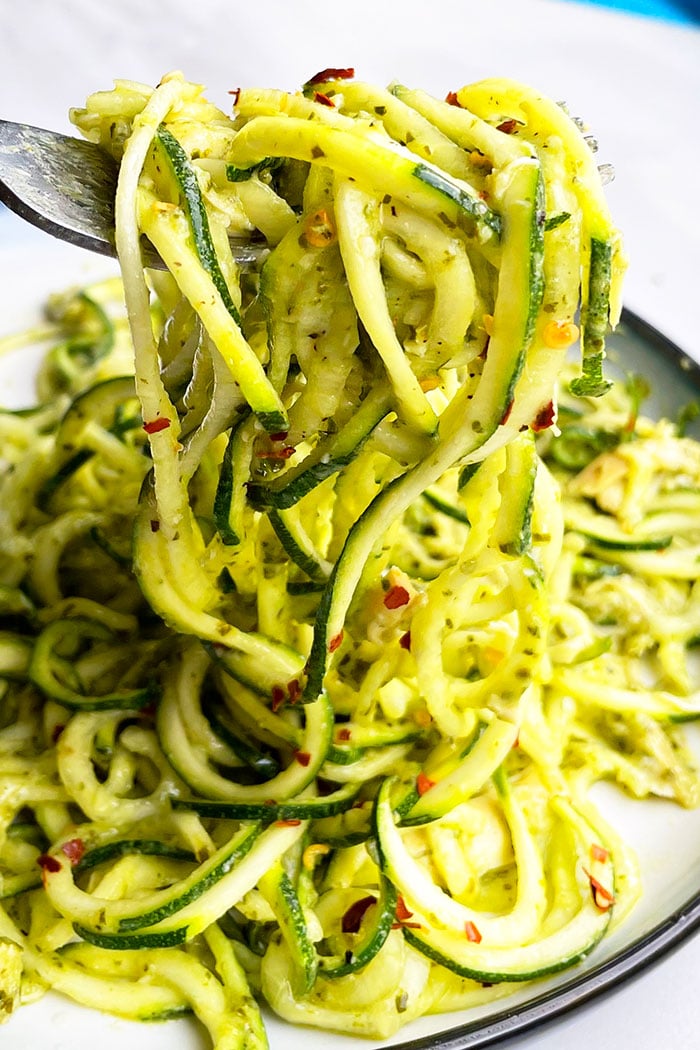 Variations for zucchini pesto pasta
Add cherry tomatoes– Halved cherry tomatoes are a perfect addition to this dish just put them in as the last step so they don't get mushy.
Add meat- To add in protein and make a heartier dish. I suggest cooked mini meatballs, diced chicken, shrimp, or shredded beef.
Add avocados– These add a nice, healthy, creamy texture to the dish. Cut them into chunks or slices and lay them over the noodles once cooked.
Make it creamy- If you want to have creamy pesto sauce with your zoodles, add cream cheese as one of the last steps and be sure it is thoroughly softened and mixed in the sauce.
Try a different sauce- No pesto? No problem! Try White Sauce, Cheddar Cheese Sauce (One Pot), or Homemade Marinara Sauce (One Pot) in place of the pesto.
Add other herbs and spices- These could be fresh or dried. Try basil, thyme, mint, oregano, paprika, ranch seasoning, Italian blend.
Try other cheeses– Such as freshly shredded mozzarella, goat cheese, feta, gouda.
Tips and techniques
Homemade pesto vs. Store-bought pesto– Honestly, either works well, so whichever you prefer will work just fine.
Add salt after removing from heat– If you add the salt before, it will draw out water from zucchinis and make them soggy.
Use medium sized zucchini– I find this to be the best size. You don't want to use one that is too small. This makes it difficult to spiralize and you won't get much of a meal out of it. A super large one makes it difficult to spiralize and may not have good flavor.
Use firm zucchini- If a zucchini is soft, that means it is getting old. For best results, pick one that is firm, because it is easier to spiralize and will have better, fresher taste.
Pat zoodles dry– It is important to pat the zucchini noodles dry because this helps prevent them from getting soggy.
Fresh parmesan is best– Because it has a better texture and flavor compared to the pre-packaged ones.
Serve immediately- This tastes best warm out of the stovetop.
Give it a bit of tartness- With freshly squeezed lemon juice or lime juice.
If you are using butter– Make sure it's unsalted to prevent the meal from becoming too salty.
If you are using oil– I highly recommend using a good quality olive oil for best flavor.
Storage
Fridge- Store in an airtight continuer for up to three days. Then, heat on the stovetop or in the microwave before serving.
Freezer- This is not recommended because they can become mushy and watery upon thawing.
More one pot zucchini recipes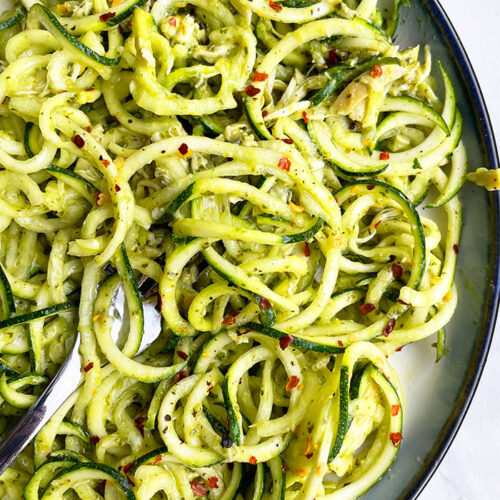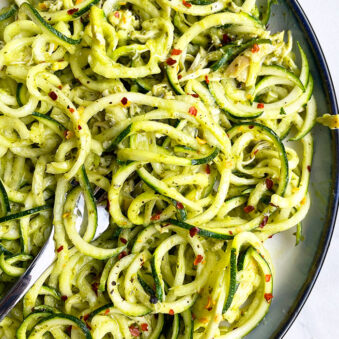 One Pot Zucchini Noodles With Pesto
Quick and easy zucchini noodles with pesto recipe, homemade with simple ingredients in one pot pot in 15 minutes. Healthy and delicious!
Yield: People
Ingredients
1 tbsp Butter, Or oil
2 Zucchinis, Large, Washed, Spiralized, Patted dry on paper towels
3 tbsp Basil pesto sauce, Can use store-bought version too
Salt, To taste
Pepper, To taste
2 tbsp Parmesan cheese, Grated
1/2 tsp Red chili flakes, For topping, Optional
Instructions
Heat butter or oil in a large nonstick pan over medium-high heat.

Add the zucchini noodles and toss them around for 1-2 minutes until they are warmed through.

Remove from heat and add pesto sauce, salt, pepper, parmesan cheese.

Toss until combined.

Sprinkle red chili flakes on top (if you like) and serve immediately.
Notes
Read all my tips above.
Leftovers can be stored in a sealed container in the fridge for up to 2 days and reheated in the microwave.