Roll Up Pinwheel Sandwiches (One Pot)
Easy roll up pinwheel sandwiches recipe, homemade with simple ingredients in one pot. Full of whipped cream cheese, ranch seasoning, peppers.
These are such a fresh and yummy appetizer for any occasion and so easy to make! I love the simple ingredients and fresh vegetables that give it a crisp and delightful taste. If you are looking for more party food to make your mouth water, check out my Mini Cheese Balls (One Bowl) and Crispy Baked Zucchini Chips (One Pan) or even these Stuffed Mini Peppers (One Pan).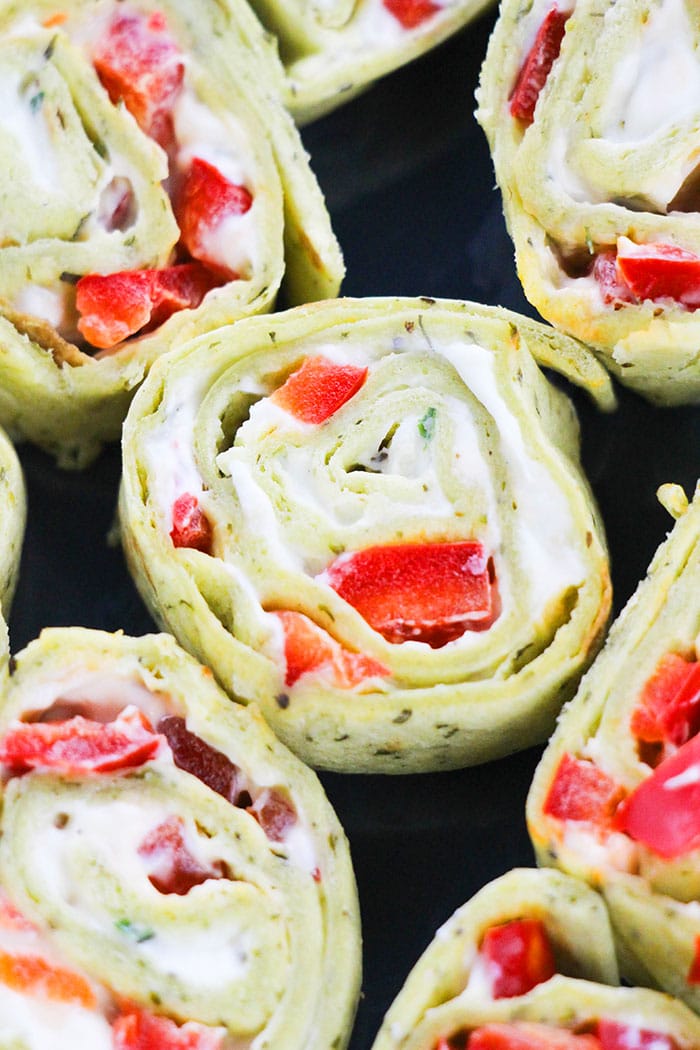 How to make easy pinwheel sandwiches recipe from scratch?
Make cheese mixture– By mixing together cream cheese and dry ranch seasoning.
Spread mixture– On the tortilla wraps.
Sprinkle– Red peppers on top.
Roll wraps– Tightly into a log.
Wrap logs– In saran wrap and chill.
Slice– Into 1″ slices.
What to serve with roll up sandwiches?
It's typically enjoyed on its own but you can serve it with a dipping sauce like this Bacon Cheddar Ranch Dip (One Pot) or this Homemade Veggie Dip (One Pot).
Pinwheels can also be served as the main dish, especially as a light lunch or brunch, alongside a salad such as this Cucumber radish Salad (One Bowl), Easy Kale Salad (One Bowl), or Apple Salad (One Pot).
Soup and stews are also a great pairing. Try this Instant Pot Dublin Coddle or this Instant Pot Ham Bone Soup (With Leftover Ham) or this Easy Beef Stew (One Pot).
Can you make pinwheel sandwiches the night before?
Yes! In fact, this can actually help firm them up so that they are nice and easy to cut. This makes for nice round slices and better presentation. However, I don't recommend making them more than a day before.
How do you keep pinwheels with cream cheese from getting soggy?
Putting a good even layer of cream cheese down on the tortilla first will protect it from getting soggy from moisture in the wrap that may come from juicy or wet vegetables.
How to roll up pinwheel sandwich?
Once everything is layered on top of the tortilla, start at one end and tightly roll it in over on itself. Then continue rolling it forward with a little pressure, keeping it in tight together until you've rolled it to the opposite side. Once you've reached the other end of the tortilla, place the seam side down to help keep it together and/or insert toothpicks to hold it.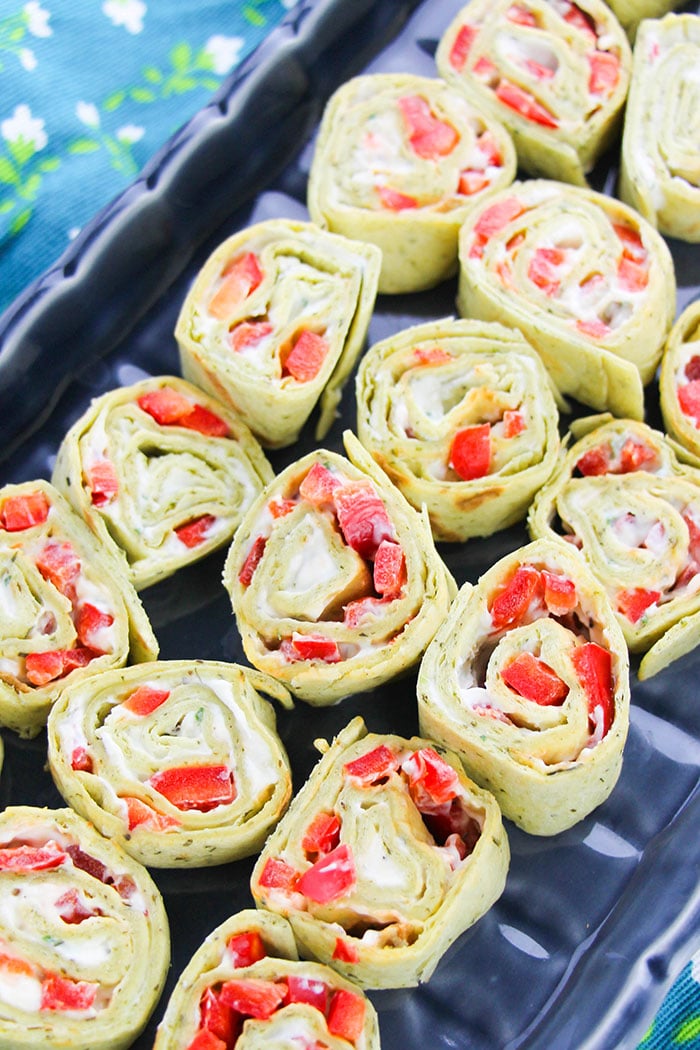 Variations
Use other flavors of tortillas– There are many different flavors out there to add an extra level of delish to your wrap, including sun-dried tomatoes, rosemary and olive oil. You can always go with the original, too.
Add other veggies– You can add so many different combinations of vegetables in different amounts. If you are a real veggie lover, you can stuff these full of fresh goodness, such as lettuce, sliced tomatoes, green or orange bell peppers, chopped celery, onions, and more.
Add other seasonings– The classic is the Ranch dressing seasoning, but you can also switch things up and try Italian seasoning dressing, buttermilk dressing, buffalo ranch, sriracha mayo.
Add meat- Deli sliced ham, diced ham, or crumbled bacon would be a delicious addition as well as chicken or turkey. If you have leftovers, such as Rotisserie Chicken, Shredded Chicken, Turkey Breast, Thanksgiving Turkey, or Spatchcock Chicken, those work well, too.
Use another flavor of cream cheese- Such as garden veggie to compliment the fresh vegetables. You could also try, chive, onion, rosemary, or garlic and herb.
Spicy Mexican style- Use taco seasoning instead of Ranch seasoning and jalapeno cheddar instead of regular cream cheese. Then add in some shredded cheddar cheese, kidney beans, and finely diced tomatoes. Add hot sauce or jalapenos, if desired.
Tips and techniques
You must chill wraps– Because this is how to get those perfectly sharp slices. The ingredients become more firm and easier to cut. Otherwise you may end up smashing the roll down as you cut it or watch it fall apart altogether.
Use full fat cheese– Don't be afraid use the good stuff! This is what makes the wraps taste good. A fat-free cream cheese won't give the same taste or texture as the original.
You must use whipped cream cheese– Because it's fluffier and also easier to mix the seasoning into it compared to regular blocked cream cheese.
Roll wrap tightly– Because you don't want all the tasty ingredients inside to fall out as you slice the roll or have them slip out while trying to eat. The wrap needs to be nice and tight to make the filling stay together.
Wash and pat dry vegetables- It is always important to wash your produce to remove unwanted particles and bacteria. However, you will want to take a paper towel and pat them dry because too much moisture will make your wraps fall apart and get soggy.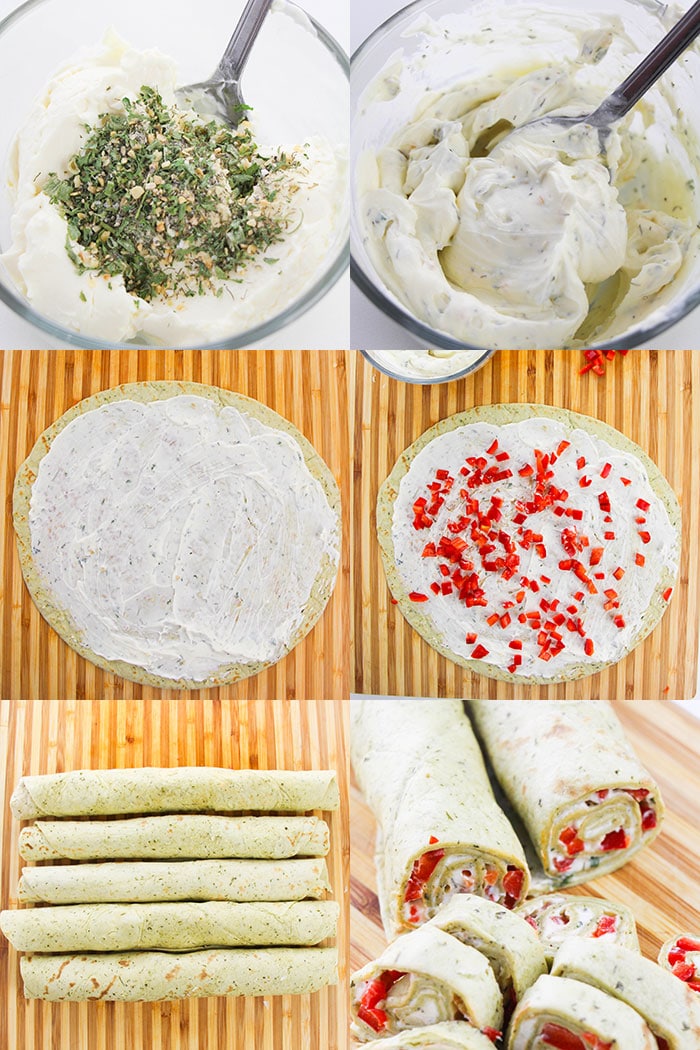 Storage
Make ahead- These can be made a day a head and kept in the fridge until you are ready to serve.
Fridge- Leftovers can be stored in a sealed container in the fridge for 2-3 days.
Freezer- This is not recommended, because cream cheese will separate and vegetables will become soft and soggy when thawed.
More one pot appetizers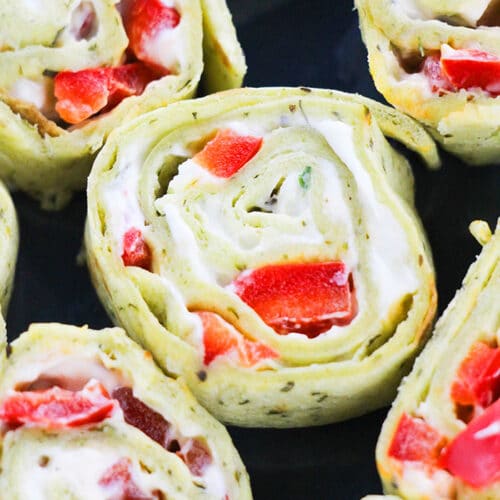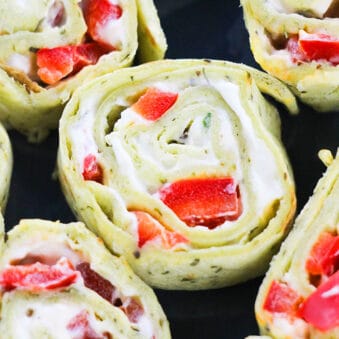 One Pot Pinwheel Sandwiches
Easy roll up pinwheel sandwiches recipe, homemade with simple ingredients in one pot. Full of whipped cream cheese, ranch seasoning, peppers.
Yield: People
Ingredients
1 container Whipped cream cheese, Full fat, 8 oz. container
2 tbsp Dry ranch seasoning mix
5 Tortillas, Spinach flavor, Large size
1 Red pepper, Washed, Patted dry, Diced
Instructions
In a small mixing bowl, add cream cheese, dry ranch seasoning and mix until combined.

Spread the cream cheese on the tortilla wraps.

Sprinkle red peppers on top of the cheese.

Roll each wrap tightly to form a log.

Wrap each log individually in saran wrap and chill in fridge for 45 minutes-1 hour to make it easier to slice and get perfect cuts.

Remove from fridge and place the logs on a cutting board.

Use a sharp knife to cut the wraps into 1 inch round slices.

Serve chilled and enjoy!
Notes
Read all my tips above.
Leftovers can be stored in a sealed container in the fridge for 2-3 days. 
Nutrition
Calories: 61kcal, Carbohydrates: 11g, Protein: 2g, Fat: 1g, Saturated Fat: 1g, Cholesterol: 1mg, Sodium: 130mg, Potassium: 60mg, Fiber: 1g, Sugar: 1g, Vitamin A: 467IU, Vitamin C: 19mg, Calcium: 21mg, Iron: 1mg