Creamy Mushroom Pasta (One Pot)
Quick, easy, creamy mushroom pasta recipe, homemade with simple ingredients in one pot on stovetop in 30 minutes. Loaded with parmesan cheese, heavy cream and a hint of lemon and garlic!
This is the fastest and creamiest weeknight pasta you can make. The flavors are also developed and elegant enough to make for guests, but all in less than 30 minutes. If mushrooms are a favorite in your home, then try these Portobello Mushroom Pizza (One Pan) for an appetizer or these Easy Garlic Mushrooms (One Pot) as a side dish.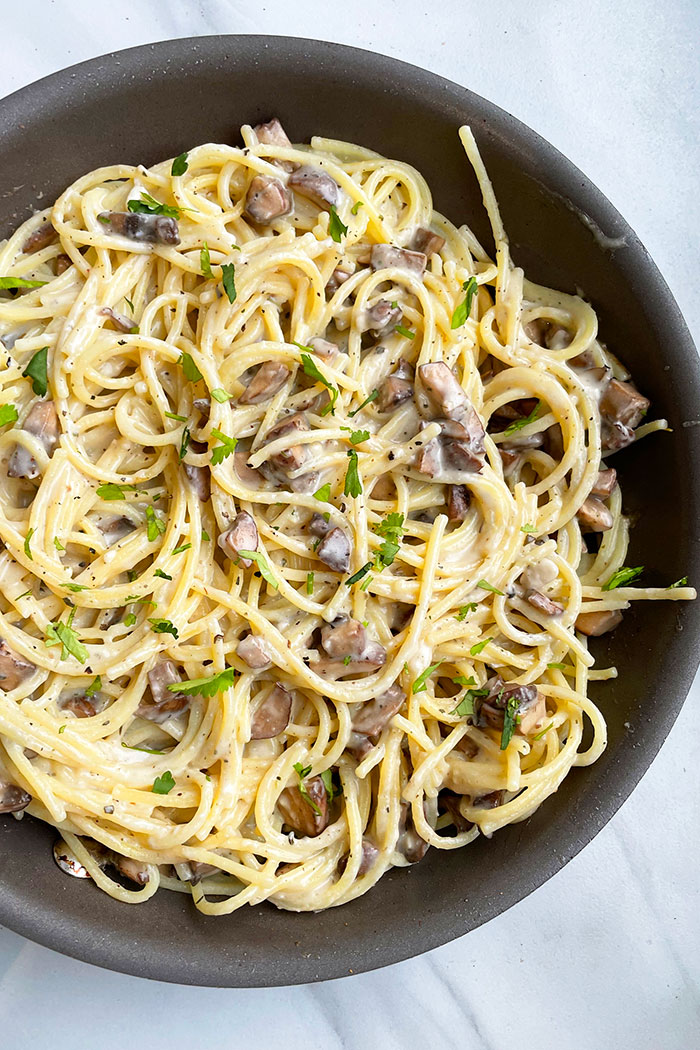 How To Make Creamy Mushroom Pasta Recipe From Scratch?
Cook pasta– In salted water.
Brown mushrooms– In butter and oil.
Saute aromatics– This includes garlic, onions, salt, pepper, Italian seasoning.
Add wine– And keep stirring until it is almost evaporated.
Add remaining ingredients– This includes broth, heavy cream, flour, parmesan cheese.
Mix– Until combined.
Add mushrooms, spaghetti, lemon– Add toss until spaghetti is fully coated in the creamy cheese sauce.
Garnish– With fresh parsley.
Mushroom Pasta Sauce
Combine 1 tbsp. of butter and oil, 2 cloves garlic, 1/4 cup finely chopped onions, salt, pepper, 2 tsp. Italian seasoning and saute for a few minutes.
Add 1/4 cup dry white wine and cook it off.
Add 1/4 cup broth, 1 cup heavy cream, 1-2 tsp. flour, 1/3 cup parmesan cheese and mix until thick and creamy.
What Sides to Serve with Mushroom Spaghetti?
Roasted vegetables make for a very nice compliment to this creamy pasta:
Salads balance out the heaviness of this creamy pasta. Serve one of these for a light addition to the meal:
A vegetable soup will also pair so well with the pasta.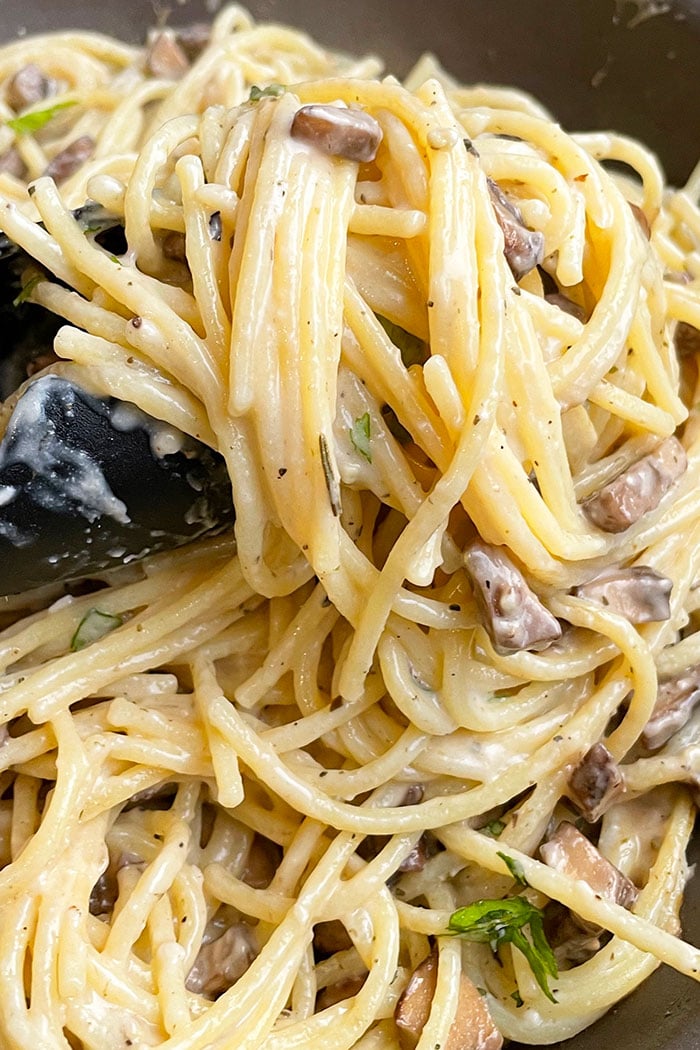 Variations for Garlic Mushroom Pasta
Chicken mushroom pasta– Add cubed, shredded or rotisserie chicken (Instant Pot Whole Chicken- Rotisserie Chicken) to make this an even heartier dish.
Mushroom alfredo– Use this Fettuccine Alfredo Recipe (One Pot) as the sauce and then add the mushrooms according to this recipe.
Bacon mushroom pasta– Use this Bacon Pasta (One Pot) recipe and add mushrooms. The mushrooms can be salted with the bacon.
Add spinach- It should be preferably fresh. Mix it in at the end and let it cook until wilted.
Add pesto– You can use store bought or this homemade Basil Pesto (Blender) for more flavor and color.
Use other types of spaghetti– Such as fettuccine or linguine is another good choice.
Try other types of mushrooms– Such as white button, cremini, shitake, morel, or whatever type you prefer!
Add sausage– Try mild, sweet, or spicy Italian sausage for a heartier meal.
Add ham– Shredded or cubed ham from leftovers makes a great addition to this dish.
Add vegetables– Such as peas, asparagus, or artichoke hearts.
Pasta without cream– Omit the heavy cream. Just toss the boiled spaghetti in salted garlic and mushrooms and lots of olive oil. It's lighter but obviously not as creamy.
Add other cheese– Such as cream cheese, goat cheese, or mozzarella.
Pasta bake– Spread prepared pasta into a casserole dish and cover the top with freshly shredded Parmesan and bake at 350 degrees F until the cheese is melted and bubbly.
Make it spicy– Add red chili flakes for a little flavor and spice.
Add other seasoning– Such as Greek or Cajun seasoning for a flavor twist.
Tips And Techniques
How to thicken pasta? Cook the pasta longer until some of the excess liquid has evaporated. You can also add a little more cream to thicken it.
How to make pasta thinner? Add a little more broth for a thinner pasta sauce.
Heavy cream substitute– You can use full-fat coconut milk, but it will alter the flavor slightly. You can also use half and half or whole milk.
Wine substitute– Simply replace the wine with broth as a substitute.
Chop up the mushrooms– Because this ensures that you get to enjoy the mushrooms in each bite.
Use full-fat ingredients– Because this makes for maximum creaminess and flavor.
Use low-sodium ingredients– Especially with regards to the broth and butter because this prevents the meal from becoming too salty.
Use a non-stick pot– Because this prevents the pasta from sticking and burning, and also makes clean-up much easier.
Adjust the seasoning– Add more or less according to your personal preference.
Storage
Refrigerate– In a sealed container for up to 2 days.
Freeze– I do not recommend freezing this dish due to the high dairy content. It will separate upon thawing.
Reheat– In the microwave with a splash of broth or water because the pasta will absorb a lot of the sauce as it sits.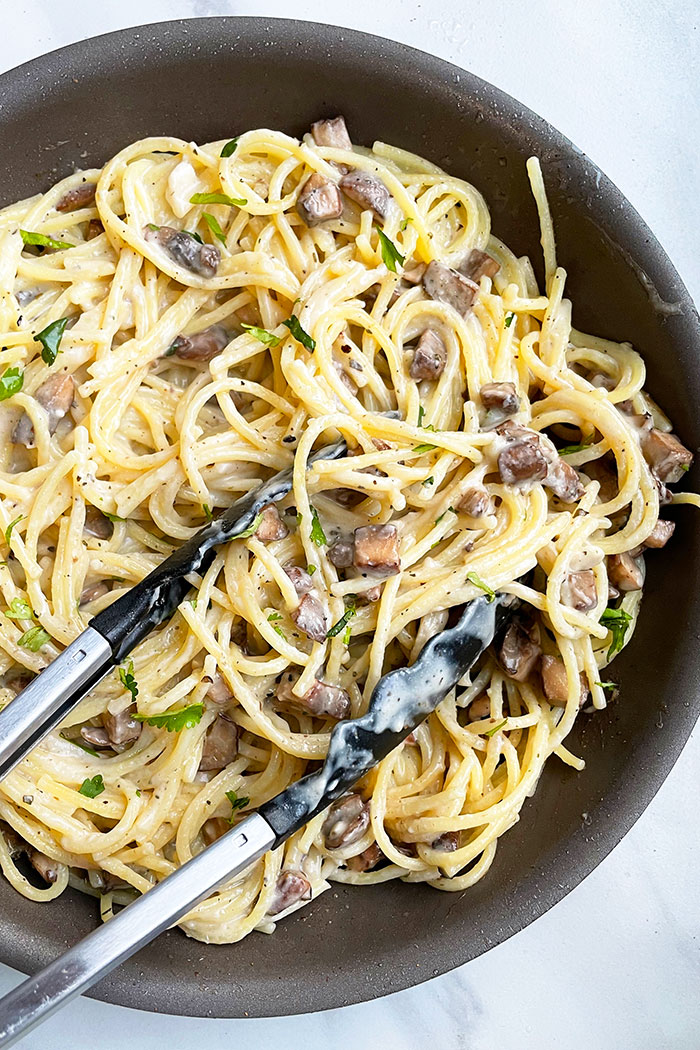 More One Pot Pasta Recipes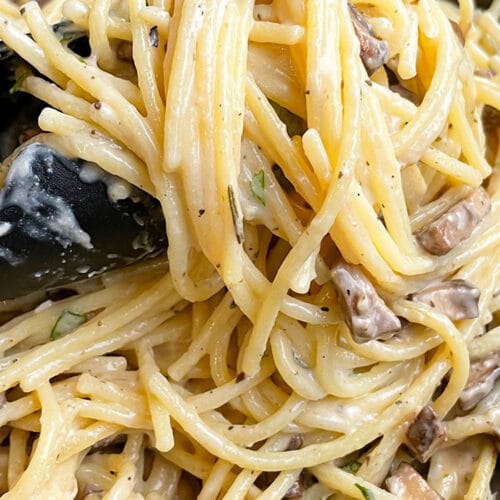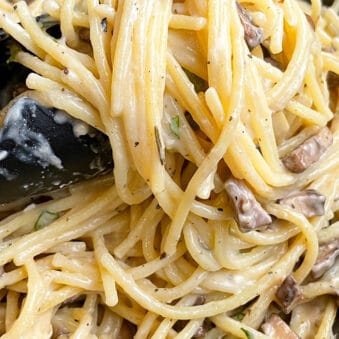 One Pot Mushroom Pasta
Quick, easy, creamy mushroom pasta recipe, homemade with simple ingredients in one pot on stovetop in 30 minutes. Loaded with parmesan cheese, heavy cream and a hint of lemon and garlic!
Yield: People
Ingredients
8 oz. Spaghetti, Dry, Uncooked, Use half of the 16 oz. box
2 tbsp Butter, Unsalted
2 tbsp Olive oil
2 cups Mushrooms, Fresh, Roughly chopped, White mushrooms or Cremini mushrooms
2 cloves Garlic, Minced
1/4 cup Onion, Finely chopped
Salt, To taste
Pepper, To taste
2 tsp Italian seasoning
1/4 cup Dry white wine , Optional, Can be replaced with broth
1/4 cup Broth, Low sodium, Chicken or Vegetable
1 cup Heavy cream
1-2 tsp All-purpose flour, Start with 1 tsp and add more if you want a thicker sauce
1/3 cup Parmesan cheese, Freshly grated
1-2 tsp Lemon juice, Adjust according to your preference
1 tbsp Parsley , Fresh, For garnish
Instructions
Boil pasta in salted water.

Drain and keep aside.

In the same nonstick pot, add half the butter, oil, mushrooms, and cook over medium heat until golden brown.

Remove from pot and keep aside.

In the same pot, add remaining butter and oil, garlic, onions, salt, pepper, Italian seasoning and saute until garlic is fragrant and onion is partially softened.

Add wine carefully, while stirring, scraping the bottom until wine is almost evaporated.

Add broth, heavy cream, flour, parmesan cheese and mix until combined.

Continue cooking, while stirring, until sauce is thick and creamy.

Add the boiled pasta, cooked mushrooms, lemon juice and mix until fully coated.

If pasta looks too thick, add a little broth. If it's too watery, continue cooking uncovered for a few more minutes until excess liquid is evaporated.

Garnish with fresh parsley.

Serve immediately and enjoy.
Notes
Read all my tips above.
Leftovers can be stored in a sealed container in the fridge for up to 2 days and reheated in the microwave with a splash of water or broth. 
Nutrition
Calories: 539kcal, Carbohydrates: 49g, Protein: 14g, Fat: 32g, Saturated Fat: 19g, Trans Fat: 1g, Cholesterol: 102mg, Sodium: 335mg, Potassium: 386mg, Fiber: 3g, Sugar: 3g, Vitamin A: 1263IU, Vitamin C: 4mg, Calcium: 178mg, Iron: 2mg