Sheet Pan Irish Nachos in Oven (One Pan)
Quick and easy loaded sheet pan Irish nachos recipe, homemade with simple ingredients in one pan in oven 20 minutes. Full of tomatoes, bacon, cheese, green onions.
This is a great game day appetizer! Gather 'round and enjoy this delicious pan of nachos while you cheer on your team (who is hopefully winning)! If you want to make a whole spread for a large crowd, check out these BBQ Ribs, Ham and Cheese Sliders, and Buffalo Cauliflower Wings to add to the festivities.
What are Irish nachos? Why are they called that?
Simply put, the main reason we call these Irish nachos is because traditionally it is made with potato chips or cooked potato slices and the Irish are well-known for their love of potatoes. In their history, the Irish relied heavily on this root vegetable as their main source of sustenance, as it grew well in the Irish soil and filled their bellies.
How to make easy Irish nachos recipe from scratch?
Spread– Chips in a large baking tray.
Sprinkle– Bacon, tomatoes, onions, blue cheese, and green onions on top of chips.
Broil– In oven for about 5 minutes.
Drizzle– Cheddar Cheese Sauce or Easy Queso on top.
Serve– Immediately and enjoy.
Nacho toppings and sauces (What to serve with nachos)?
There are many different options for toppings, including guacamole, cheddar cheese sauce, Mexican corn salad, and various salsas-
What is the best cheese for nachos?
The most popular and obvious choice is cheddar. However, there are different options to consider, such as Monterey Jack, Mozzarella, American, Pepper Jack, Provolone, Quests, and more. No matter which one you choose, keep in mind that everything should be freshly shredded to avoid a grainy texture.
Variations for baked nachos with potato chips
Add corned beef– This is a great options to change things up and bring a delicious new flavor to the nachos.
Add chicken-Have leftover Mexican Shredded Chicken? This meal just got easier and will add some new flavor.
Add beef– Mexican Ground Beef Taco Meat and Slow Cooker Barbacoa Beef are perfect options for a Mexican style nacho.
Add pork– Instant Pot Pork Tenderloin is a great substitution for the bacon in this recipe.
Add ham– It will go nicely with these nachos, especially if you have some leftover Slow Cooker Ham that can easily be added.
Add other vegetables– The recipe includes onions and tomatoes, but you can also add corn, bell peppers, jalapeños for a spicy kick, or avocadoes.
Try different flavors of chips– Including various Doritos, like cheese, lime, or cool ranch. There are also different flavors of tortilla chips, lime being a favorite. I recommend using kettle potato chips if you decide to go that route because they are thicker and crunchier, which makes for a better dish. And these come in different flavors you can try, such as salt and vinegar, BBQ, or salt and ground pepper.
Tips and techniques for best loaded homemade sheet pan nachos in oven
Use fresh homemade potato chips– Because these add a rich flavor, plus they don't get soggy so fast since they are thicker and crispier than regular store bought potato chips.
Don't overlap the sheet pan– Because the food will cook unevenly. You want the whole top exposed to get a nice melted cheese and crisp top.
Sprinkle cheese evenly- Because you want to cover every possible piece of those chips with deliciousness! You don't want clumps with too much cheese and others with none.
Use full fat cheese– Because the texture of low fat cheeses is different and doesn't melt as well.
Serve immediately– Because chips will become soggy otherwise.
Line the pan with tinfoil or parchment paper- Because it will make for an extra easy cleanup, especially for that sticky cheese that often sticks to the pan.
Storage
Room temperature– This can stay out about as long as a good game, but serve fresh to avoid soggy chips.
Fridge- Not recommended, because the chips will get soggy. This is best served immediately.
More one pot appetizer recipes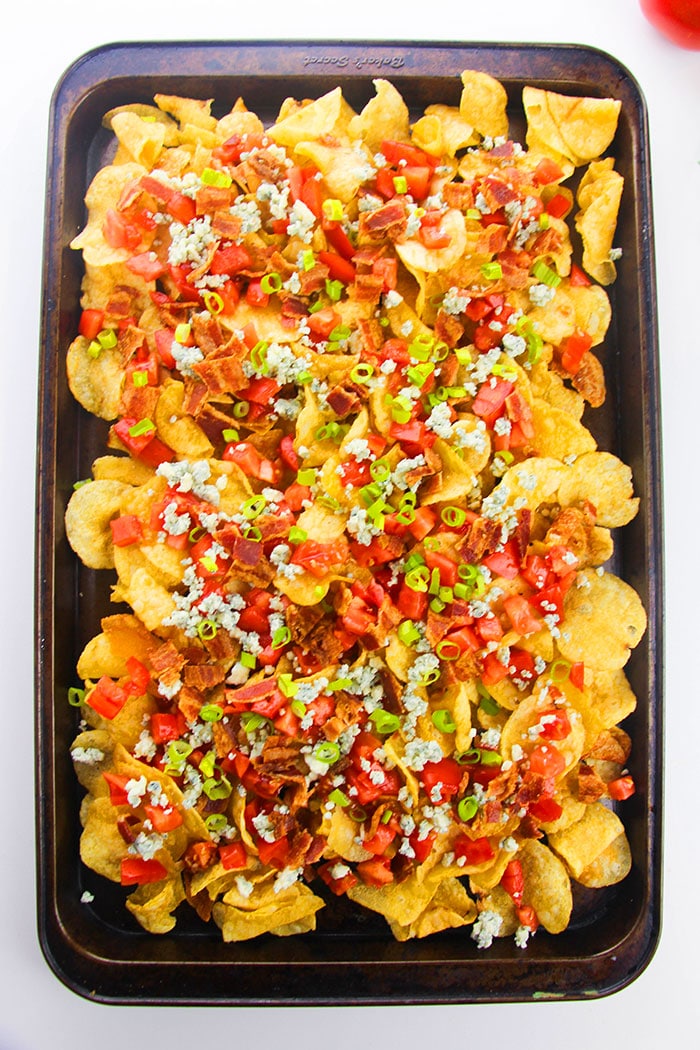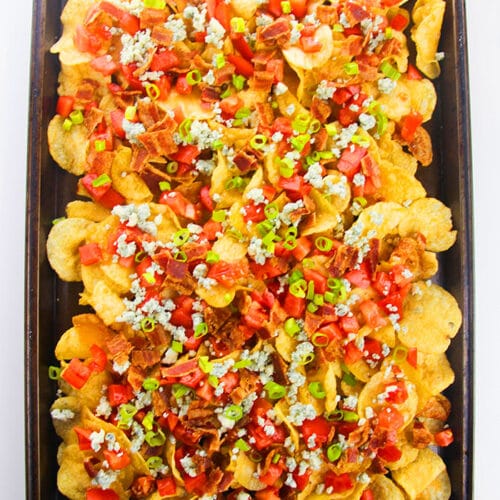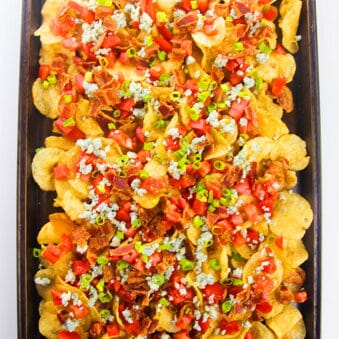 Sheet Pan Nachos
Quick and easy loaded sheet pan Irish nachos recipe, homemade with simple ingredients in one pan in oven 20 minutes. Full of tomatoes, bacon, cheese, green onions.
Yield: People
Instructions
Spread chips in a large baking tray (Dimensions: 16 x12).

Sprinkle bacon, tomatoes, onions, blue cheese, green onions on top of chips, as evenly as possible.

Broil in oven for about 5 minutes or until cheese is melted.

Serve immediately and enjoy.
Notes
Read all my tips above.
Tastes best when served immediately. It's not recommended to store leftovers for later since the chips will become soggy. 
Nutrition
Calories: 404kcal, Carbohydrates: 37g, Protein: 11g, Fat: 25g, Saturated Fat: 7g, Trans Fat: 1g, Cholesterol: 26mg, Sodium: 587mg, Potassium: 279mg, Fiber: 3g, Sugar: 2g, Vitamin A: 404IU, Vitamin C: 5mg, Calcium: 189mg, Iron: 2mg