Instant Pot Sweet Potatoes (Baked Sweet Potatoes)
Quick and easy instant pot sweet potatoes recipe, homemade with simple ingredients in 30 minutes. These baked sweet potatoes are soft, tender and a delicious side dish, especially for the holiday season.
There are many ways to cook these potatoes, but this is definitely one of the easiest and we can all do with easy side dishes, especially around Thanksgiving and Christmas! It just so happens that this is perfect for any holiday meal or fancy dinner party. In fact, some may say Thanksgiving just isn't the same without these as well as this Sweet Potato Casserole and these Oven Roasted Sweet Potatoes.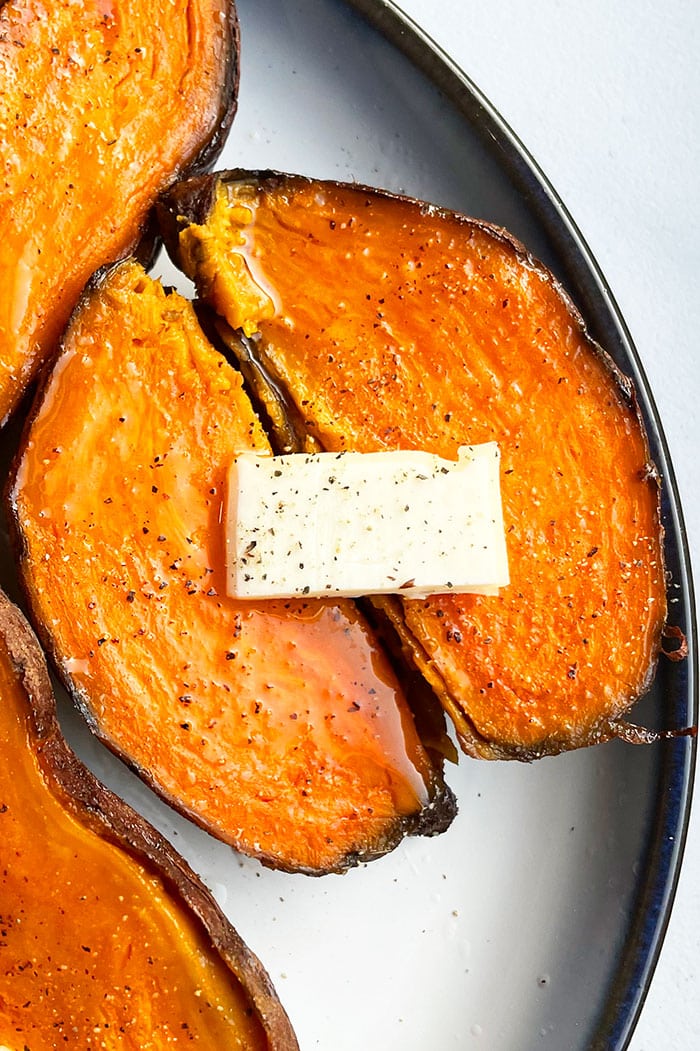 How to make instant pot sweet potatoes recipe from scratch?
Place steamer basket- In pressure cooker.
Add potatoes– And pour water on top.
Cover– And cook.
Release pressure-Naturally.
Remove from instant pot– And add toppings.
How do you steam sweet potatoes in pressure cooker?
Use a steamer basket and place the potatoes on them. Pour water. Cover and cook for 15 minutes until fork tender. When the cook time is over, allow pressure to release naturally and you are done.
Do sweet potatoes bake faster than regular potatoes?
Yes! This is because sweet potatoes have a higher sugar content which helps them bake faster. However, this also means that they are more likely to burn or be overcooked compared to regular potatoes.
How long do you steam sweet potatoes in instant pot?
Cook time is dependent on how small or large the potatoes are. A two inch wide sweet potato will take about 15 minutes to steam with a 10 minute natural pressure release. For each additional inch, add 5 more minutes to the cook time. Be sure to check that the potatoes are tender and can easily be poked with a fork.
What to serve with instant pot baked sweet potatoes?
They are usually served warm alongside meat and vegetables.
Some holiday protein favorites that involve turkey are:
Ham is another option:
Beef is always a great main course:
Chicken pairs very nicely with this side as well:
Can you cook sweet potatoes without peeling them?
Yes! Just make sure you wash them thoroughly to remove all the dirt and pat them dry.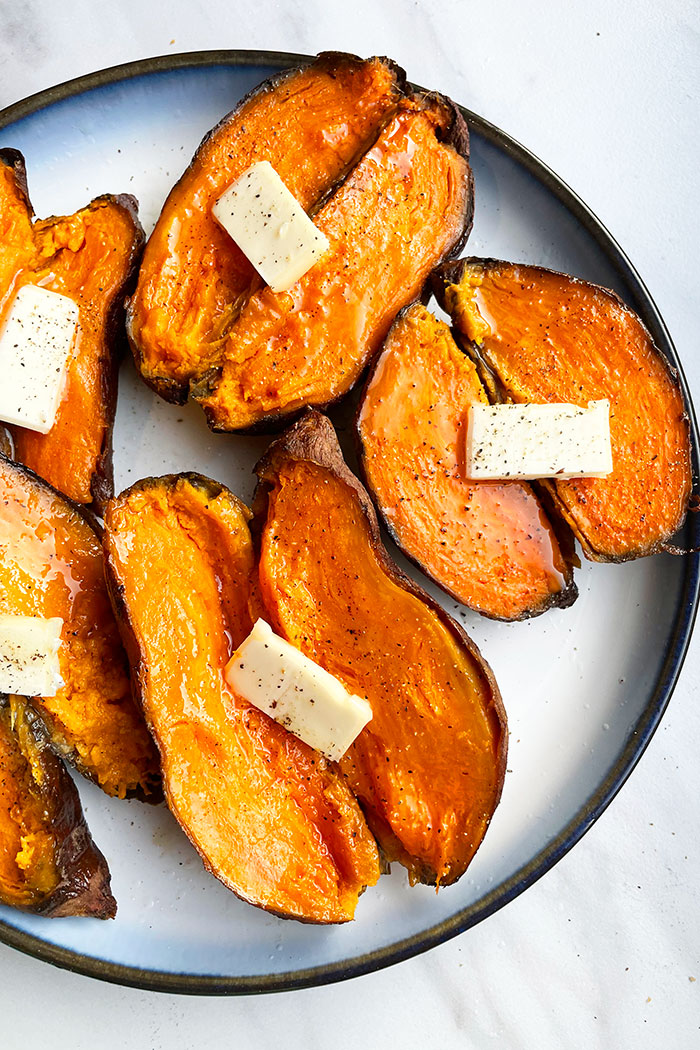 Toppings for loaded sweet potatoes
Dried fruits– Such as dried cranberries, cherries, apples, and apricots. They all add a tasty, sweet tang to the mix. Make sure they are roughly chopped.
Nuts- Use anything from chopped and roasted peanuts to walnuts and the classic choice of pecans obviously.
Herbs and spices- Some of my favorites are warmer flavors like clove and ginger. You can also sprinkle seasoning mixes such as Italian blend or Indian blend or even Mexican taco seasoning. Salt and pepper are the classic choices, of course.
Drizzle- Try salted butter, molasses, maple syrup, agave, honey, or even hot sauce or Sriracha sauce, depending on the flavor you desire.
Meat- Try Instant Pot Shredded Chicken or Instant Pot Shredded Beef, shredded turkey, or even Mexican Ground Beef (Taco Meat), or chopped ham.
Vegetables– Such as diced tomatoes, onions, steamed broccoli or carrots, bell peppers, zucchini, and more.
Herbs– Fresh is best. Try chives, parsley, cilantro.
Dairy toppings- Such as full fat Greek yogurt or sour cream.
Cheese– Try shredded mozzarella, parmesan, cheddar e.t.c.
Variations
Sweeten it- Use toppings of brown sugar or coconut sugar with butter and cinnamon. You can also use natural maple syrup or agave, marshmallows, and candied pecans.
Make it Mexican flavored– Load it up with beans, rice, cheese, avocado, Easy Guacamole (One Bowl), sour cream, Pico De Gallo Salsa (One Bowl) or plain greek yogurt, and a squeeze of lime juice.
Keep it simple– Add sliced butter and sprinkle some salt, and pepper. Simple, yet satisfying.
Turn this into an easy one pot meal- Forget the sides and load your baked potato with shredded meat and vegetables of your choice, such as tomatoes, bell peppers, or steamed broccoli. This is very similar to these Chicken Stuffed Sweet Potatoes (One Pan).
Make it vegetarian- Skip the meat and load up the sweet potato with a combination of your favorite fresh veggies or Oven Roasted Vegetables (One Pan). You can even add some leftover Thai Chicken Salad (One Bowl).
Buffalo chicken– Cooked, shredded chicken and some hot sauce can really spice up this meal!
Tips and Techniques
Release pressure naturally- Do not do a quick pressure release. This is very important because those extra 10 minutes in the pressure cooker allow the potatoes to fully cook.
Choose evenly sized potatoes– They should be similar in size, weight, and shape because this allows them to bake and get ready around the same time.
For more appealing presentation- Choose potatoes that are more proportioned and without rot spots.
Do I need to poke holes in the sweet potatoes? Some people say this allows steam from inside of the potato to be released. However, I have not noticed a difference and this is not necessary at all.
Do I need to wrap sweet potatoes in foil? Some people believe that it allows them to bake quicker but I did not notice a difference in cooking time. This works better for slow cooker.
Make sure potatoes are scrubbed clean- This is important because the skin is remaining on for this recipe and will be eaten and thus, chemicals and/or dirt must be removed.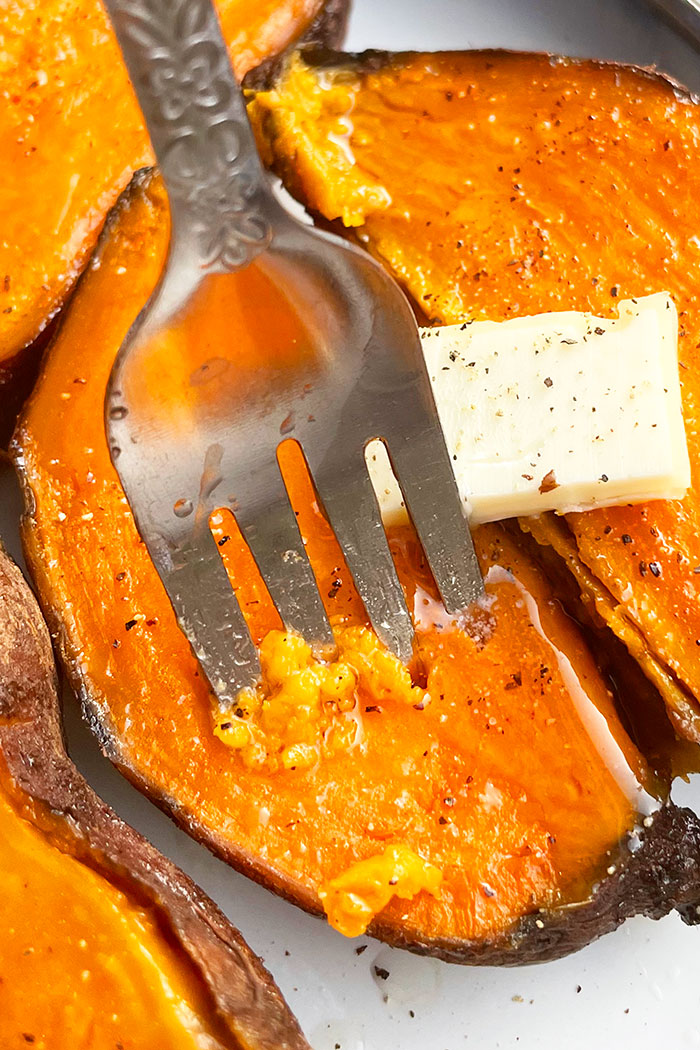 Storage
Refrigerate– Store leftovers in a sealed container for up to 2 days.
Freeze– This is not recommended because the texture becomes very soft upon thawing. However, if you choose to freeze them, that can be done for up to 1 month in a sealed container and they would be great to use in mashed potatoes. Don't forget to date the container!
More One Pot Sweet Potato recipes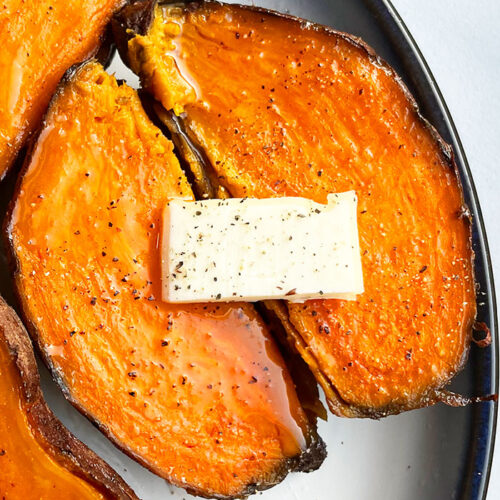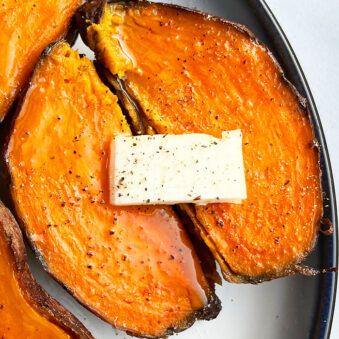 Instant Pot Sweet Potatoes
Quick and easy instant pot sweet potatoes recipe, homemade with simple ingredients in 30 minutes. These baked sweet potatoes are soft, tender and a delicious side dish, especially for the holiday season.
Yield: People
Ingredients
1 cup Water
5 Sweet potatoes, Medium size, Washed and scrubbed clean, Patted dry, Skin on
Instructions
Pour water in instant pot.

Place steamer basket in the bottom of the pressure cooker.

Place sweet potatoes in the basket.

Put the lid on and turn the valve to "Sealing."

Select "Manual" mode and set the timer for 15 minutes.

When the cook time is over, allow pressure to release naturally.

Remove lid and then, remove sweet potatoes.

Cut in half and enjoy with toppings of your choice.
Notes
If your sweet potatoes are not fully cooked, put the lid on, seal and cook for an additional 5-10 minutes.
Read all my tips above.
Leftovers can be stored in a sealed container in the fridge for up to 2 days. 
Nutrition
Calories: 194kcal, Carbohydrates: 45g, Protein: 4g, Fat: 1g, Saturated Fat: 1g, Sodium: 127mg, Potassium: 762mg, Fiber: 7g, Sugar: 9g, Vitamin A: 32063IU, Vitamin C: 5mg, Calcium: 69mg, Iron: 1mg