Easy Egg Salad Sandwich (One Pan)
The creamiest, best egg salad sandwich recipe, homemade with simple ingredients in one pot in 20 minutes. Full of hard boiled eggs, mayonnaise, mustard, dill, chives and green onions.
This protein rich sandwich is so easy and filling. Just choose your favorite sandwich bread and add this creamy, hearty egg salad to the center of it, and lunch is ready in minutes! Looking for a way to add even more healthy fat to your diet, or just obsessed with avocado like the rest of us? Then try this Avocado Egg Salad Sandwich version! You will thank me later.
How To Make Easy Egg Salad Sandwich From Scratch?
Stack bread slice– With a lettuce leaf and then egg salad.
Season it– With salt and pepper, if you like.
Close it– Place the other bread slice on top.
Serve immediately– Enjoy.
Classic Homemade Egg Sandwich Spread
Whisk- Together mayonnaise, lemon juice, mustard, paprika, garlic powder, salt, and pepper.
Mix in– Roughly chopped hard boiled eggs, celery, dill, and green onions.
Creamy Egg Salad Wrap
Serve this salad in your favorite wrap instead of on bread for a delicious take on this classic dish.
Sandwich Toppings
Additional herbs
lettuce
Salt and pepper
Sprouts
Curry Powder
Thin slices of deli meat
Ham
Pickle slices
Avocado slices
Chopped bacon
Smoked Paprika
Slices of tomato
What To Serve With Best Boiled Egg Salad Sandwich
Serve this sandwich with a classic soup pairing such as the following:
You can also add a green salad such as:
Crispy baked/roasted sides would also make an excellent addition to this meal.
Variations
Make mini tea sandwiches– Cut large sandwiches into finger length slices or use small rye bread slices.
Add other herbs– You can have fun with this and add in other herbs, such as Rosemary, Basil, Parsley, chives, or green onions.
Add pickles– Chopping up pickles and tossing them into this will give a slight crunch and a nice tang. Use your favorite variety!
Add relish– Add in some relish for a sweet, tangy addition.
Deviled potato egg salad– Boil 5-6 potatoes, cut into small chunks, and add into the salad dressing recipe listed. Top with chopped or sliced eggs.
Use spinach– Instead of lettuce in the sandwich.
Serve on crackers– For a bite sized meal.
Serve in a lettuce wrap– For a low carb, Keto friendly version.
Curried egg salad– Add curry to the egg salad and give it a whole new flavor!
Tips And Techniques
What bread to use? The classic choice is white. You can also use whole wheat, artisan bread, rye, or toasted bread.
Can't stop for too long– As the bread will get soggy, especially if your egg mixture had a thinner consistency.
Chunky egg mixture Vs. Smooth egg mixture– This is up to your personal preference. I personally like it chunky for added texture.
Mayonnaise substitute in egg mixture– Use a mayonnaise substitute such as full fat thick Greek yogurt or sour cream. Even hummus, mashed chickpeas, or avocado will work, but the flavor will change based on your choice.
Wash and pat dry lettuce– If it is not pre-washed, make sure to do so, and pat it dry so that the sandwich doesn't become soggy.
Serve immediately– This ensure you get a sandwich that holds up well and doesn't become soggy.
Storage
Refrigerate– This is best served immediately, but can be stored in the fridge for up to 1 day.
Freezer- Do not freeze, because dairy products and eggs change texture and cannot be reheated well.
More One Pot Sandwiches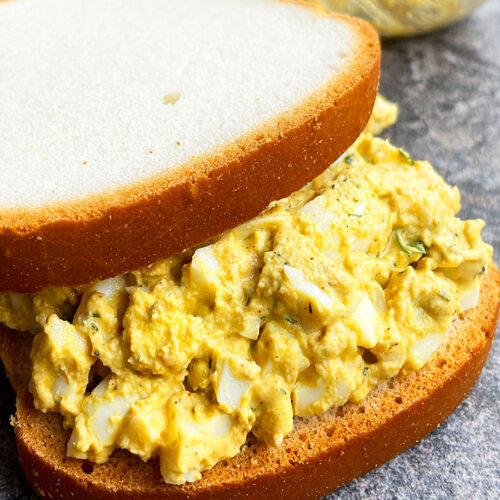 One Pan Egg Salad Sandwich
The creamiest, best egg salad sandwich recipe, homemade with simple ingredients in one pot in 20 minutes. Full of hard boiled eggs, mayonnaise, mustard, dill, chives and green onions.
Yield: Sandwiches
Ingredients
8 slices Bread, Classic choice is white. Can also use whole wheat or artisan bread. Can also use toasted bread
Lettuce, Optional
1 batch Best egg salad
Salt, To taste
Pepper, To taste
Instructions
Place a big lettuce leaf on half the bread slices.

Spoon some egg salad on top of the lettuce.

Sprinkle some salt and pepper, if you like.

Place the remaining bread slices on top of the egg mixture and press gently.

Serve immediately and enjoy.
Notes
Read all my tips above. 
Tastes best when served immediately but leftovers can be stored in a sealed container in the fridge for 1 day. 
Nutrition
Calories: 152kcal, Carbohydrates: 28g, Protein: 6g, Fat: 2g, Saturated Fat: 1g, Trans Fat: 1g, Cholesterol: 1mg, Sodium: 291mg, Potassium: 102mg, Fiber: 2g, Sugar: 3g, Vitamin A: 2IU, Vitamin C: 1mg, Calcium: 77mg, Iron: 2mg