Quick Pickled Red Onions (One Pot)
Easy and quick pickled red onions recipe, homemade with simple ingredients in one pot in 30 minutes. These refrigerator pickles are flavored with garlic and black pepper.
These are my favorite toppings on tacos, eggs, sandwiches, wraps, Asian inspired meats, and so much more. They add so much vibrancy in flavor and color to these dishes, and are the perfect balance to almost any flavor profile. These Quick Pickled Vegetables are another tangy topper to finish off your next meal.
How To Make Homemade Quick Pickled Red Onions Recipe From Scratch?
Divide onions– Evenly between jars.
Add seasoning– In each jar, add garlic and black pepper.
Mix brine– In a bowl, add distilled vinegar, apple cider vinegar, hot water, sugar, salt and stir.
Immerse sliced onions- with brine mixture.
Set aside jars– At room temperature, uncovered, until cooled.
Enjoy!– Immediately or cover tightly and store in fridge.
What To Serve With Quick Pickled Onions?
These are the most amazing addition to many Mexican inspired dishes such as the following:
These pickled onions also top many Asian Inspired dishes perfectly because they compliment the sweet or spicy notes beautifully.
These make a delicious addition to hand-held foods:
Sandwiches– Easy Egg Salad Sandwich, Cucumber Sandwich, Mediterranean Veggie Sandwich, Loose Meat Sandwich, Turkey Salad, Avocado Egg Salad, Instant Pot Shredded Meat, or BBQ Shredded Beef.
Sausages– Hot dogs, Polishes, Bratwurst, or Italian sausage.
Nachos– Sheet Pan Irish Nachos In Oven.
Wraps
Burgers
You can even top pastas with these pickled red onions for added texture and flavor:
Don't save them just for lunch or dinner! They are just the bright wake-up call you need with breakfast foods as well. Add them to any of the following:
Eggs– Omelets, skillets, scrambled eggs, fritatas, or egg casseroles.
Sandwiches– Such as Eggs Benedict, English Muffins with eggs and bacon or sausage.
Breakfast burritos or tacos
Do You Have To Boil Vinegar For Pickling? 
For this quick pickle, that isn't necessary. Just add water that is hot enough to dissolve the sugar and salt. Boiling hot water makes the onions too soft and mushy as opposed to crisp, which is the desired texture.
What Vinegar Is Best For Pickling?
You can use apple cider vinegar, white wine vinegar or rice vinegar. Do not use balsamic though because the flavor is not right for this recipe and it will turn the onions brown as well.
Can You Make Pickled Onions Without A Mandoline?
Yes, just use a chopping board and sharp knife with your chopping skills to make the slices as even as possible.
Variations For Mason Jar Mexican Pickled Onions For Tacos
Pickled white onions/ pearl onions– Use these in place of sliced red onions.
Make it spicy– Add red chili flakes, hot sauce, jalapenos, or cayenne pepper for a spicy version.
Add ginger– For additional flavor and health benefits.
Add other spices– Such as star anise, mustard seeds, clove, Mexican seasoning, Cajun seasoning, Asian seasonings.
Add other herbs– Such as sprigs of rosemary, mint, dill, or basil.
Add other citrus– Like lemon, orange, lime, or grapefruit.
Other sweetener options– Try maple syrup, coconut sugar, or honey as a sweetener.
Try other veggies– Instead of onions use radishes, carrots, cucumbers, Asian pear, or jicama.
Use a combination of various onions– Such as Vidalia, sweet, white, and red onions.
Tips And Techniques For Pink Onions Or Marinated Red Onions
Use a mandolin to slice onions– Because this is the quickest method, and it also creates the most uniform size slices so that they brine evenly and in the same amount of time.
Thick onions vs. thin onions– Thick onions stay crisp for longer but take longer to absorb flavor. It ultimately comes down to personal preference.
Why is the liquid cloudy? This means they have gone bad and need to be tossed if the liquid has become cloudy and has a bad odor.
How long to pickle the onions? They can be enjoyed immediately after 30 minutes to 1 hour or for stronger flavor, can be marinated in the fridge for longer and then enjoyed. It is up to your preferred flavor intensity.
Cover or uncover the jar while pickling? Leave the jar uncovered while pickling.
Do I refrigerate the onions while pickling? No, leave them on the counter at room temperature for the fastest pickling time.
Adjust the amount of sweetener– Use more if you like a sweeter onion, and less if you prefer it more tangy.
Storage of homemade refrigerator pickles
Refrigerate– In a sealed container for 1.5-2 weeks.
Freeze– I do not recommend freezing because the onions will become mushy upon thawing.
More one pot vegetarian recipes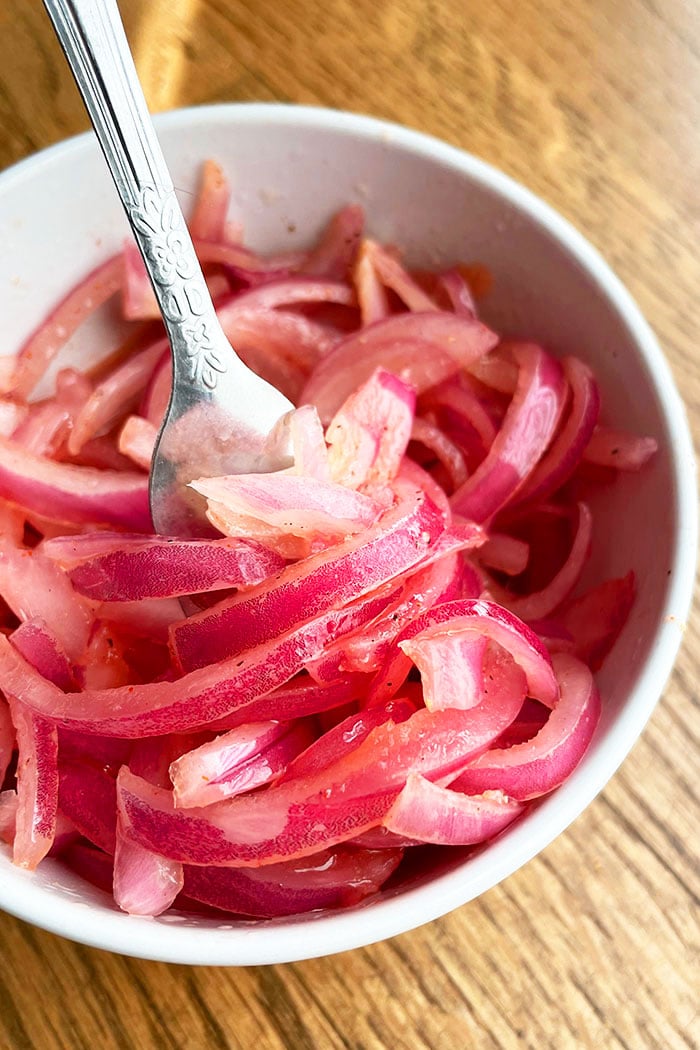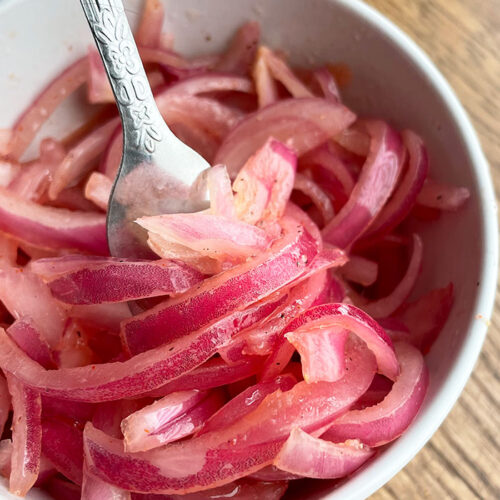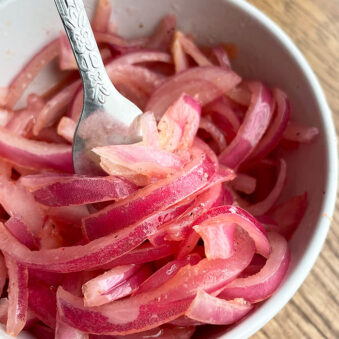 One Pot Quick Pickled Red Onions
Easy and quick pickled red onions recipe, homemade with simple ingredients in one pot in 30 minutes. These refrigerator pickles are flavored with garlic and black pepper.
Yield: Cups
Ingredients
1 Red onion, Large, Thinly sliced preferably using a mandoline
2-3 cloves Garlic
Pepper , To taste, Can be replaced with 6 peppercorns
1/4 cup White distilled vinegar
1/4 cup Apple cider vinegar
1 cup Hot water, Not boiling hot
1 tbsp Granulated sugar , Use less if you prefer more tangy pickles
1.5-2 tsp Salt, Adjust according to your preference
Instructions
Divide the onions evenly between 2-3 jars (about 6 oz each). You can also just use a medium size mixing glass bowl too.

Place one garlic in each jar.

Sprinkle a little black pepper in each jar OR toss 2-3 peppercorns in each jar

In a small mixing bowl, add distilled vinegar, apple cider vinegar, hot water, sugar, salt.

Stir to dissolve the sugar and salt completely.

Pour this pickling mixture or brine mixture over the sliced onions, making sure they are immersed in the liquid.

Set aside the jars at room temperature, uncovered, for about 30 minutes to 1 hour or until the liquid cools completely.

Then, enjoy immediately or cover tightly with lids and store in fridge and enjoy later, as needed.

Remember to use a fork to remove onions from jar to drain excess vinegar mixture.
Notes
Read all my tips above.
Leftovers can be stored in a covered jar in fridge for 1.5-2 weeks. 
Nutrition
Calories: 62kcal, Carbohydrates: 12g, Protein: 1g, Fat: 1g, Saturated Fat: 1g, Sodium: 1749mg, Potassium: 115mg, Fiber: 1g, Sugar: 8g, Vitamin A: 1IU, Vitamin C: 5mg, Calcium: 23mg, Iron: 1mg